Twas a rather dreary Wednesday afternoon, having just bidden
farewell
to a friend who had left the party too prematurely. So, I was quite happy when
Crew's Brew
called me for lunch. Some hearty cheer never goes amiss in situations as grim as these.
The original intention was to eat at some coffee shop in the PJ State area, coz the fler had to make a withdrawal from HSBC. But parking at the PJ State area is GHASTLY at lunchtime, you'd have a better chance of spending the night with Nigella Lawson (I said Angelina Jolie at first, then I remembered this was a food blog) than getting a parking there. So, CB suggested (hmmm, CB is such a rude initial.... stands for so many swear words) dim sum at Jaya 33. Parking then became the criteria, not food. Having been to the Oriental Pavilion before, and finding it a bit overpriced, somewhere in the recesses of my mind, I recalled someone saying that Ah Yat Abalone has 50% off their dim sum on week days. I know for a fact that Unique Seafood, next to Ah Yat, DOES have 50% off, but having just gorged on oink free dim sum last week, I felt I needed the real thang.
Rather nervously, I suggested Ah Yat to CB, knowing worst comes to worst, we could opt for the kosher version, but to my delight, we saw the 50% off posters lining the entire path from the carpark to the restaurant.
I cannot fathom, how I, who LOOK like a Bottomless Pit, have actually very limited capacity, whilst CB, who looks like Brad Pit, (actually, no he doesn't) can have that masssssive appetite that would put even hungry food bloggers to shame.
It was like Christmas morning for CB, who was excitedly perusing through the menu and ticking every item that sounded remotely edible.
These yam puffs with a sliver of scallop on the top, I have to say, were absolutely divine. Melt in the mouth, crispy on the outside, warm and luscious on the inside, absolutely floods your tongue with the type of fulfilment you get after.....whatever. Then again, it was the first dish. Oh, by the way, since CB is a part time professional photographer, the shots were taken by him.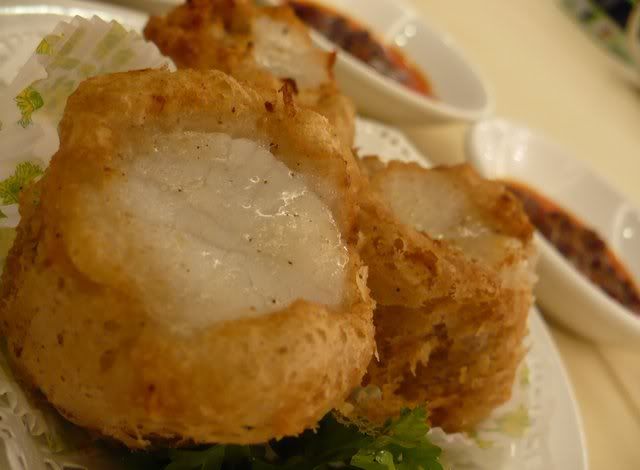 He also ordered this from the alacarte, Garlic with a hint of brinjal. Delicious as it was, I was glad I wasn't planning on kissing anyone shortly after lunch, or didnt have any meetings to attend. Phoooweee, the garlic, how can something that taste so right repel vampires?

The cheong funs, both charsiu and prawn, were velvety smooth, and could easily glide down your throat without any chewing required. Oh, unless you wanted to chew on the meat and prawn. But yes, thumbs up for the cheong fun as well.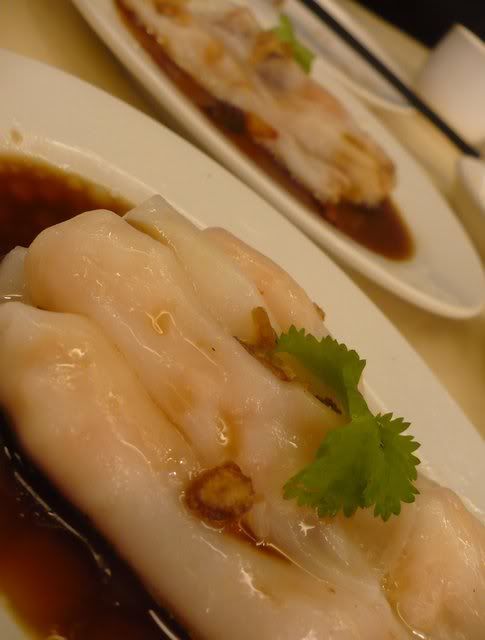 An assortment of other generic dim sum stuff, prawn dumplings, phoenix claws, (guys, sorry to tell you this, they might be called phoenix claws, but actually, they belong to the humble chicken, who were probably running around without their Nikes prior to their slaughter), Xiu Long Bao, and some other chive-y dumpling. They were all adequate, without invoking the famous "When Harry Met Sally" scene at the restaurant. Speaking of which, I sometimes wonder how sincere those props are in cooking shows, for there are some dishes that Celebrity Chefs churn out that honestly cant possibly taste good, but yet, the "guests" go, "ooooh, this is GORGEOUS". Pah, what a load of bull.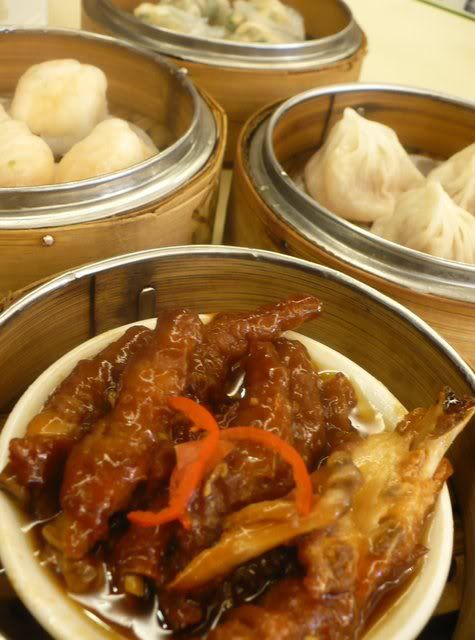 This deep fried glutinous rice cakes is one of those classic examples of Indah Khabar Dari Rupa. (translation please). I thought it looked kinda interesting, but bleaghhhhh....not something I'd order again. The texture was dry, hard, I can almost envisage choking over this.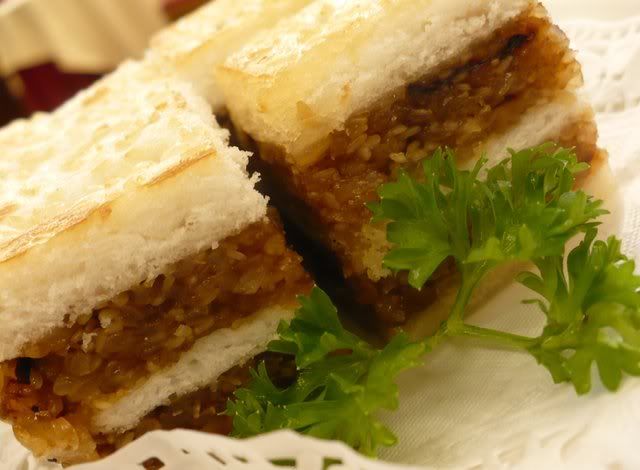 Considering there were only two of us, after polishing all the stuff, CB was STILL hungry, and ordered a plate of Ee Foo Noodles. And this is lunchtime. I swear the man has a mini crematorium inside his stomach. The noodles were actually rather good.

Mango Pudding and Kwai Lin Kou, (turtle jelly? whatsit called again?). I reckon you can't possibly go wrong with the black jelly, afterall, its like cincau, only with a herbal flavour, and really, have you ever tasted bad cincau? But Mango Pudding, yes, it's very possible to botch, as I did recently. Does anyone have a workable Mango Pudding recipe that can yield the kinda of texture you get at a restaurant? My mango pudding could potentially have been a weapon of mass destruction. Dig it out and fling it at target, sure to be knocked out.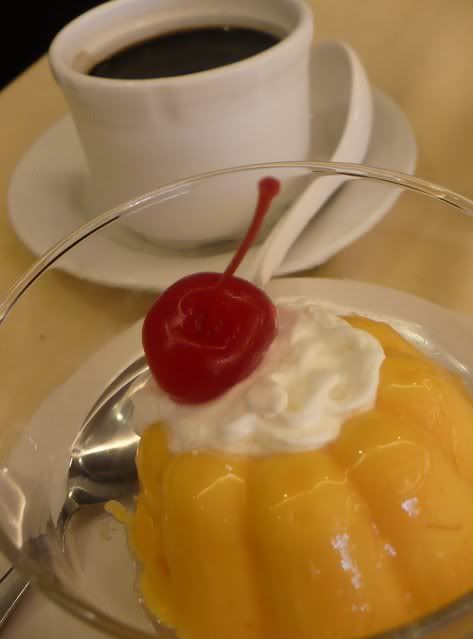 This mango pudding was a bit insipid, tasted like something out of a box. A few miniscule cubes of mango for authenticity in an otherwise fake exterior.

Now, always remember to READ fine print in restaurants. The 50% discount applied only to dim sum, and alas, even desserts do not fall under that category. At RM8 a pop for them desserts, it was not worth it. So, CB ended up paying more for the ala carte items, (Garlic With Hint of Brinjal, Ee Foo Noodles and two desserts), than for all the dim sum put together.

Overall, I'd say the dim sum with the 50% off is darn good value for money. Just stick to those items, and you will certainly get a satisfying meal. Do NOT stray from the path....say after me, do NOT stray from the path.

WARNING: COMMENTS SECTION IN THIS PARTICULAR POST, W.E.F. 5th MAY 08. HAS BEEN :