Let's get the Press Release stuff out of the way first:
Excerpts:
Chef Adrian Richardson is the owner and head chef of the successful and bustling La Luna, one of Melbourne's best Mediterranean bistros in North Carlton, where he has been serving up clean, fresh and innovative food since 1999.
Chef Richardson's passion for cooking and belief in "homemade and home-grown" is attributed to his upbringing from his family. His father was trained as a chef in England and France, and ran the Balzac, a legendary restaurant in East Melbourne. Similarly, his uncles were also chefs. He grew up eating Italian-Middle Eastern-North African cuisine dished up in an Italian household in Melbourne, with vegetables and fruits growing in the garden.
A regular face on television, Chef Richardson has appeared alongside Tobie Puttock and Jamie Oliver in Jamie's Kitchen Australia. He is also one of the team of regular chefs on Ready Steady Cook, Fresh, Switching Lives and Good Morning Australia. The Asian Food Channel recently aired his hit television programme, Secret Meat Business between April to July 2011. In November, AFC will also air his latest show, Good Chef Bad Chef, which sees him playing the devil next to co-host Janella Purcell, a nutritionist.
Chef Richardson also has two cookbooks under his publishing belt, Meat and The Good Life, both of which are paeans to the virtues and benefits of knowing where your food comes from, as well as home cooking.
End Of Official Biodata
I love a good cut of steak, which was what made me excited at the thought of attending this AFC Event at the JW Marriott, with Celebrity Chef Adrian Richardson, invitation courtesy of Alice George PR. To be honest, I was not really a follower of his programs on TV, so I wasn't sure what to expect. Suffice to say, it was an afternoon well spent.
Adrian is exceedingly proud to be Australian, as we were reminded probably two hundred times through the show. He sounds distinctly Aussie, despite his very mixed ancestry, ranging from Egyptian to Italy. Sounds like some exotic fabric. He also spent a short time in Penang as a child, and regaled us with tales of how his job was to count satay sticks. (to the un-informed youth of today, in my youth, you paid for the satays that you ate, so that involved the counting of the sticks at the end of the meal, unlike today, where you order upfront by the number....ah good times, good times).
He tells us that he likes to keep his cuisine simple, because of the extraordinarily fresh produce available in Australia, and that his cooking was akin to a home cooked meal. Which is true. Simplicity did indeed rule the day.
To start off, we had Sauteed Calamari. Blink and you would have missed the entire thing. The secret to a fresh squid is its translucence. The more translucent it is, the fresher it is.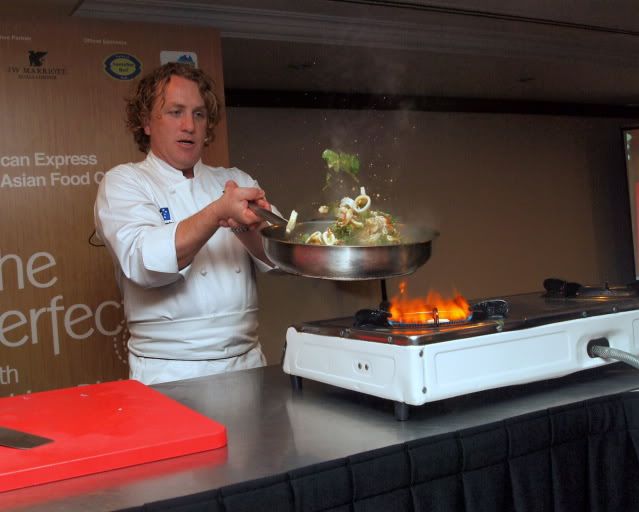 Quite similar to what we would do in a chinese tai chow actually. Hot flames, garlic, chilli, spinach leaves, (local spinach, aka Yuen Choi)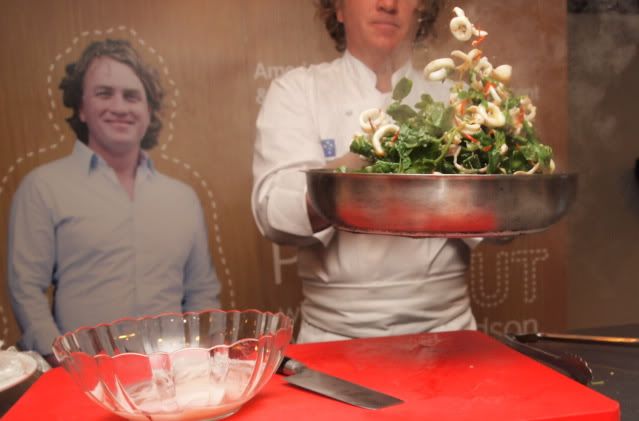 I love the way he tosses his thing.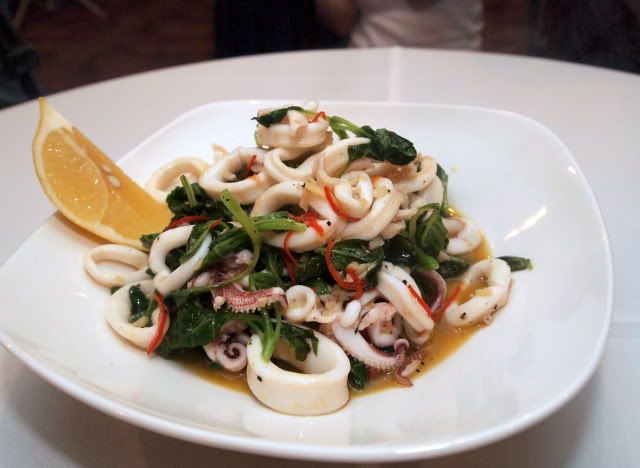 Ta dah. Dish no 1 is served. Actually, it is delightfully simple, and rather tasty, IF you are a squid fan. Which I am. Then again, there isn't a lot that I don't eat.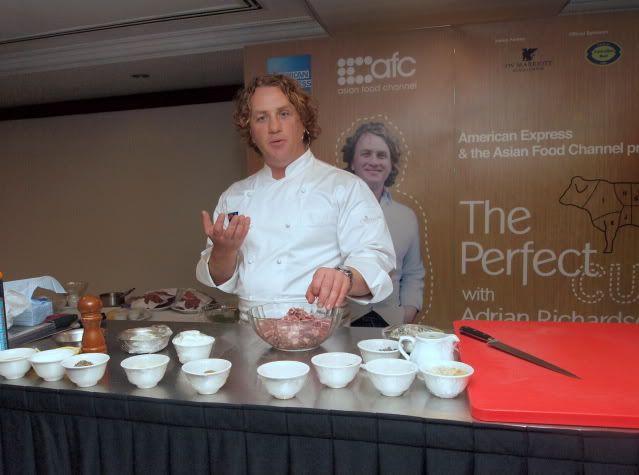 Next up was lamb & spinach filo pie with labne, inspired by his Meditteranean and Middle Eastern roots.
The all essential olive oil. Tip : A good olive oil should be green.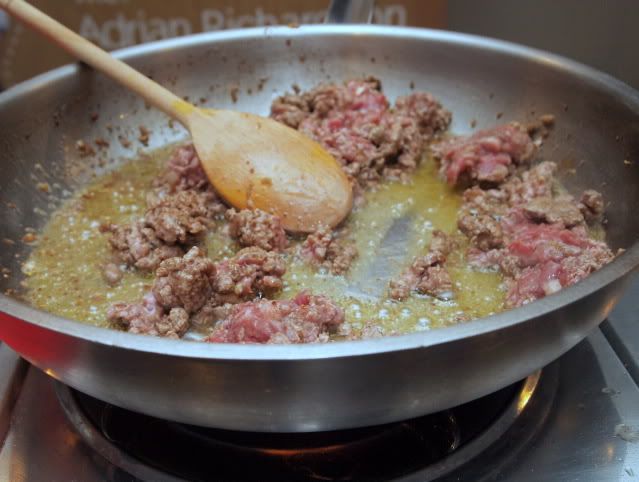 He swears that the best lamb is from Australia, though I am SURE New Zealanders would beg to differ.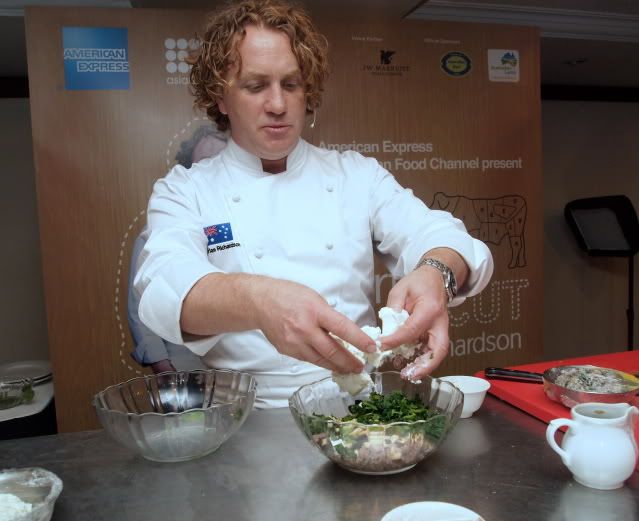 Again, he demonstrates his tossing skills...
This filo is like fabric, he says, to which someone said, "You can make edible underwear out of it". Oh, did I mention that the event was very entertaining? Gotta hand it to the Aussie, he certainly knows how to enrapture the audience.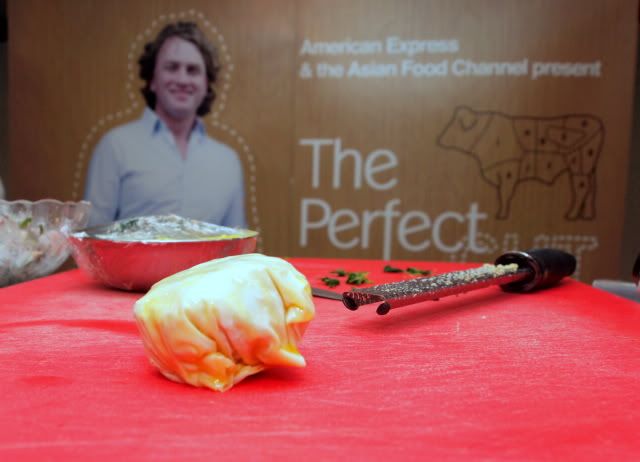 A few tosses of the filling, a few brushes of butter onto the filo, tah dah, lamb pie. Oh, I got to sample some of the filling, which comprised Danish feta (supposedly the best fetah evah), currants, pine nuts, coriander leaves and mint leaves. It is a YUMMY combination. I got to preview it as I had the privilege of sprinkling salt and pepper into it for the the chef. [glazed starry eyed look of idolizing]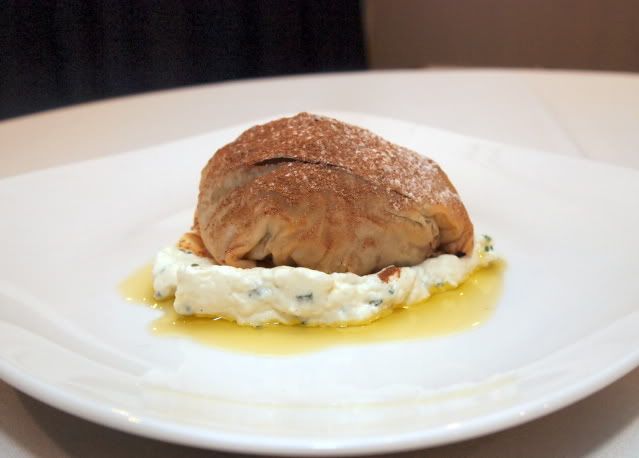 Actually, I loved this dish. The labne (a kind of yoghurt paste) complements the pie and the whole feta lamb combination works well.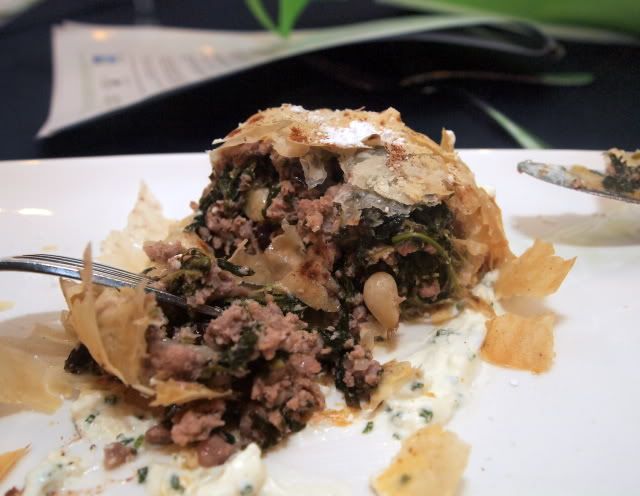 Yummy insides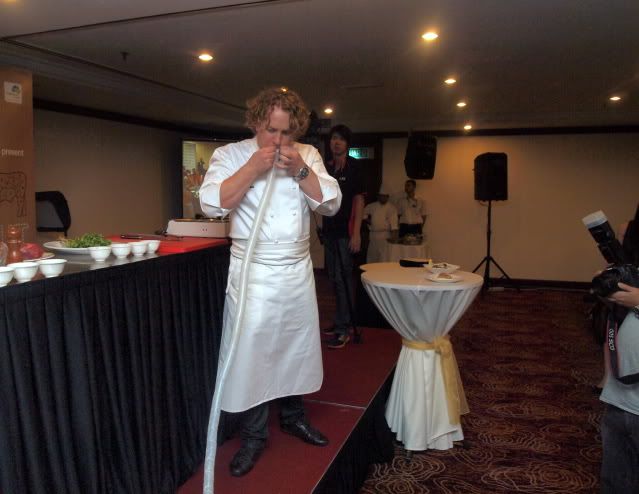 The next sequence of events was the most entertaining, and I am sure must have made some women blush. What is he blowing? Lamb's intestines, believe it or not. Care to kiss him afterwards?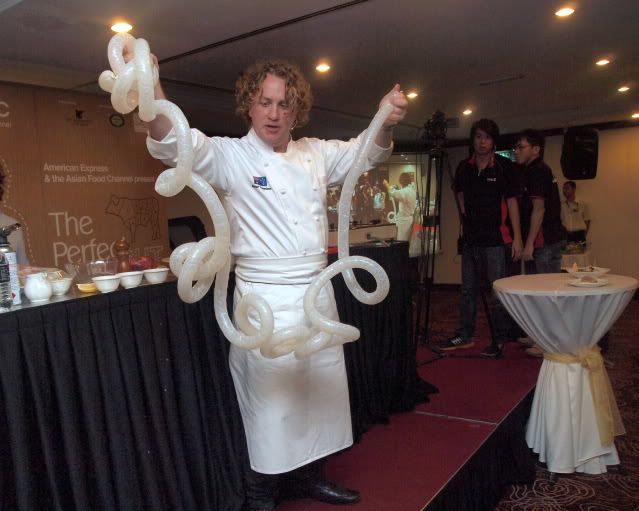 He makes his own sausages this guy does. He said this, and I quote, "It's not a sausage unless you put it into something". I ask you, how can he NOT be entertaining.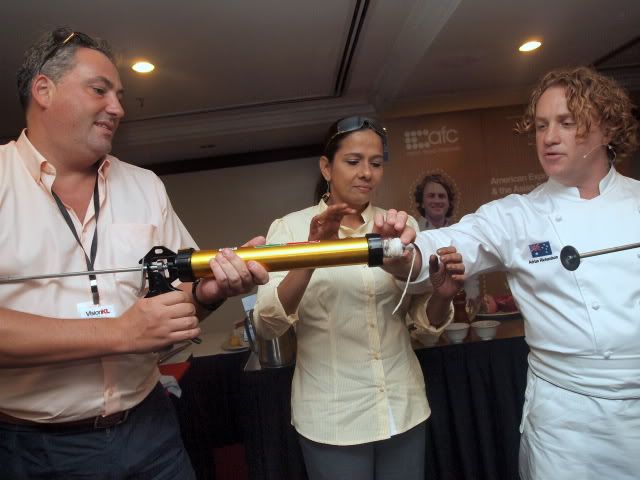 He uses a caulking gun to fill his sausages, and calls upon two volunteers to demonstrate. The intestine is places on the head of the caulking gun, "not unlike the way you put something else onto you know what", he says.
The race is on, for the longest and thickest sausage. Pair no 1 had kinks and chunks of uneven sausage, whereas Pair no 2, which was Adrian and this hot chick, had lovely thick weiners, which led Adrian to declare to the other gentleman, "Mine is longer and thicker than yours, though you are taller".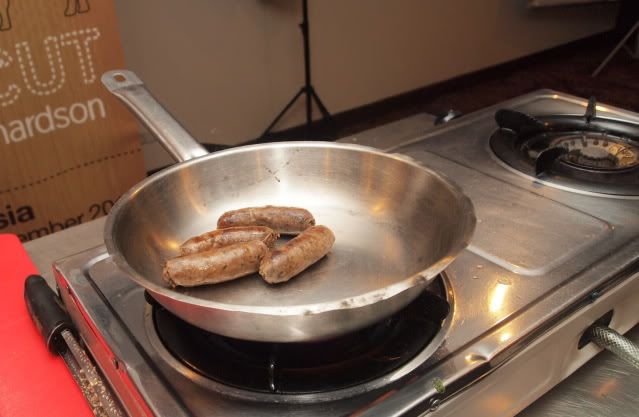 But in the end, he cooks these tiny fellas.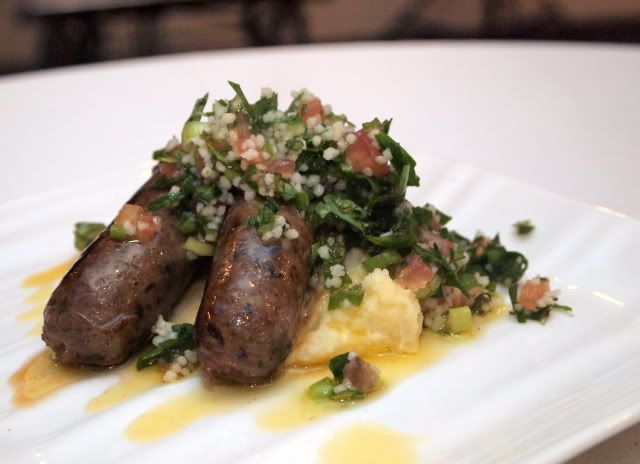 The sausages are served with Tabbouleh, and aioli. Tabbouleh is a tangy refreshing middle eastern salad comprising mint leaves, parsley, cous cous in this case (or burgul wheat).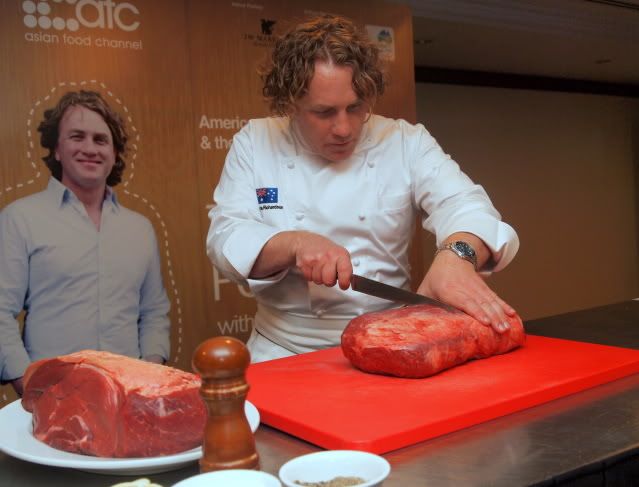 And for the main star, the PERFECT CUT.... he shows of his meat, a slab of Rib Eye, and a slab of Rump
Did he mention that he's from Australia?
Apparently that's the size of a typical steak he would serve in his restaurant.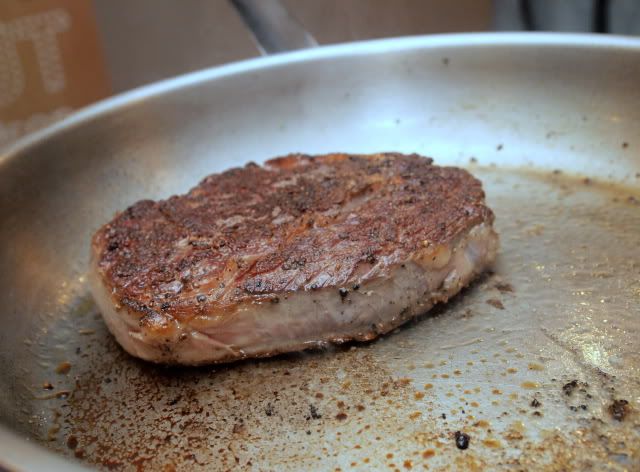 Seared to perfection. There are various methods of ascertaining the done-ness of the steak, but the most fool proof way is to get one of Adrian's meat probes. It's available online.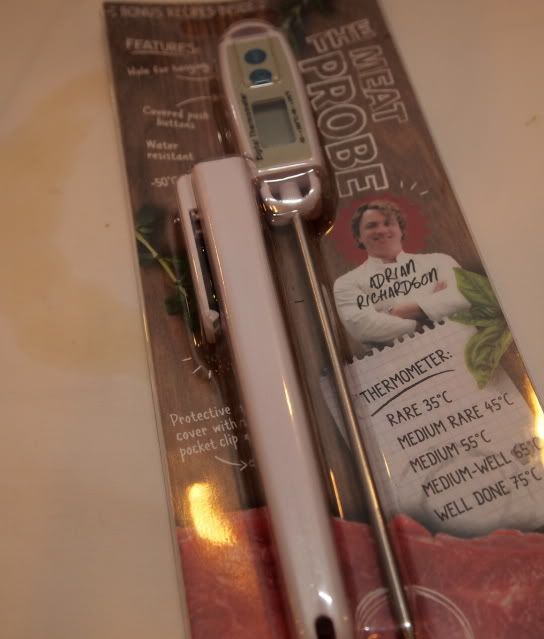 Basically a meat thermometer, it's 35°C for rare, 45° for medium rare and 55° for medium...as you can see on the probe packaging.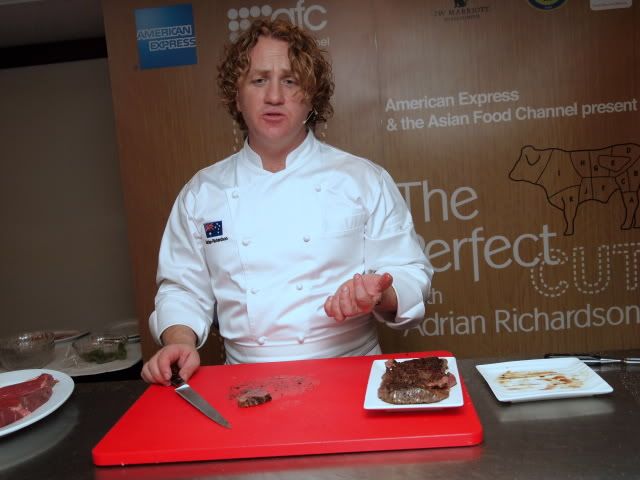 This is SOOOOOOOOO GOOOOD, he proclaims. (Enter basket lift self)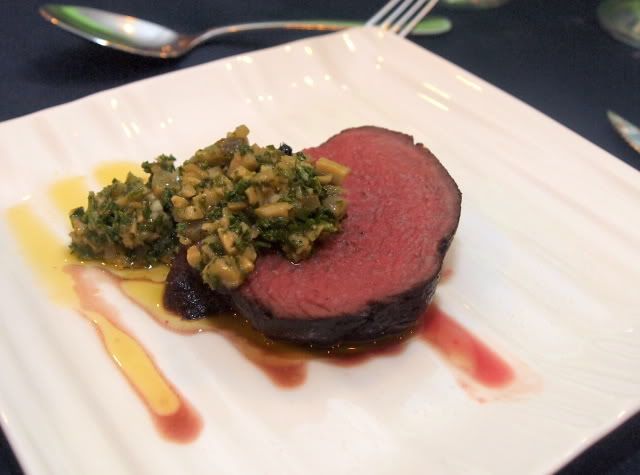 Although he demo-ed rib eye, we were served fillets, or tenderloins, which are far less fat. :(
Sobs!
Nevertheless, it WAS perfectly done, and very tender. And most importantly, not drowned in sauce. I always believe that a nice cut of meat should not be encumbered by overpowering sauces.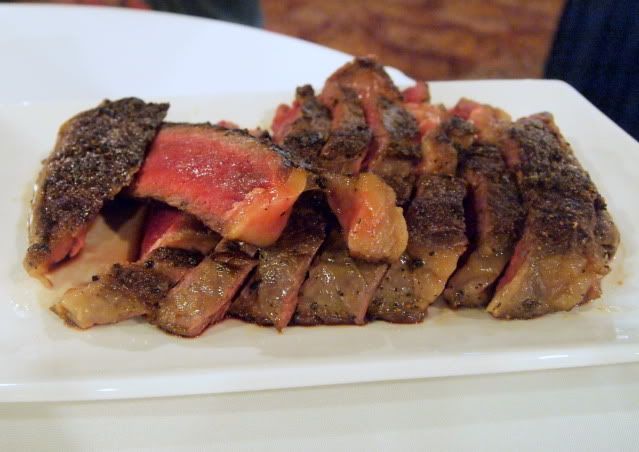 Contrast our Jack Sprats cut with his wife's piece of Rib Eye here.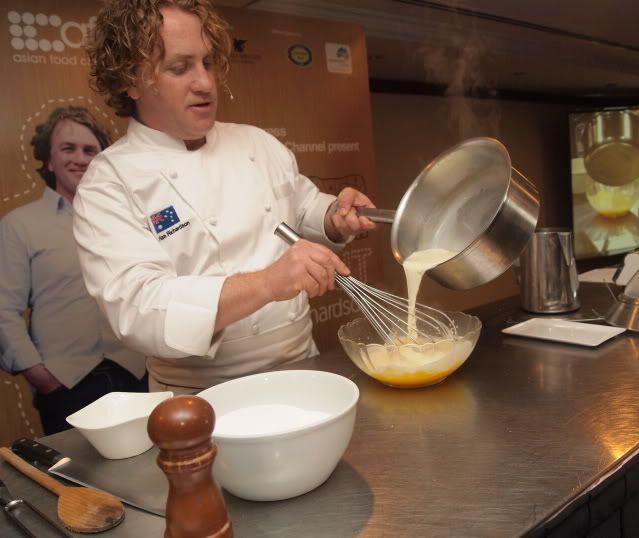 And finally, Creme Brulee, the definitive comfort dessert, He made it look so easy. The few times I've tried making it, it was like eating badly curdled sweet eggs. Drat.
Sigh, it was a choice of either bad white balance, and clear flame, or white balance with no flame.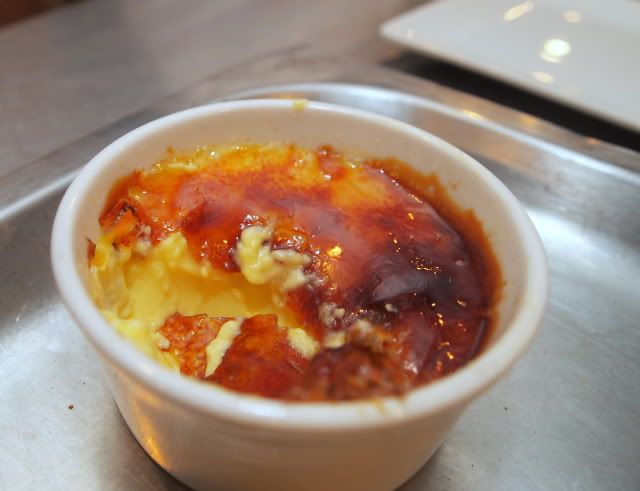 Well, it did look rather perfect.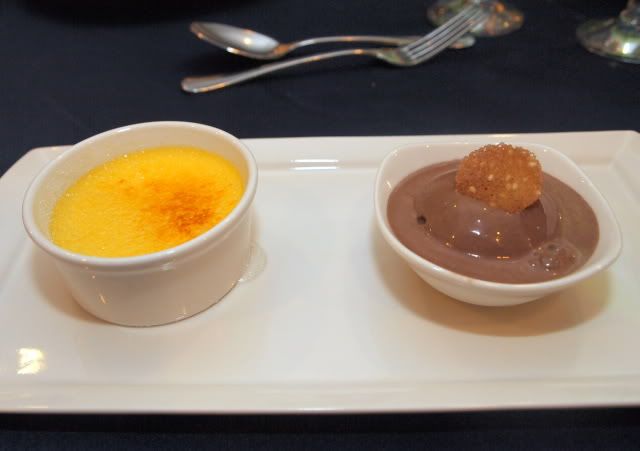 The one we got served wasnt caramelized enough. But tasted good and went well with the chocolate ice cream that was served.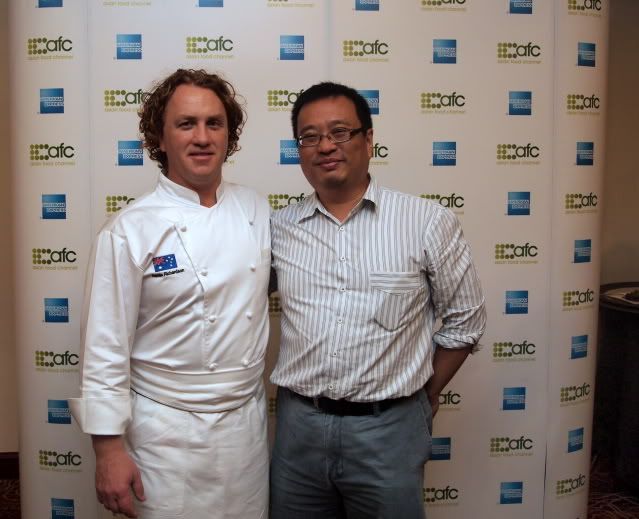 That's Adrian and the celebrity chef. Hahahah. Oops, I mean me and Adrian. (no harm dreaming right)
Anyway, do watch out for his new program currently on AFC Channel 703 on Astro, Good Chef Bad Chef.
I am an Adrian Richardson fan now.
Thanks AFC and AGPR.