Much like our festive decorations in shopping malls, mooncakes are appearing earlier and earlier in the year. Up to two months before the actual event, (which I believe is the Mid Autumn Festival, should be on September 30th) mooncakes in all shapes, medium and sizes appear from hotels across the country, to ice cream parlors like Haagen Daz. And gone are the days when mooncakes were the traditional lotus paste with double or quadruple yolks, or red bean, or ping pei. Now, the list of flavours is endless, with all kinds of combinations, which can be a bit mind boggling when it comes to choice.
Me, being a bit of a traditionalist, still like my white lotus paste with egg yolks, the more yolks the merrier, kinda thing. I was invited to sample the mooncakes at Lai Poh Heen, thanks to the lovely Jesslyn, Communications Exec in the KL Mandarin Oriental. A lovely crowd of bloggers were also present, partaking in a lovely meal. Lai Poh Heen is pork free, but has always been a popular restaurant, due to its fine Chinese cuisine, and interesting methods of food preparation.
The various types of mooncakes were lined up, like a bride waiting to be photographed by the paparazzi.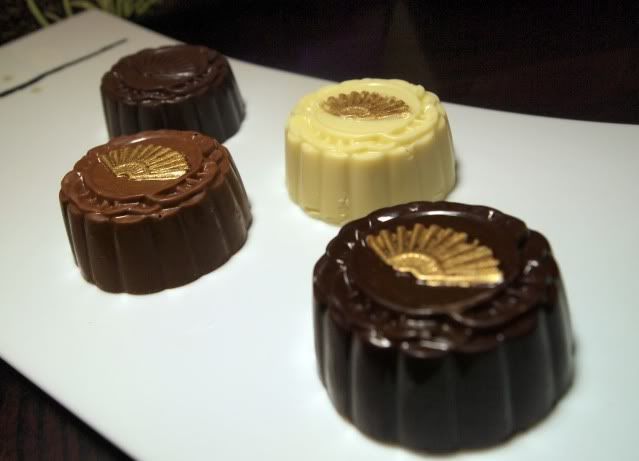 I am not sure when chocolate became a favourite ingredient for mooncakes, and personally, I like chocolate so I am of course okay with this idea, but as I said, being the traditionalist, I am thinking, might as well eat chocolate as chocolate, and save space for the traditional ones, which arent available all year round, as opposed to...chocolate.
Clockwise from left top: Dark Chocolate with Star Anise and Red Bean Ganache, White Chocolate with Orange Ganache and Jam, Dark Chocolate With Salty Caramel, (Yum, salty caramel, my favourite), and Milk Chocolate with Peanut Butter Crunch.
The traditional ones, with white lotus and numerous number of yolks combinations...
Mini snow skins with Durian Paste, (Very yummy), Mini snow skin with pandan flavour and mini snow skin with blueberry and coconut.
Chicken Ham and almonds...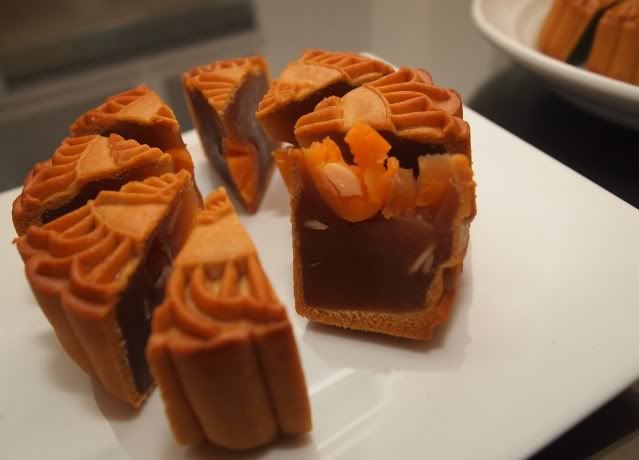 Needs no introductions,....
And to accompany the mooncake fest, Double-boiled abalone soup with seasonal dried deluxe seafood and baby cabbage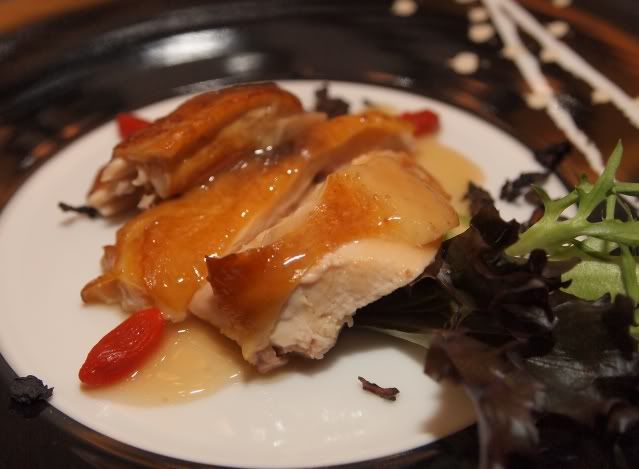 Jasmine tea leaf smoked chicken with ginger and spring onion dip. The lovely aromaticness of the tea leaf infused into the chicken, and the superb ginger dip, very good. And unlike some smoked chicken, which can be overpoweringly smokey, this was perfect.
Crispy egg noodles with assorted seafood and vegetables. Being an extreme noodle fan, I wouldn't have minded more noodle and less seafood...
Lai Po Heen's special seafood fried rice
As if the mooncakes weren't enough for desserts, they decided to let us sample most of the desserts from the alacarte menu.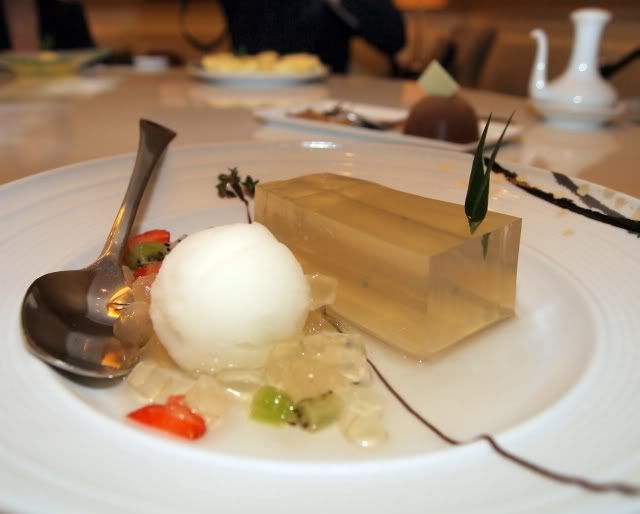 My all time favourite, lemon grass jelly, aloe vera and lime sorbet, a most refreshing palate cleanser after a chinese meal.
Chinese inspired chocolate coconut dome
LPH's signature durian pancakes. I think this was one of the first places in KL to serve this, and I remember oohing and ahhing the first time trying this many years back. The standard has been maintained, and it's still good.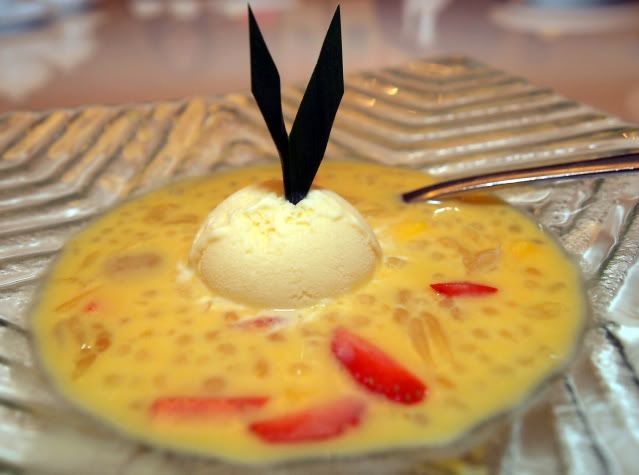 Chilled Mango Puree...another refreshing dessert, tangy, sweet...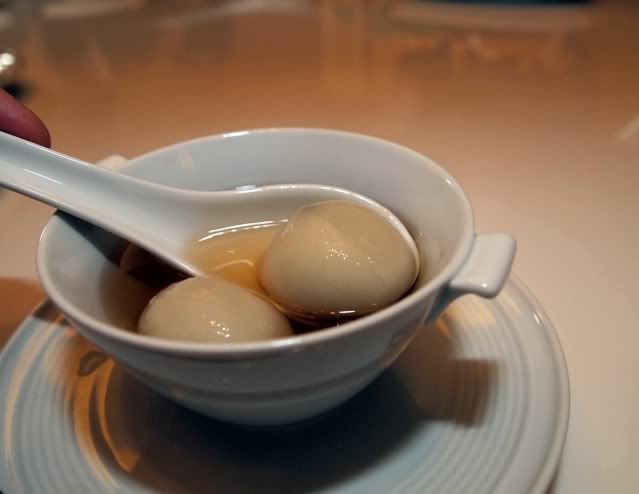 Ideally, each man should have two of these....
Chinese Banana Split, ...with the pineapple thrown in for the "yellow" element, since it's described as Banana Split recreated the Chinese way.
The mooncakes are priced from RM14 for the smaller snow skin ones, to RM28 for the bigger chunkier ones.
To purchase, please call Lai Po Heen at +60(3) 2179 8885 or email mokullpoheen@
mohg.com. Orders can be collected daily from 12noon to 10.30pm.