A few weeks back, I got a very last minute call from the suave and handsome owner of Rama V, Andre, requesting some of us to try out a special menu he had planned for a special occasions. Never one to turn down free food, especially with the prospect of good company, and nice ambience, (incidentally I just checked, ambience and ambiance are both correct), I agreed, although we were to be fed only at 9.30pm. Usually the digestive faculties would be winding down by then, ah, but what the hey.




Andre and the brood.... Monkey Boy, Monkey Girl, and Memoirs of a Chocaholic. Ooh, all start with M.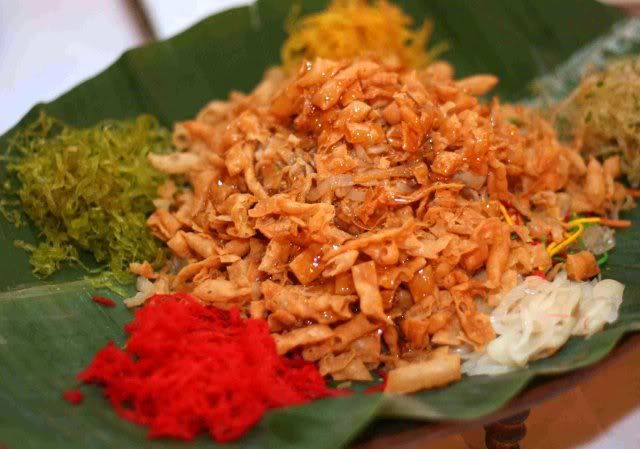 Jelly Fish Yee Sang. We were the first guests to be served Yee Sang for the year. Wow, what an honor. Also, being the first, I think the cook was not aware that Jellyfish has to be soaked long before serving, because it is preserved in salt. So, while the other stuff was lovely, the jelly fish felt like it had been working in the salt mines of the dead sea. Good thing we were there as guinea oink oinks to point this out.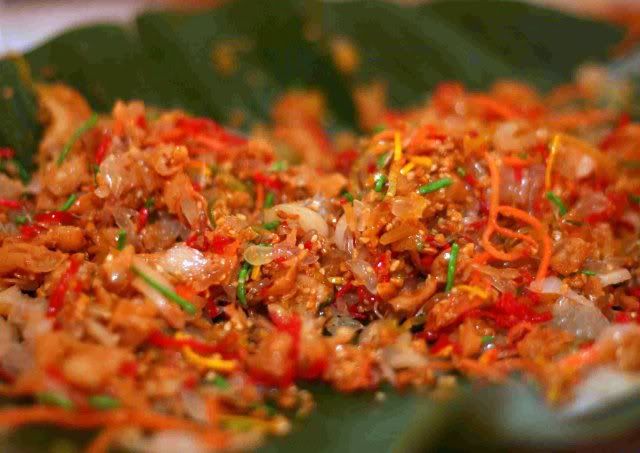 The lovely blue lotus dumpling,

CHOR LADDA

, a personal favourite of mine, served together with a glorious crab meat otak otak. The otak otak was very unique, as the texture of the crab meat gave it some body, and it had a nice chewy feel to it. (

HOR MOK POO

)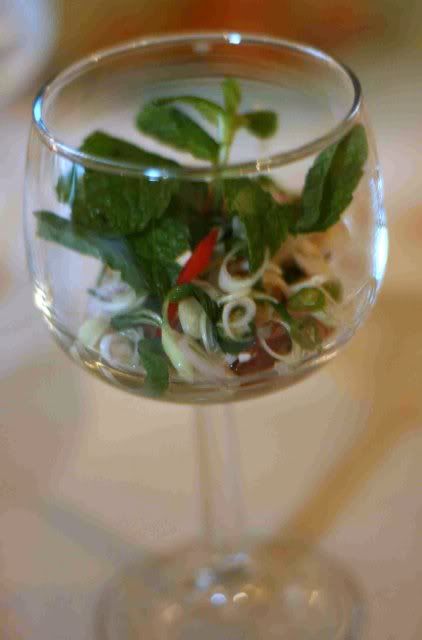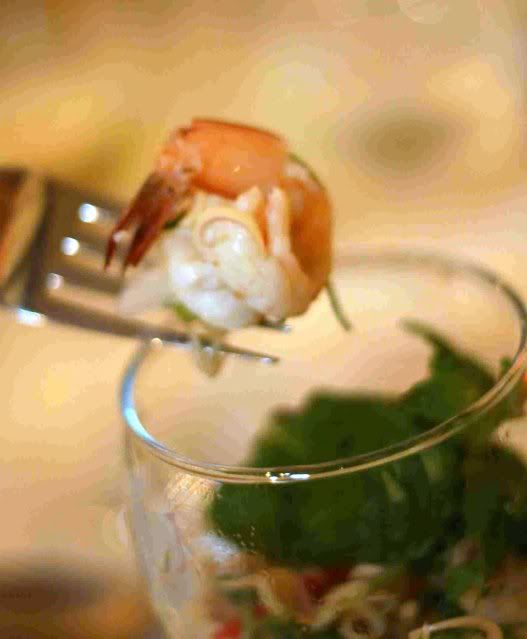 Yum Kum Pisek


Another starter, which was a very Thai saladish thing with a couple of succulent prawns. However, most of the condiments are for show, as it can't really be eaten, unless you've the disposition of a Thai Elephant, and can chew through lemongrass and chilli padi. I found the taste palatable, a nice tangy and fiery feel, though my eating compadres felt it was too hot. Wimps.



A special crabmeat and something soup, not usually on the menu. A bit on the sweet side, compared to the Chinese version of something similar.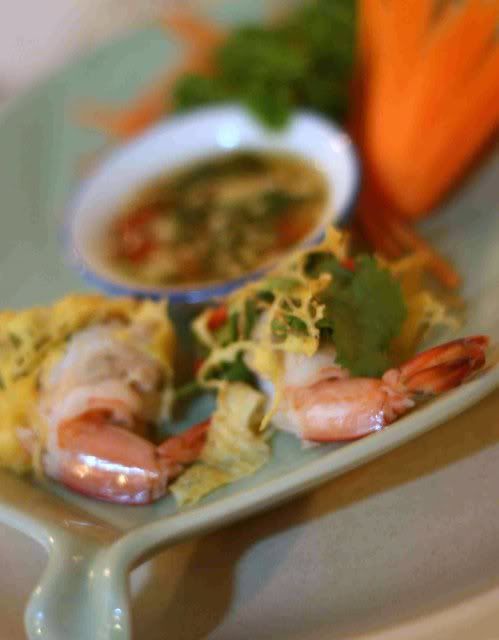 Kung Non Hae


Prawns in gold net, literally translated. Egg omelette made a bit like roti jala, to give that net like (net as in fishing net, not internet) shape, wrapped around the prawn.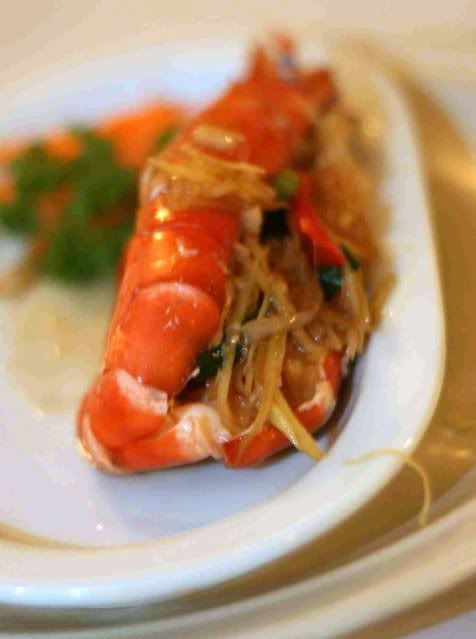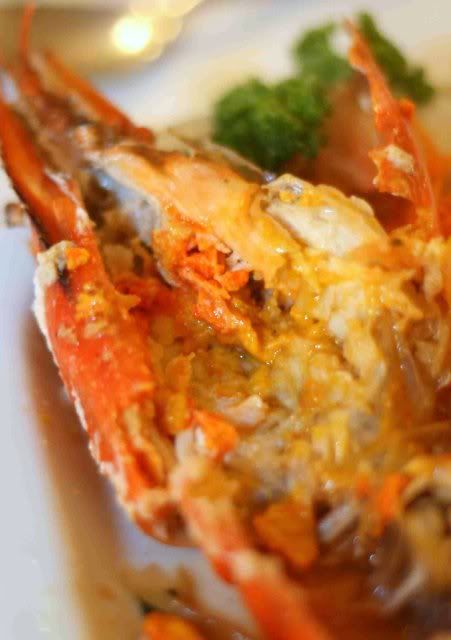 Yam King Ornsai Kung Mankorn
My favourite for the night, and how can it not be. Look at that succulent mother of all prawns, (think District Nine!), with that gloriously crimson roe. River prawn in young ginger and spring onions...basically a chinese method of cooking, but oh so good. The original menu, for the special event, would be lobster. But hey, prawns these size are just one step away from lobsterhood.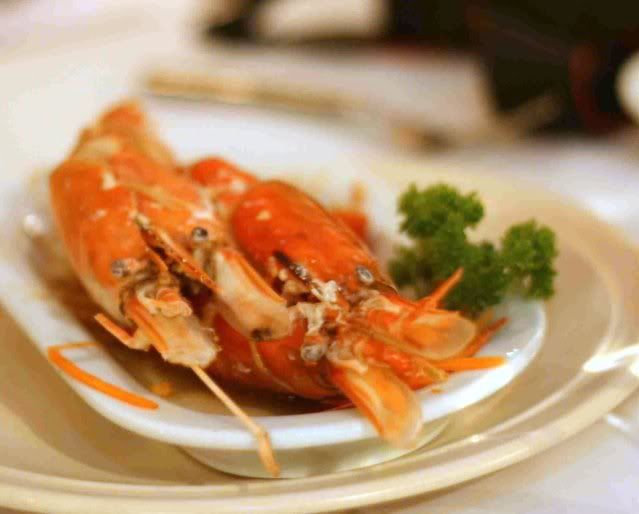 Dang the prime lens and bokeh! This picture is to show the prawns err...sprawning. Spawning, I mean.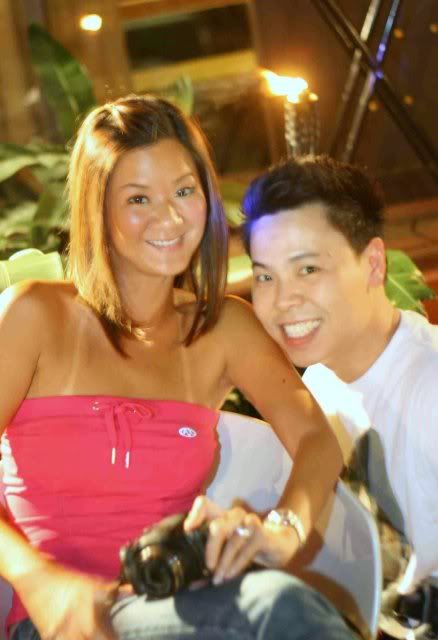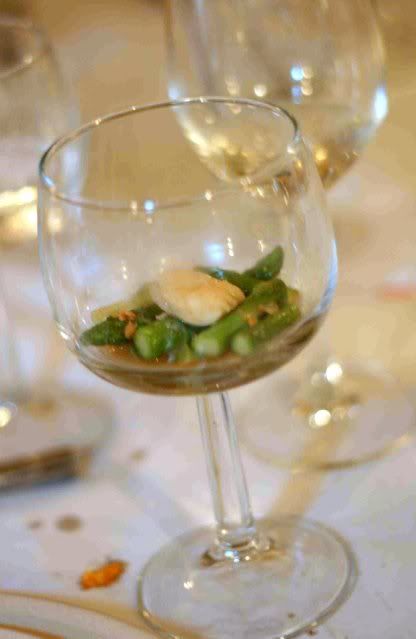 A leetle scallop with asparagus. By this time, and this hour, we were completely stuffed, so I was grateful the scallop was miniscule. I think for the real deal, they'd give at least two. (scallops).





Pla Pa Ping


Doesnt that just rolll off the tongue. Pla Pa Ping. Saying it is like balancing a ball bearing on your tongue. Deep fried fish fillets. It was a favourite of the others, but I am not a big fan of battered fish. (even though there is no domestic violence involved, like battered spouses).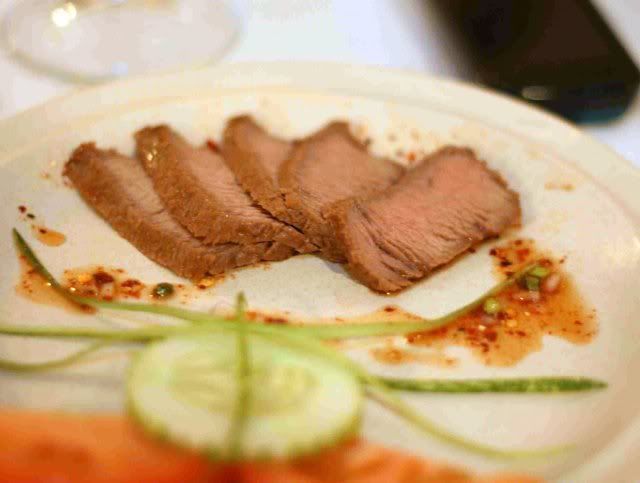 Nue Yang.
Beef tenderloin. Hmm, is Nue beef in Thai? Sound like Mandarin. Mine was overcooked, but the others were luckier with their pink slivers of tender loin.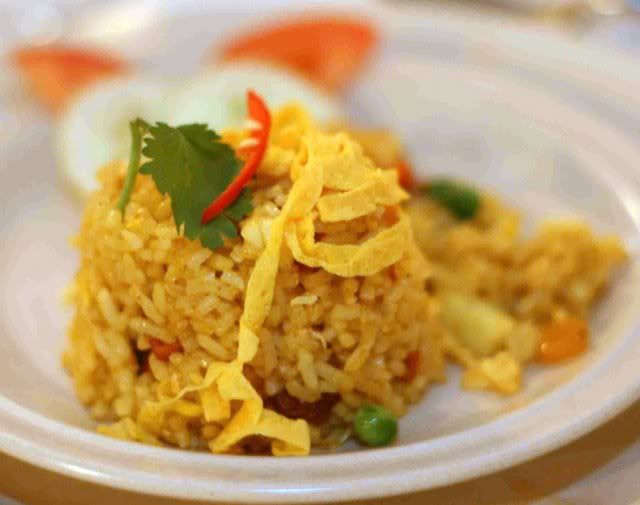 Pineapple fried rice, which we unanimously agreed should be struck of the degustation menu for this event, and replaced by noodles instead. It's good on its own right, but somehow, seems a bit plebian after all the other fine dining stuff.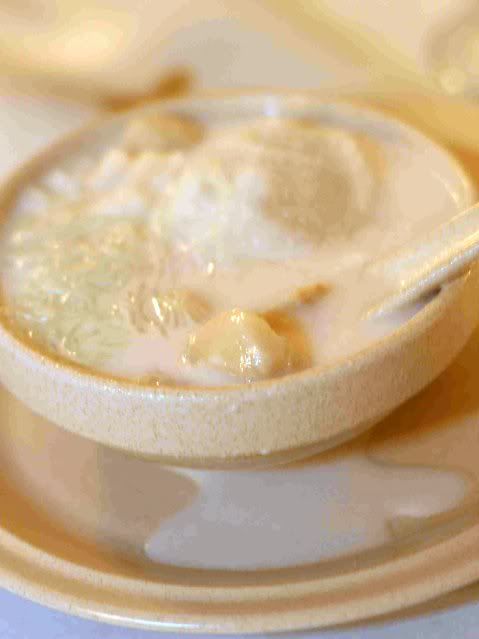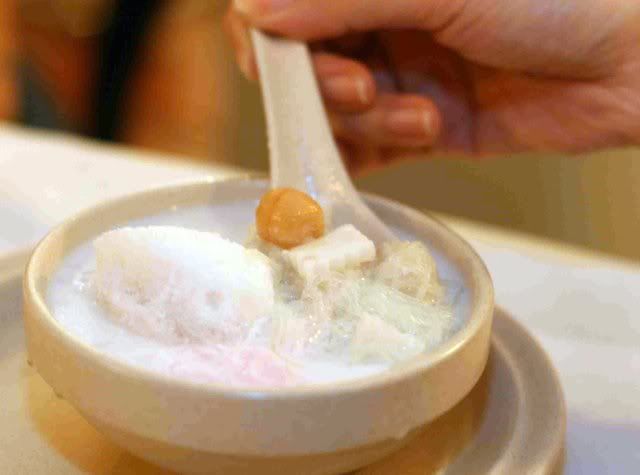 Mmm, this lovely dessert called Salim. There's always room for dessert. It's almost LIKE that tap tim krup thing, but not quite. Strands of glass vermicelli (tong fun) make it very unique. Not overly sweet, it was the perfect end to the great meal.

Anyway, just so you know, Rama V does do customized degustation type menus, as we have seen here, to cater for private functions. Rama V is an ideal venue for parties up to 100 plus pax I think, located on Jln U Thant, in a quaint old bungalow with large spacious grounds.

Great night as usual, thanks Andre. For the other takes on the night's events, check out Chocoholic's Post and AlilfatMonkey.