Manager of Tom Dick & Harry, whom we shall call RR, (Rolls Royce?), has been asking us to sample their new breakfast menu, laden with pork, and all the other gorgeous stuff, and finally, we made it, one wintery Sunday morning. The overcast skies made Alison Victor feel she was in her native Britain, ...for me, it just made the morning all the more pleasant to stuff my face.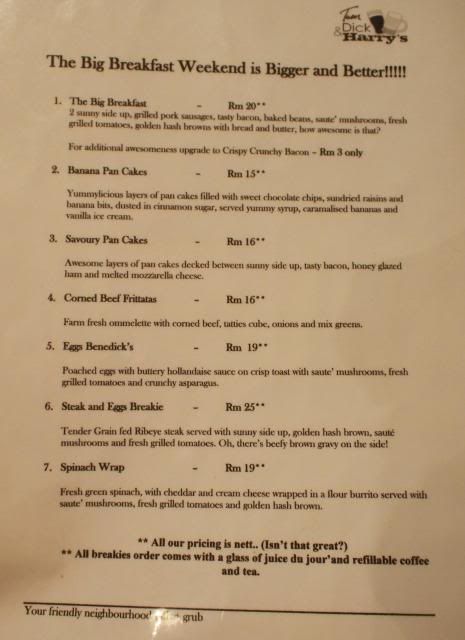 Notice the pricing...its nett. That's a whopping 6% saving with the current GST rates.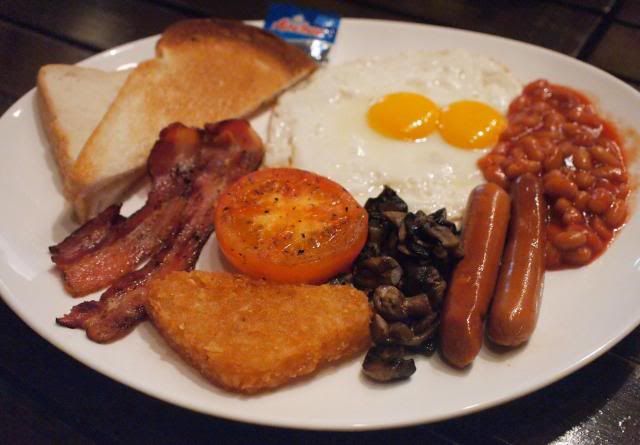 The big breakfast platter, all the goodness of a wholesome hearty greasy bacon and eggs breakfast...which begs the question, is it American, or British? The hash brown probably has its roots in the US of A, but otherwise, surely baked beans, sausages etc are beautifully British? Did I mention that the bacon and sausages are pork? The way they were born to be? The very term beef bacon, it almost sounds like female cock...cockerel, that is...
The guys at TDH are nothing if not considerate.... for the non meat eater, behold, this spinach roll, .... which in truth, was wasted at our carnivorous cabal.
Aly & Lexie, a new DJ at Red FM. By the way, Aly has left Red FM, for those of you that didnt know.
The very affable co-owner, Ernest, who spent a great part of the morning with us, explaining to us in detail the concept of each dish, etc. Ernest, we found out from our review at Hoofed, is quite the perfectionist when it comes to recipe development.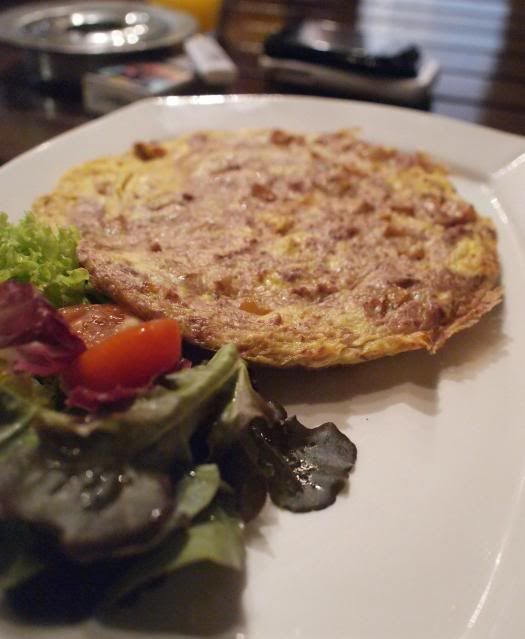 Cornbeef fritata...a must if you are a cornbeef lover. Couldn't help thinking of Bald Eagle, who to my knowledge loves his corn beef.
Savoury pancakes, or more like crepes, topped with honey. There was a time when savouries and sweets were compartmentalised like female only coaches on KTM trains, but over time, it seems to have become fashionable to intermarry the two.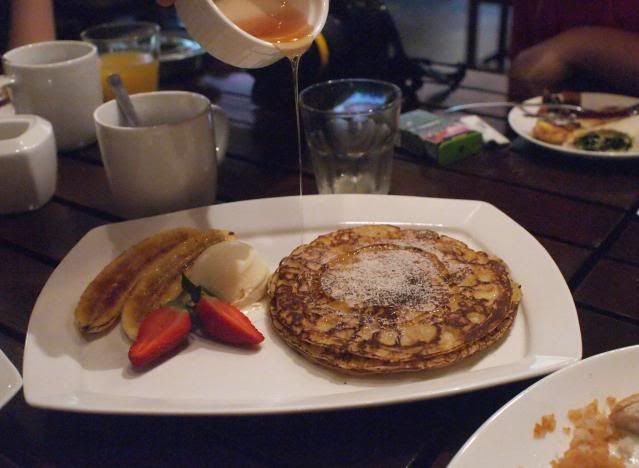 Banana Pancake. Now if at this point, you're wondering how many people were partaking of this gluttonous feast, I have to say there were about 10 of us. There was Aly, Lexie, Walauwei, a guest star appearance by The Nomad Gourmand, and a host of people from Advertlets, including the young photographer who pronounced that I was drunk based on my sanguine countenance. A word to the young people of today, a scarlet face does not equate inebriation, and people don't appreciate being told they are so, if they are not.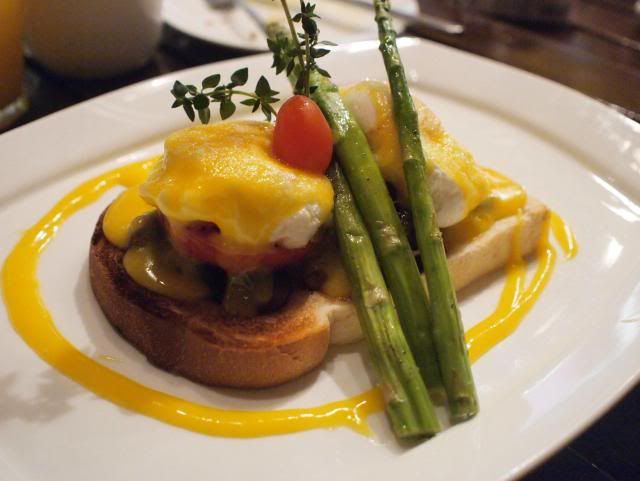 Ah, the most divine eggs Benedict I have tasted....poached to perfection, swimming in a sea of freshly made Hollandaise sauce. I hope Tom, Dick and Hairy's eggs are consistently this perfect, because I cannot wait to come back for more. Oh, incidentally, it's spelt Eggs BeneDICK here...
Steak and eggs. While it may sound decadent to have a rib eye while good Christian men are praying, it really is no more decadent than the platter of bacon and sausages, I guess, and usually, according to Ernest, hungry cyclists would chomp down this protein packed platter.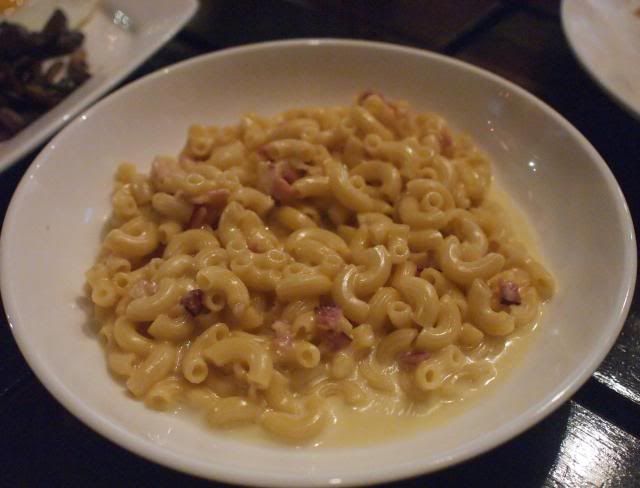 The mac & cheese and the cornflakes are meant for the younger gentler crowd, who still have their milk teeth intact, probably.
You ever watch a movie where the good guys are fighting the bad guys, and of course, the good guys never "finish off" the bad guy, who might lay there gasping for their last breath, but because they didn't FINISH OFF the fler, he comes charging with one second wind to kill the good guy instead? Well, by that analogy, Ernest, Collin and RR were kinda killing us with all that food, and well, this platter of bacon, is really to finish us off. How can anyone resist crispy, aromatic, streaky bacon!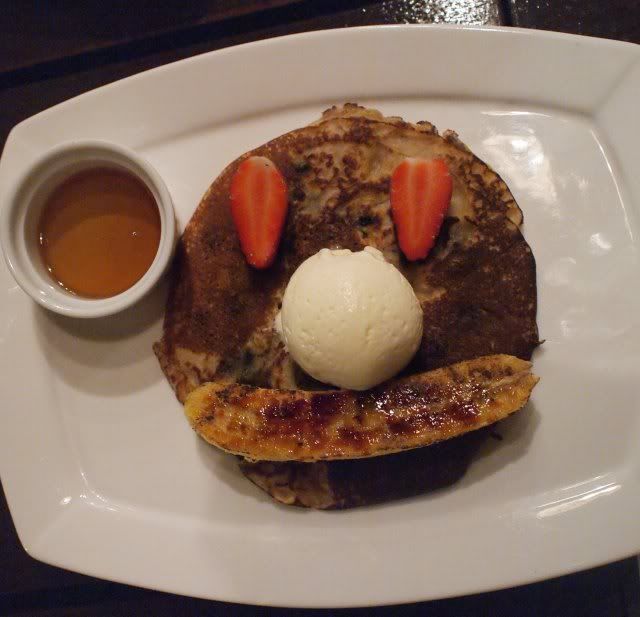 Another dish for them kiddos.
Well, if the plate of fried bacon was to finish us off, this was the ENCORE performance. Can you imagine tucking all this in on a Sunday afternoon? This explains why I had put on weight even before Chinese New Year started! Ah, this pork knuckle, let me try to do it justice. The crispy crackling makes the sound of a good gin poured on really cold ice...that crackle, pop sound... it then melts into mouth, and melds with your arteries. The meat, falling off the boner, moist, succulent and tender. I think 5 people could easily share this and STILL be full.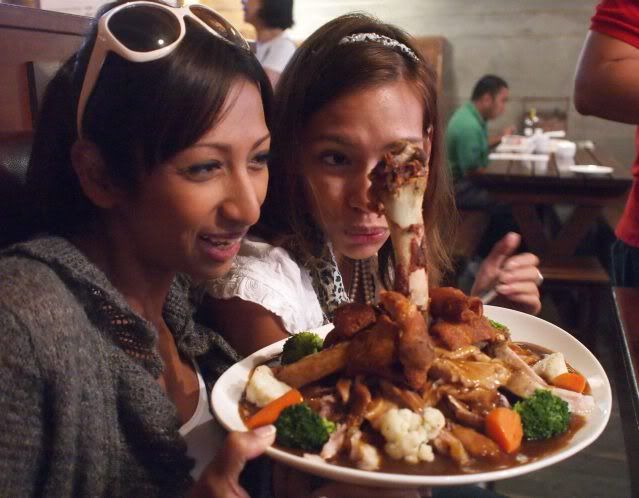 Them girls love the boner..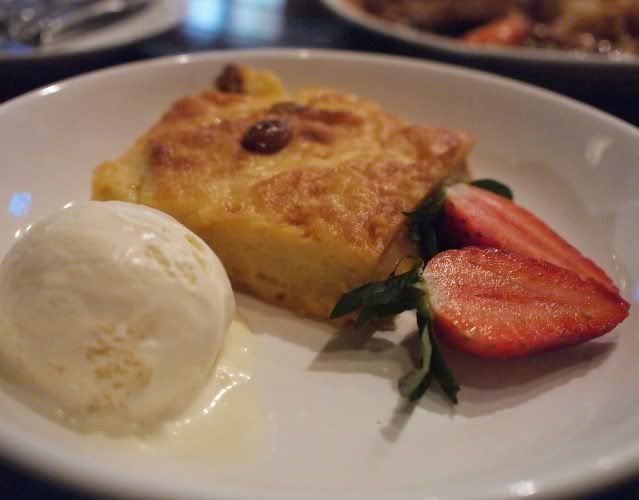 Bread & Butter pudding...aisayman, I forgot to try this.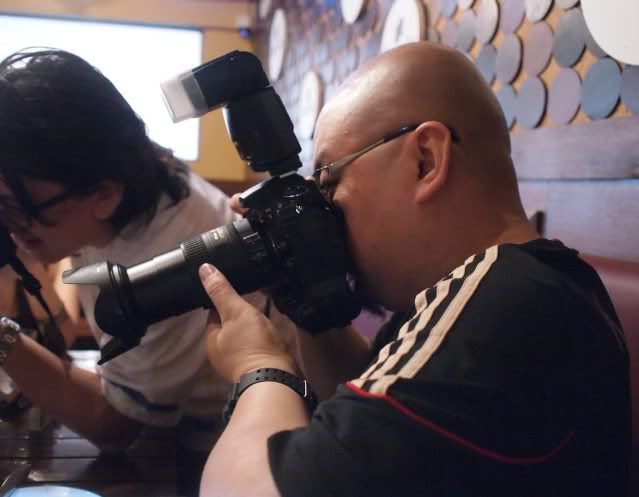 While the girls admired the boner, Walauwei was fiddling with his long canggih equipment.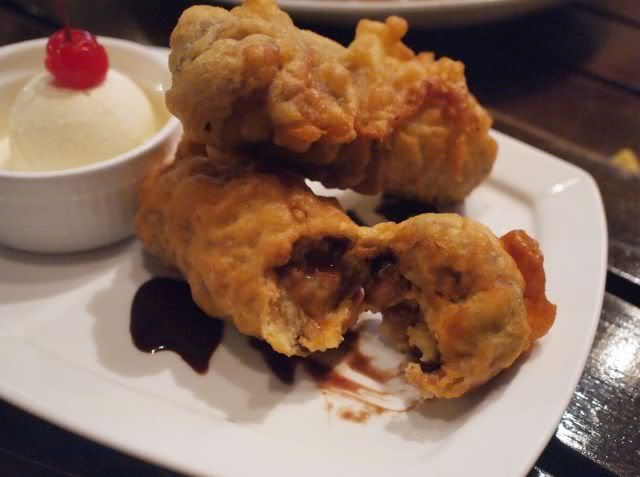 I've read about these in Nigella's cookbooks..deep fried mars bars and snickers. Okay, not exactly my personal favourite, but I can see the appeal of multipying decadence.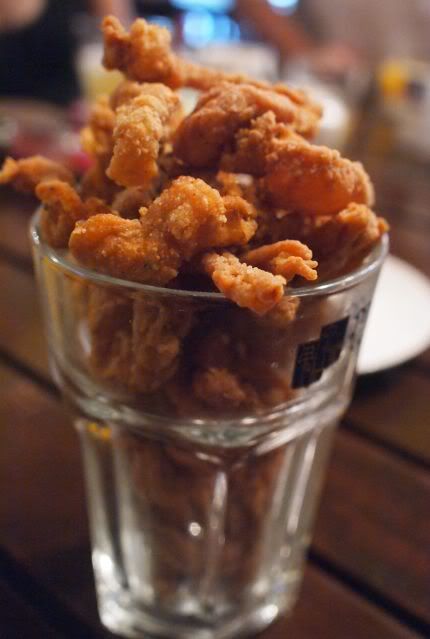 As dessert to the dessert, Ernest saw it befitting that we washed down everything with a Hoegarden, AND more food. The crispy chicken bits, like popcorn chicken, is a beer's soul mate.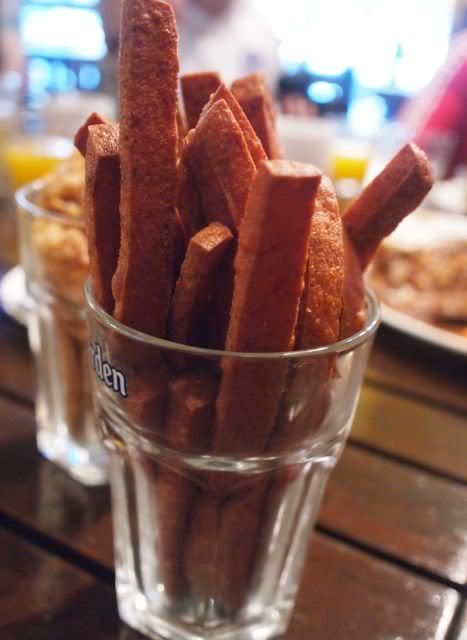 But if beer ever had a kindred spirit, then it is THIS! Deep fried luncheon meat. Speechlessly good.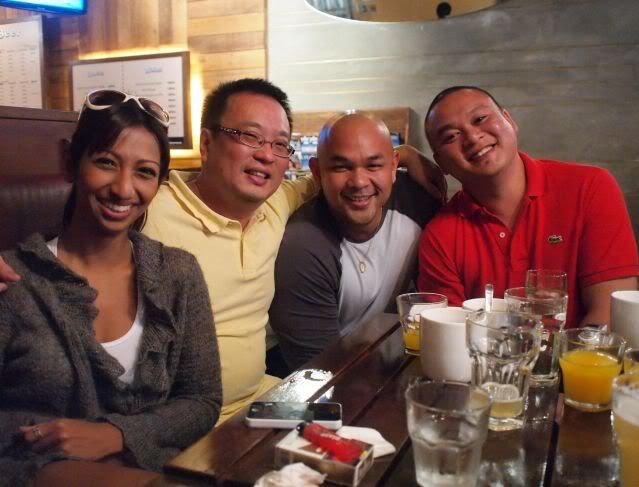 That's mah cherry pawm pawm, with the two hunks, Collin and Ernest, the boys behind TDH.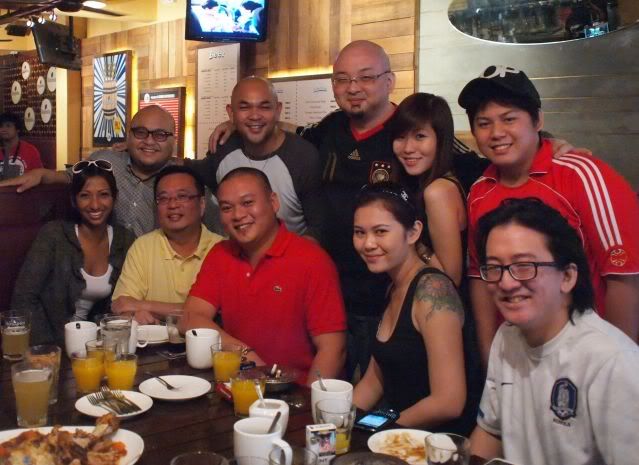 And, another thing they have here is the PEACE PIPE, or is it the PISS PIPE?! Whoever drew the smallest card, drinks....me thinks it was a conspiracy, for I doubt anyone ELSE could have pulled off sucking that pipe, which incidentally, was filled with a drink similar to a graveyard. A toxic cocktail of sorts. But hey, we are talking about the same lass who drank 75 out of 100 shots in the Carlsberg Centurion Challenge, so what is a little graveyard.
Seriously, I am not sure if it was the company, or a combination of booze on a wintery Sunday morning, but that was one fantastic brunch spread. Benedict's eggs still linger in my memory, like a happy moment in a petronas ad. And that crackling from the pork knuckle, almost makes me want to break into song.....
Thank you again, RR for inviting us, and to Ernest and Collin for being SUCH fabulous hosts. For other reviews, check out....
Aly's Wonderland
, (gawd, that woman tried everything, down to the asparagus in the eggs benedict), and
Walauwei
..