The first surprise of the night was the sheer size of the SS2 mall. I hope to insert a picture here eventually, but I was so taken aback by the sheer size, I had lost all presence of mind to snap a picture. A road that was previously a dead end, (from Rothman Roundabout, you go past Greenview and go straight, instead of turning left to SS2, and just follow the road) now leads to this gargantuan structure that looks like a giant space ship that landed in an empty field. It is quite a spectacular sight.
The 2nd surprise was of course to find this treasure trove of culinary delights in CHYNIIS. (pronounced ...well, err..Chinese). When Aly first asked us to check out this place with her, my first thought was, CHYNIIS? Is that the people born in Chynna? (the Chinese restaurant in KL Hilton). If you think that was bad, Aly thought it was pronounced CHEE NEES. Hallo! Well, the restaurant wing of the mall actually faces the houses in SS2, in that road where the old Paris shack used to be. So it is better to access the restaurants from there, as there is now a valet parking service for RM4.
We were joined by the owner, and very gracious host, Mr KH Saw (who also owns D Italian Kitchen), Stephen, a freelance Star Reporter, Nicholas, a body builder chef, Joyce, wife of the owner, Sai Fun, a freelance copywriter who helped come up with the name, and our usual motley crowd, Aly, I am the Witch, Mr I AM THE WITCH, (Saucer) and Lexie of Red FM. With such a crowd, could dinner have been anything less than fun?
Sai Fun explained how the name came about. Due to the diverse-ness of Chinese cuisine, and the sheer number of dialects alone, each claiming their own specialty, and the varying chinese cuisine in different countries, its difficult to put a label or categorize the type of Chinese food, so really, the most logical name would be Chinese Food, but obviously, you can't spell it like that, hence the stylized CHYNIIS. (which incidentally is to be spelt in full caps).
There's something very empowering about swallowing these little shrimps whole, eyes, and all. Very V-like.... not to mention, addictive. Crispy and savoury, actually these are the perfect accompaniment for an icy cold glass of Tiger. (hor Aly).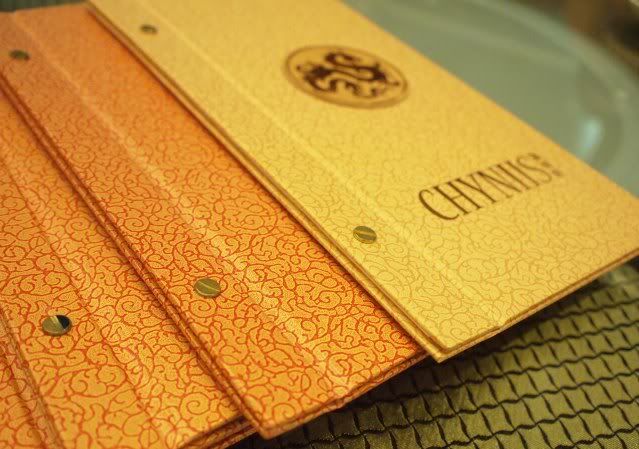 Mr Saw very kindly explained to us the concept of Chyniss, which really, is to gather the favourites, and in some cases, lesser known cuisine from the various chinese dialects, from the four corners of the country. For example, the very interesting fish ball dish from Sibu, ...which we will see later. A lot of creativity goes into some of these dishes, while at the same time, maintaining old favourites like Sang Har Mee, etc.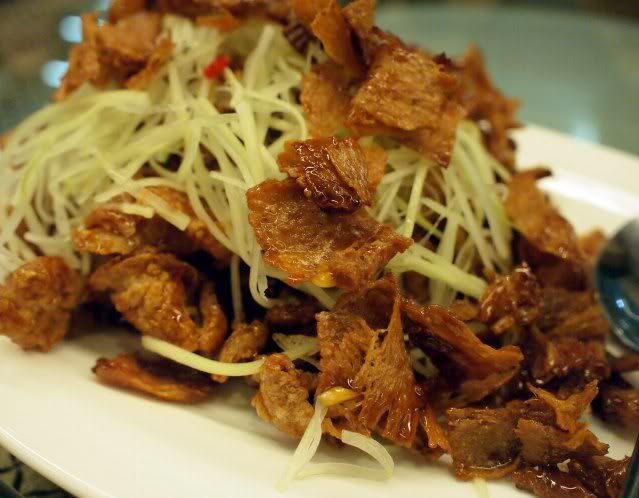 Crispy Pork Belly with Rolled Chargrilled Cuttlefish. Lovely caramelised pork, layered with fat, and fried to a lovely cracker like consistency. I would have prefered more pork, and less cuttlefish. It's not that I didn't like the cuttlefish, its just that I loved the pork more. Actually this dish is another one that would go well with beer.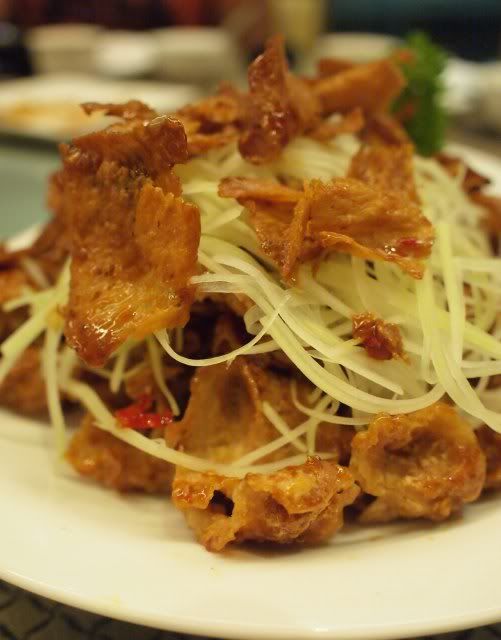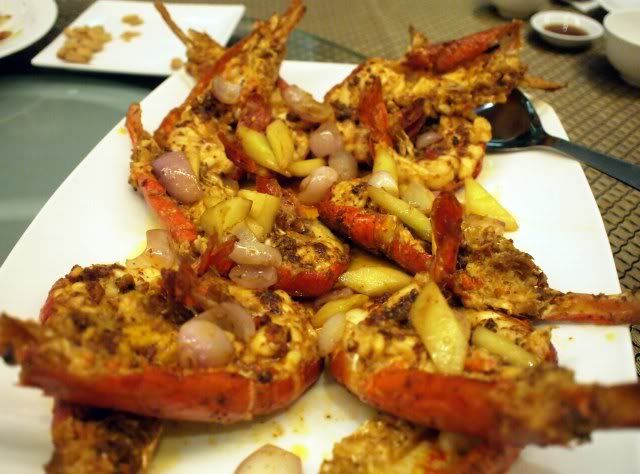 Baked Giant River Prawns with 'Dang Gui' and Butter - 'Dang Gui' is Tong Kwai in Cantonese, or cordyceps (no relation to biceps or triceps) in English. Cordyceps powder ground and infused into the prawn shells. How fabulous is that. You get a lovely flavour when chewing the prawn shell. The prawns are succulent and fresh, and the sauce accompanying it is fabulous. Cries out for rice though. Pity rice has such a bad rap and its become unfashionable to be a fan tong. (rice barrel)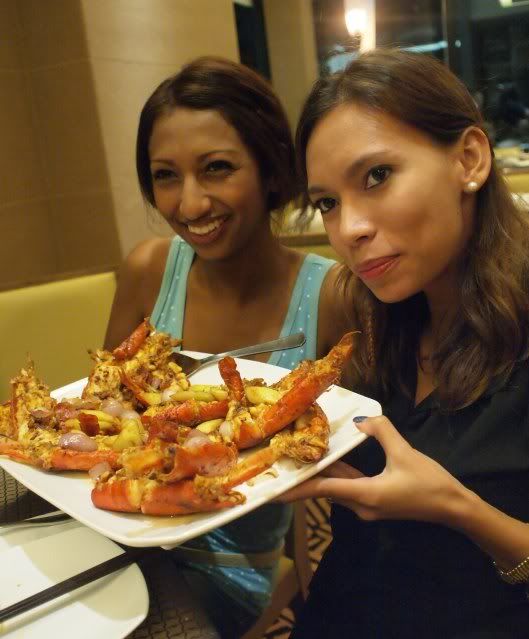 Check out our shrimp. I think this pic was meant for Terry of Red FM, who is observing Lent and is abstaining from all good food.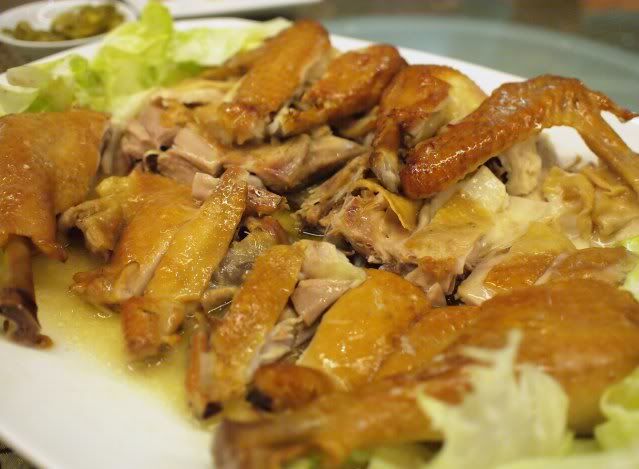 Tea Smoked Village Chicken - Now the thing about Chinese cuisine is, most of this stuff, you definitely would not have the time and patience to make at home. There is an almost unbridgeable abyss between what Chyniss ..oops, Chinese flers would eat at home, and what you'd eat at a restaurant. Well, to me anyway. The idea of smoking a chicken, or anything else, for that matter, is just too mind boggling, but I am glad they DO do it in restaurants, because the flavours are just so complex and titillating to the palate. You get the charredness of smoke, without the carcinogenic carbon, the subtle tea flavour, (Pu Li tea I think they use), and the wonderful texture of Free Range Kampung Chicken, which imparts a kind of gaminess to the whole dish. I'd say this was one of my favourites.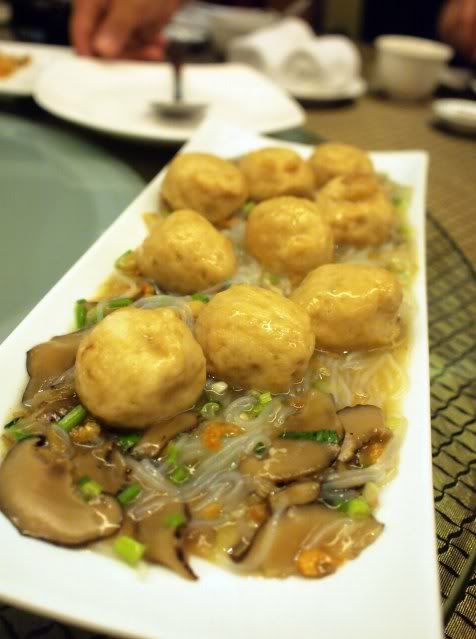 Fish Balls with Japanese Potato Glass Noodles - I can imagine my kids would love this dish. Potato glass noodles are quite unique to me, I don't know if I've had them. Fresh fishballs made from ...well, fish...or Tenggiri to be precise. (Mackerel).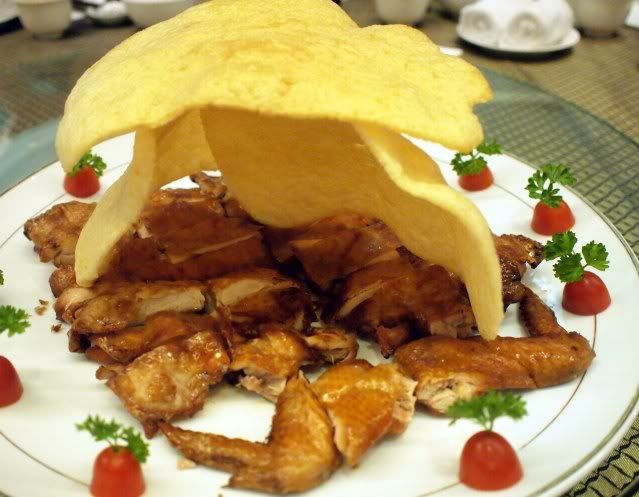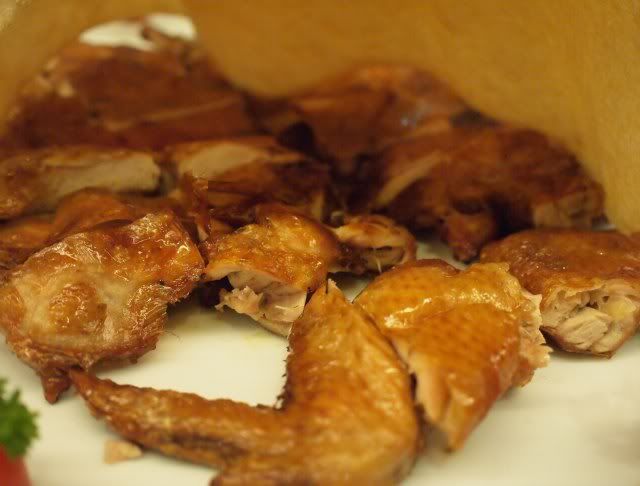 CHYNIIS House Special Boneless Crispy Chicken- Now, if only all chickens were made like this. This chicken is all dark meat (Aly heard this chicken is all duck meat). What they've done is made sure the entire dish , even the bits that look like breasts, are actually leg/thigh meat. I wonder if they have another dish that is all breast.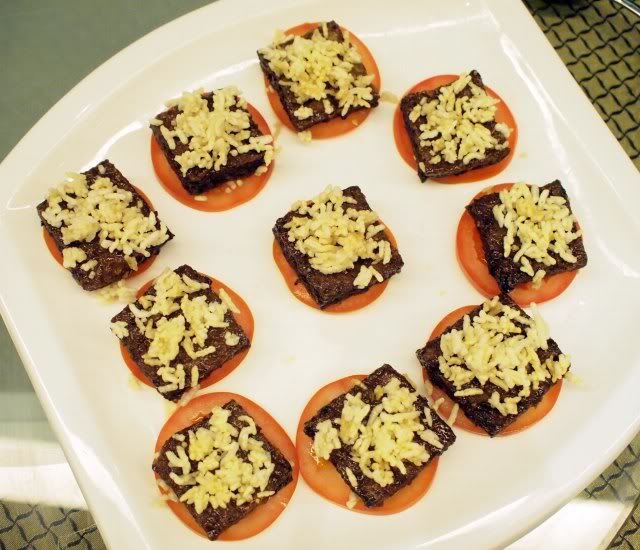 Beef Squares with Beancurd Skin and Puffed Rice - This is a rather unique dish as well. Beef patties sandwiched between foo choke, served on a slice of tomato, and topped with rice crispies. A myriad of textures. I enjoyed this dish too, (actually I enjoyed ALL the dishes) and definitely it is something different.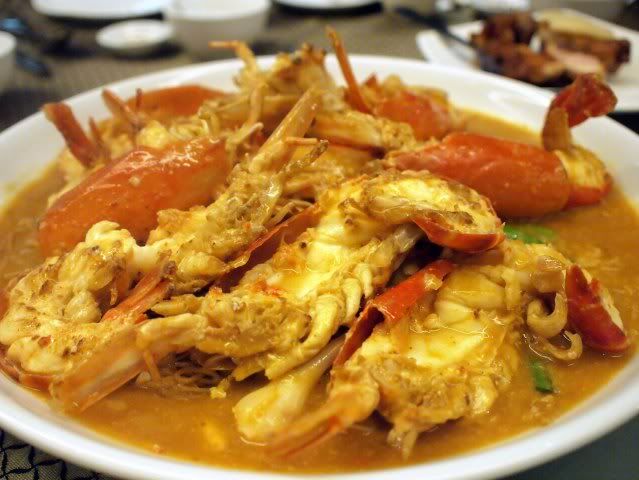 CHYNIIS Sang Har Mee - There seems to be proliferation of places offering this particular item on the menu, but given the close proximity this place is to "Verdant Vistas" I guess it makes sense for them to serve it too. I almost fainted when I heard Joyce say they had purposely reduced the noodles as she thought we might be full from all the other stuff which is of course true, BUT, me and noodles, we go a long way, and its a love affair that has not ceased. I am one of those that wouldnt mind half a prawn with a LOT of noodles. And, the noodles here were GOOD!!! Springy and "song". Loved it. Of course the prawn and the sauce speaks for itself....rich, and artery clogging.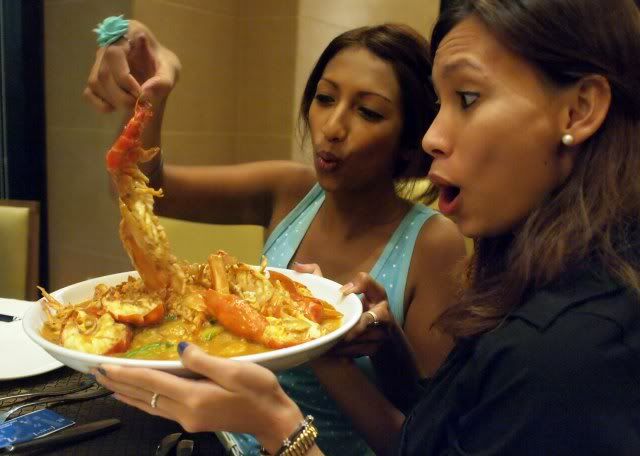 Wah, so long ah!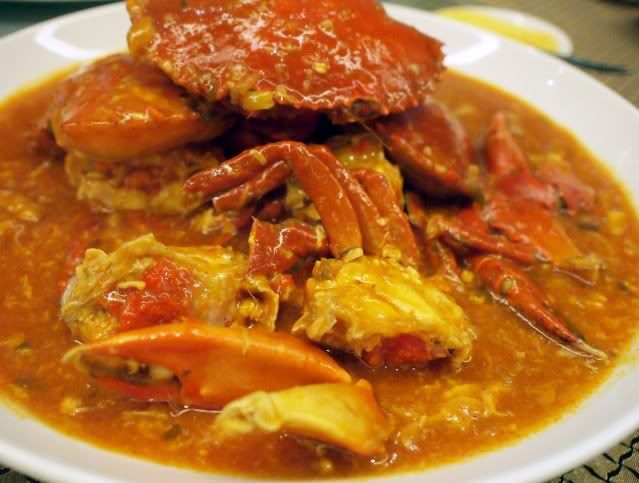 CHYNIIS Special Handmade 'Man Tou' With Hot & Spicy Chili Crabs - I forgot to take a picture of the Mantou because I was telling Lexie a silly Mantou joke (which I thought was hilarious), but them mantous (pronounced Man (as in "Mon-ey") Tau ) were gooooood! Dip them into this chilli crab sauce, ah, heaven on a bun. The crabs were chock full of roe.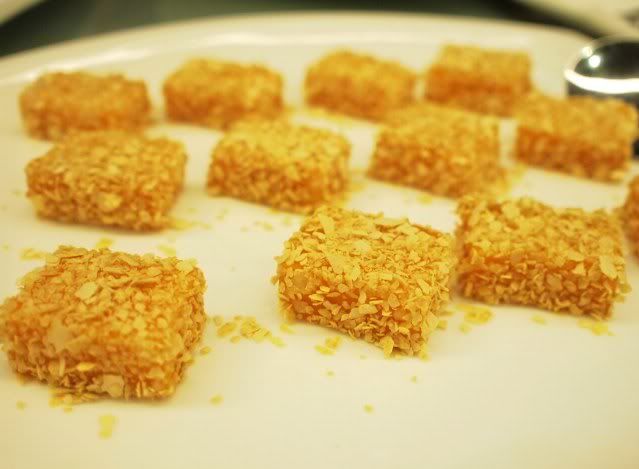 Dessert was Steamed Sweet Potato Cake Crusted with Crispy Oats. Not too sweet. Just right.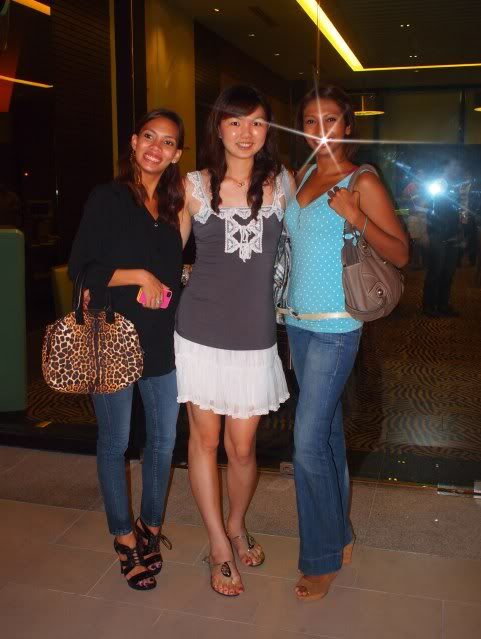 Three pretty maidens all in a row.
Well, another place to bring family and friends for a good Chinese dinner. I can imagine the conversation. What shall we have tonight? Chinese? Yeah, CHYNIIS. Where? CHYNIIS la. Where la, not what. No no no, CHYNIIS. In SS2 Mall.
Thanks again Mr Saw, for having us, and to Aly for inviting me.
G 45, 46 & 47, SSTwo Mall
No 40, Jalan SS2/72
47400 Petaling Jaya
Tel : +603 7956 7288
For larger and fuller pics, go to the
PHOTOBUCKET ALBUM HERE