I'm not entirely sure what El Meson means, but a google search said it means
The Inn
. Maybe, but their logo is of a bull, I presume one that killed a matador. Or got killed by one. Strangely, I have always had the mental picture that the logo was a pig.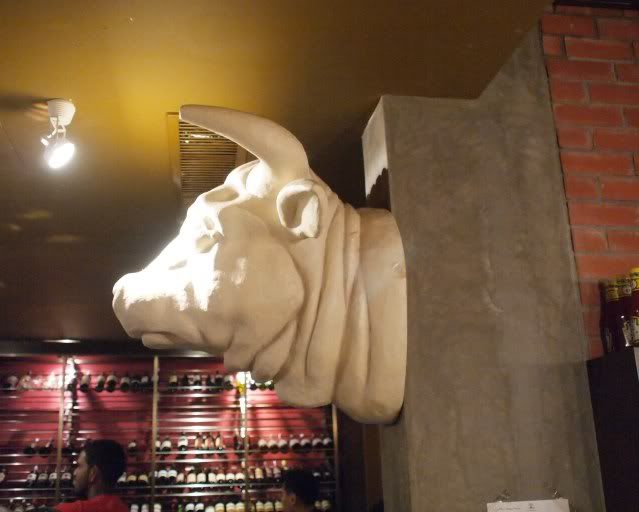 But as you can see, this is no pig. Though at first glance, and bad eyesight, I thought it was. Then it dawned on me that pigs are not horny. (Though having said that, a pig's big O supposedly lasts for a few minutes....or maybe that was an urban legend circulated on the internet)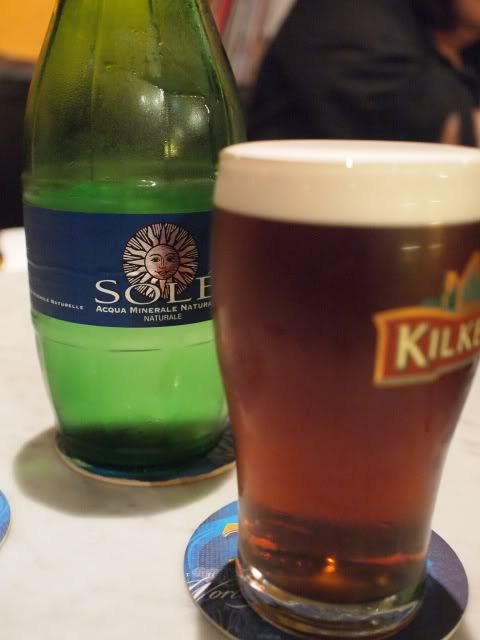 The Makan Fairy Godmother had invited me to join her and Pureglutton at El Meson, on Jln Telawi 3 for dinner. And knowing its reputation as a Porcine Paradise, I could not resist, despite knowing the potential damage to an expanding waistline. There is something about a beer and babi combination that makes it right.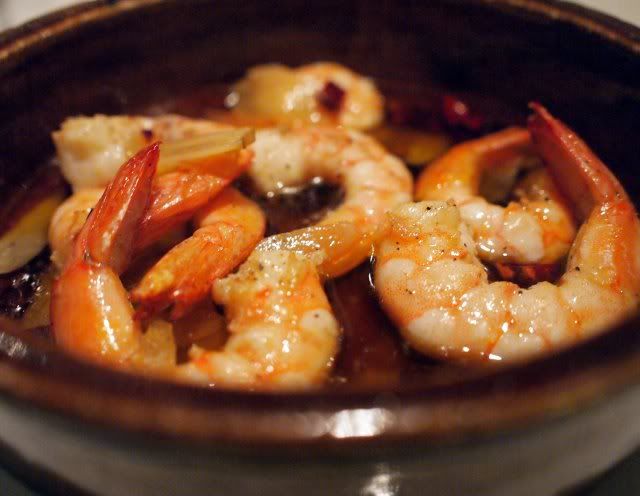 We started off with a tapas of grilled prawns in olio. Gambas Al Ajillo. The prawns were fresh, and crunchy, naturally. (as opposed to being made crunchy with sodium bicarb)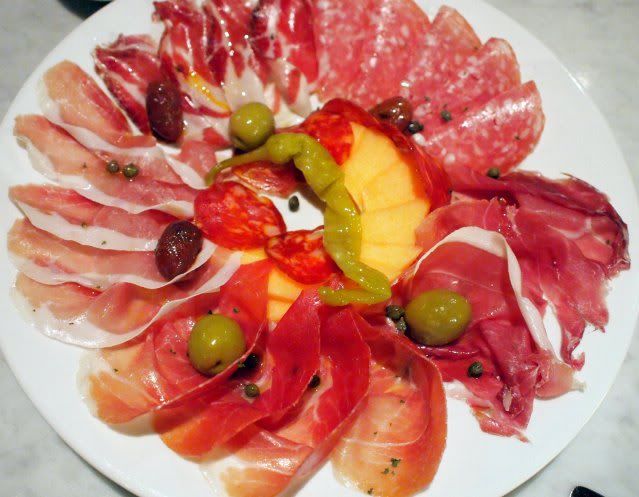 It's like looking at a rainbow. Such divine colors, of different types of pork. Serrano, iberico, chorizo, salami (ooh, it doesnt end with an "O"), proscuitto, and a couple of other meats. I loved the olives that came along with the meat, and chomped on it with the futile hope that the redeeming properties of olive oil would seep through my veins from the olive, to ameliorate the ill effects of consuming so much piggy. And that was only the 2nd course.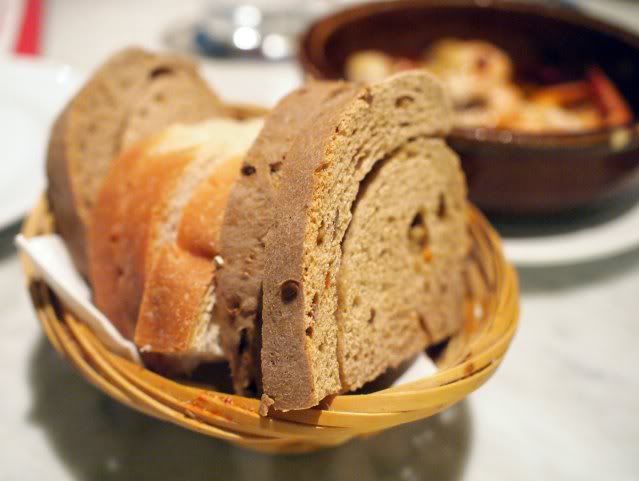 Note to self: DO NOT EAT BREAD DURING FOOD TASTINGS, no matter how good the bread is.
Piquillos Renellos, spanish peppers stuffed with mince pork. Spanish yong tau fu? Very good.
Paella, with pork ribs and chicken. Now, to be honest, I have not eaten paella in Spain, or anything else in Spain for that matter, so I have no idea WHAT a real paella is or isnt supposed to be like, but I'm sure just like Yong Chow Fried rice, everyone has their own preference, so we go by gut feel, and tongue feel. I enjoyed this rendition of the dish, but mainly because the rice wasn't soggy and there were pork ribs.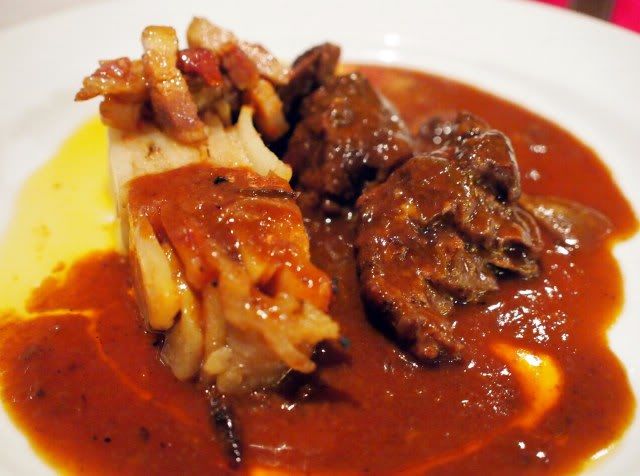 Carilla De Iberico Estofada - such a mouthful. Basically Iberico cheeks. I wonder who were the first to bring in this Iberico pig thing to the country. Hats off to them.
A different angle of the cheeks. I wonder when they say Cheeks, which cheeks? Pigs must have a lot of face to yield so much cheek.
Unquestionably the star for the night, Roast Suckling Pig. Crispy skin with moist tender succulent flesh. So good you can eat it on its own.
This picture shows the triumvirate at three corners taking pictures of the place.
Crema Catalana, the Spanish version of creme brulee I imagine. The difference is the custard is a lot more flowy. Good for the teethless. Lovely caramelized sugar on top.
I just read in Laura Calder's recipe book that Molten Cakes have been done to death, but are considered kitsch, hence their appearance everywhere from Beard Papa to fine dining at Cilantro. Of course the difference would be in the ingredients used. The chocolate used here is decent, so therefore so was the cake.
Now, this Brazo Di Gitano, at first struck me as "huh? Swiss Rolls?", but never judge a book by its cover, or a cake by its color, because this ended up being my favourite. Moist cake, with a delicious custard like filling, rather reminiscent OF a swiss roll, only many times better, that kinda gave it a wholesome, comfort food kinda feel.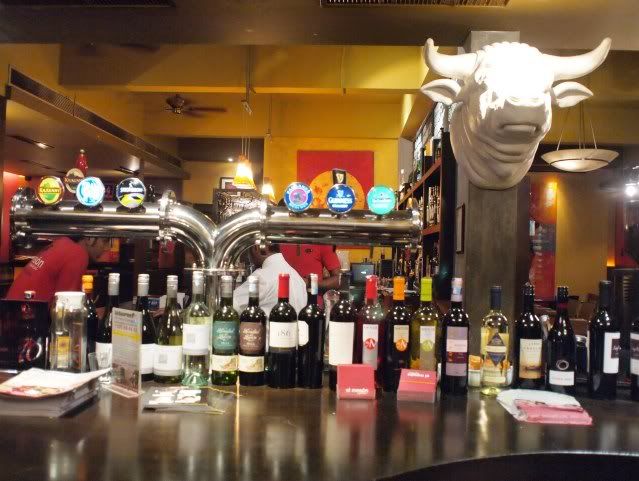 In addition to being an eating place, the bar, which takes centrepiece, also makes it a popular watering hole.
If you are into pork, and you're in Bangsar, this is definitely one of the more noteworthy establishments in the mushrooming pork genre.