It appeared in the post, snail mail, if you must know. It is SUCH a rarity to get anything except bills via that medium. There is an immediate transportation to the days of childhood lost, when we would eagerly rip apart a package that came via registered mail. Truly, there is something thrilling about receiving something via post.
There it was, that classy black invitation, from Hennessy XO and Milk PR, inviting us again for this year's Hennessy XO Appreciation Grows, this time around with Chef Cheong Liew. His name is seared in my mind, the way a cattle prod is seared into a lamb, because I remember reading that this is the man who was to helm Senses restaurant here in KL, and he hails from KL, but was at the time working at the Grange at the Adelaide Hilton. So, yes, I was rather excited to be attending this event. Unlike last year's event which was in Bukit Kiara, this year's soiree was held in Suffolk House, Penang. Residence of Sir Francis Light, a UNESCO heritage building, we wondered what secrets those hallowed halls kept, and if only walls could talk.
Hennessy XO (Moet Hennessy Diago) truly outdid themselves. A charming fokker flight from Subang, a night at the swanky G Hotel on Gurney Drive, and a delightful bus journey, filled with anticipation to Suffolk House.
The huge billboards of Henessy XO bottles all but covered Suffolk House, so actually, till today, I don't really know what the actual house looks like, in addition to the fact that a million metres of drapes were used to drape the house.......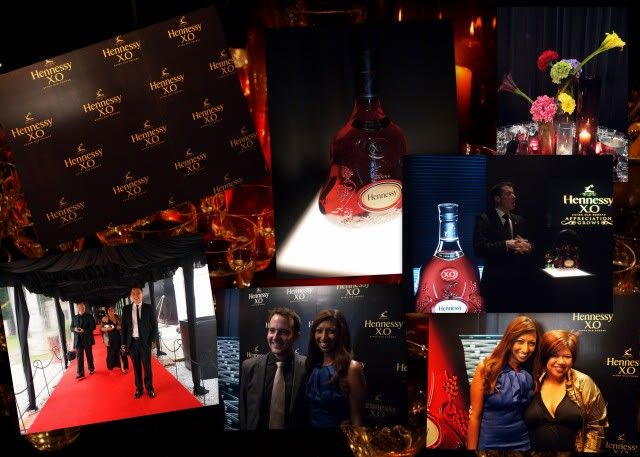 Company does indeed make the night, and having Alilfatmonkey, Awhiffoflemongrass, Aly in Wonderland, famed master baker Nigel Skelchy and Masak Masak as fellow diners certainly ensured that we would never have a dull moment. That handsome fellow, Arnaud Mirey, the regional brand ambassador, was in the midst of presenting to us the history of Hennessy XO, when suddenly, the lights went out! Ooooh, flustered organisers and stress mounting...but hey, we were all having a good time, and all the more time to savour the smooth honeylike XO...
Frederic Noyere, the MD of Moet Hennessy Diageo was like an old friend...as we all listened in rapt attention to his introduction. We also found out that the choice of venue, Penang, was because the first shipment of Hennessy XO to Malaya was to Penang, more than a hundred years ago.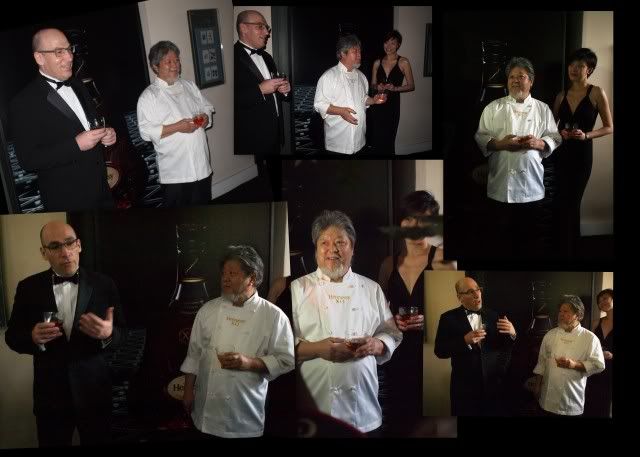 Chef Cheong Liew makes his appearance, with the lovely Karen of MHD by his side. A rather jolly avuncular fellow, with no airs, and who loves his char kuey teow, and wouldn't mind a dash of Hennessy XO in the char kuey teow! An excerpt from the Press Release (no point reinventing the wheel)
Hailed from Malaysia, Liew is one of South Australia's most well-known chefs whose fusion of Asian culture, Australian ingredients and classical French technique has made his name synonymous with the world of gastronomy. Liew has been honoured as one of the 10 "hottest chefs alive" by the prestigious American Food and Wine Magazine inducted into the Hall of Fame in the World Food Media Awards. He was bestowed the Medal of the Order of Australia in the 1999 Queen's Birthday Honours for service to the food and restaurant industry through involvement in developing and influencing the style of contemporary Australian cuisine.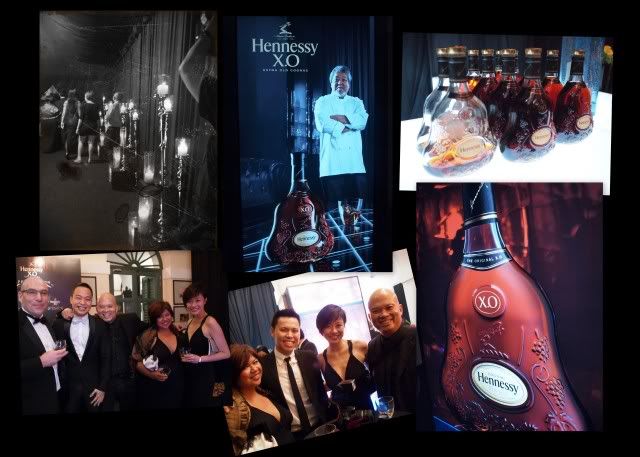 Fun fun fun...and building anticipation to the banquet that was to come. Finally we were ushered through the final passageway, to the huge dining area, which was a fairyland of lights, candles, and multimedia projection....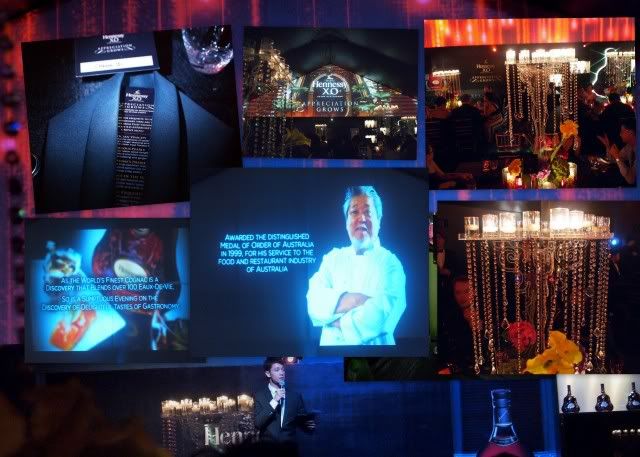 A brief introduction to dinner and what lay ahead.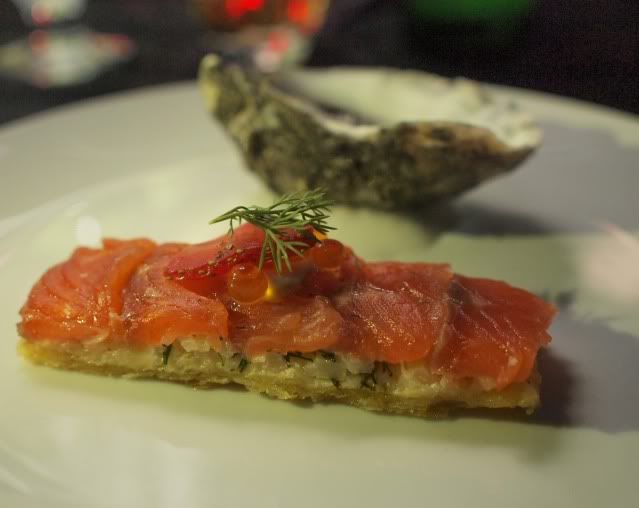 Ocean Vivacity...fresh plump oyster with a ginger dressing, coupled with a crisp, saline ocean trout fravalax (? that's what it says, fravalax...not gravalax), finger. Being the first course after a few drinks, this disappeared rather quickly.

If the oyster was any fresher, we'd have to be swimming somewhere in the sea....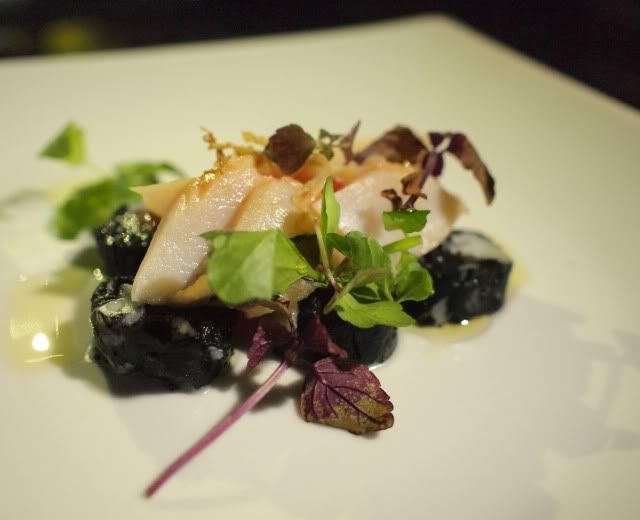 Next, the Piceous Pearls, a fusion salad with green lip abalone and black sausage with fresh tomato dressing and ginger crisps. Such a pretty dish, with such an amazing of contrast in textures. The chewiness of the abalone, the tang of the dressing, the unique black sausage....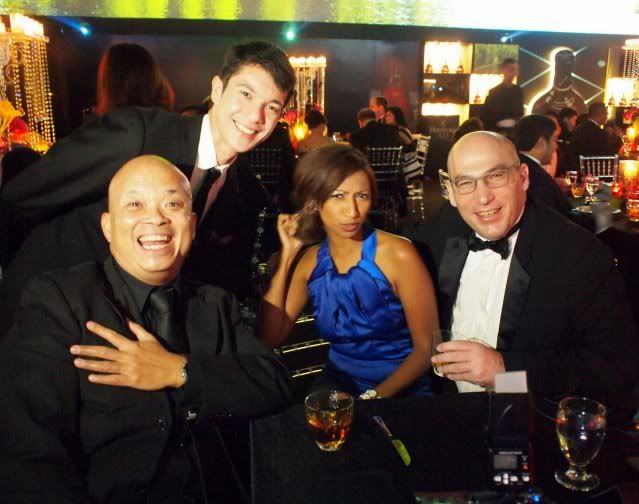 Apparently the MC is kind of a local celebrity. Will Quah. Something like that.

Ah, Neptune's Desire...love the name. A saffron blue swimmer crab consomme with salmon roe cream in a unique crisp pastry. I PARTICULARLY loved the salmon roe cream in the pastry tube. The soup...well, it wasnt hot enough, and being of Chinese descent and all, I like my soups piping hot...to tongue scalding proportions if possible. Nevertheless it was a lovely broth.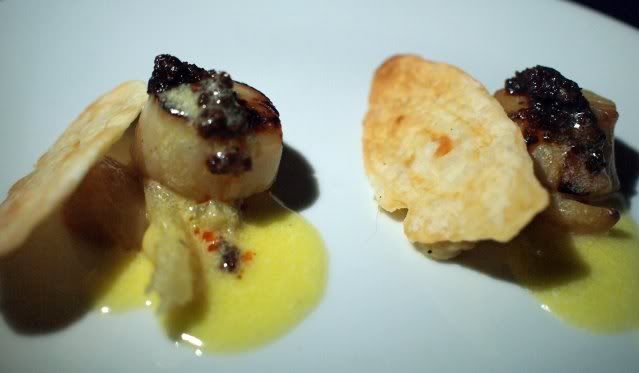 Essence of the Sea....I was beginning to feel like the Little Mermaid, with all these marine sounding dishes...pan roasted sea scallops, in a gorgeous sea essence sauce topped with roasted shrimp garlic and white asparagus. All my favourite ingredients.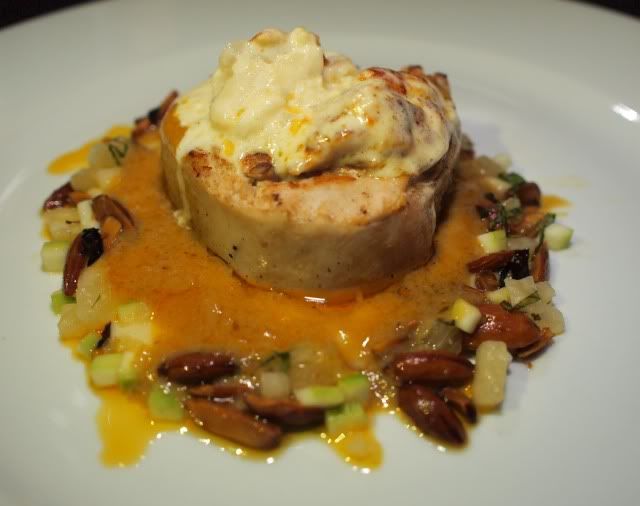 For mains, we were given a choice of Chicken, Wagyu or Vegetarian. Now, in my mind, one doesn't go to an event like this to eat chicken, and definitely NOT vegetarian,...but I have to say I erred on judgement big time. I blame Lil Chef, Michael Elfwing, Aly's consort for the night, for not recommending this earlier. Now, the fler had trained under Cheong Liew, and KNEWWWW that this dish was outstanding! Chis...and he didnt share the good news ahead of time, though he did share his food. The Laksa Ardor, truly unique...chicken fillet in a laksa sauce served with almond slices and bacara. Very good indeed......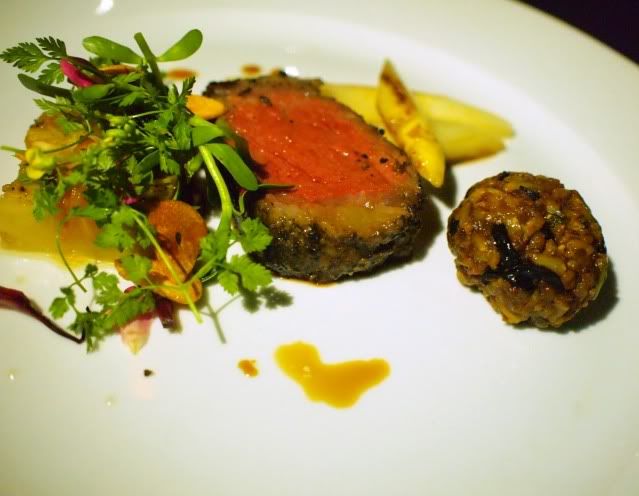 Meanwhile, we had settled for this, the Wagyu Exquisite, which of course, was excellent as well! Tender moist wagyu rump, wrapped in a cardamom crust, flavoured with soy sauce & extra virgin olive oil. Truly a treat to the palate, washed down with a gulp of Hennessy XO. Exquisite.

Now this for me was truly the highlight. Bittersweet Rhapsody, a black rice palm sugar pudding, like a cream caramel, sandwiching Pulut Hitam, a fabulous coconut sorbet and caramelized pineapple cubes....exceptional. Such a dizzying array of flavours, and a fitting end to an extraordinary dining experience.

Oh and we were also treated to the Mathusalalam, a 6 litre bottle of Hennessy XO, limited edition...and Aly trying her hand at that rod....very adept at it too she is.
A truly fabulous evening, one that will be talked about for a long time...the entire experience was extraordinary, enhanced by fabulous organisers, (special thanks to MHD and Milk PR), basking in the love and company of good friends, and fed with the fabulous cuisine of Cheong Liew. Can life get any better????!