Don't ploy ploy. Actually, PLOY is to
PLA DIB
what Kung Fu Panda 2 is to Kung Fu Panda 1. A sequel, and even better. For starters, it's located in the civilised locale of Bukit Damansara, on the way to the new Agung's Palace. (or should it be the New Palace for the Agung, though New Agung is probably not wrong, as I think the current one is due to pass on the crown at the end of the year). I digress.
PLOY, the latest outlet by the Clearwater Group, in the building of the same name. Bright, new and spanking. Ploy in Thai means gems, probably like those in the family jewels. I am not sure how to categorise the food, because it's certainly not typically Thai. But suffice to say, the ambience, food and pricing are all good reasons to try this place. I mean, in this day and age, one no longer has to box and border up cuisine by geography, or culture, or religion.
The ID is rather swanky...with plush chairs to sit while you wait, a formal yet informal drawing room, which looks like those rooms where visiting dignitaries sit and talk to each other while being filmed.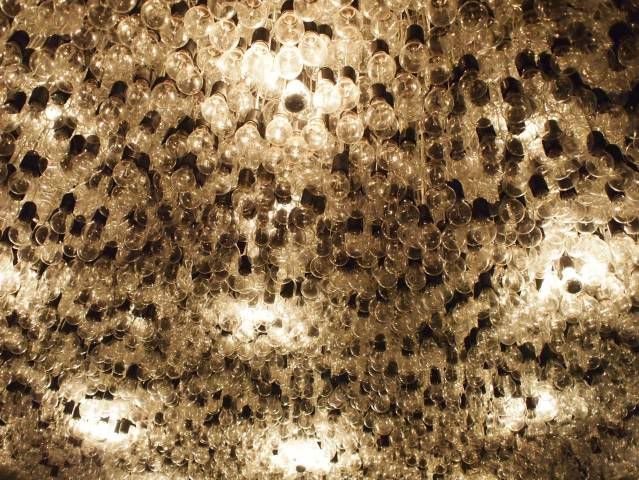 Ever run out of ideas and need a light bulb moment? Enter the lightbulb moment meditation room.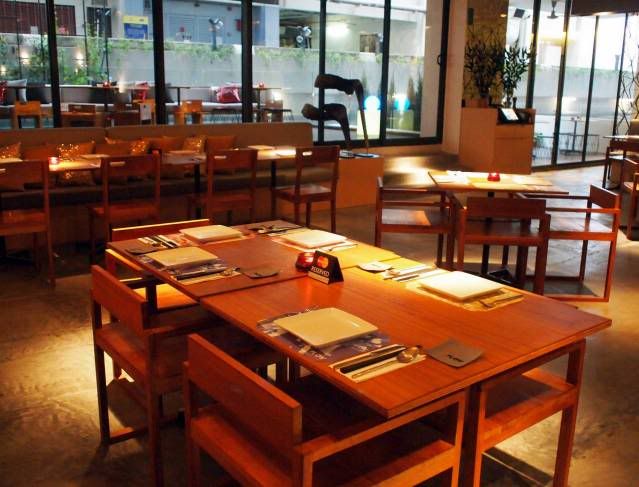 We were early, so the dinner crowd hadn't arrived. You can tell from the outdoor sunlight. By dinner time, the place got pretty crowded.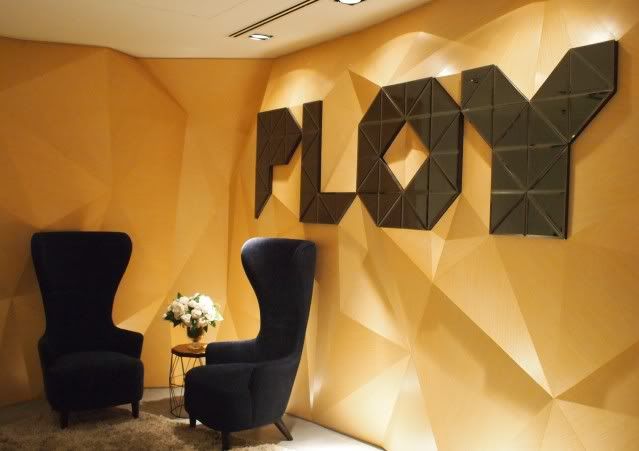 The entrance looks like the backdrop of some large conglomerate.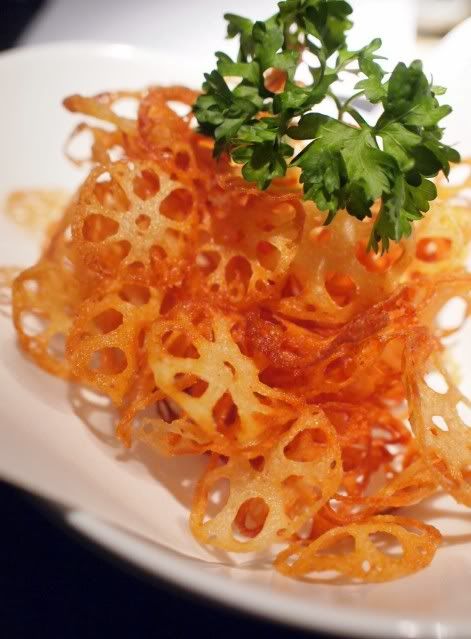 Deep fried lotus root as a snack. I love this snack. It seems so much healthier than chips, though I am sure it's an illusion.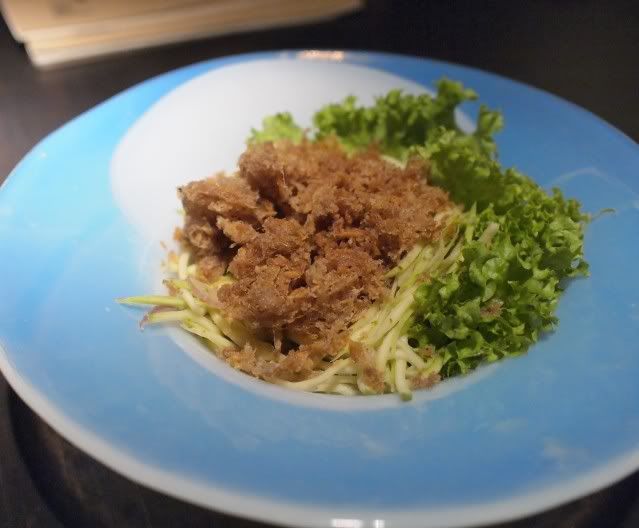 Pla Duk Fu - Catfish and mango salad. Normally I don't dig catfish, but this one is fried to a crisp, so you cant really tell that it is catfish. The crispiness and the tang of the mango make a lovely marriage.
Pomelo Salad. Love anything with Pomelo. And I love them Thai salads, coz its always so Zingy and Zesty.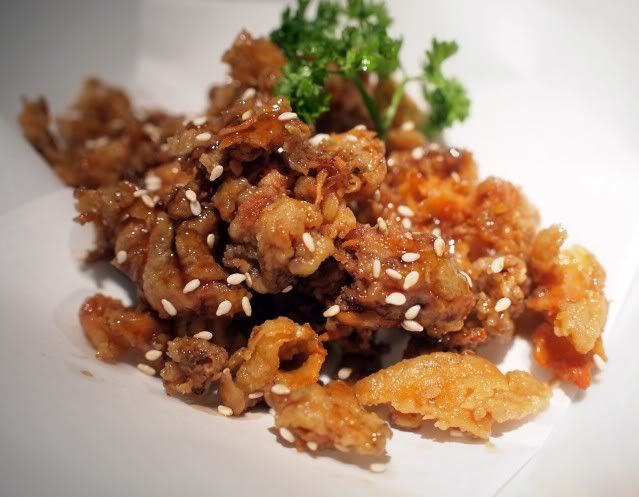 Crispy Fried Squid. I didnt realize it at the time I was eating, but heck, there's a lot of deep frying going on. No wonder it was so good. This crisy squid, and that lotus root thing, a dietary disaster, because deceptively light, and gloriously easy to eat.
Kimchi Fried Rice - As I said, you cannot limit the nationality of a cuisine anymore. Kimchi and Thai? Actually the kimchi taste was barely noticeable, which is good, because I was skeptical about a sour fried rice.
Pretty Sushi...called Chill With Eel. Cool as cucumber for the chill, wrapped around unagi.
Tuna Tartare. Layers of tuna but not something I would order.
Mentaiko Pasta. Ooohh yeahhhh!!! Brilliant, rich but yet not sickeningly so. I could eat this again, soon.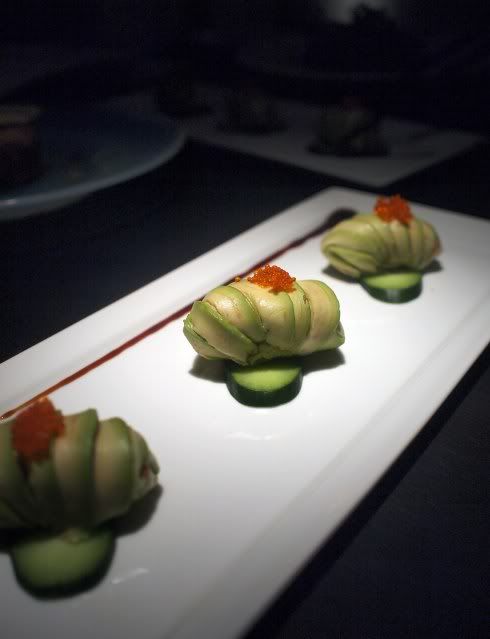 Caterpillar Sushi - Generous layers of Avocado encasing the morsels of sushi goodness.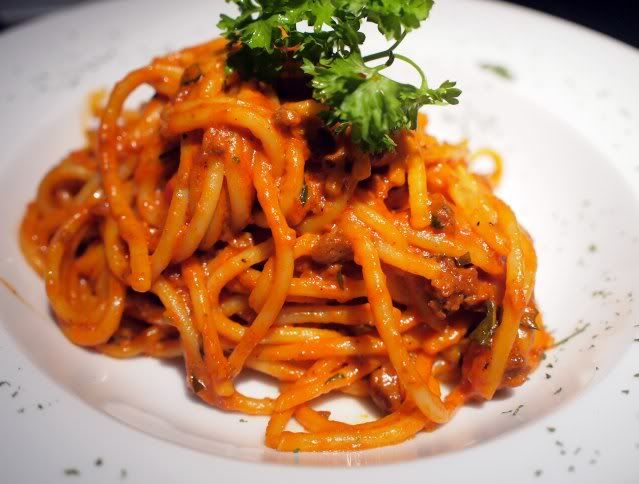 Spaghetti Spicy Lamb Ragout - I found this to be way too rich.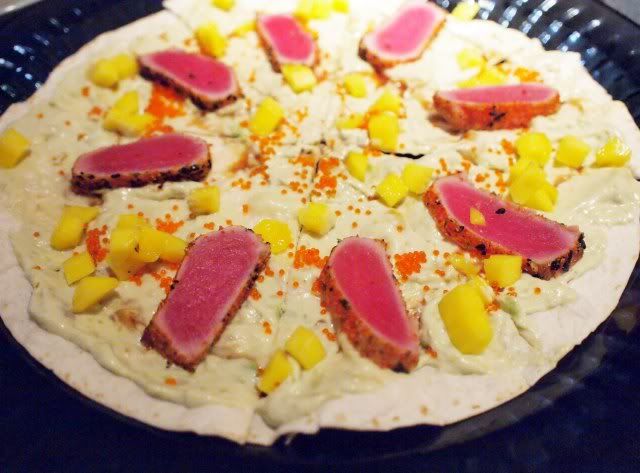 Pepper Tuna Tataki...I am guessing Tataki is Japanese for pizza, or the pizza equivalent.
Pink Lady Sushi - Pink cos of the fish. I love the sushi presentations.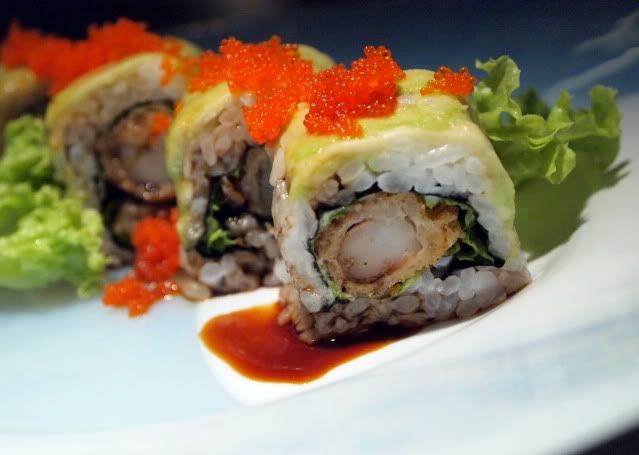 Enter the dragon. Whoever named this dish must have been sitting in the Lightbulb Moment Meditation Room. Soft shell crab sushi.
Crispy Skin Salmon - Pass, not a salmon fan, though
Pure Glutton in her review
, loved this.
Duck Confit. I love Duck Confit. It's not easy to make a good duck confit, and the real mccoy is confit-ed in duck fat, which I don't think this was. But it was good enough. Succulent, moist, and flavourful.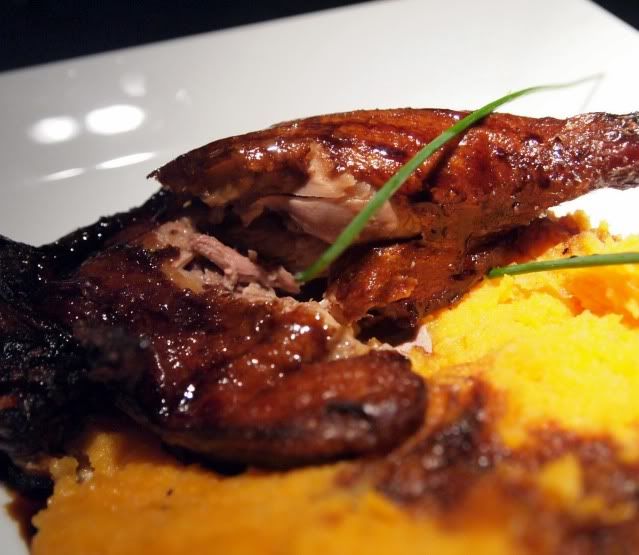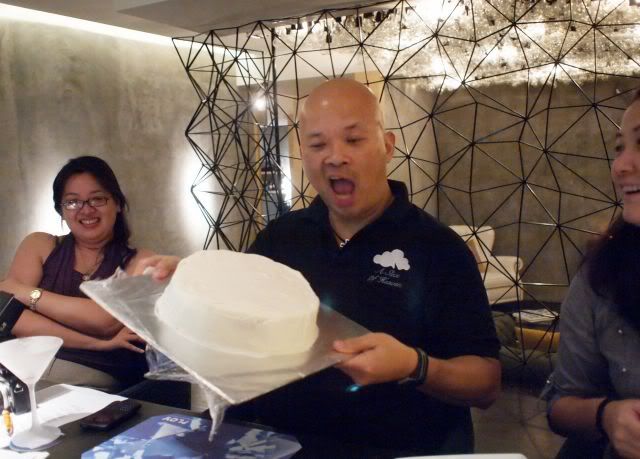 One of the benefits of being friends with the Master Bakers of Just Heavenly Pleasures is the occasional (actually it's quite often) free cake sampling. That day, it was a three milk cake, a literal translation from ...errr...was it Cantonese or French? Since I couldn't pronounce it, I guess it must have been Cantonese. Kidding. French.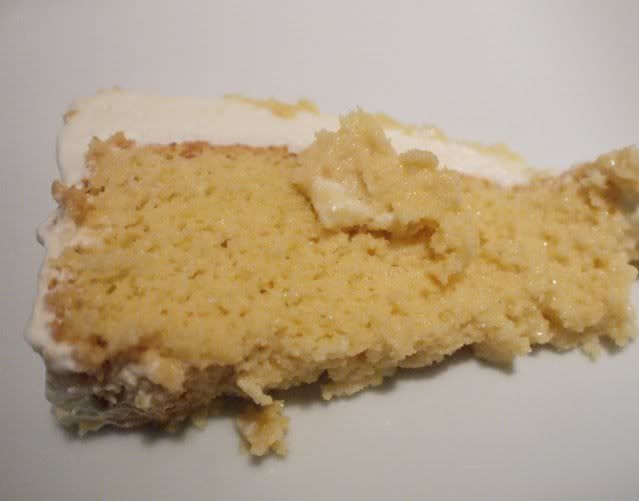 You can almost taste the moistness of the cake from the picture. But I am not a lactaphyte, and hardly ever drink milk in its normal form. I'm not sure which three milk types went in, maybe breast, colostrum and cow. Texture was yummy.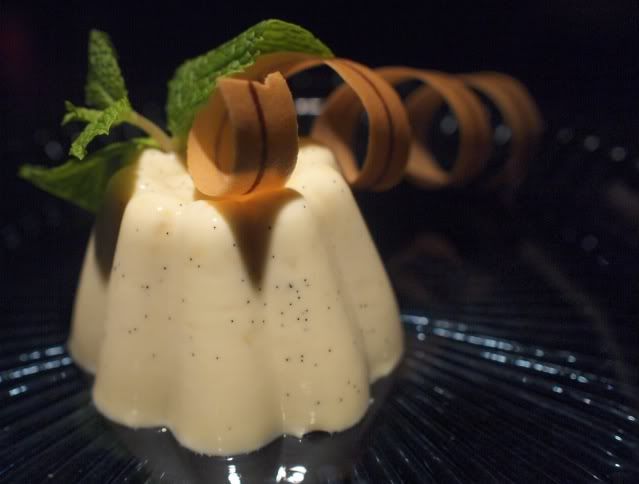 Durian Panna Cotta. Not an easy feat, but they managed to pull it off rather well. Lovely wobbly texture, and lovely durian flavour. Definitely must order.
Sticky Toffee pudding, with the sweet dates made even sweeter by the caramel. It's like a bride with make up I guess.
Ploy is located in the new Clearwater Building, next to UOA Damansara II, and Shell House, (thereabouts), and parking is a dream. For now. Great place for private parties, with a great bar as well.
Check it out :
PLOY
G-2, Work@Clearwater
Jalan Changkat Semantan
Damansara Heights
50490 Kuala Lumpur
Tel: 03-2095-0999
Open Mondays-Saturdays: 12.00pm-3.00pm; 6.00pm-12.00am
Closed on Sundays