Of all the various forms of food preparation, usually BBQs rank at the bottom of my list, faring just above camping food and army rations. Perhaps its from the psychological scars of those Oz days, where BBQs were/are the fad, with little thought put into it. Of course, since then, BBQs have become almost like Michelin star dining in some households I've been, and I've become less averse to it. I mean, if you're throwing on a slab of wagyu on the BBQ, heck, I'd even offer to watch over it myself. That's the other thing. That primordial scent of charred carbon that sticks to you.....it's all very well, if you only venture into the kitchen once a blue moon, but if you're stuck in the kitchen daily, like I am, covered with butter and flour, the last thing I want is another food smell to merge with my cheap underarm deodorant.
But, when CS invited me for a BBQ at Chef Choi, I knew instantly that we would not be setting up camp, singing songs around a bonfire and waiting for the charcoal grills to be lighted by amateurs. I knew that this was gonna be GOOD, coz 1. invites from CS always are, and 2. food at Chef Choi always is.
Roughage is important, and to make sure all the meat that was coming was balanced with some greens, they started us off with this gloriously healthy looking salad, that was accompanied with a tangy cilantro lemon dressing or sesame shoyu dressing. Those plump little cherry tomatoes made me want to just press them like bubble wrap!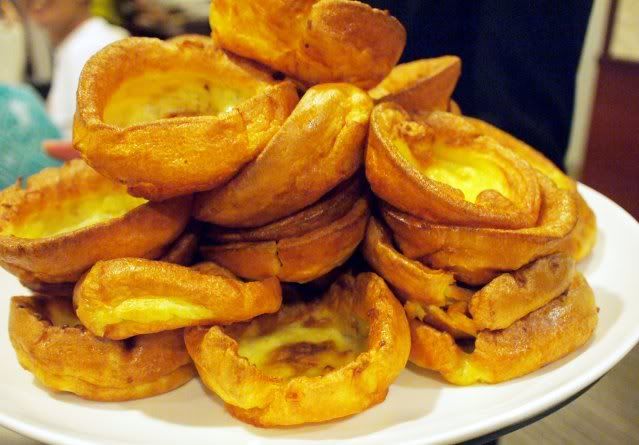 To tantalize the palate even further, and to herald the coming of the beef, YORKSHIRE puddings, done to perfection. Crisp on the outside, light and soft on the inside. Some of us at the table had an obscene number of these yummy puddings.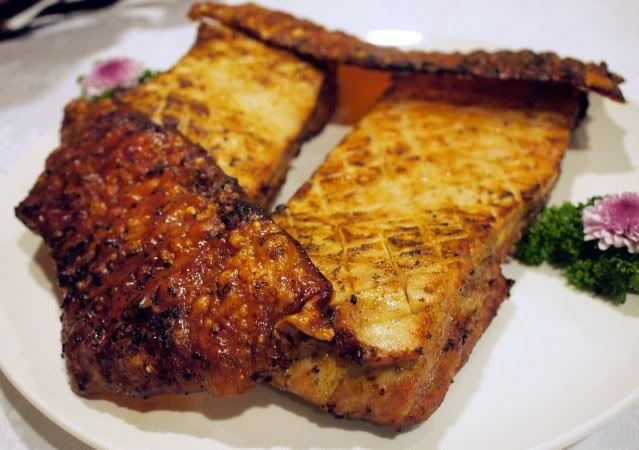 This is really crackling me up. Roast Pork Belly.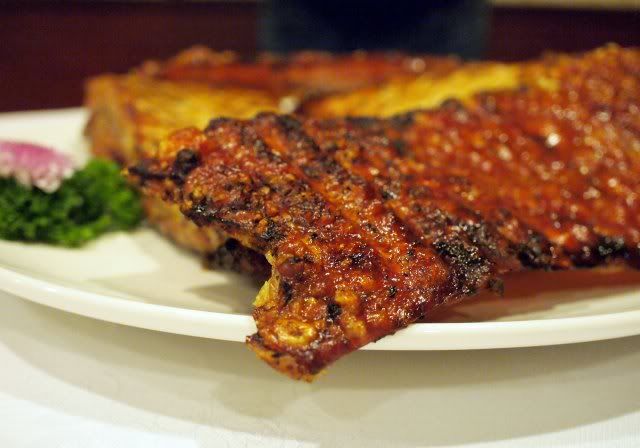 Who needs the meat? Just give me the skin. So soooo good.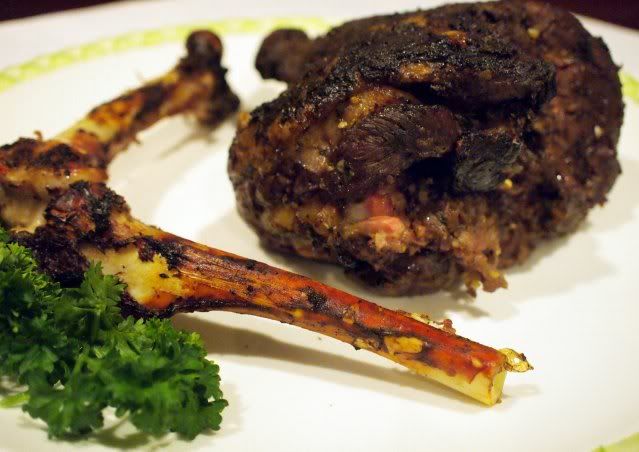 Rosemary Leg Of Lamb, with cloves of garlic stuffed at strategic locations to really infuse the lamb.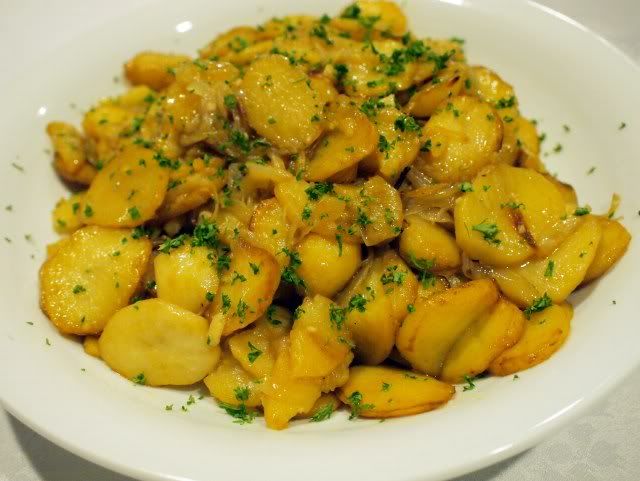 Boulangere Potatoes...Smooth Creamy Carbo that go with the meat like rice goes with sambal.
From one belly to another, and it was belly good.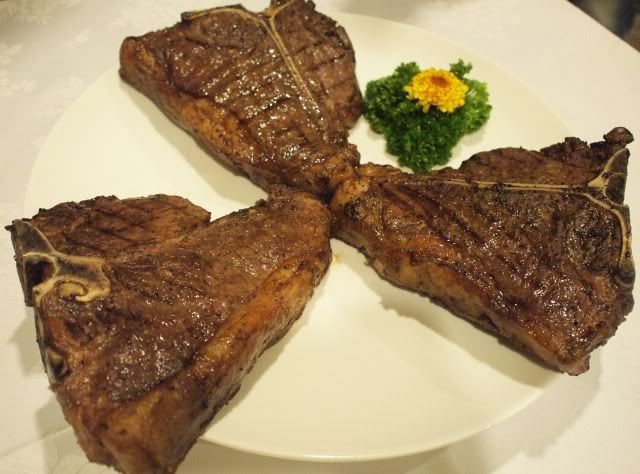 Chilled Prime Rib on the bone - The very words prime and rib sends shivers of pleasures down my spine, and makes my own ribs convulse with joy.
Steak Florentine - Between the two, I personally liked the Prime Rib better, but this cut yielded an extraordinarily lovely flavour, almost gamey, and if you like the unadulterated bovine taste, this would be the better option.
Pieces of the Lamb leg sliced. The good thing about such a leg and that way of cooking, there's a done-ness for everyone. The blood averse, the blood thirsty, ...
Looking at the Steak Florentine is literally doing a Pavlov on me, as I salivate.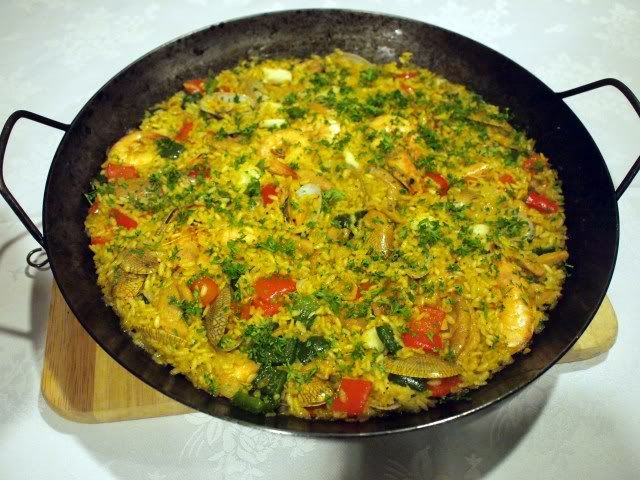 Paella With Kerak (not Crack, Ke-rak, Malay for the crispy bits at the base). Awesome dish, generous saffron, and done just right to my personal liking. I've said it before, having not had the privilege of visiting Spain, I have no benchmark against which to measure a good paella, so in my book, a good paella is one that I myself enjoy eating.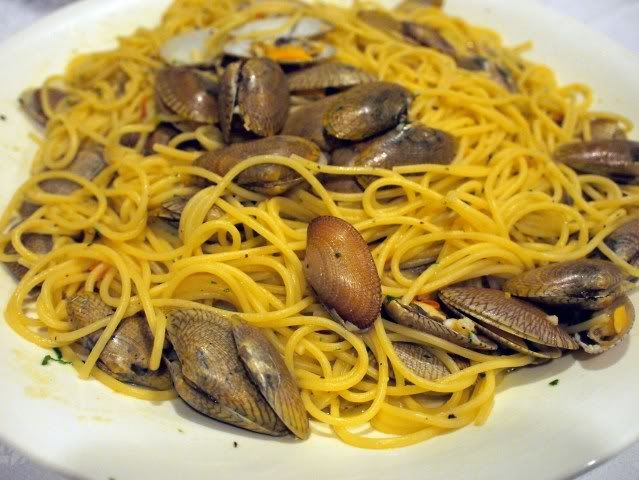 Spaghetti Vongole. Juxtaposed against all the other stuff, this one is almost a plain Jane. But if would have made a fine mains on its own.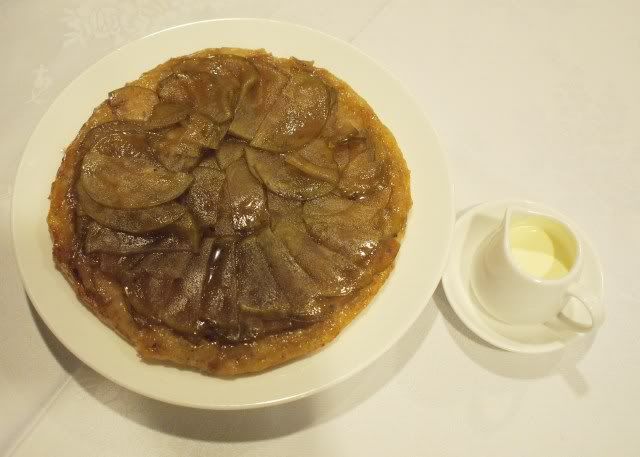 Apple Tart Tartin. Lovely tangy apple on a crisp pancake of puff pastry. I have to make this soon. Love it.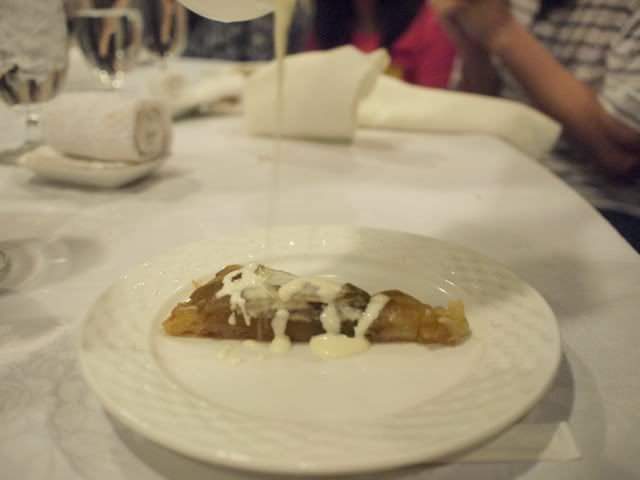 Chef Choi's mooncakes are sublime. No preservatives (I know this for a fact coz I accidentally left one out of the fridge and it rotted faster than you can say mooncake), and such fine texture.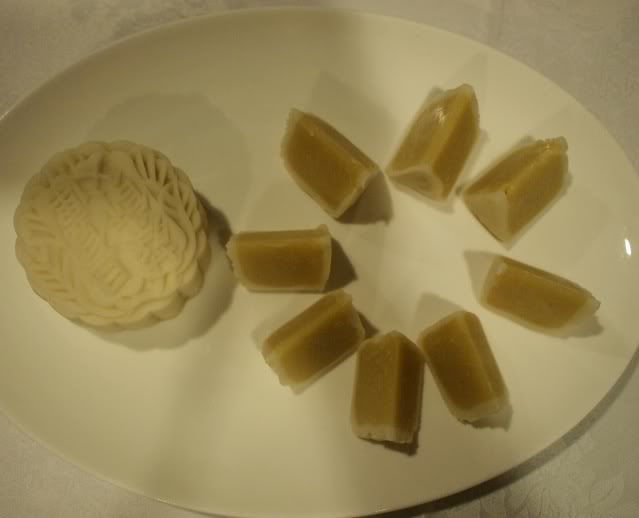 And although I am usually averse to sweet mooncakes, this ping pei, although a bit on the sweet side (quite by accident...it wasnt meant to be that sweet), was also lovely and smooth.
If I were a BBQ unbeliever before this, well, they have proselytized me successfully, for now, if future BBQs are like this, wowzer. Pricing is also quite reasonable.
Check out their
website here
.
No. 159, Jalan Ampang
50450 Kuala Lumpur, Federal Territory of Kuala Lumpur,
Malaysia.
Tel: 03-2163 5866
Fax: 03-2164 6463