He kind of reminds me of a Red Indian Chief. If he was, he would probably be named Dances With Woks or something like that. The great thing about these Hennessy XO Appreciation events, that I've come to appreciate (ironically, as the name implies), is the constant surprise thrown at us, in the various celebrity chefs that grace our sunny shores.
Chef Susur Lee is honored as one of the "Ten Chefs of the Millennium", and dubbed as an "improvisational artist and culinary genius" by restaurant reviewers and international critics alike. Alas, I fall into neither category, just someone who enjoys eating, and writing....oh, and occasionally, drinking.
This time the event was held at the Live Centre, that white building at the corner of Sultan Ismail and Jalan P Ramlee. Strange choice of venue, I thought. Hennessy XO and Moet Hennessy Diaego spare no expense to make their guests feel special, starting with the free valet parking.
The entire area used for the event is draped in their signature black, and the various partitioned rooms are used for different functions. There is the holding room, and reception area, followed by "the tour", encompassing a video and narration on Hennessy XO, (I hope one day they'll bring us on a REAL tour, not just the virtual one), and the process of making the Extra Old cognac. The new nugget I gleaned from this round of lessons is that cognac starts off its life as a clear liquid. The brown comes from the barrelling etc.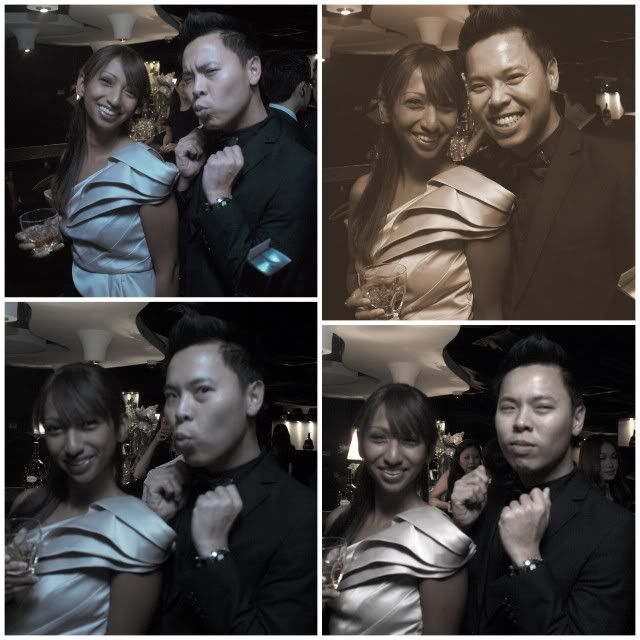 The glamour crowd resplendently dressed to the nines.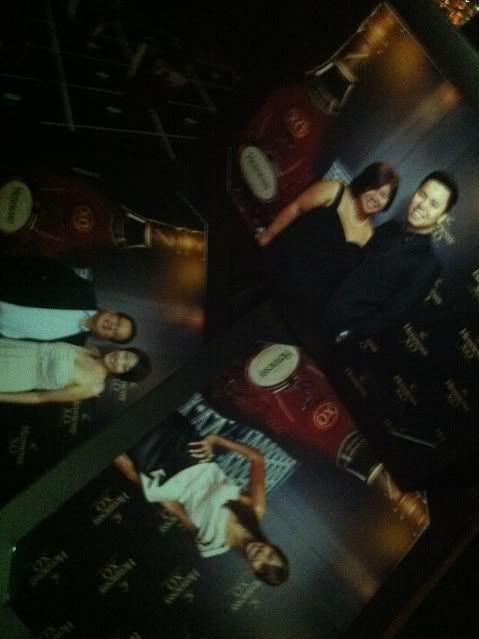 Bottles of Hennessy XO everywhere you turn. There's such a high society feel, when one sips the lovely cognac and indulge in idle chit chat.
I personally like my cognac on the rocks, with no added water. There is no correct way to drink this really.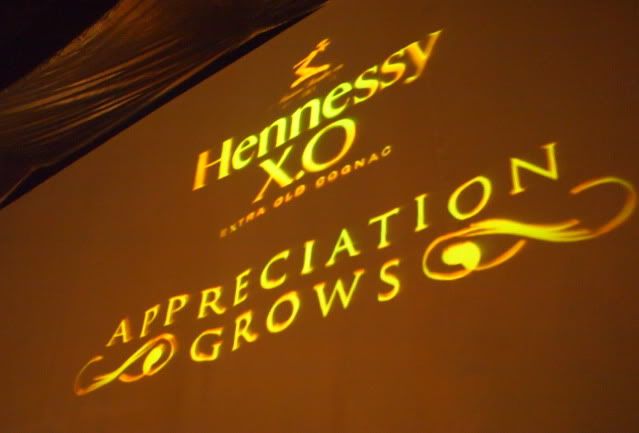 To the usual fare and pomp, dinner is announced. The emcee, Will Quah, is fast becoming a familiar face.
Now, quite honestly, one never knows WHAT to expect, with all these fancy chefs, and fancy dishes, that are usually unpronouncable. To start, we had the SASHIMI EXQUISITE, a delicate oceanic tantalizer of fresh sashimi with lightly frizzled wraps, topped with crest, paired with sea urchins in a rich edamame sauce. Wow! A real treat for the palate this dish. Every item was super fresh, and sea urchin was such a treat. The sauce was so good that we could see many people trying to spoon all the sauce. If it were not impolite to do so, I'd have just tipped the plate into my mouth and drank up the sauce. The lovely bits of edamame added an extra zing to the whole marine dish.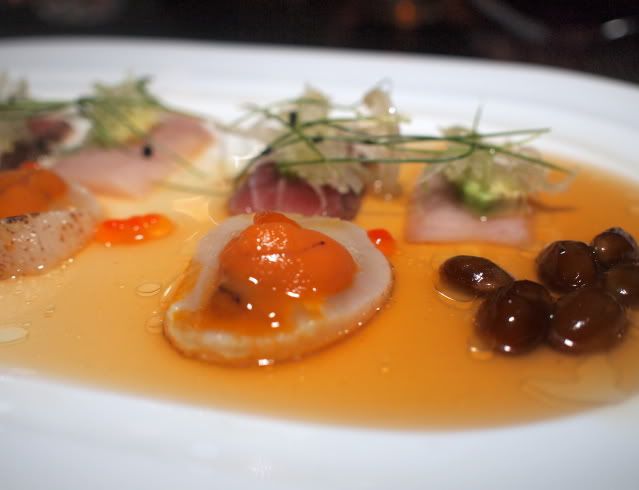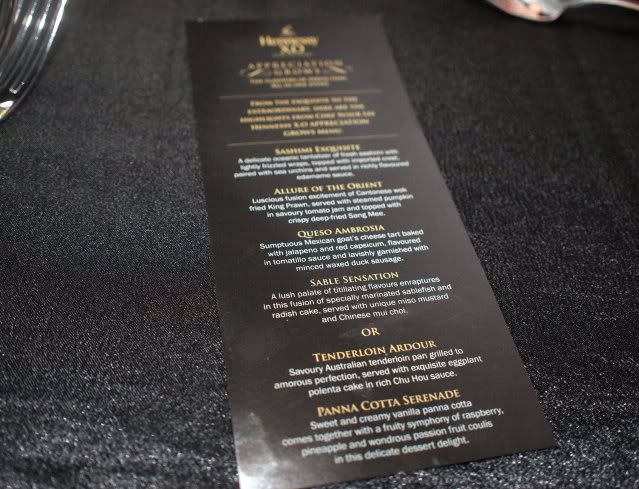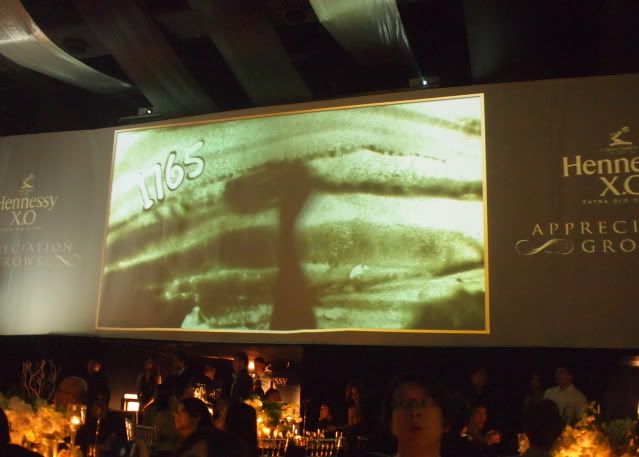 Now what came next was a total surprise. A brilliant SAND ARTIST, drawing a canvass of sand while a narrator had a running commentary on the history of Hennessy, its arrival in Penang etc. Sheer brilliance. At first, we thought it was a video, but it was actually live.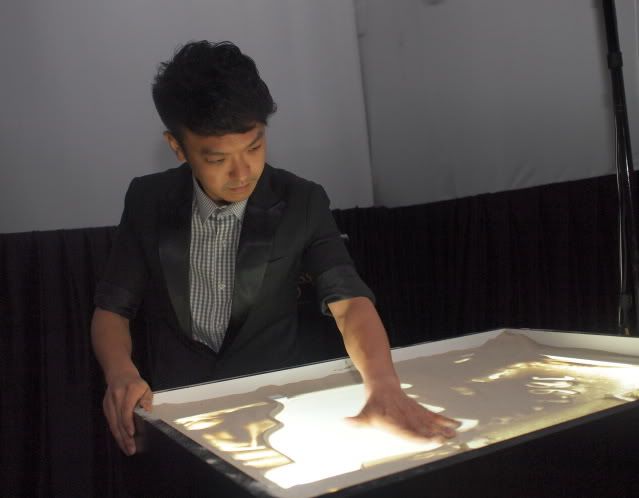 This brilliant sand artist guy, I am truly in awe. I doubt he comes cheap, so you can forget about getting him for your kid's birthday party.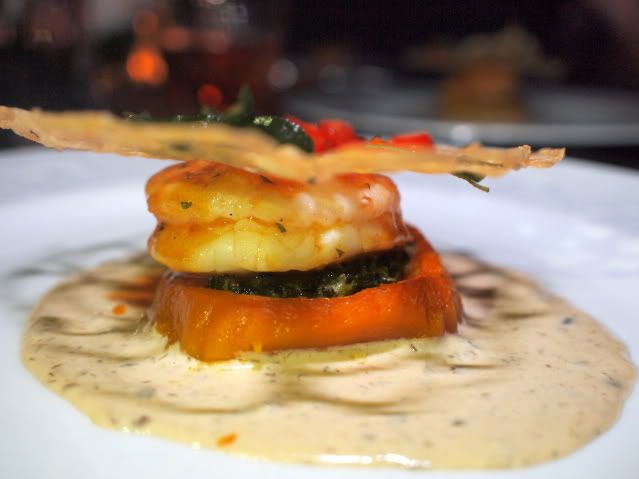 ALLURE OF THE ORIENT - Basically deconstructed Sang Har Mee, but SOOOOO GOOOD! Cantonese wok fried king prawn, served with steamed pumpkin in savoury tomato jam. All of us polished our dishes, esp Alison, who is a Sang Har Mee fan. Problem is, where can I try this again?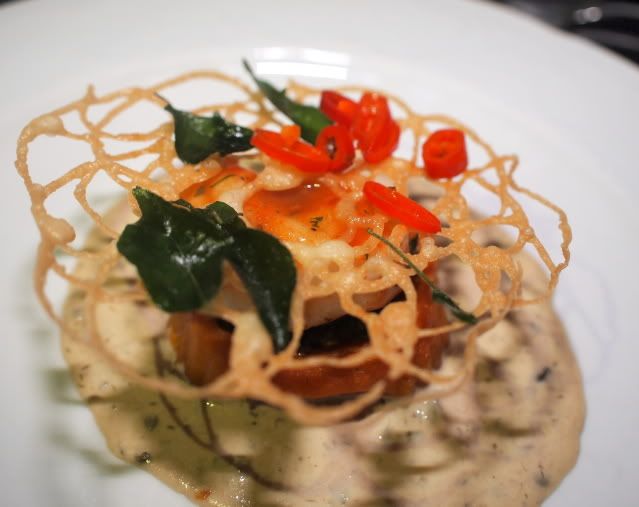 QUESO AMBROSIA - Sumptuous Mexican Goat's cheese art baked with jalapenos and red capsicum garnished with minced duck sausages. Susur really marries the ingredients from East to West. I was honestly surprised at the puff pastry, which was still warm, light and fluffy, despite the mass production. In Malaysia, you'll be lucky to get puff pastry that isnt a distant relative of leather, when eating individual portions, let alone at a big shindig like this. The tart worked really well, the buttery puff pastry totally complementing the tangy goat's cheese. Gorgeous.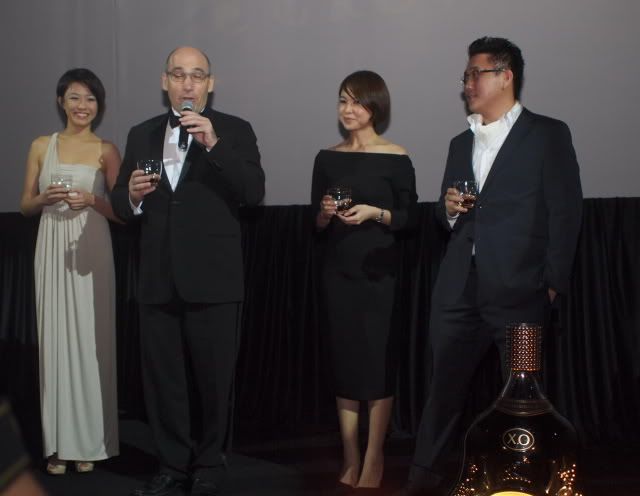 The upper echelons of MHD, showing of the limited edition Methusalem. (a huge 6 litre bottle).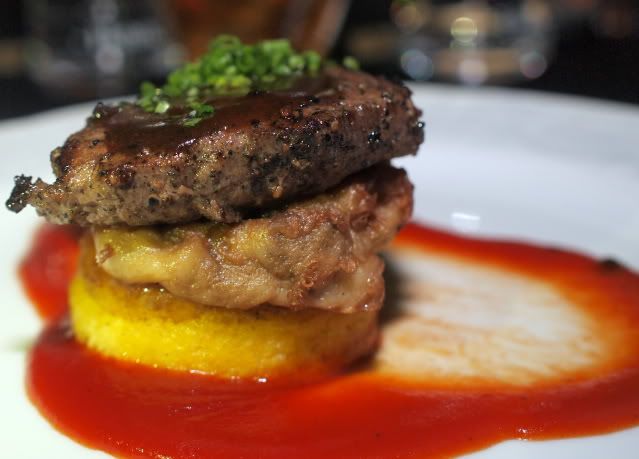 I opted for the Tenderloin Ardour, grilled to "amorous" perfection, described in the menu, served with eggplant polenta cake in rich chu hou sauce. It was very good, but I should have opted for the Sable Sensation, which was ...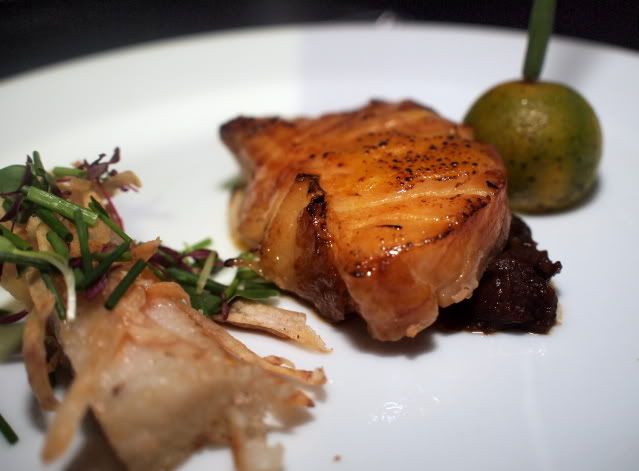 A lush palate of titillating flavours in this fusion of specially marinated sablefish and radish cake, served with miso mustard and chinese mui choi. I had a small morsel of this from Alilfatmonkey, and it was truly sublime. Drat!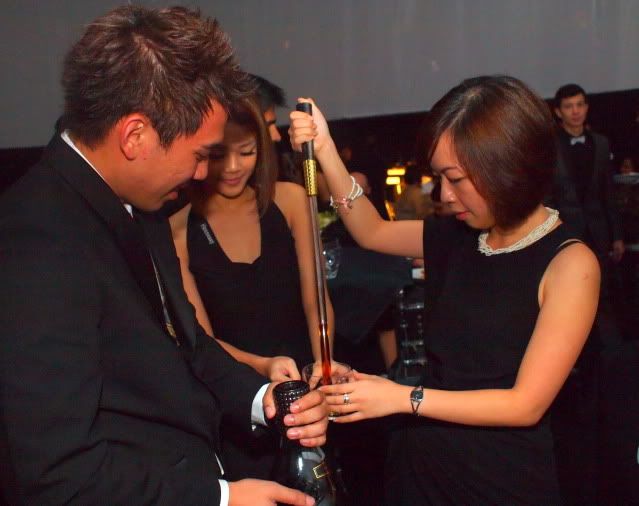 Famous blogger Wei Zhi (Kgboycitygal) in her virgin attempt at using the pipette to extract the precious nectar from the Mathusalem.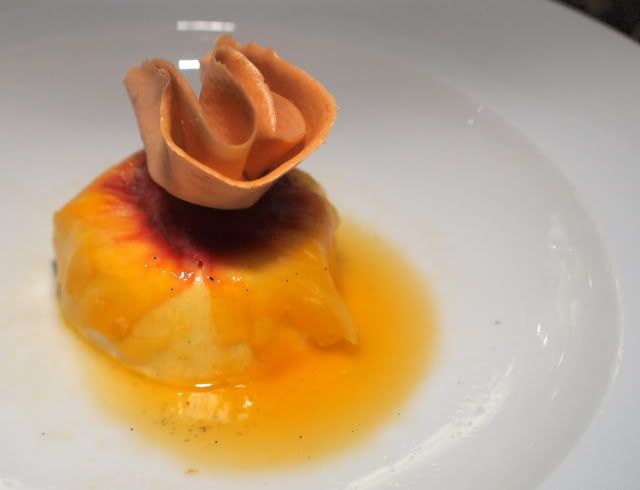 Panna Cotta Serenade - Sweet creamy vanilla panna cotta together with a fruity symphony of raspberry, pineapple and passion fruit coulis. Lovely, light and refreshing and a perfect end to a perfect meal. Oh, with lots of free flow Hennessy XO I might add.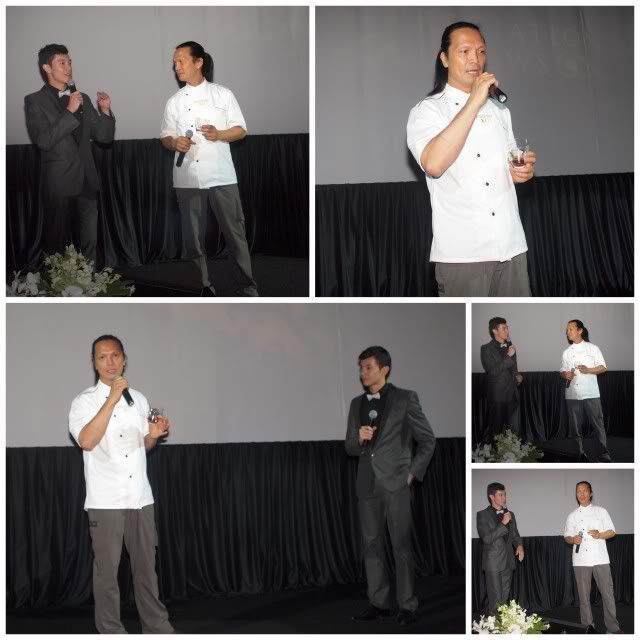 At the end, Susur greets the guests, and he really comes as a nice friendly fellow, with no airs and no pretensions. He the man! I believe he will be opening a restaurant in Singapore, so hopefully we'll get to try more of his dishes.
Thanks to them at MILK PR for extending the invitation, and thank you to Moet Hennessy Diaego for a lovely event.