I don't know how many of you are old enough to remember that the KLCC food court used to have this warong (the first one on the left as you ascended the escalator) called Kelantan Delights. I used to love the place because it was not easy to find nasi dagang those days, and I love nasi dagang. Be it the colorful Kelantanese or the pure white Terengganunian version. And Kelantan, such a microcosm; I find the Kelantanese people to be friendlier and warmer than the rest of the peninsula, even in school, and very entrepreneurial. In fact, all the "millionaires" from my batch in school hail from that region.
Eventually the warong moved from the food court to a proper restaurant somewhere in KLCC, and I haven't visited since. I know they also opened a branch in Sooka Sentral, and has a reputation of attracting who's who of Malaysian society. Once when I was in Sooka, at another outlet, the place had been cordoned off because TDM was visiting.
Well, I didnt know they had such a HUGE outlet in Wisma Consplant, and thanks to Pure Glutton, we were invited to try out the place. The wait staff are very impressive, all conversant in English, and very knowledgeable about the items on the menu.
To start, we had these traditional Kelantanese sweets, something like Bahulus with Gula Nisseh.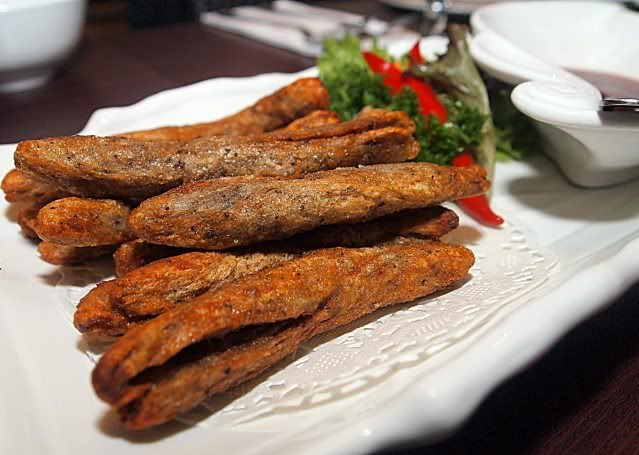 Keropok lekor. The chewy kind. Crispy on the outside, soft and chewy on the inside. Very fragrant too, and truth be told, would have been the perfect accompaniment for (GASP), beer. Alas, I don't think that combination was available here.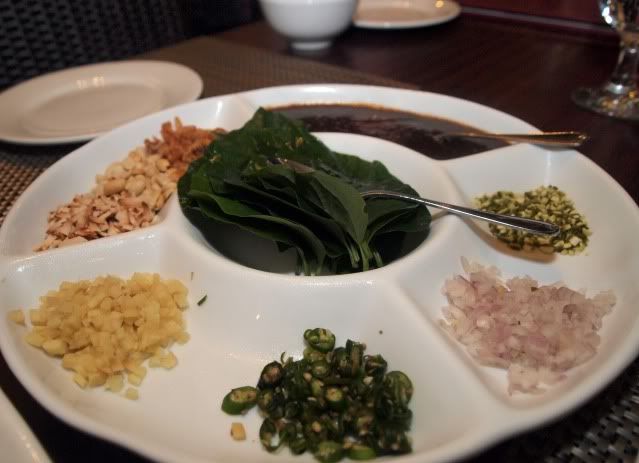 Sireh Daun Kadok - a bit of a misnomer, since sireh and kadok really are two different leaves. This dish is similar to their Thai cousin, the Mieng Keam. Perhaps the slight variation is in the sauce, but blindfold me, and I would not be able to tell the two apart. Afterall, Kelantan does border Thailand.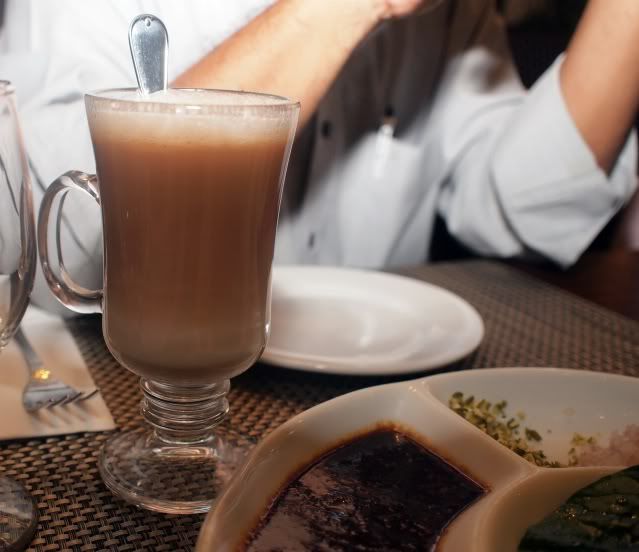 Their special version of Teh Tarik, which is called teh 3 lapis or something like that.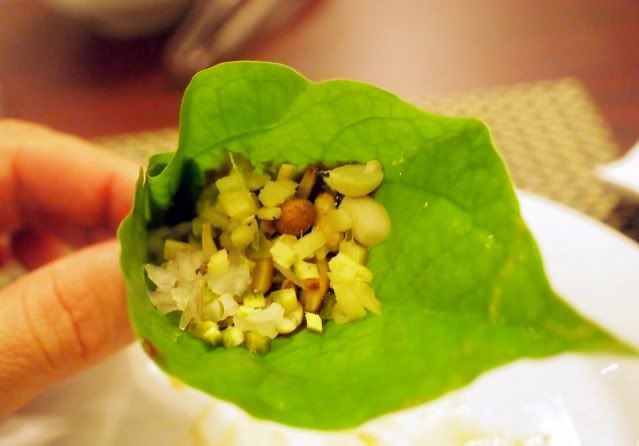 My folded Sireh Daun Kadok. I love this dish, its probably quite healthy, and absolutely delicious.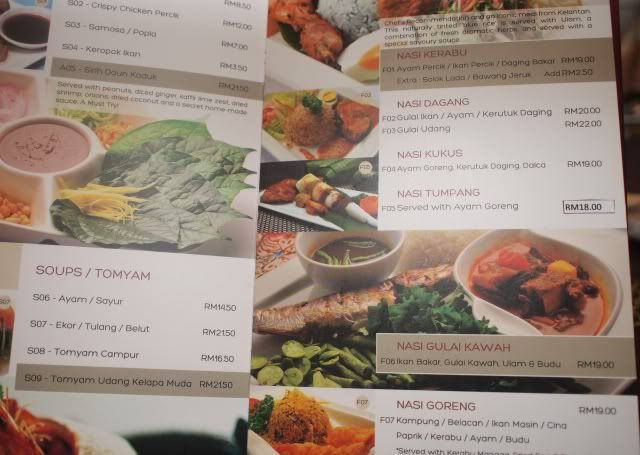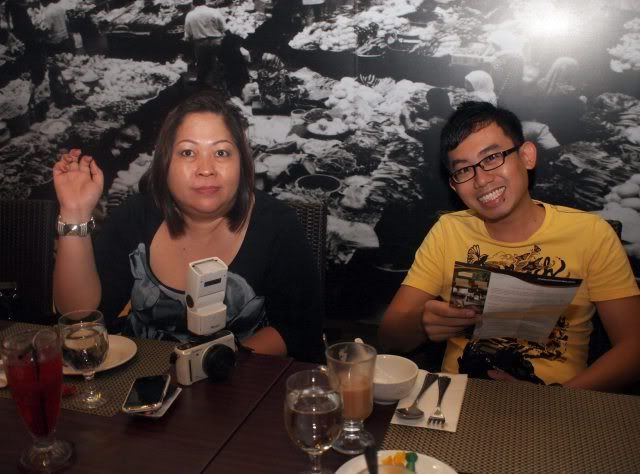 We have here Pureglutton and Ipoh Celebrity Blogger, who after posing for the picture, decided he was shy.....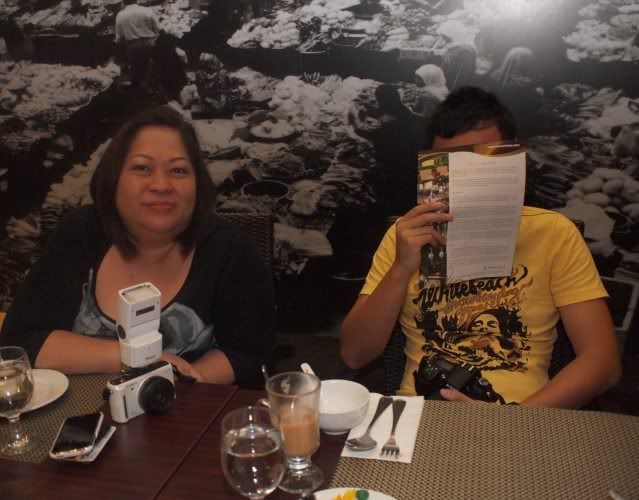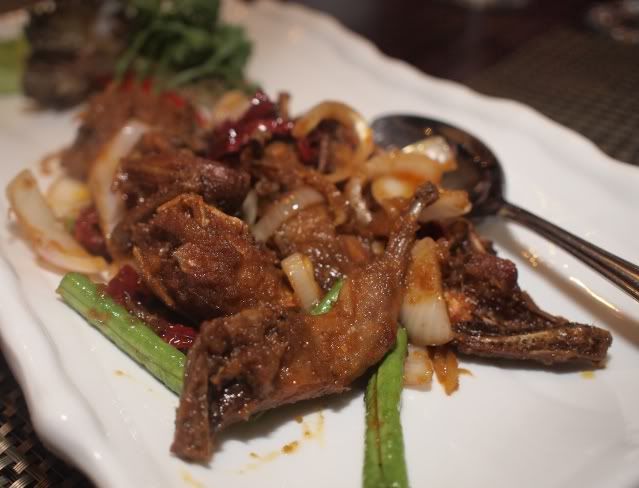 The Puyoh Goreng was well seasoned, and also crispy on the outside, while moist and tender and succulent inside. It's a perfect accompaniment for white rice actually. There's something rabidly fascinating and primal about chomping down a whole bird. Reminds me of V, the miniseries.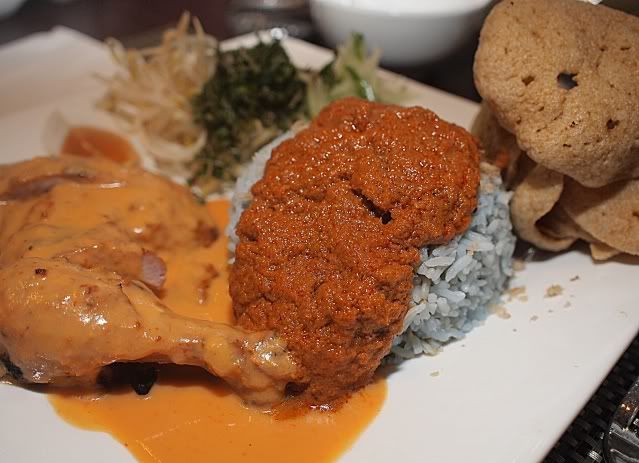 Nasi Kerabu, such a gorgeous shade of blue from the dye extracted from the Clitoria (Bunga Telang). Nasi Kerabu is laborious work, that requires shredding of the raw vegetables with surgical precision and fine-ness.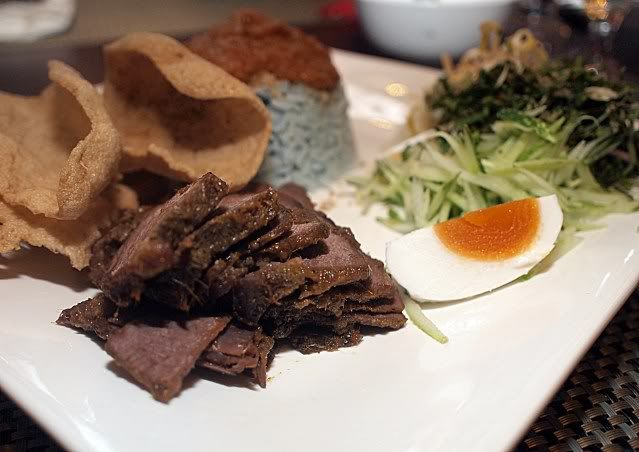 The Nasi Kerabus come with a choice of beef or chicken. The beef is almost like a jerky. Gamey and chewy.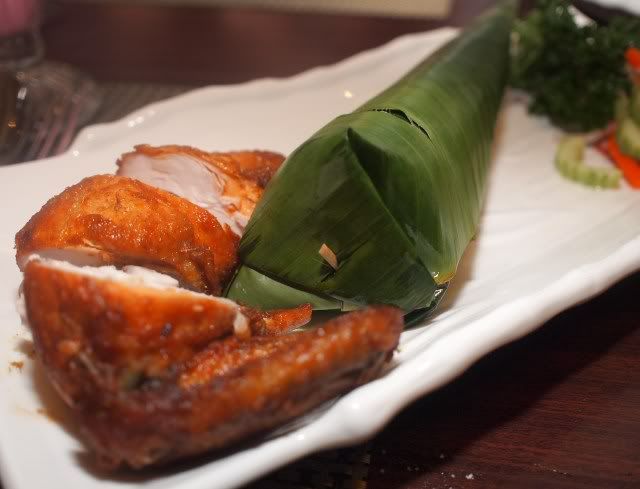 Nasi Tumpang - You can read about the origins of it
here,
from famed Masak Masak's blog. The rice is wrapped into a cone, for ease of transport. It is layered, and is a rather intriguing way of presenting rice.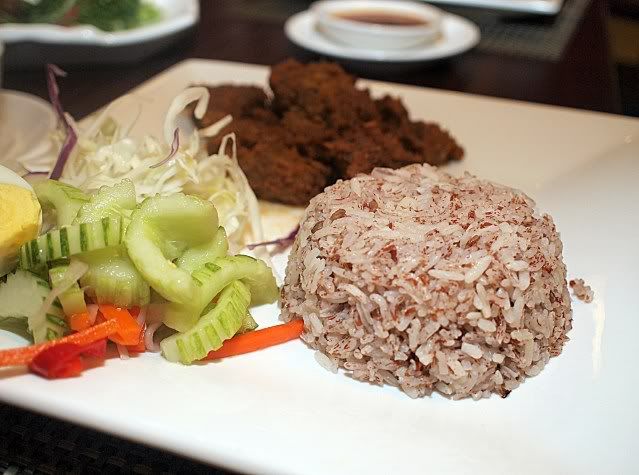 Ah, nasi dagang. What can I say? This is the golden standard.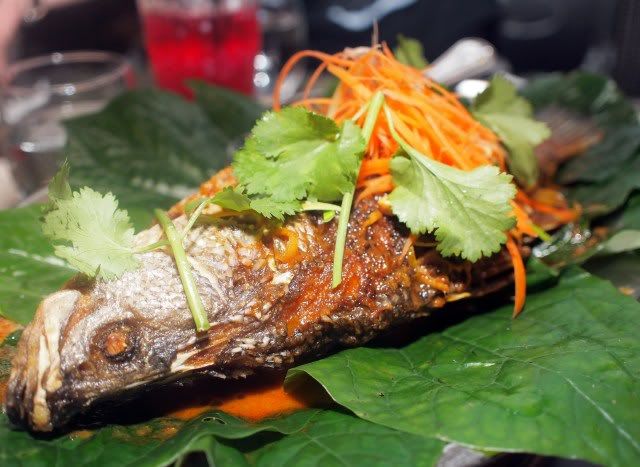 Siakap done either with Kadok leaves, or Serai, (Lemongrass below). The fish is deep fried before it is soaked with the sauces that burst forth into a kaleidescope of flavours.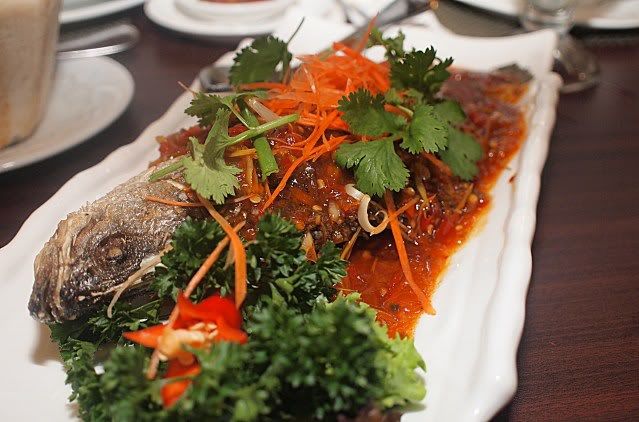 Oh, we had each ordered our own mains, and I chose, based on the friendly waiter's recommendation, nasi gulai kawah. Judging from the exciting flavours of my fellow diner's choices, I felt I had opted for the healthiest item on the menu. Ulams, grilled kembong, and budu, the Kelantanese fish sauce. I can't really complain, as I love ulams, and the budu was vintage!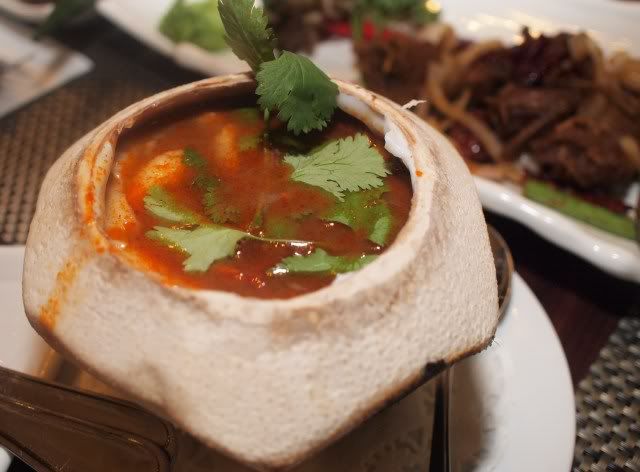 Tomyam Kelapa Muda. Spicy Tom Yam soup, cooked in young coconut. I always welcome a bowl of hot, spicy and tangy tom yam. Chock full of ingredients, one can get full on this soup alone.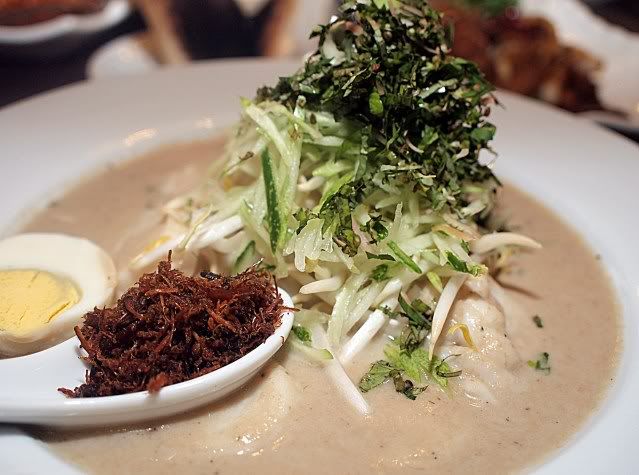 Laksam, ...with an interesting noodle that is similar to chee cheong fun.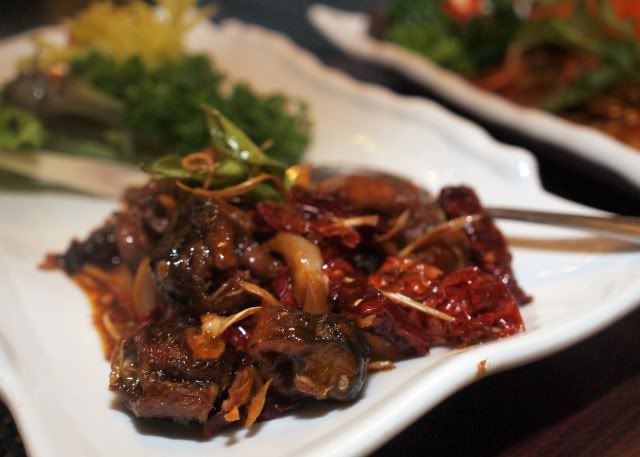 Belud with Fried Chillies. Belud is a snake like fish, presumably an eel of sorts.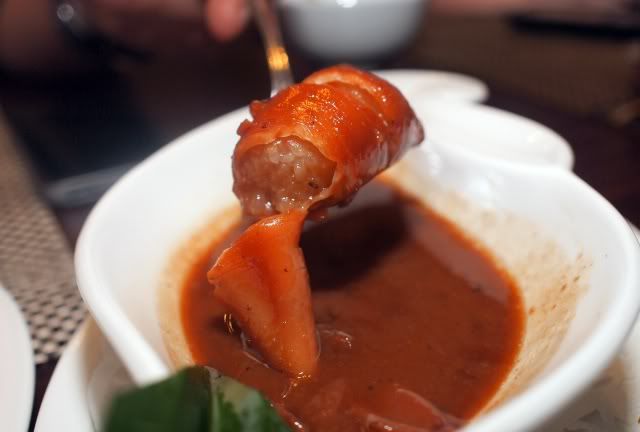 Squid for dessert? Now there's a new one. Ketupat sotong. Rice stuffed into squid, in a sauce that is both savoury, sweet and spicy. I have to say this is probably my new "Dish of the Year", as in, something I've never had before. I actually wouldn't mind eating this for what it is, not necessarily as a dessert.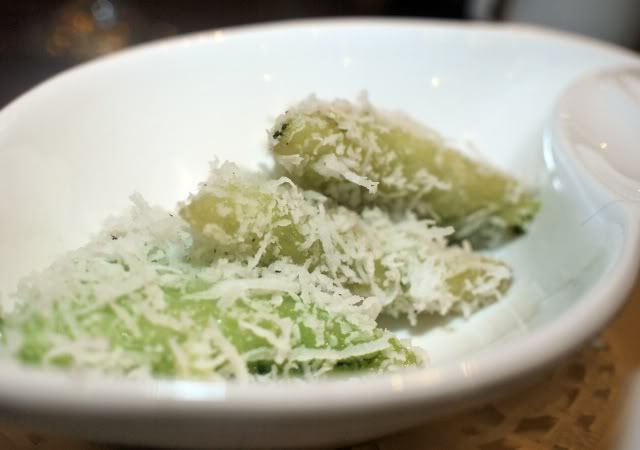 Lopes, something like deconstructed Onde Onde, whereby you pour the gula melaka onto the dumplings. Can't really go wrong here if you like Malay/Nyonya style kuehs. That sticky dumpling, with the fragrant gula melaka.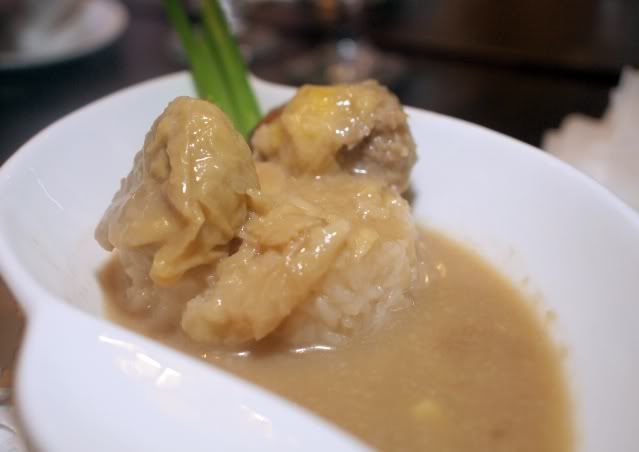 Pulut Durian. Again, like its Thai cousin, except our local durians are so much nicer. Swimming in a pool of santan, (coconut milk), a blob of glutinous rice with fresh durians. I can't think of a nicer combination.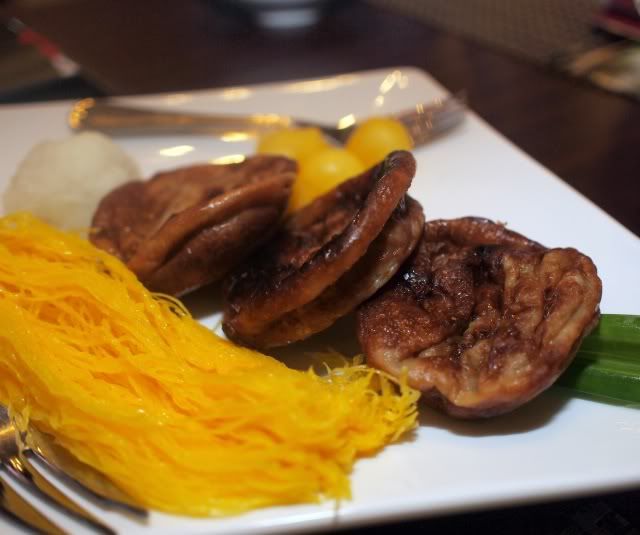 The royal plate, comprising famed Kelantanese delicacies like tahi itik, (duck's poop), Akok, Jala mas (golden net), and apam. The duck's egg is separated into white and yolk, deriving different desserts from each.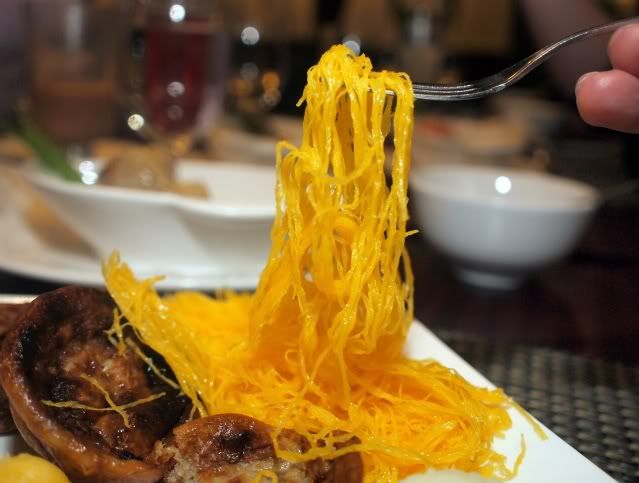 Such a fascinating loom of golden threads.
The backdrop showing the famous Kota Baru market.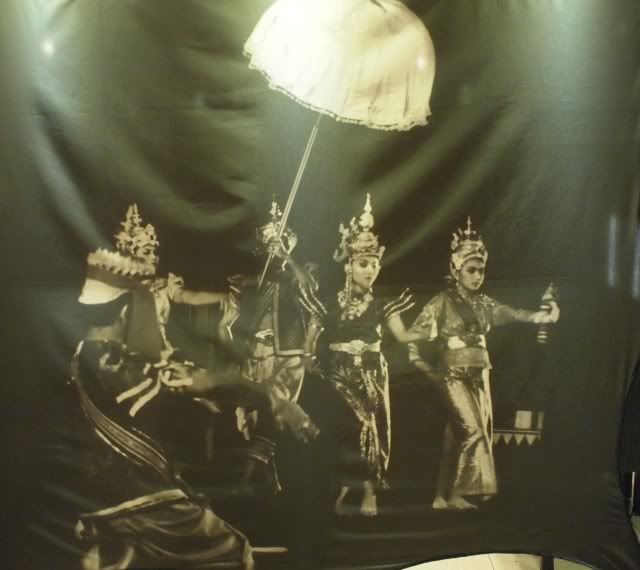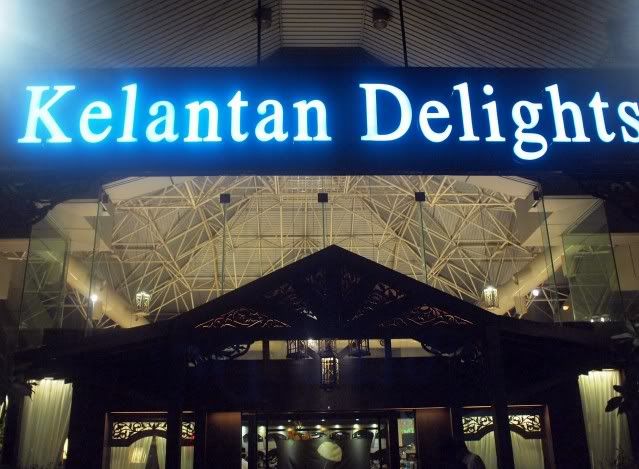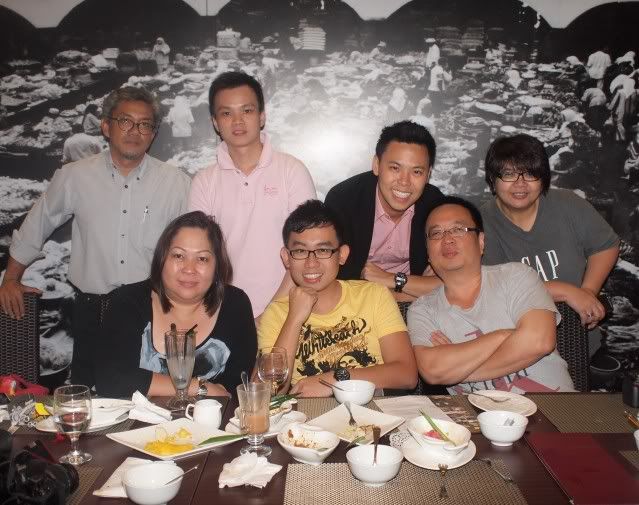 A special thanks to Encik Ashari who took such good care of us, and to Pureglutton for the invite. For other reviews, check out
Pureglutton's
Blog.
Kelantan Delights
Ground Floor, East Wing
Wisma Consplant 1
No.2 Jalan SS16/4
Subang Jaya
Tel: 03-5590-2753/019-217-4774 (Intan Razak)