Time really flies. The last time I met Julini, that lovely Marketing & Communications Manager of Concorde, was before last Ramadan, when she invited me for the Melting Pot's Ramadan Buffet Spread preview. And before you know it, in the blink of an eye, 9 months or so have elapsed. If I had been pregnant when I last met her, I would have definitely given birth by now. Anyway, this time round, the invite was for Xin Chinese Restaurant's new items on the menu, lovingly crafted by Chef Alfie Hoh. The only drawback about going to Concorde, on a weekday after work, is the mind boggling traffic at that Jln Sultan Ismail and Jln Ampang intersection.
Nevertheless, I wasn't SO late, the food that was laid out for the press was still there and still being photographed, like a celebrity hounded by the ruthless paparazzi. It was one of those strange occasions where the other guests were all from the main stream media, and some not so main stream, like Red Tomato, and Orange ....something or other.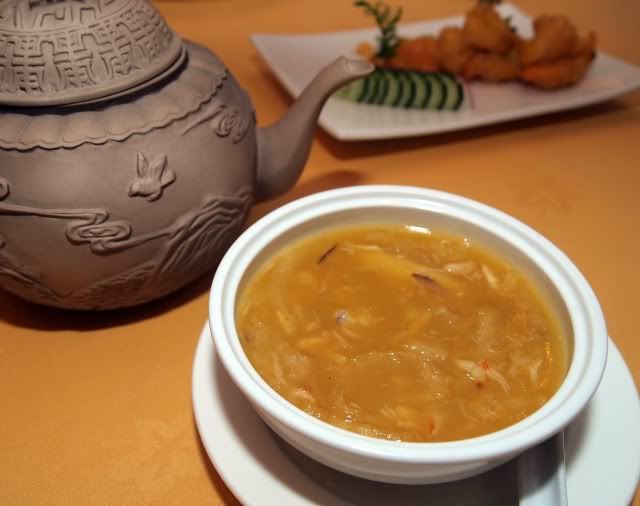 金汤鱼鳔海味羹
Braised Thick Soup of Golden Superior Broth with Fish Maw and Seafood
Actually who needs Sharksfins, when the alternative soups are really so fabulously flavourful. Superior here is an apt description, for the soup really is lovely, and the broth ....put it this way, when we heard how many hours goes into preparing the broth, and the amount of stuff that goes into it, from duck to chicken, it's definitely not something you can replicate at home. Unless you have an industrial kitchen...
橙汁奶皇焗虾球
Pan-fried Prawn with Orange Juice in Milk Sauce
Oh, incidentally, if any of you people think I have suddenly developed a literacy in the Chinese language, I can assure you I am still disgracefully a banana, and that Chinese script you see is courtesy of the hotel, and all I do is cut and paste.
I digress though. Fresh crunchy prawns, made even crunchier is a crispy batter. Usually I am wary of orange juice sauces, because they tend to taste like cough mixture or haliborange, but this was not so, and the tastes were really complementary.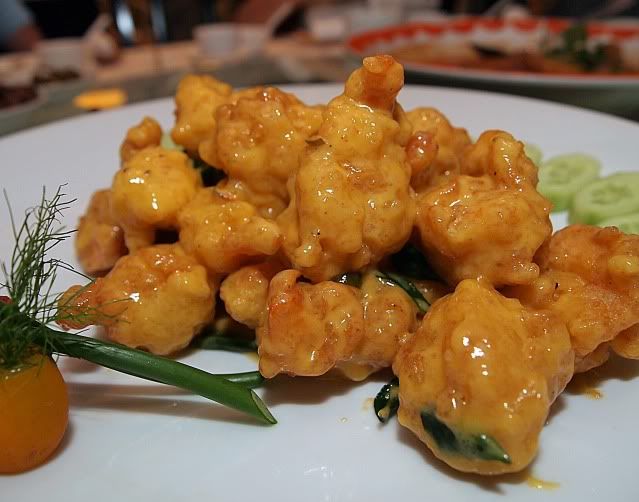 Such a delightfully colourful dish, that one cannot but feel one's spirit lifted, though one may be heavy laden.
百合甜豆炒松菇
Stir-fried Lily Buds and Sweet Peas with Straw Mushroom. You've heard how it is prescribed we should eat 5 different colored foods, or specifically fruit and vegetables, a day. Well, there you go, the dish that says it all.
豆酱番茄焖鳕鱼
Stewed Cod Fish with Soya Paste with Tomatoes
Chef Alfie said he toyed with the idea of using Miso paste, but it seemed so common. I am not sure what exactly Soya Paste is, (the interviews with the Chef were conducted mainly in Cantonese, and my Cantonese is ...enough just to get by at kopitiams to order food, and understand 30% of Infernal Affairs), but it tasted good.
虾酱海鲜干炒河
Wok-fried Flat Noodles and Seafood with Prawn Sauce. Kueh Teow la, in layman terms. Now, apparently some people could identify the prawn sauce, (oh, I guess because it was because they had shellfish allergies) but I couldn't really pinpoint that it was a prawn sauce. The fried noodles were nice, and a bit overkill on seafood, not enough kueh teow that kind of thing.
Delicious, but more "liu" than kueh teow, but I guess in this carbo hating world we live in, it might not be a bad thing.
高丽豆沙
Deep-fried White Soufflé with Red Bean Paste. It looks a bit like puffs, but it is nowhere near the texture. The puff/souffle is actually made from pure egg white. Very skillfully using the presumably whipped egg white to form a ball around the red bean paste, it is then instantly fried. Chef explained that it requires quite a skillful hand to be able to manipulate whipped egg white, and to be able to achieve that kind of ethereal airiness.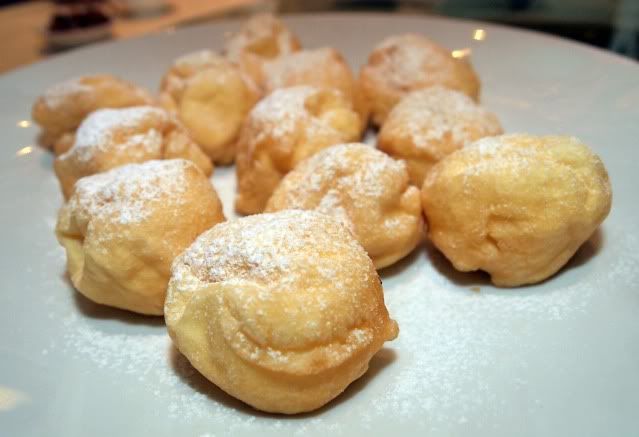 桂花枸杞海燕窝
Chilled Seaweed Jelly with Osmanthus and Wolf Berries. An OUTSTANDING dessert. I wish I could have this everyday. Refreshing, and I don't know if it was psychological, but it felt so cleansing. Ah, I am having a craving for this as I type. Ooops, did I mention pregnancy in the first paragraph?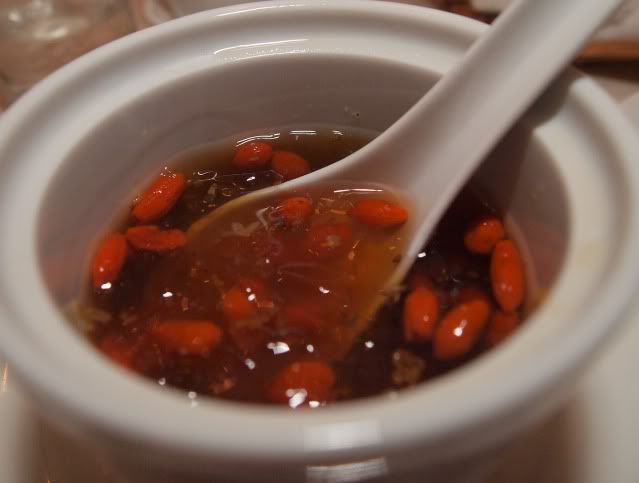 Part of the dinner conversation revolved around the history of Concorde, and it's Merlin days. The true test of a true KL-ite is whether or not they knew what was BEFORE Concorde, and the legendary tortoise pond that was outside the Chinese restaurant. But even now, Xin does have a certain retro charm, as it HAS been around for awhile now.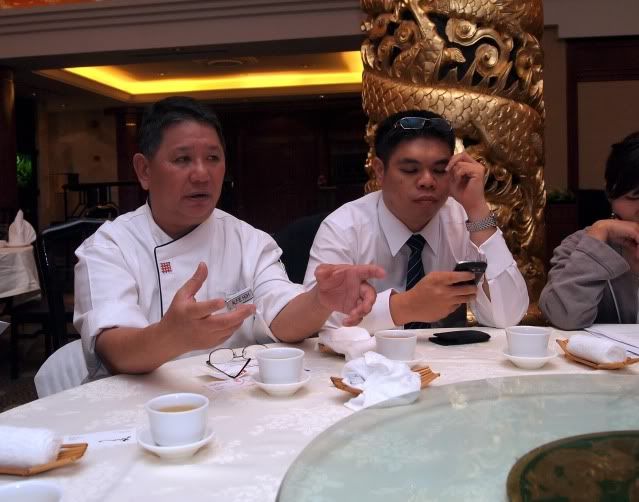 Chef here being fielded by the media.
In my book, Xin has always been consistent in their Chinese food, and these new dishes introduced give me no doubt that they will be as good as they were during the press review.