Sometimes the things and people we see often are the ones we take for granted. Restaurants can also fall into that same category. I find I don't write about the place I go to fairly regularly, because you know you will always be back so there is no urgency to write. (no offense to the places that I HAVE written about, of course). One such place is Restaurant Extra Supertanker, in Damansara Kim. An excellent location for a restaurant really, very central (for me at least), easy parking, and free parking.
The last time I blogged about this place was in 2010, and you can find the post
HERE
. That post was in their other branch, at Seri Utama Club. Boy how fast time flies. But just in the last last few months alone, I've held two family birthdays at this restaurant, and have been for dinner a couple of times. Talk about your excellent traditional chinese food, this is one of the first places that spring to mind.
I was delighted to get the invite from Pure Glutton, saying that the very gracious owners, Vincent and Pat, had invited us to sample some new stuff they were featuring, in time for Chinese New Year. The location is so great, I wasn't even late.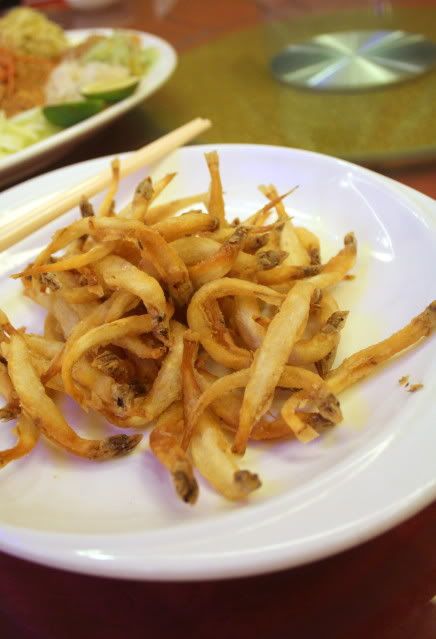 So far, the most innovative take I've seen with Yee Sang this season, using white bait. I love white bait generally, (it is a food that goes well with beer)...RM68 for half portion, RM88 for full portion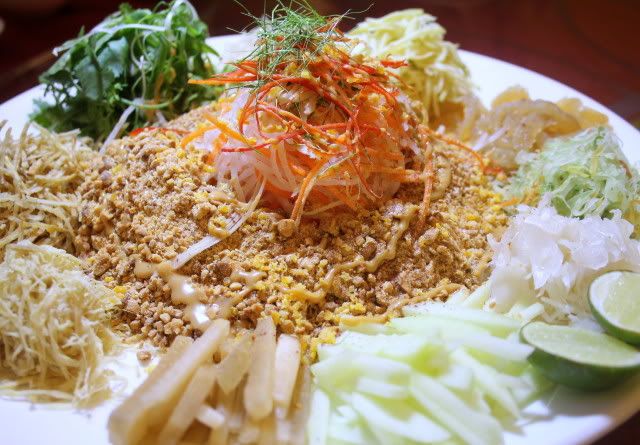 Tossed together with this gloriously healthy looking salad, devoid of any colored bits of yam, which my friend Paprika was bemoaning just the day before. (as in, she doesn't like the artificially colored yams).
Apart from the need for a bigger plate, the tossing abounded with good wishes, and the white bait is added later, so as not to soggify the fish. The myriad textures of the yee sang is a reminder why this dish is always so popular. Perhaps the snugly fitting plate is deliberate, so that everything spills over....just like the wishes we have in life, for prosperity, good health, lurve, to overflow in abundance.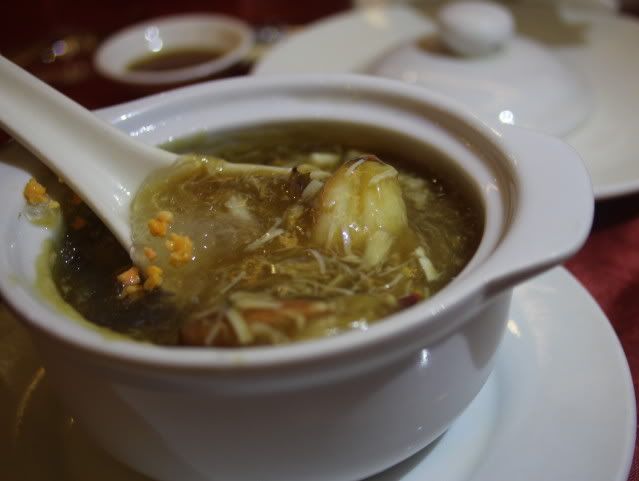 Before the conservationists raise their hands and gasp in horror, no, that is NOT sharksfin soup, BUT a highly innovative and wonderful sustainable substitute. (Okay, even then, there will be some that will raise a hue and cry, but there's no pleasing everyone). Bird's nest with freshly peeled crab meat. RM48 per bowl. Worth every cent.
Now seriously, one of the fabulous things about this restaurant is the fact that all the crabmeat in soups and dishes are freshly shucked and peeled the day itself. And that REALLY makes a difference. Whilst frozen crab meat tastes like blotting paper soaked in brine, fresh crabmeat is really something so rare. My uncle described the act of peeling crab for another person as one of the greatest acts of love.
Back to this soup, sublime, and good for the conscience, if not the heart.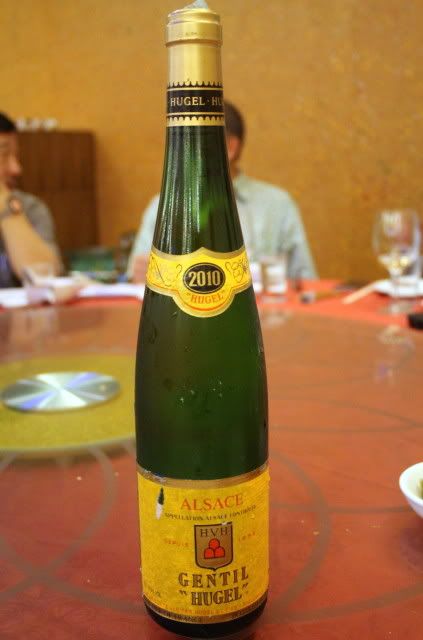 A lovely white from Alsace, (after we polished the two bottles of Malborough Savignon Blancs in the blink of an eye), which complemented the crabmeat, and subsequently, the fish dish.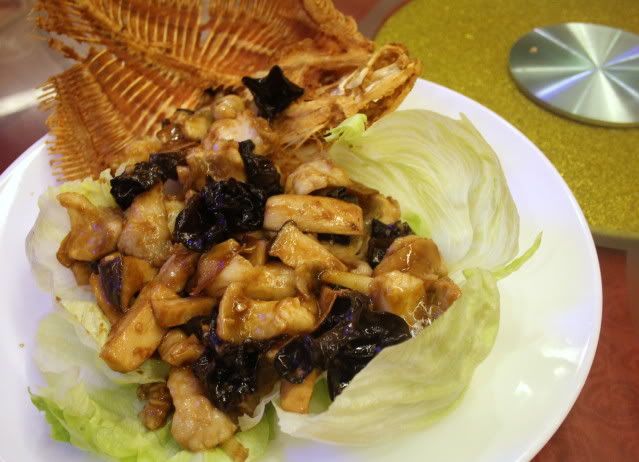 Turbot (a flat fish) from Iceland, at RM12.80/100gm, each fish weighs 1-1.3kg. The cantonese name of this dish sounds so much more exciting, than just ...turbot. It's like a Duet Of Turbot, With Wood Fungus. The bones, which are deep fried, would make Michelle Yeoh and her Anlene calcium ad seem like baby formula. Pure unadulterated crispy calcium!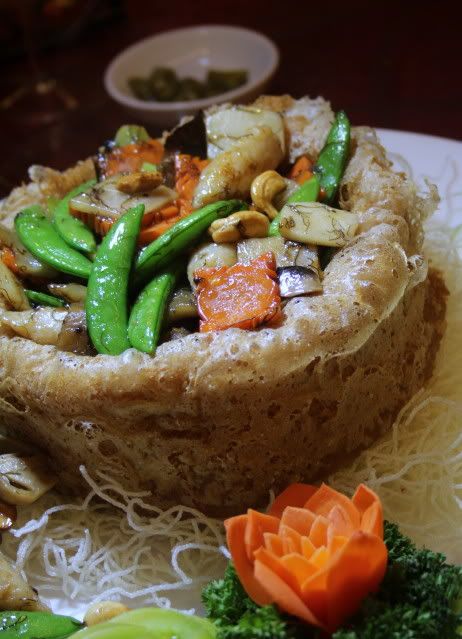 Yam Treasure Trove, or Pun Mun Poot Moon...Full overflowing bowl something something. These things really get lost in translation. Not sure what the price is, but this old favourite is done really well. Fluffy powdery yam, that is light, crispy on the outside, and gorgeously moist in the inside. RM68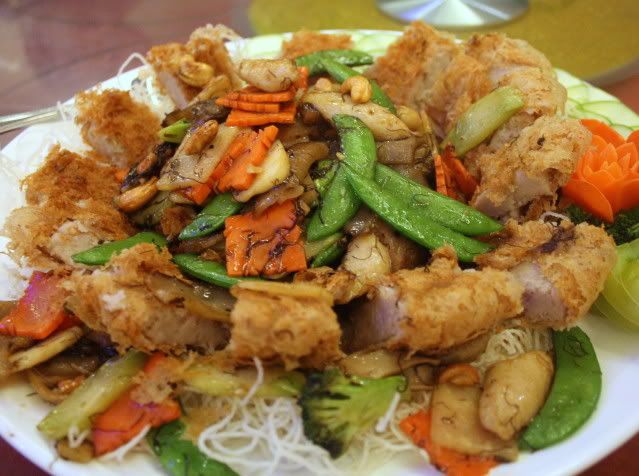 Tiger prawns in Chilli sauce, RM100/kg, minimum 300gm order, ...fresh, succulent, and the chilli sauce is just yelping out for toast to accompany it.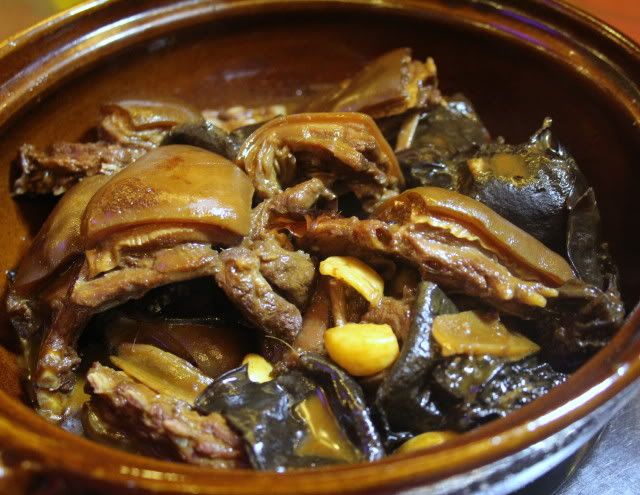 Hei Hei Yong Yong..Happy Happy Goat, or something like that. But basically, it's lamb, stewed with wood ears, and a whole host of other stuff that completely obliterates that lamby smell that I cannot take in my old age. Nevertheless, despite the absence of the Ovine smell, this is not my favourite dish. I had to google that up, if cow is bovine, then what are sheep? Ovine. (bows, you may thank me for the free English lesson). 12 pieces for RM 80. A steal, really, if you are into sheep.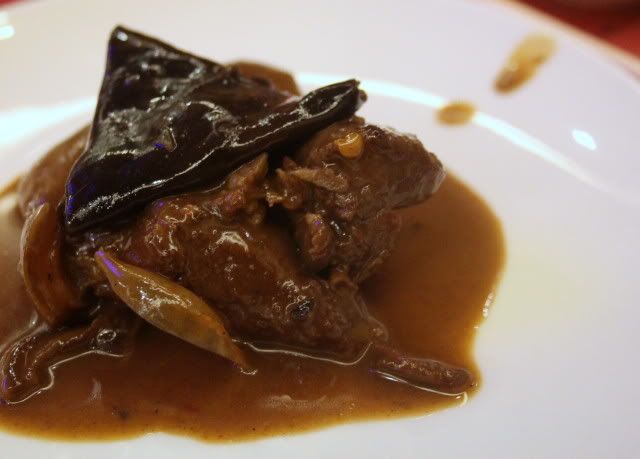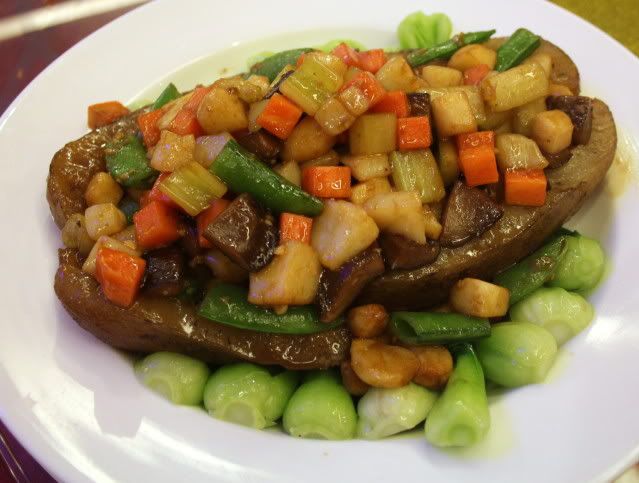 Extra Super Sea Cucumber from Extra Super Tanker. I should have taken a picture with a spoon, to give a sense of scale of the enormity of the sea cucumber. Called aptly, abundance of the sea, this dish is a must for those who love the texture of sea cucumber. And in any case, it is such a healthy dish though health doesnt come cheap. RM200.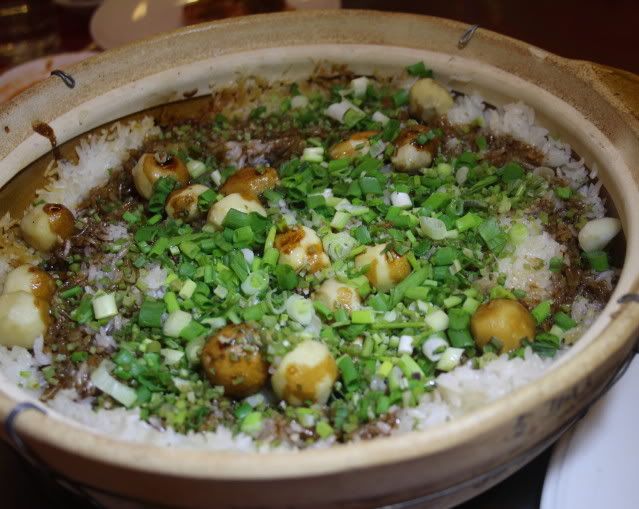 Sang Pou Lap Mei Fan. The rice is individually cooked, as in, individually in each pot, not each grain, giving it a lovely charred kerak (crust) at the bottom. And just look at that lap mei...all that divine sausage meat and chinese liver sausage. RM70 for 4-6 pax, or RM 95 for 8-12 pax.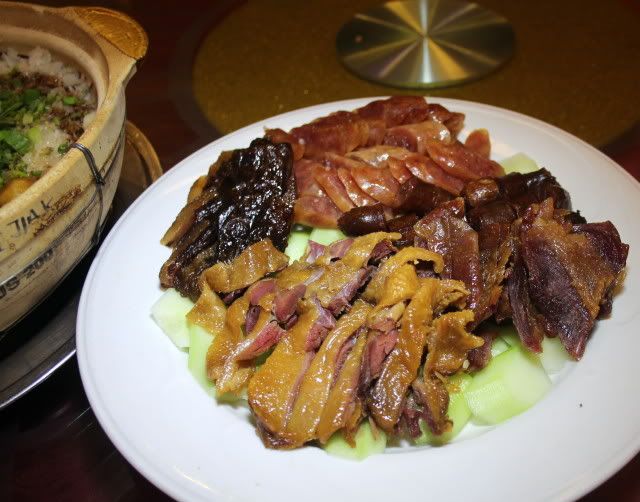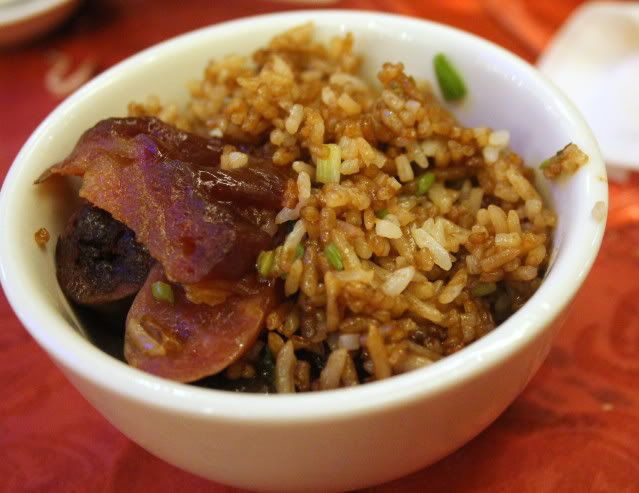 Double Boiled Snow Pear with Hasma... for the uninformed, just think of hasma as .... aloe vera. RM18 per bowl. Lovely dessert, this one, you can almost feel it cleansing you as you sip that hot soup.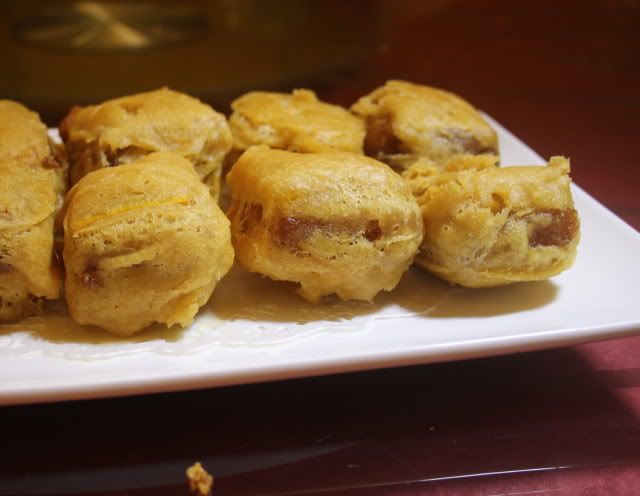 And the indispensable nian gou, RM4/piece, deep fried with yam and sweet potato. Very nice, but by this time as you can imagine, we were stuffed up to our noses, and marginal utility was dropping at an alarming rate.
They do have set menus, at very reasonable prices, for the CNY Period. But if you are intending to go this period, please make a reservation, because this place gets seriously PACKED!
Restaurant Extra Supertanker.
48 Jalan SS 20/10 Damansara Kim, 47400 Petaling Jaya, Selangor
03-7726 7768