Xin in Concorde always strikes a nostalgic chord with me. In the days of yore, when Concorde was the Merlin, the chinese restaurant there was THE place for dim sum. I still have vague recollections of its Chinese exterior, and turtle pond at the entrance. Then, it became Concorde, and as a young adult, I used to frequent the place with my friends who work in the Golden Triangle, for dim sum lunches, as it was reasonably priced, AND has pork.
Fast forward years down the line, I have to say Xin has remained consistent, and till today, it is always a palatable experience to dine in this establishment. No surprises, we were invited to try their Chinese New Year menu and in this case, the Prosperity Menu. I have to say, the Chinese must be one of most materialistic people on earth, as everything seems to revolve around prosperity.
The food was laid out for us to photograph, much like models on a catwalk, ...oh hangon, models on a catwalk actually move. More like a display in a jewellery shop.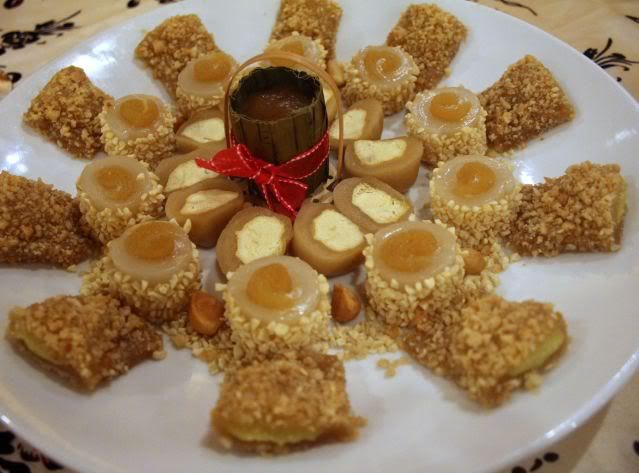 Labelled simply as Chinese New Year Sweets, actually this lovely platter comprised the quintessential Nien Gou in various forms, with durian, with yam and the white nien gou with pineapple. I actually thought the pineapple one was rather unique.
Chilled Seaweed Jelly With Osmanthus & Wolfberry. I loved this dessert, the different textures, from the gelatinous seaweed to the crunchy wolfberry, in a lovely "broth" that was not too sweet.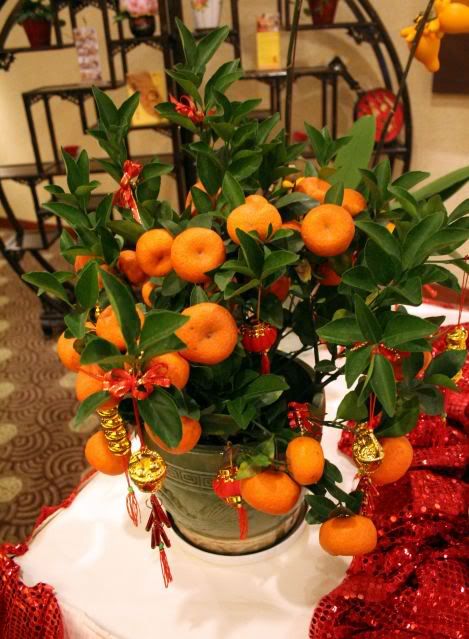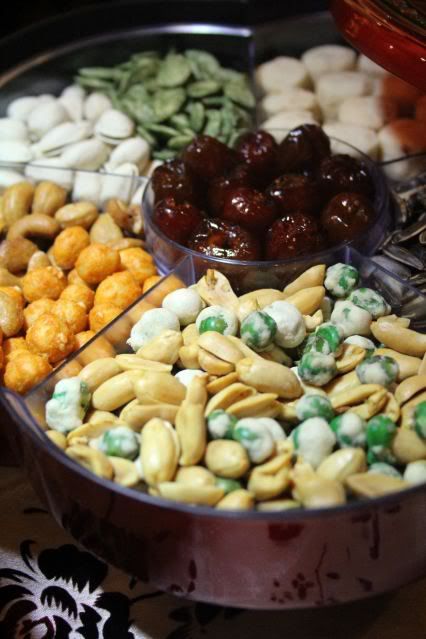 Assorted stuff that you would serve for Chinese New Year.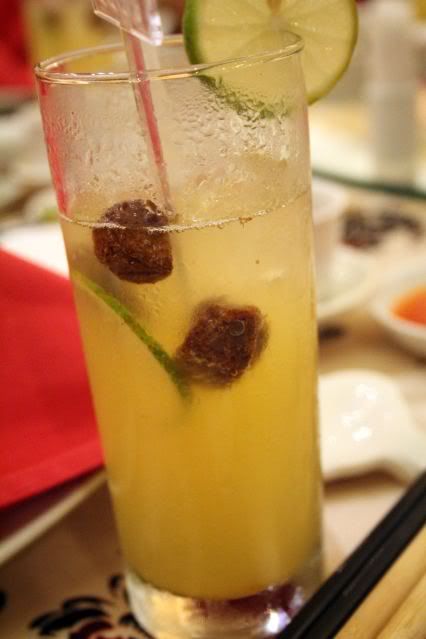 Their signature drink, equivalent to the kut chai sheen mui (calamansi with sour plum), but this one with the added kick of soda water. Very refreshing, and actually quite a good idea to replicate at home. Especially on a hot summer's day...which is like everyday for us here at the Equator.
Assorted Dim Sum....prosperity egg dumpling, salted egg puff, dried oyster fish maw roll and stuffed diced sea cucumber with sliced clam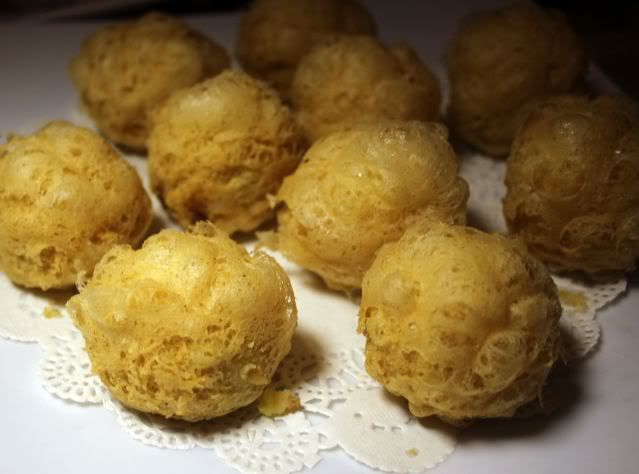 Salted Egg Puff...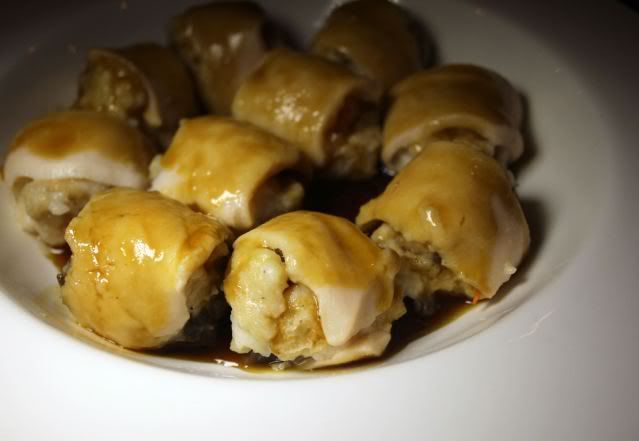 Abalone clam with sea cucumber paste, which we mistook for chicken from afar.
Dried Oyster Fish maw dumplings....
Hap tou sou. Walnut cookies, which were rather good. It's that slight saltiness that makes the difference.
Stuffed Oyster, Mushroom With Fatt Choy and Seasonal Vegetable. I think they mentioned something about Pau lei Hoi Sum...a play of words that apart from describing the ingredients, meant guaranteed happiness or something like that.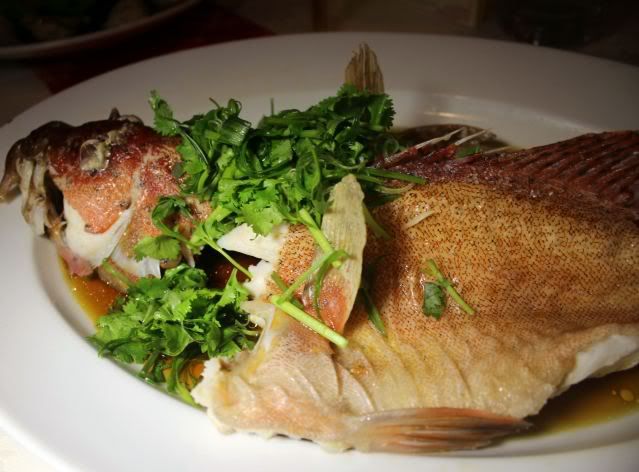 Steamed Sea Garoupa With Soya Sauce.
And of course, the Properity Mini Octopus Yee Sang with Traditional Condiments. The red octopus certainly gave it an added dimension both in color and texture.
This was quite an interesting dim sum, which had a quail's eggs in each dumpling.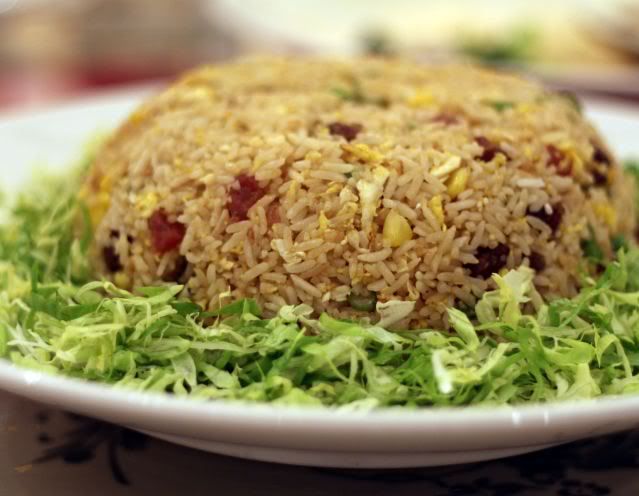 Wok Fried Rice With two varieties of Chinese sausage and corn kernel. Any fried rice with chinese sausage is a winner in my eyes, but wok fried with the correct "wok hei", and to get grainy granules of rice, wonderful.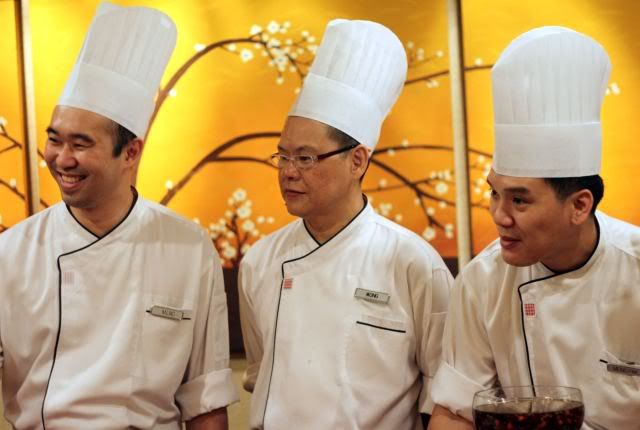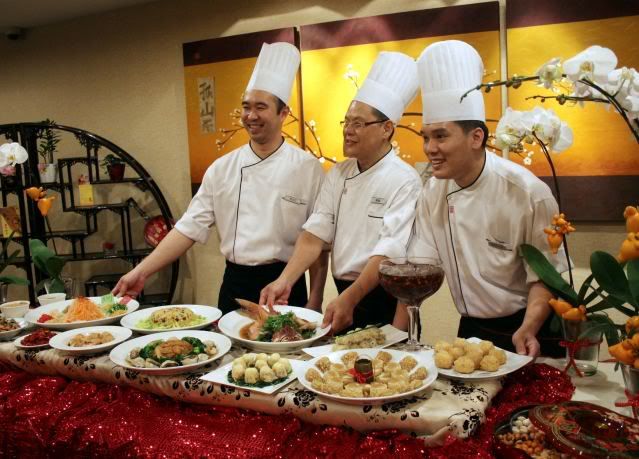 Xin 9-course prosperity set menus are served during lunch and dinner. Chef Wong Pak Seng, Chef Ng Meng Loong and the new kid on the block, Chef Lok Meng Pak present irresistible authentic cuisine appropriate to usher the arrival of new year. Yee sang, waxed meat along with the best home-cooking cuisine sum up a great prosperity meal.
* Prosperity menus are priced at RM1,088.00++, RM1,288.00++, RM1,488.00++ per table of 10 persons
* Fortune Pot is sold for RM368.00++ (small) and RM648.00++ (large)
* New Year Four Dim Sum choices are available a la carte (promotion starts February 11 – 25, Chap Goh Mei)
New year also brings spring specials – like the Chinese new year dessert, nian gao. Go for the king of fruit, durian nian gao as the perfect finish to a great, wholesome meal. Other specials include sweet potato and pineapple nian gao. Each is priced at RM9.80++ - RM12.00++ per order.
For reservations or any menu, promotion enquiries, please call Xin Cuisine at 2144 8750, or email to fbkl@concorde.net *Xin Cuisine is closed on the first day of Chinese New Year.