DISCLAIMER: FATBABY IS NOT BORN FROM FATBOYBAKES....
There's something very cosmic about food...it really links people together. The PM should really concentrate on making it the national hobby, it seems to be a surefire way to unite the country. Either that or declare a food war on Singapore, for claiming chicken rice, yee sang, and goodness knows what else, to have been spawned there.
Anyway, as I was bemoaning the fact that I can't afford the Haagen Daz salty caramel ice cream, my godma's daughter chirpily facebooks me (gosh, is that even a verb) telling me that one of her friends has just started her own range of ice creams, and wants to give me some samples to try. Music to my ears. I gravitate to free samples the way Singaporeans gravitate to all new products such as pork buns from Hong Kong. I digress.
So yeah, free ice cream, from one known as FATBABY ICE CREAM. Bah, another Fat something or other. I expected to see a girl of Jabba-esque proportions when I finally met up with her, Hui Ming, to collect my samples, but to my dismay, she's slim as a pole, ....totally desecrating the name FAT. Chis. She hands me a brown bag with EIGHT tubs of ice cream.
The deal was that I would bring it home for the kids and wife to try, but AS luck would have it, she gave me TWO tubs of salty caramel, and who can ever say no to salty caramel. It's the best invention since butter, I tell you. And salty caramel ice cream really..... I mean, whoever invented it deserves a Nobel Culinary Prize. I gleefully dig into a tub myself, and I have to say, I was NOT disappointed. Lovely creaminess, not overly sweet, I swear, almost like the one I made two nights ago.
The full range of flavours, and if you are observant enough, you'd notice that it is now dark, (as in, it is night), compared with the first pic, which was daylight. Meaning, I dutifully brought home the bacon for the brood. And so the tasting begins.
Mango Sorbet. Okay, first, let me label the testers, ie, One Wife and Four Kids so we'll call them Wife No 1, Girl 1, Boy 1, Boy 2 and Girl 2.
Boy 1 to Girl 1 : You'd like this, it tastes totally healthy, and its mango. Also, there's no cream, and it's not sweet. It's like eating frozen mango.
Girl 1 after tasting: It does nottttt feel like frozen mango. It's yummy.
A lovely coffee ice cream, which is the favourite of Wife No 1. I liked it too, and the recurring theme was, it's not too sweet.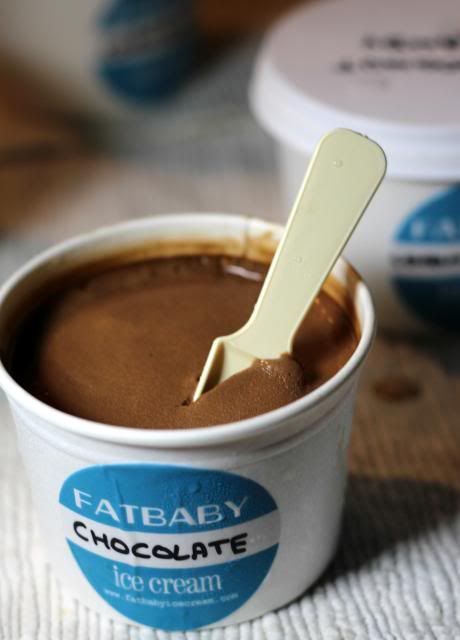 No matter what fancy fandangled flavours people come up with, it is essential to remain true to the basics, and Chocolate Ice Cream is as basic...as Vanilla. This chocolate ice cream scores, you can tell it's made from good quality chocolate, but yet, it is not cloying. The lack of preservatives meant our little tasting was resulting in the ice cream melting pretty fast. Chocolate, the favourite of Girl No 1 & 2....
And because Chocolate deserves to be seen from all angles...
Coconut candy. Gotta love Fatbaby for her ingenuity. I guess there are traces of gula melaka like flavours, Boy No 1 swears there's horlicks, but whatever it is, THIS was MY favourite.
Apple Crumble. Brilliant. Bits of crunchy apple and crispy crumble. A feat not easily achieved. Basically, your apple crumble is served with ice cream, but here a reversal of roles, and your ice cream is served with a hint of apple crumble. This was Boy No 1's favourite, much to my surprise, since he's more or less a carnivore, and that he chose a flavour with real fruit?!! Wow.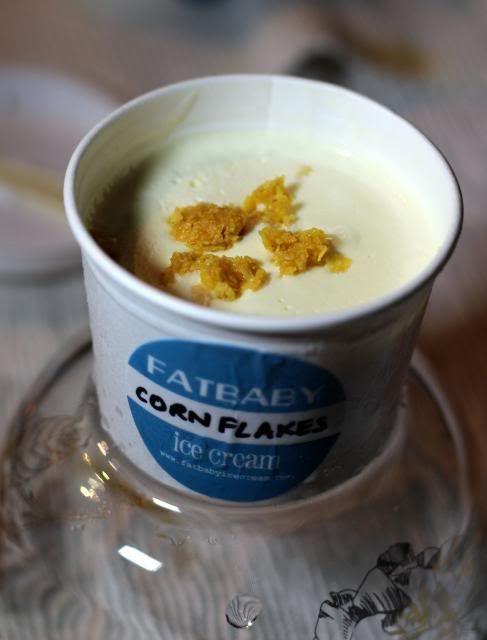 And finally, Corn Flakes Ice Cream. Again, it's amazing how she managed to preserve the crispiness of the cornflakes. This was Boy No 2's favourite.
People can get hold of Fatbaby from:
* Marmalade Cafe in Bangsar Village & Publika
* CAFFEine at Setiawalk in Puchong
* online from
http://fatbabyicecream.com/get-your-fatbaby-here
- once people have ordered online, she does ice cream drop offs at Publika, Jaya 33, Empire Subang, Sunway Giza on Saturdays. Ice Cream drop offs...love that concept.
Pricing is on the website, but it's basically RM25 a pint. To the metric-fied, that's 474 ml for the US Liquid Pint, which presumably is the measure she is using, just like Haagen Daz.