Martell... What comes to my mind at the mention of Martell? Distinguished gentlemen adjourning to the drawing room after dinner, swirling a huge balloon brandy type crystal glass with a pack or two of Cordon Bleu, puffing a pipe....that's scenario number one. Scenario number two is Chinese weddings, with loud yam sengs...
But actually, I know for a fact these days, these Cognac houses are so much more innovative in their pairings of this divine nectar, and therefore any invitation to a pairing of cognacs with fine food is a happy occasion in my book, and I was thrilled to be invited for my first Martell Pure Gourmet event. Despite the fact that it was to be held a day after I returned from a scuba diving trip, meaning I'd have to sheepishly abandon the family yet again, for another self discovery holiday, and not to mention the long absence from the office, I was determined to attend this irresistible invite no matter what.
It was exciting to get the itinerary, which stated that we would be housed in the grand Macalister Mansion, recently restored gorgeous colonial building. It is named after Sir Norman Macalister, one of the first British Governors of Penang (then known as Prince of Wales Island) from 1808 – 1810, whereforth also comes the name Macalister Road.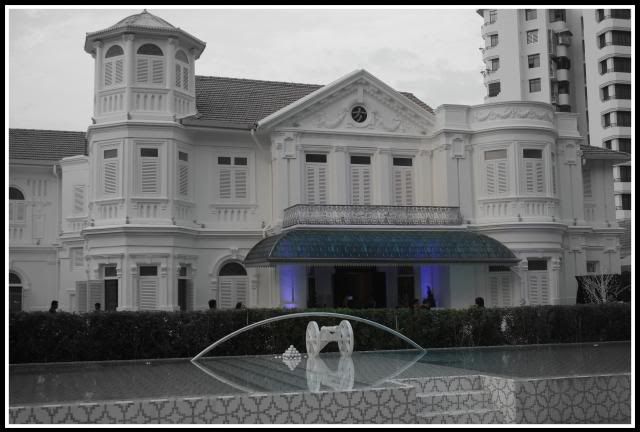 The gorgeous Macalister Mansion.
Poolside Bar
Outdoor Terrace
If only walls could talk, I wonder what stories these walls beheld.
Cheery welcome drinks greeted us (not a glass of Martell Cordon bleu, but I guess at 11am in the morning, and a whole night ahead, that might have been disaster). And the rooms, absolutely lovely. High ceilings, heavenly comfortable beds, toiletries worthy of a spa, sheer decadence. As a side note, room rates range from RM700 plus to RM1300 plus. There are only EIGHT rooms, all exclusive, different designs, and unique. A perfect place for a small intimate dinner party of 16, or more, where you can throw your hoi polloi guests to nearby rumah tumpangans, or if they aren't so hoi polloi, nearby boutique hotels.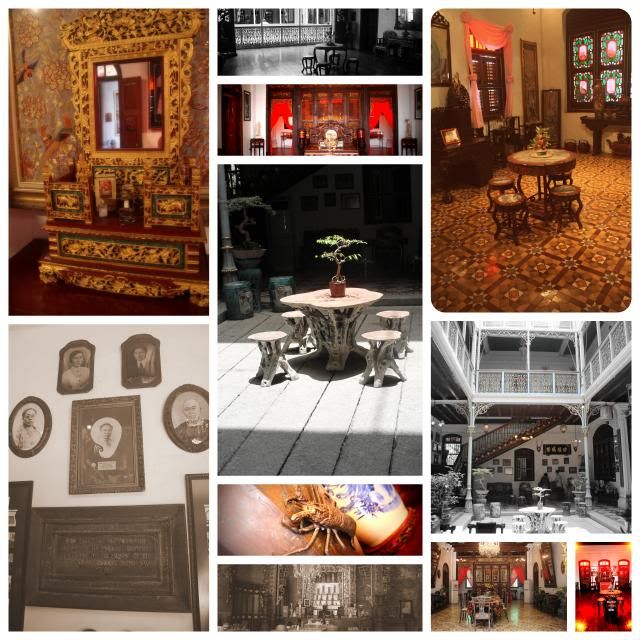 Tour of the Penang Heritage...a typical Peranakan Mansion, (actually, this was the Peranakan Museum). So nice of Pernord Ricard Malaysia to throw in this bit of the tour for us, as well as bringing us to the iconic auntie with red hat char kueh teow on Lorong Selamat.
As the blistering sun eventually became less so, it was then time for a special press "tasting session", of the various types of Martell...truth be told, I only knew the usual Martell Medallion VSOP, and the ever famous Martell Cordon Bleu, so I was in for a surprise....
Martell Cordon Bleu needs no introduction, as it is almost a staple drink amongst the well heeled. And rightfully so, it is wonderfully smooth, and deep copper colored, with bouquets of plum, apple, roasted notes: mocha coffee, grilled almonds and vetiver...a large proportion of Borderies eaux de vie adds to its elegance and complexity....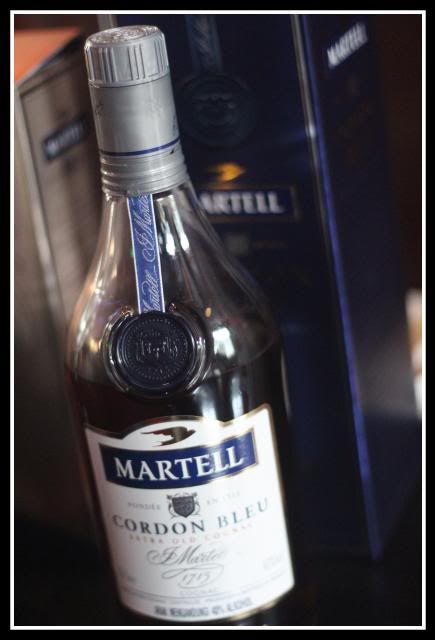 Martell Cordon Bleu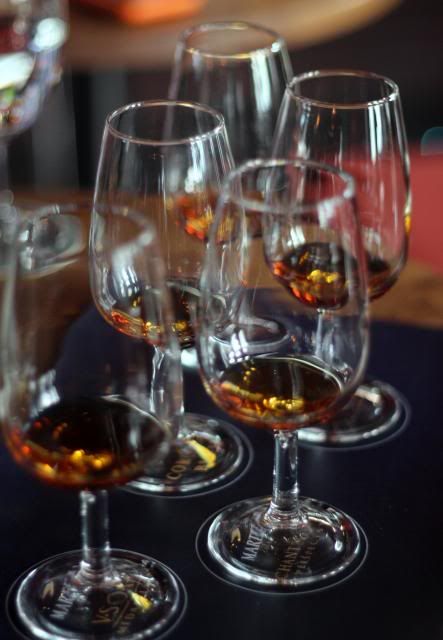 The Martell VSOP, (actually, we started with this) Medallion, bears the portrait of Louis the 16th, to commemorate the year 1715, end of the Sun King's reign and the year Jean Martell established his business. Golden amber shade with lime and liquorice notes, and candied fruit, raisins and plum.
Sensations assail the palate, ...coppery, golden amber hues with aromas of ground spices, black pepper, coriander, beeswax, sandalwood, in smooth sweet notes. I had hitherto thought Cordon Bleu WAS the XO of Martell, but obviously I was wrong. But wait, it gets even better....
Martell Creation Grand Extra...simply divine, a luminous amber topaz with beautiful gleaming highlights, in a very sexy bottle as well. Notes of fruit preserve, lemon, orange peel, exotic aromas of cocoa beans, vanilla pods...a powerful exceptional finish that lingers in the mouth. This was my favourite of the night...and as there was an extra serving on the table next to me, in the press conference, I was more than happy to finish it off.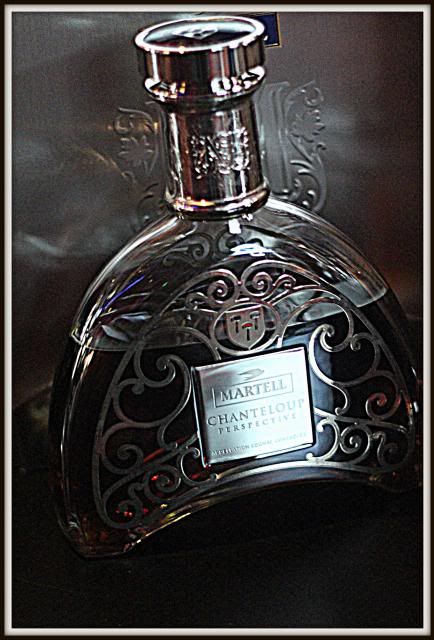 Martell Chanteloup Perspective - The "Extra Quality" Cognac crafter from the finest eaux de vie Martell's legendary Chanteloup cellars have to offer. Dark amber, with fresh stone fruit aromas such as peach, apricot, with floral notes of hawthorn and acacia. The taste starts with a soft and light attack on the palate, with dried fruit notes and hints of blackcurrnat.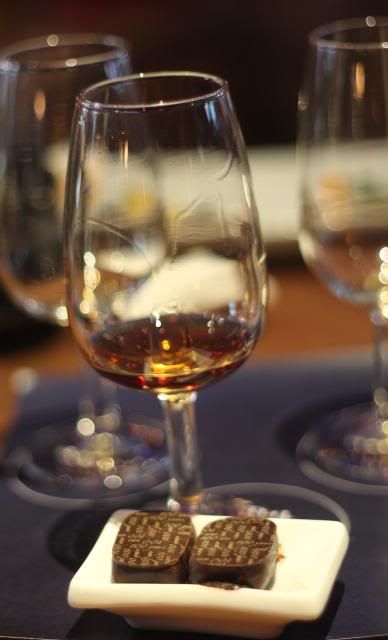 The more aged a Cognac, the more tears form of the glass as you swirl it.... (you can see the almost viscous fluid caressing the sides of the glasses in sensual romance)...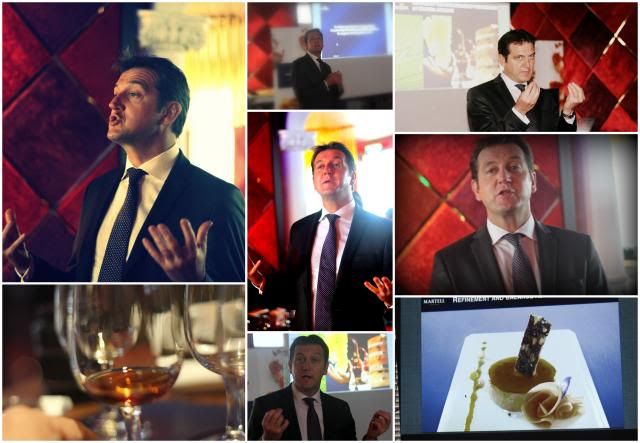 Christophe Pienkowski, Brand Development Manager for Martell, and himself a Chef, presenting us with the very entertaining tasting of five types of Martell...You gotta love that French accent, which makes everything sound so wonderfully elegant and exoteeeeq....He also said that a fine Cognac does not give you a headache the next day, a theory that sadly, I found to be untrue, as much as I wanted to believe with all my heart, and head. But then again, perhaps these French are not accustomed to the way the Malaysians guzzle the drinks like it was water in the sahara.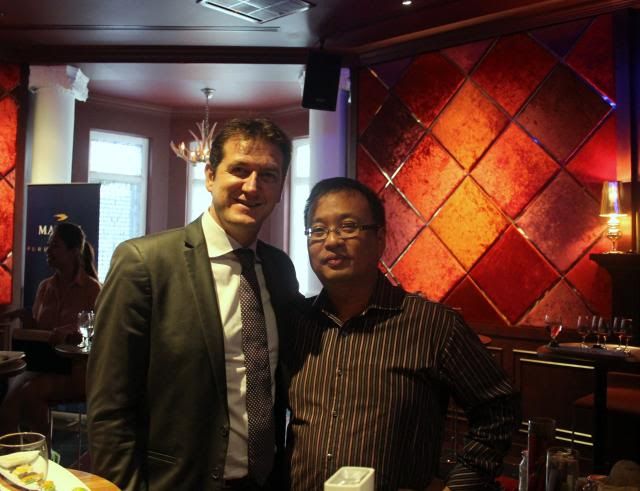 Christophe and me.
After the press briefing and tasting, it was time to partay...
Lady Martell...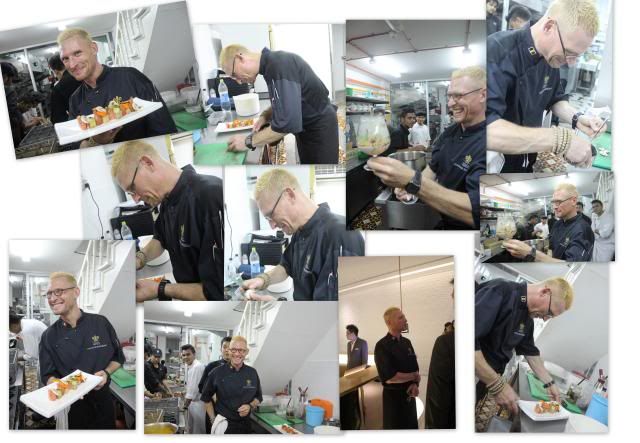 We were privileged enough to go behind the scenes to watch Celebrity Chef, Emmanuel Stroobant, at work, with Macalister Mansion Executive Chef, Lance U Ren. Emmanuel Stroobant opened his first restaurant at the age of 23, in Liege, his hometown, and after overnight success, he moved to Australia before settling in Asia. He is auther of "Cuisine Unplugged" and "Vine Dining- White"...he is probably most well known here for his series, CHEF IN BLACK, and now CHEF IN BLACK II.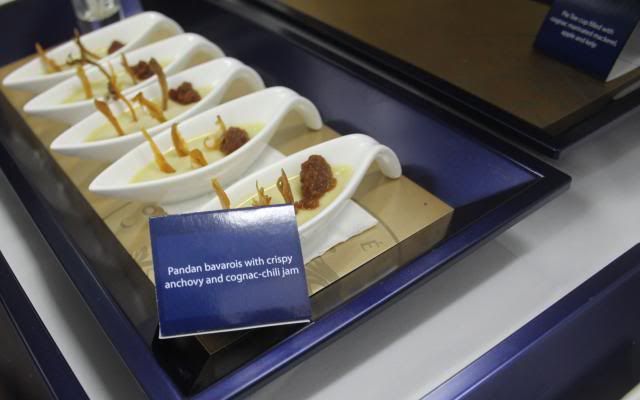 Amazing Canapes With Pre Dinner Drinks and Cocktails, made with Martell of course...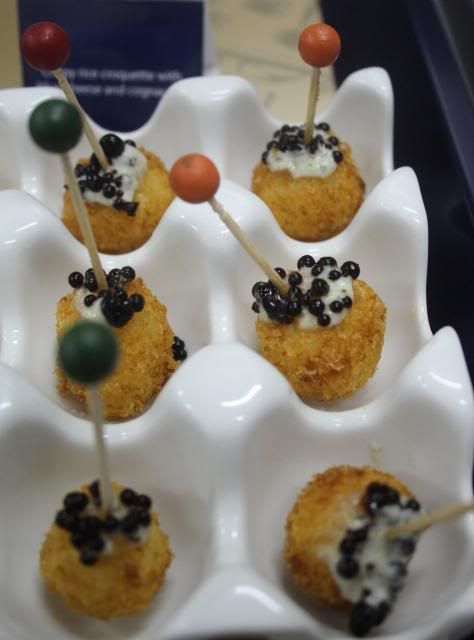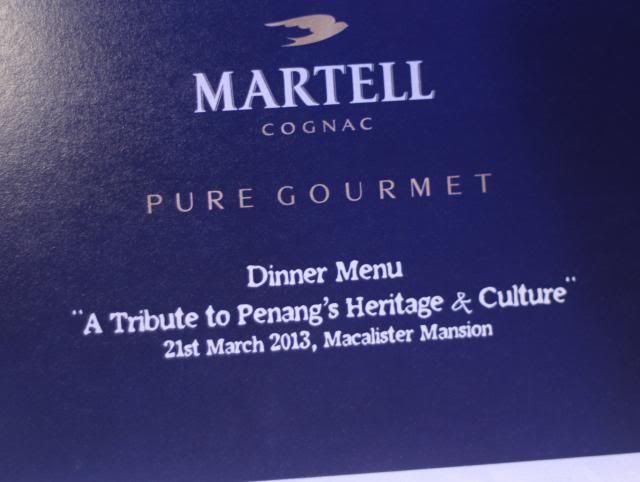 The first starter,a beautifully presented garden in a glass, comprising a lovely mousse, and some "soil", all of which were smoked in the kitchen before hand lending it that earthy, smokey taste, which was the intention.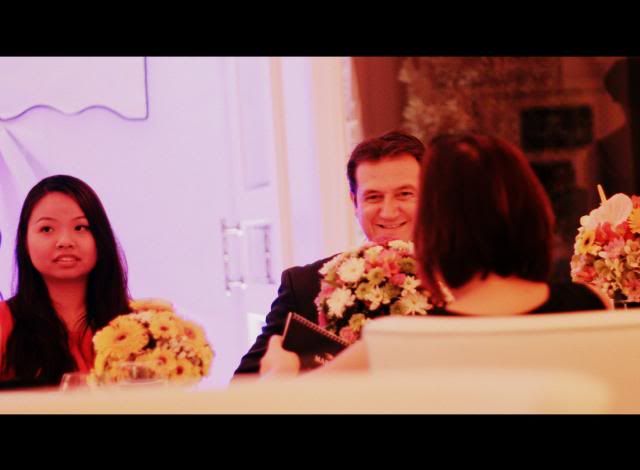 The glitterati of the night....
It's almost too pretty to eat. The Ferringhi Foreigner Garden Salad.
Cold Starter, East India Curry Mee Exploration. Very unique indeed, a frozen dollop of the "curry mee gravy", over a bed of soba, with crab meat. Deconstruction in its finest. Paired with the Chanteloup, it was a treat to the palate.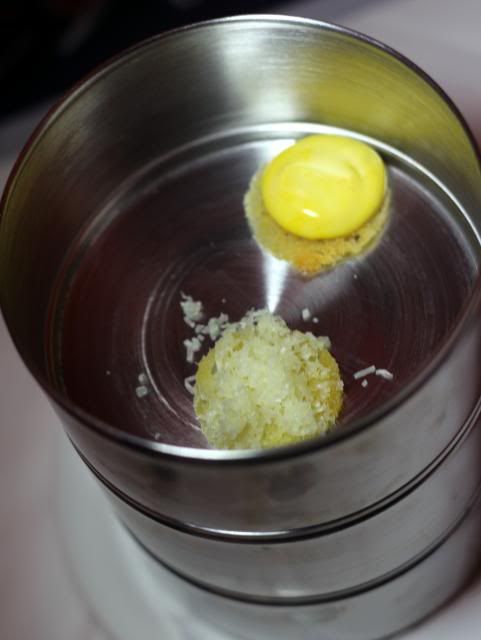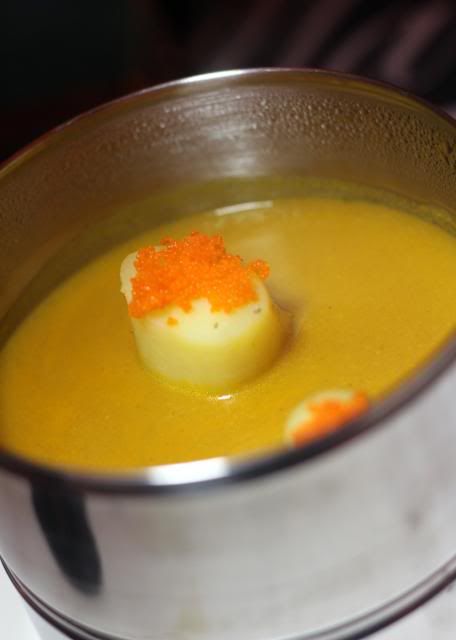 Hot starter, the Straits Prawn Bisque, served in a traditional Tiffin Carrier, or "kak lam" in Cantonese. each level of the tiffin contained separate parts that make the whole sum, in this case, a lovely broth, very prawny. Paired with the lovely Martell XO, this was a rather unique dining experience. Of course, by this time, I was feeling a rather happy light buzz, and the night got more blurry.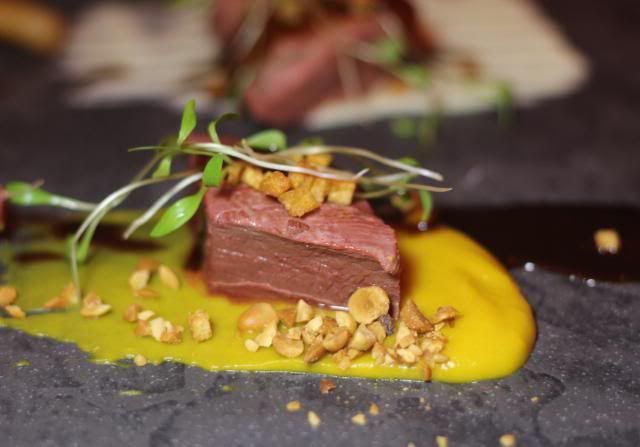 For mains, a Captains' Duck A L'orange...duck breast meat so rich it tasted like beef, on a mayonnaise like consistency orange sauce. By this time, we were plied with Chanteloupe Perspective, and Creation, and everything and everyone in the world seemed hunky dory...the quartet belted out old crooner numbers, such as Fly Me to the Moon....
And for dessert, the grand finale, the Chefs for the night appear and prepare dessert there and then, ....Penang Laksa Inspired Pineapple Flambe....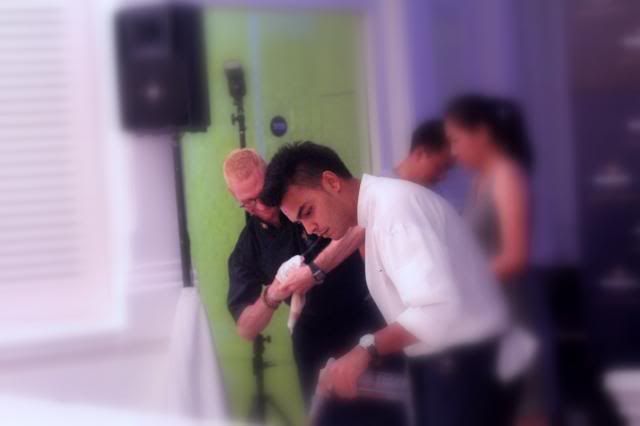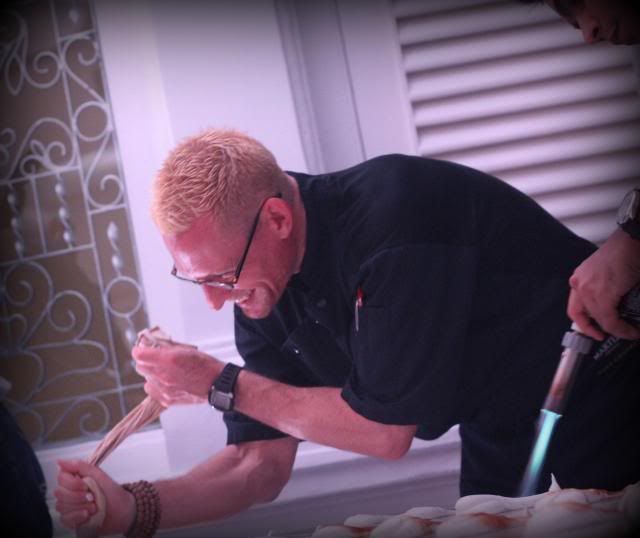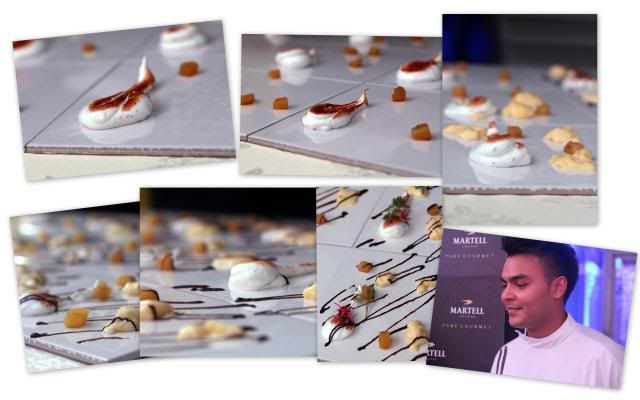 The evolution of a dessert...stage by stage...with the ginger flower, mint leaves, components of the ever famous Penang Assam Laksa, on a little meringue disk which was strangely flavoured with tamarind sourness of the assam laksa.
Vote for me, he says....
And toward the end, the STARS for the night receive their bottle of Martell Cordon Bleu...
Honestly, a night to remember, and I feel exceedingly privileged to have been on the guest list. The team of Pernod Ricard Malaysia have really outdone themselves. Cheers!