I was amazed that the young people I was drinking with one night had never heard of the sitcom CHEERS, the bar where everybody knows your name....Okay, generation chasm aside, I had to duly explain that the sitcom revolved around a bar with Woody Harrelson, etc. Well, when Moon Bar opened in my neighbourhood, apart from the fact that it's opened by my old time friend and diving buddy, Mike Tham, I had a feeling that this would be my "Cheers", and well, so far, apart from this particular invited food review, I've never actually left the place sober.
It is not easy to find a bar that serves Kilkenny with your Bak Kut Teh and Hokkien Mee...incidentally, the sinful plate of EXTRA chee yau char (deep fried pork lard) costs RM4...but OHHH SOOO GOOOD.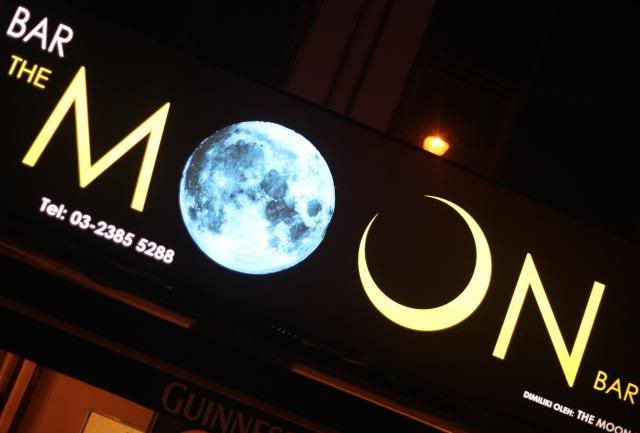 Located in Plaza Damansara, along the same row as the other Porky establishments, or 2, Jalan Medan Setia 2, Damansara Heights. Occupying two contiguous shoplots, you'd have to be blind to miss the Moon, even on a chor yutt (1st day of the lunar month), or cloudy night.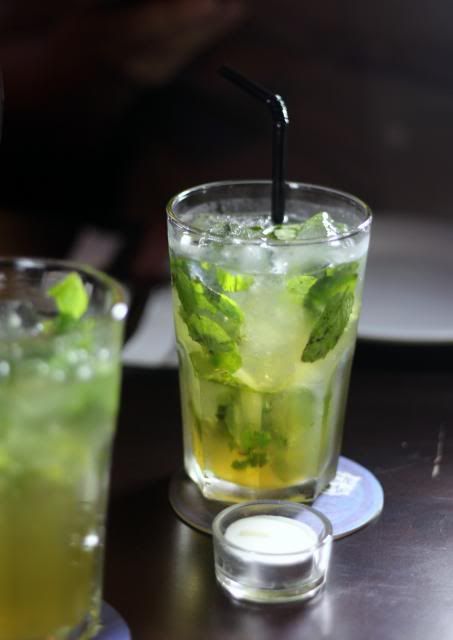 Mojitos, lovingly and individually made, by Steve Tham, Mike's brother. Mojitos are arduously labour intensive, so at RM18 a pop, I'd say it's damn good value.
A platter of their signature finger foods, breaded fried mozzarella, skewer of roast pork belly & chargrilled honey lime chicken, black pepper lamb parcels, spice-fried chicken wings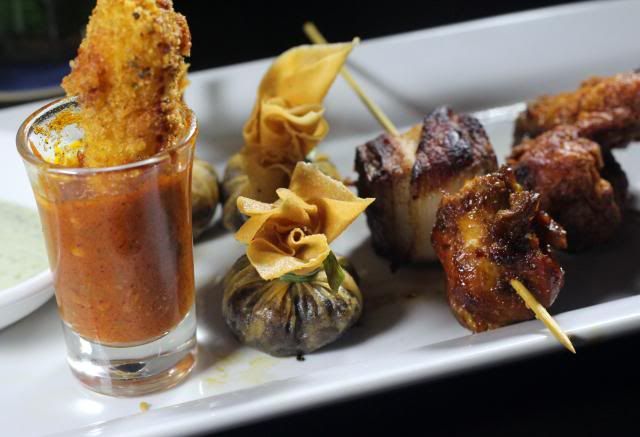 My personal favourite is of course, the pork belly...moist layers of fat, to line the stomach before imbibing alcohol...mind you, I have enough of my own, but unfortunately that just lines the outside...perfect beer food actually.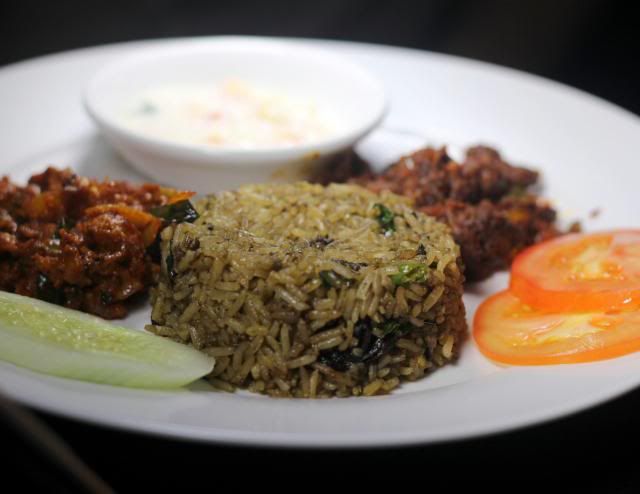 Their piece de resistance in my opinion has to be their spicy sri lankan tamarind pork belly & mutton varuval on butter briyani. Packed with oomph and kick, the spicy IS really spicy, and not for the faint tongued. The briyani is simply delicious. Fluffy grains of basmati, exuding an array of flavours that totally scintillate the palate. And their varuval, which actually is usually served with toast, is also a wonderful accompaniment with booze.
On Friday nights, they have an numerous Jazz artists performing (David Gomes made a special appearance on a Thursday night for us, and serenaded us with a few familiar numbers), and even on some weeknights, live bands. In fact, this weekend they're having an election party as well. Check out the activities here on their
FACEBOOK PAGE
.
I sometimes wonder if it would be over the top to order just this as a snack, and if I'd keel over from coagulate arteries within the hour of consuming a plate of this. Then again, I heard from a friend who's on a totally carb free diet that fats are good for you...IF it's a 100% carb free diet. But I can't.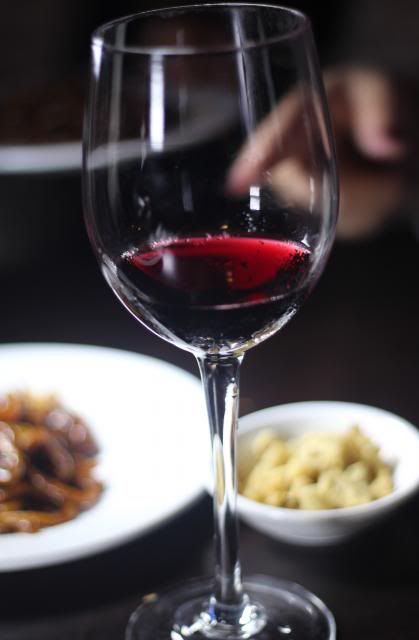 Their house red.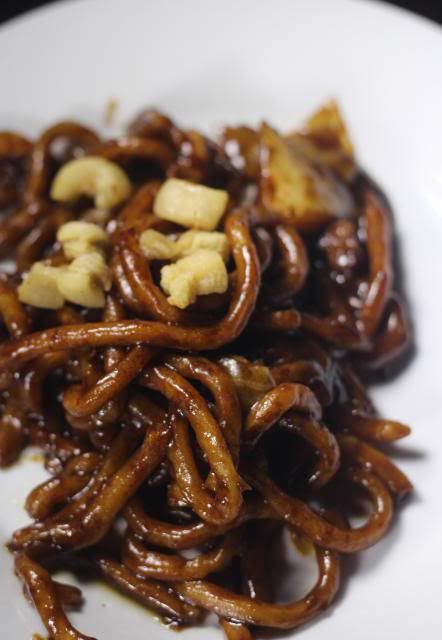 Hokkien Mee, with added chee yau char. Okay, here's the deal, of course it cannot beat the grotty road side places, that have rats running around freely as if they own the place, but, not many places offer the luxury of such comfort food when you're onto your 2nd or third bottle of single malt, and really have no intention of budging to Petaling Street or 222 at that hour. The taste is decent, but a bit lacking in wok hei, for this particular instance, but I've had it on other occasions where it was better. But overall, ceterus paribus, it's a good fix .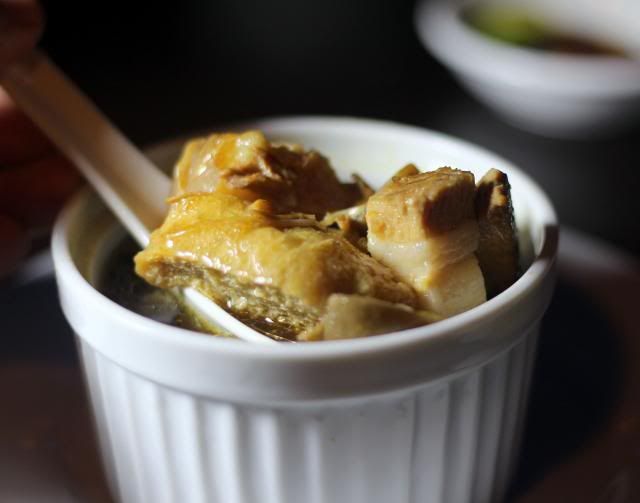 The bak kut teh, also another comfort supper food, especially when intoxicated, is good in it's own right, and actually tastes different from the normal bak kut teh. I don't know what it is, if it's the accompanying alcohol that changes the chemistry on the palate, but yeah, fatty pork, very flavourful rice, definitely my cup of teh.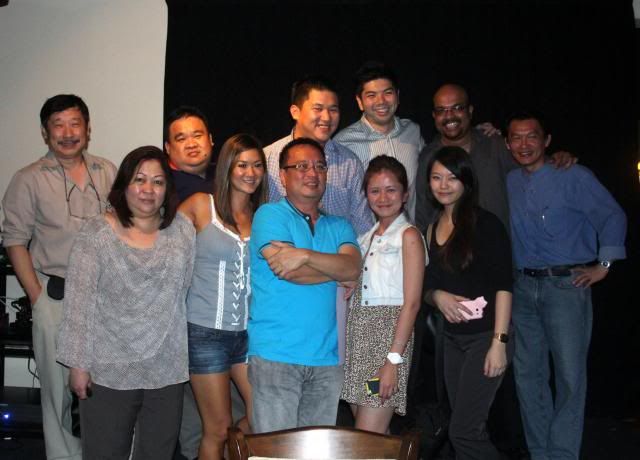 That's the motley crew of bloggers that attended the review that night.
Read CCFood Travel's review
HERE
.
Moon Bar opens daily, and is also opened for lunch, with a very reasonably priced set lunch, I think from RM12.90.
The Moon Bar
Jazz and Gastro Bar
2 Jalan Medan Setia 2
Damansara Heights (Plaza Damansara)
Next up, The David Gomes Trio will be performing at The Jazz Room @ The Moon Bar this Friday, 3rd May from 9pm onwards.

Reservations preferred. Call 016-5514686 (Suresh) for table reservations.

No cover charge. Happy Hours all night long and great prices on all bottles.