With so many lost souls gathered under one roof, there were tears and laughter, friendship, and for some, love. The roof was getting hotter, and smellier by the hour, as sweat odours from the runners began festering, creating a veritable sauna. I was amazed at the dedication and loyalty of some wives, who had been sitting there since 4am, to cheer on their respective other halves.
I am talking of course about the Standard Chartered Marathon, KL. How is that related to food? Well, because, I have never known so many people from one particular group, in this case, FOOD BLOGGERS, participating in a RUN. Let's see, there was Nipple Joe, Paprika, (and other half), Lecouple Toy, and me, of course, doing the 10km. In the 21km, Cumi AND Ciki, (who at the end of the run, looked like she could still pose for Tatler), the Deaf One (honorary food blogger by virtue of association), Yin Yin, ... and in the FULL MARATHON, drum rollll, BALD EAGLE. (and Wai Hoong, but he had just finished his 48 hr cyclathon Book of Records feat, so what's a 42 km run right?). So yeah, so many lost souls were gathered under one roof.
However, the purpose of this post really, is to pay homage to BALD EAGLE, that dear fellow, who, a day before turning THIRTY NINE, managed to complete the 42km, albeit hobbling the last 12km. Rumour has it that his wife, AWHIFFOFLEMONGRASS, was there at the finishing line, shouting RUN, BE, RUNNNNNN.....while the poor guy, cramped and can barely walk, croaks, "I CANNNNN'T RUNNNNN, DUHHHH"....ah well, its the spirit that counts.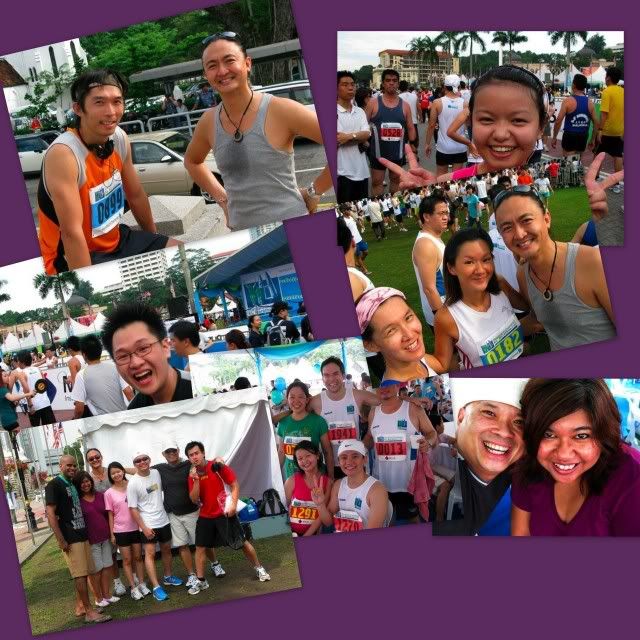 Pics shamelessly stolen from Nigel Skelchy's facebook....thanks Nigel
(sorry Yin Yin, forgot to put your pic in the kohlaj...now you get a whole pic to yourself)


And to usher in his 39, his good wife, who failed to see he was cramping and still did the "DO NOT DO" prescribed in the runner's handbook, hosted a lovely surprise at Max's New Kitchen.....
Anyway, this post is to wish Bald Eagle a very happy albeit belated birthday, and may the marathon fall a week after your NEXT birthday so you qualify for the men's veteran's category.
While we're on the topic of Birds, Big, Bald or small, I found myself, as I was chatting with Thamby, with some ripe bananas on my hand. What to do with my ripe bananas? Hummingbird cake sprang to mind. But as I checked the tin cupboard, dratted thing had no canned pineapple. What household doesn't have canned pineapple? Chis!!! Yet, the bananas were screaming out at me, mocking me, to make them into a cake. So, since I had HALF the ingredients for a hummingbird cake, I present, THE MOCKINGBIRD cake.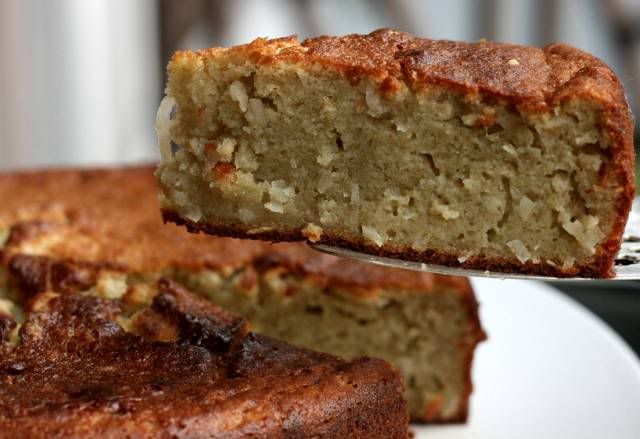 Recipe:
250gm butter, 3/4 cup caster sugar. Cream together.
5 eggs ...add one at a time
2 cups flour + 1 teaspoon baking powder, sifted... Added slowly in batches
Mashed ripe bananas - Su Chan's recipe said 200gm, but I had 450gm, so tarok only.
Half cup of coarsely grated hawaiian coconut.
Bake at 180C for 45 minutes.
It smelt divine, and I scalded my tongue, tucking into a freshly baked piece. If you talk to me now, you'll only hear "mmmfff uh uh uh pbbbttth".
HAPPPY BURFDAY BALD EAGLE.
PS - Oh, thamby and I have started this game. We dictate the first line for the next post. That lost souls crock was from her....
So, I am now tagging Ciki of Cumi & Ciki:
First line for your next post:
The humidity caused the wild monkeys in the Taman Tun Park to be restless, almost as if they were on heat.

PPS- My time for the 10km run was 1:16:08, position 1270.