Quite a number of restaurants seem to bear this name.
In-laws have just housewarmed their city pad, in Taman Desa, so the whole brood congregated at the new apartment, before adjourning for dinner at one the nearby neighbourhood joints. Well, one thing about KL, there's never a dearth of places to eat, regardless of which suburb. Except Damansara Heights & Kenny Hills. Unless you've an eating budget like
Eat Drink KL.
...
The place apparently is run by Ipohrians. Ipohian? Ipohites?
Definitely a neighbourhood a notch above tai chow place. By the time we got there at 8pm or so, all the dun tong (boiled soups) were all but sold out. Leaving a couple of bowls of watercress and pork rib soup, a white carrot soup, and a ginseng chicken soup. I love my soups.

Carrot & Pai Kuat Soup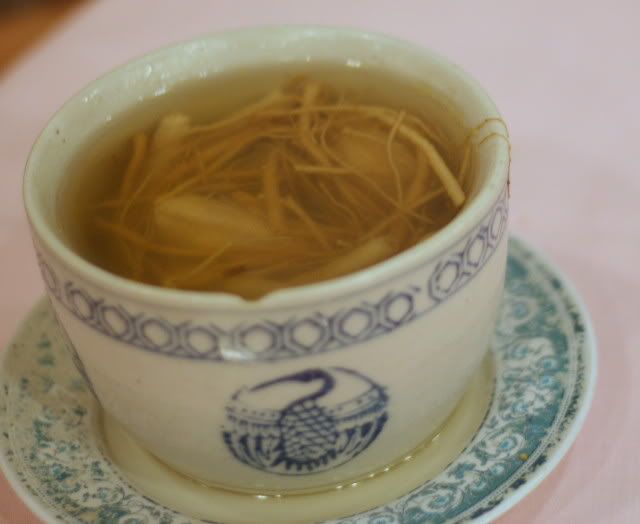 Ginseng & Chicken Soup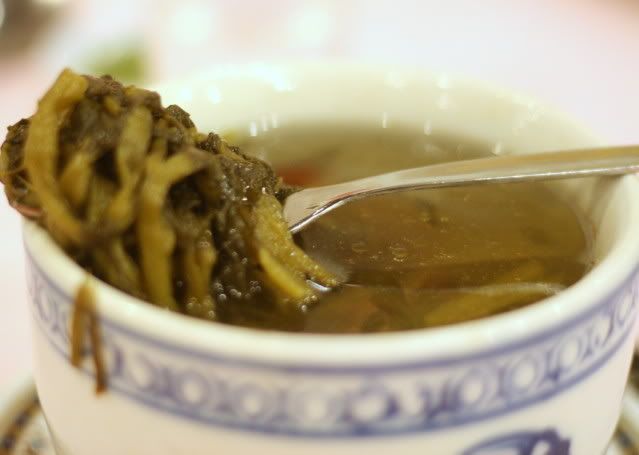 Watercress and Pork Ribs. Somehow soups served in these blue and white ceramic bowls give the impression that they are double boiled, and are healthy. My watercress soup was a tad on the salty side, though you cant really go wrong with watercress.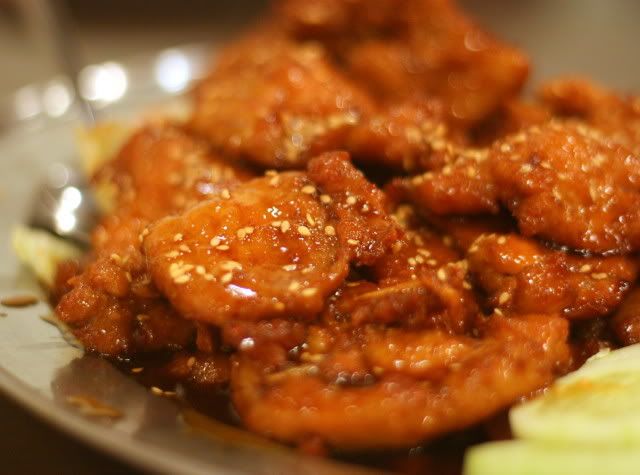 Fried err...Pork Chops ? Pork fillets? The sauce was yummy, kinda like a marmite sauce but that was one grandfather of a pig aitelyu. Either that or it was a pro wrestler in its heyday. The meat was tougher than .... well, you get the drift. If the pork had been tender, the dish would've been delicious.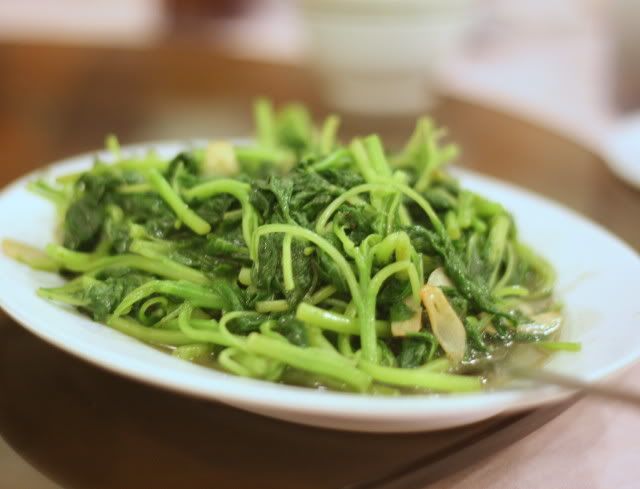 Spinach with garlic. Well, spinach is spinach, just as Popeye is what he is.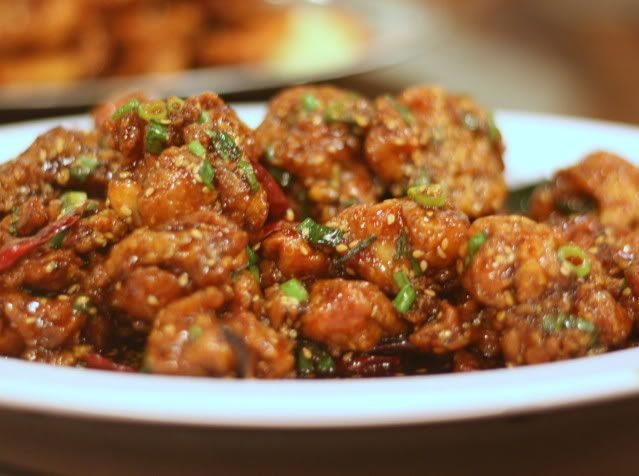 My favourite dish of the night. Chicken with sesame seeds and dried chilli. Lovely sauce (again, I think it was marmite based), pieces of succulent fried chicken, crispy on the outside, doused in that lovely sauce. Only snag though, is dishes like this scream for rice. And we all know how unfashionable it is to eat rice these days.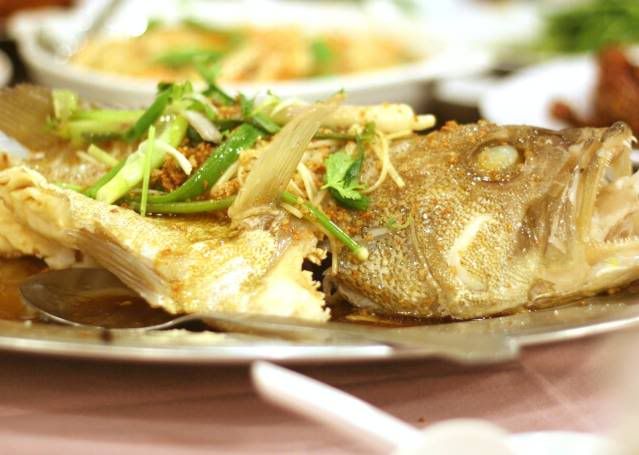 Steamed Tilapia, I think this was. Gosh, I really should take notes properly if I intend to blog about stuff. Fish was fresh, and I always like plainly steamed fish, if it is fresh. No complaints here.



I wonder who was the genius who first thought of deep frying Nestum. And to marry them with butter prawns. Incidentally, a few "butter" prawn recipes I've seen contain no or little butter. The sauce comes mainly from evaporated milk. But this crispy butter nestum prawn, ...well, it was good. Lovely deep fried nestum flakes, which probably completely defeats the purpose of nestum being a health food.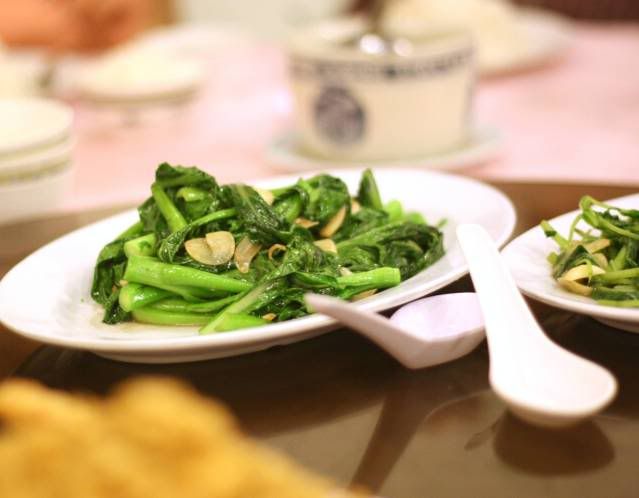 Crunchy choy sum. Very nice. The green is retained, and texture not too stringy. I love my greens.



Taufu...always a winner with the kids. The kids (4 of them) polished off two plates of this stuff.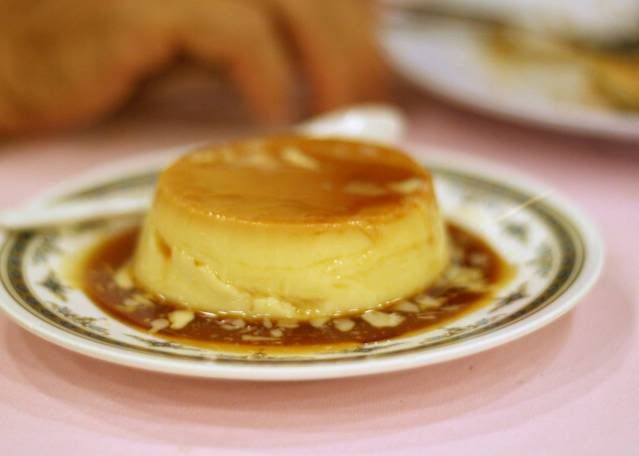 Ipoh Style Creme Caramel. Father In Law loves this stuff. Me, not really a fan. I generally find it too eggy, (coming from someone who LOVES half boiled eggs in the morning, and eggs in almost any form, generally), but yeah, I can understand why the love for it. Texture smooth as silk. It just glides down your throat.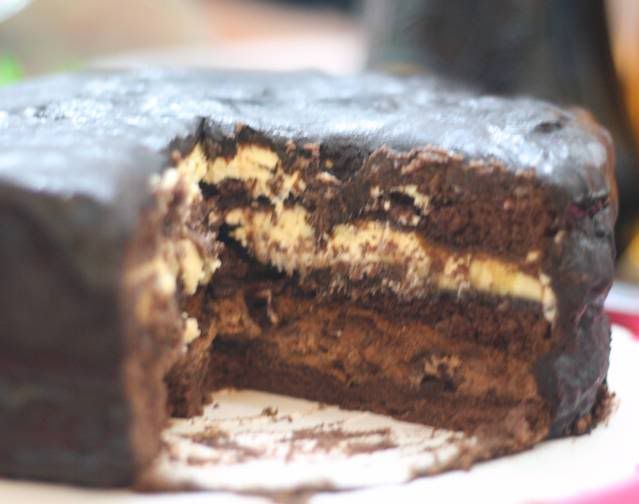 Since it was a housewarming, and I had bits and bobs of spare chocolate sponge from various cake orders, I decided to put together a chocolate banana cake. (okay okay, the idea I have to admit was from everyone's favourite bakery, Secret Recipe). But chocolate does go with an inordinate variety of stuff. FIL suggested I use durian instead of banana the next time.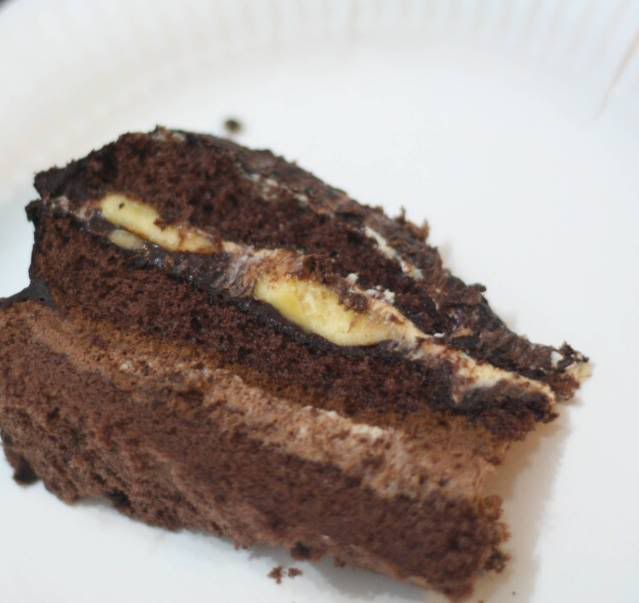 Well, the cake was good, if I may say so myself. Not too sweet, but perhaps a bit more banana would not have gone amiss.

I foresee this Sin Kee place becoming a regular family dinner haunt. We are all creatures of habit.

Where is it? It's along the two main rows of shops, where Faber Tower stands. If you coming on Jln Taman Desa, you take the 2nd right of that shop area.