Public Service Announcement, for myself: FBB will be conducting his inaugural (aka Virgin) baking class on 22nd August 2009 at THE COOKING HOUSE. Check the website HERE for further details.
When Ryan Khang told me that he's gotten me a pass to attend the FHM, (Food Hotel Malaysia 2009), I was rather thrilled, coz I remember reading about it in Masak Masak (my idol)'s blog years ago, and thinking, "wahhhhh, if only I had the chance to attend such an event".....
Pah, little did I know it's basically opened to all and sundry...though supposedly trade related visitors only. But doesnt the whole world need to Food and go to hotels? So by extension, the whole world is really trade related visitors. Chis, there went the aura of exclusivity.
Nevertheless, where there is food, especially free food, you'd find many a happy camper. So I merrily trot along on the first day of the FHM, and do my rounds.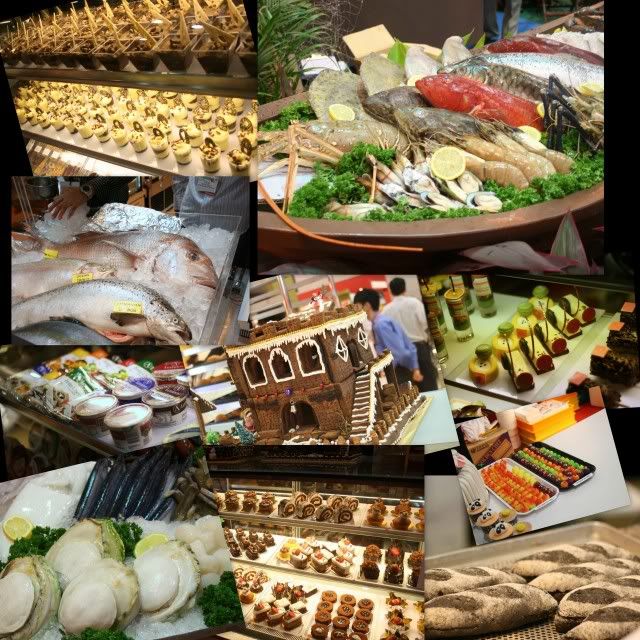 There is of course a dizzying gallimaufry of foods, ranging from stuff for the rakyat, to gourmet odds and ends, which were few and far between. Fresh produce, baked stuff, desserts, fried stuff, ..... the song from Oliver, Food Glorious Food sprang to mind, although some of the stuff were FAR from glorious. On day 3, Nigel, Master Baker from Just Heavenly Pleasures, managed to pick up some bargains, including a block of smoked salmon, 1kg, for only RM65.




Having just interviewed Chef Ismail but two weeks ago, I find this affable celebrity chef to be a delight to talk to. It was nice bumping into him doing a demo, with the other celebrity Chef, Florence Tan, and Jimmy Liew. I love the animated interaction between them. It really added a special touch in an otherwise impersonal and almost cold exhibition. Of course, friends from THE COOKING HOUSE and MY NOURISHMENT booth are like extended family by now. Afterall, they are the ones who got me the pass.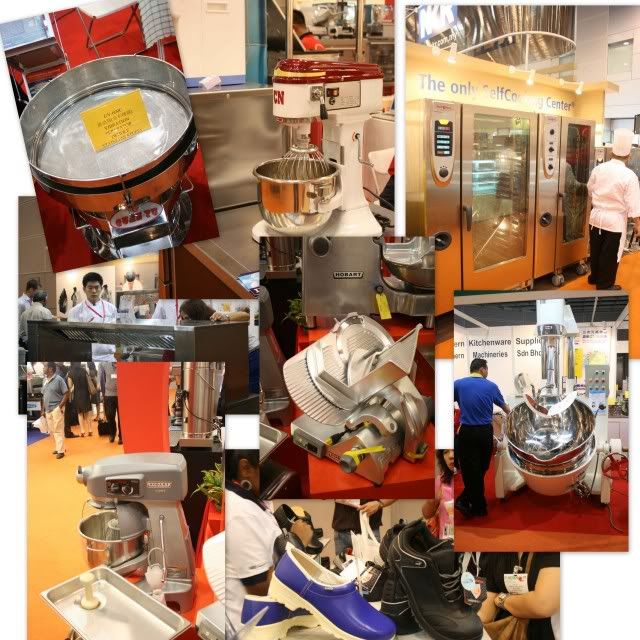 Machinery in all shapes and sizes, and all kinds of accessories for chefs, from shoes, to toques. Some of the machinery look positively menacing. The huge cake mixer looks large enough to mix concrete. Another interesting machine was the giant vibrator. I think its used to separate the chaff from the wheat.




Lastly, (there was an entire section that I missed, drat it!), I paid RM8 to enter the Culinaire Hall, where aspiring chefs and established chefs are pitted against each other in various competitions. In the middle of the hall, in an examination hall like set up, chefs were diligently and carefully carving pumpkin. I wonder how they grade these things?
Cleanliness - 10%
Intricate Carving - 50%
Realisticness - 20%
Ability to speak English - 10%?
Speed - 10%

I'd love to be a food examiner or judge. Then we can be brutally honest, without fear or favour.



On display were also a variety of ghastly wedding cakes, plated foods, that looked almost plastic. Sigh, if you ask me, the Culinaire was a waste of RM8, which I could have used for parking, instead of exposing myself to the influenza pandemic by taking the LRT with the masses.

Nevertheless, it was an interesting experience. And thanks guys, you know who you are, for showing up for the demo.....