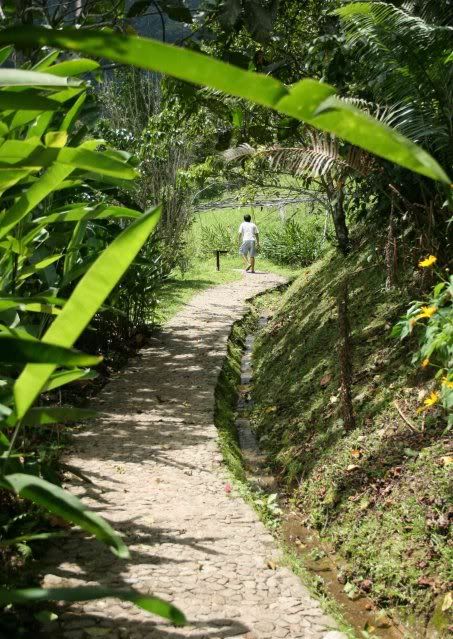 I love to go a wandering, along the mountain track, and as I go I lub to sing, my Ciki on my back. Valerie, Valeroo, Valle hahahhahahppy diwali, valeri, valeri, my Ciki on my back.



It's Deepavali, and what better way to celebrate, in true Malaysian style, but to go out and stuff our faces, although we were not invited to any open houses. Well, if no house is open to you, then we open our own.....

All the way from Bolehwood.......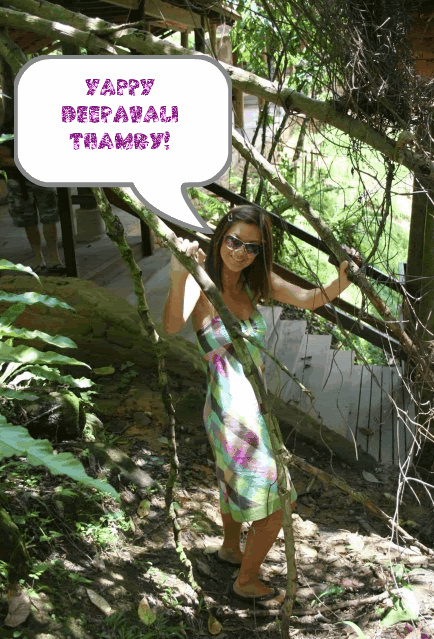 Yeah, so, further to my previous post, and wishing for a woodfire oven, and wondering where to get supply of firewood, well, apparently even in this equatorial heat, people do stock up firewood. Perhaps for those cold monsoon nights, when TNB grids blackout.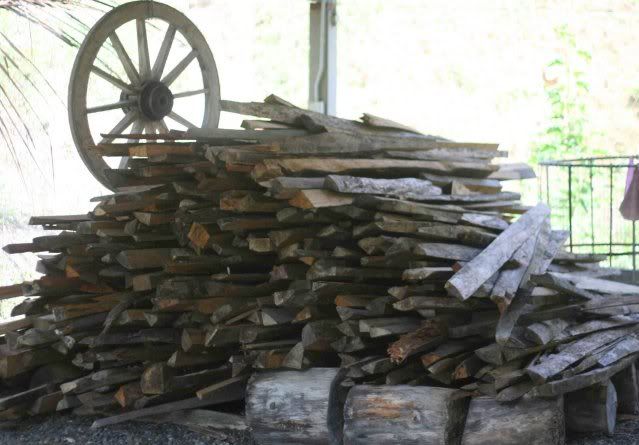 Alilfatmonkey, with his surprisingly impressive knowledge of High Hill and its surrounds, (the one in Pahang, not Klang), brought us, ie, me, the ahpa, Cumi & Ciki, the fellow monkeys, to a delightful little getaway, nestled in the luscious verdant virgin tropical rainforests, in the sleepy town of Bukit Tinggi for a delightful lunch.



A rather odd name, for what is basically a Chinese restaurant. I've learnt that these days, a name doesn't belie the contents. Hakka Republic is anything BUT hakka, and KFC is anything BUT chicken. As in real chicken.

The first thing that hits you is the LARVERLLY interior decor of the place. Upside down umbrellas line the ceiling of the place, rows and rows of used wine bottles, ....all lend a certain rustic charm. The surrounding gardens are all well vegetated, with passion fruit, vegetables, ....land as fertile as a roman catholic woman not allowed to use contraception.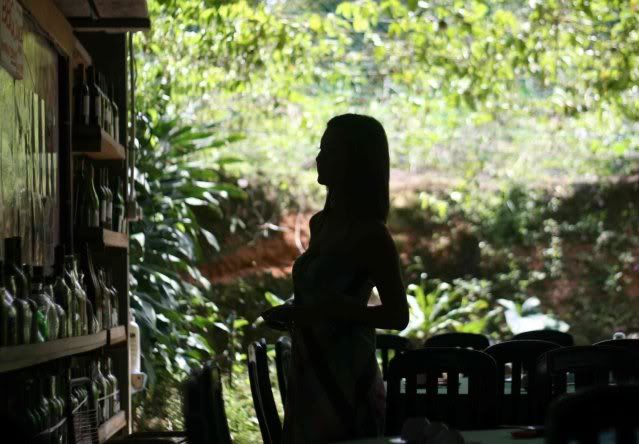 OOOh, competition time. Guess who's silhouette this is???? The prize, well, a clap from me. (A clap, not "THE clap")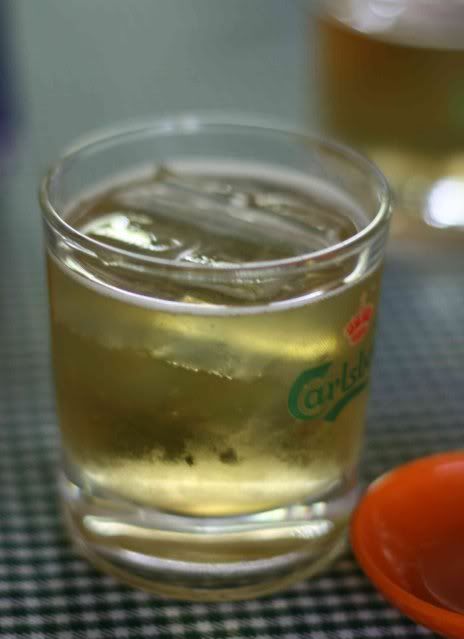 Lately, we have been rediscovering our chinaman roots, and have been taking to drinking beer with ice cubes. JC Jacobsen would turn in his grave.



This snapshot is of particular significance, coz apparently it is the basis of an upcoming competition on Ciki's blog.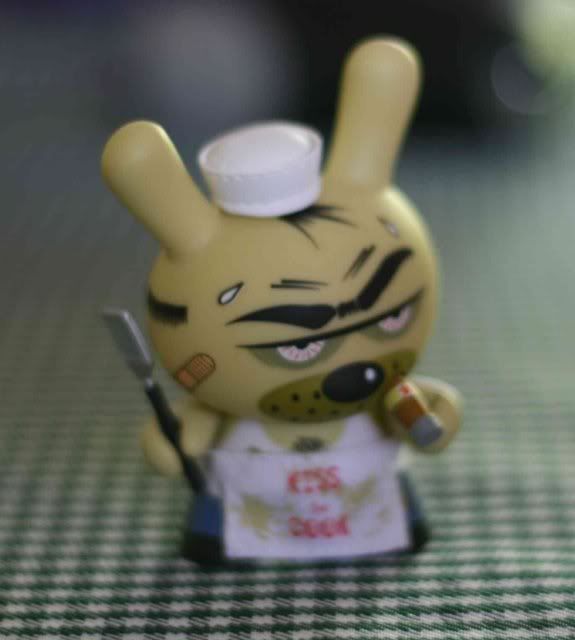 Monkey had forewarned us that food will take forever to arrive, and that the chef, his uncle, was exceedingly grumpy. So we brought along our monopoly sets, knitting needles and wool, expecting to kill time, but LO AND BEHOLD, within 10 minutes, voila, nourishment time.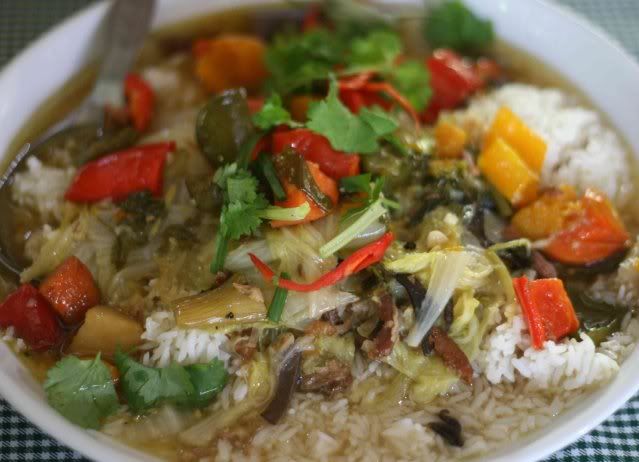 Wu Li Wu Li something something rice. Now, I tell you, if I never believed in the old adage, don't judge a book by its cover, I am a believer now, yeah, hallelujah. AMAZING!!!! So simple, but SOOOO GOOOD. Bits of crispy pork, in a lovely broth that is both tasty and healthy. Vegetables galore, peppers, pumpkin, like a chinese paella so to speak. I could eat this very often. Such comfort food. And only RM12.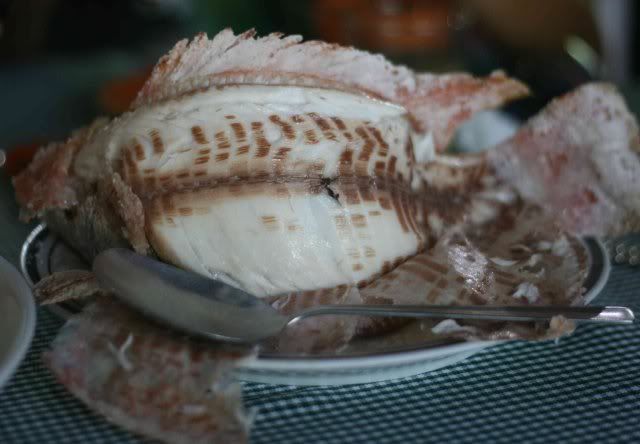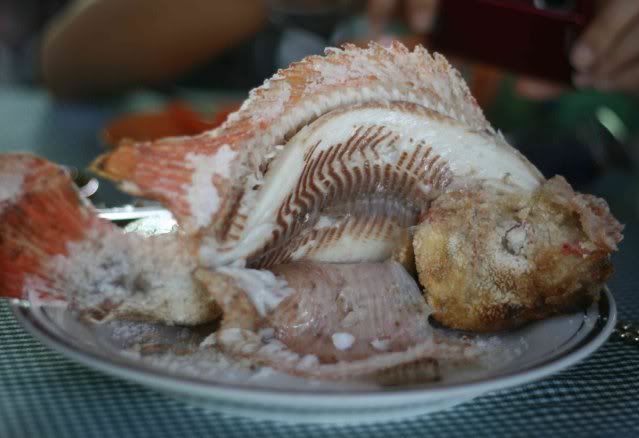 Their signature salt baked tilapia, from both angles. Tilapia is kinda hit and miss sometimes, with that muddy taste, though I notice that quality all around seems to be getting better, as I think restaurants these days let the tilapias have a spa holiday in clean waters for about a week before doing them in. Lovely firm sweet flesh, falling off the bone. And stuffed in the fish is a lot of other goodies too, like onions, garlic, etc, which the very stern manager "instructed" us to eat.



This is another amazing dish. Hoi Sin pou. Seafood pot. Trust the Chinks to be so ingenious. A multi layered steamer, whcih collects the juices from the steamed seafood, which is made into a FABULOUS vegetable and mushroom soup. The seafood was amazingly fresh, although there was no sea in sight. Hallo, we're in the middle of the hinterland, .....did they have a secret wardrobe like in Narnia, that opened out to the blue ocean for fresh seafood? The prawns were sweet, and springy, cooked perfectly. The crabs, though a bit of a pain to eat, were also very sweet and fresh. AND THE LALAS!, oooh lala. Plump (monkey spelt his PLUM) and succulent...
RM80 for that pot of goodness. Well, not cheap, but worth it.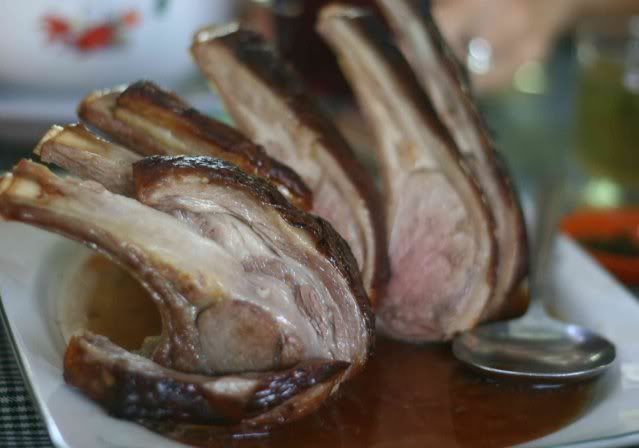 Fantastic Rack of Lamb!!!! Who'd have thought. Previously the purview of the mat sallehs, this fler in the jungles of Malaysia can do it so well, and with homemade fresh mint sauce too. It was seriously good. Tender, not lamby, and the skin, caramelised and crispy. Almost as good as pig. RM80 .... a bit steep la.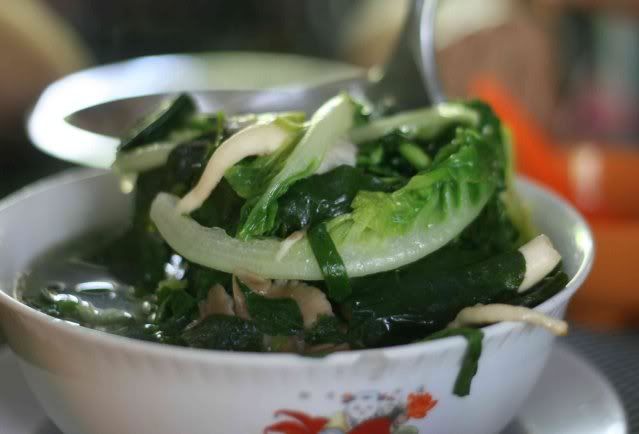 Ah, the Peking Duck of Seafood. Ie, they use the soup for another dish, just like they use the duck meat for another dish. Aren't my analogies brilliant. The vegetables were fresh, but I think they added too much salt to the soup. Natural flavour would have been perfect.



After stuffing ourselves stupid at lunch, Monkey brought us to this secret hideaway that he discovered. Isn't it gorgeous. I had to restrain myself from breaking out into song....specifically, THE HEEELLLS ARE ALIVE, WITH THE SOUND OF MUZZZZZIKKKK.....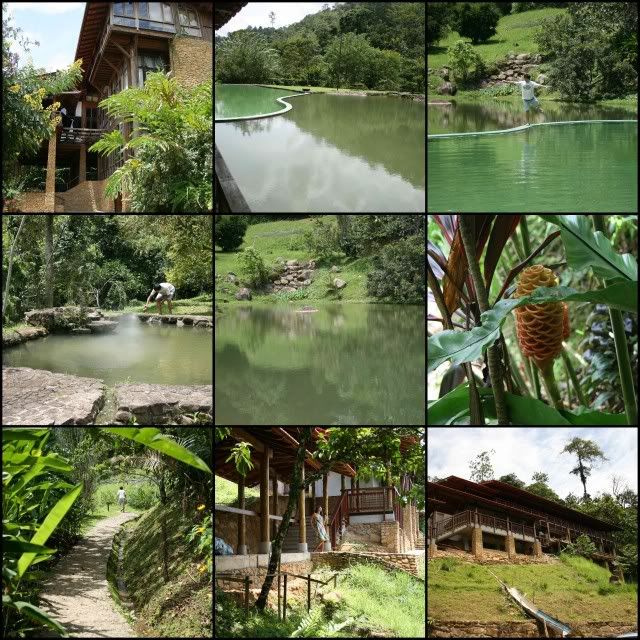 Our secret holiday home. Want to know where it is, ask monkey.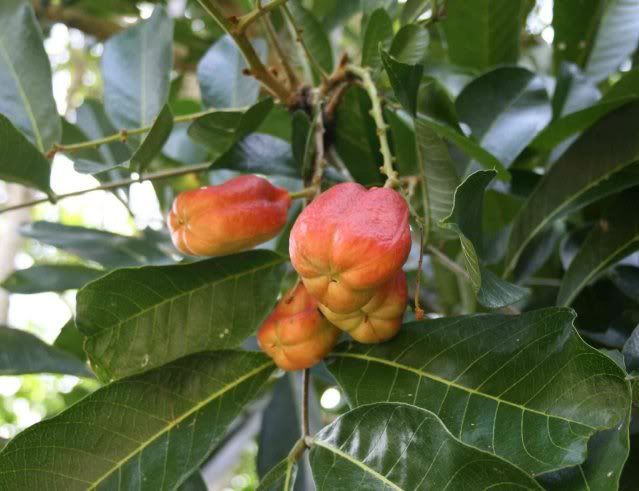 The garden of eden is dotted with all kinds of strange foliage. Can anyone identify this fruit? Is it HAW?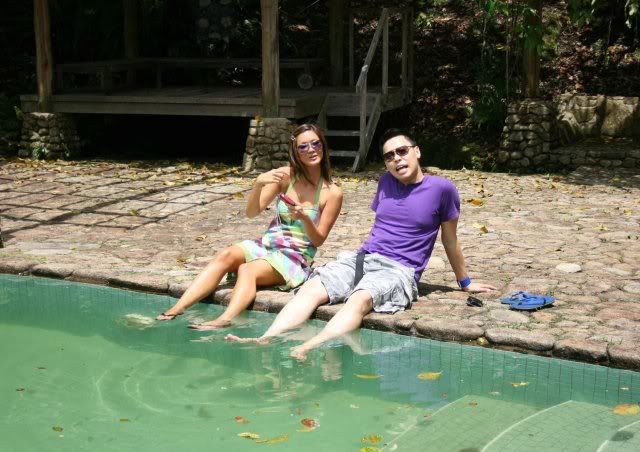 Monkeys on their pseudo holiday. Bad enough we were trespassing, go and soak feet into people's pool some more.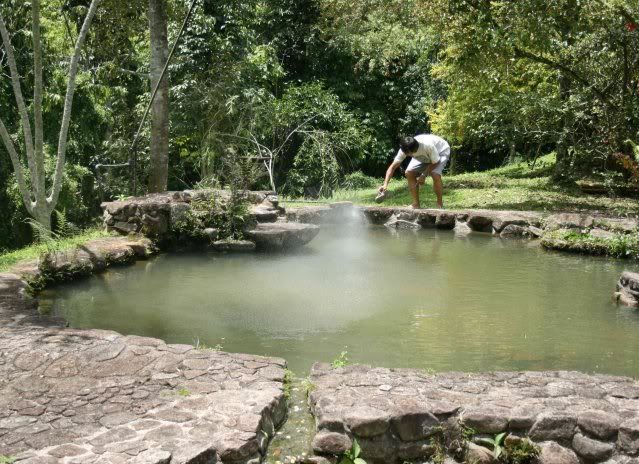 Cumi was trying to make his own rainbows.


He even walks on water! Wow, this is paradise.



An amazing range of flora and fauna. Check out the Rouge Dragonfly.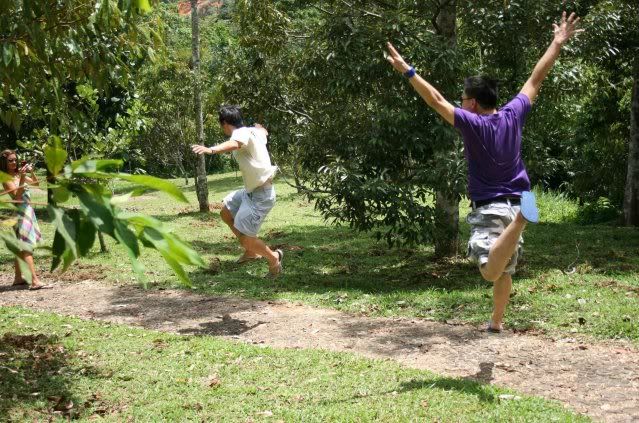 Ah, nothing warms the entrails of an AhPa than to see such happy children, leaping with joy!

After the stopover at the Good Widow, we adjourned to the quaint hamlet of Bukit Tinggie which is hustling and bustling with activity. I am sure I used to traverse this road in my distant youth, when I followed my dad to Kuantan for Ching Ming on the old road, in the days before touch and go and PLUS concessionaires. It's amazing that it is still such a hive of activity.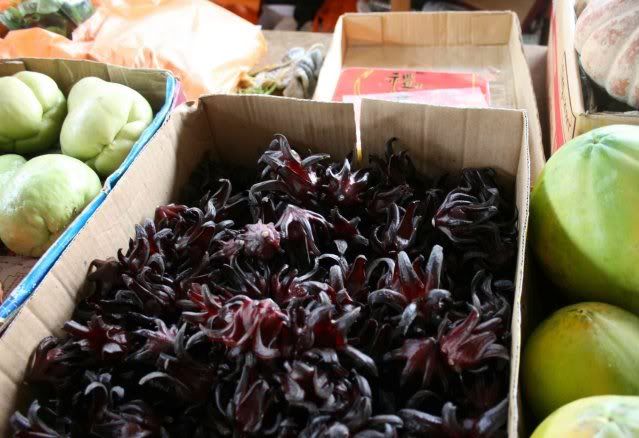 Roselle fruit. Supposed to make good jams, and extract. Bought a kilo. Must try to make.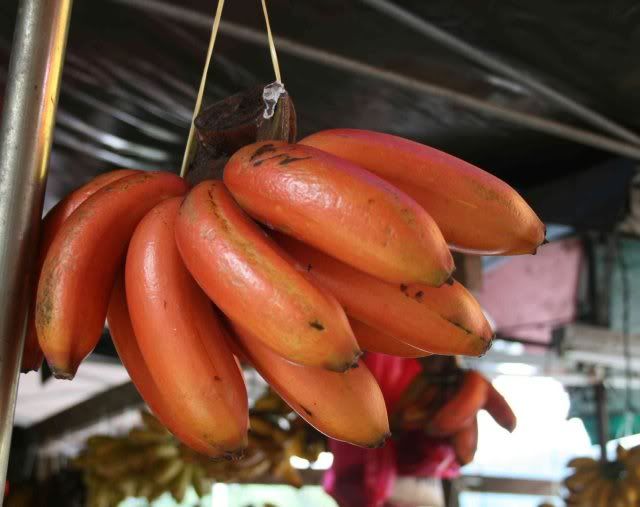 Thick FAT bananas, in such glorious hues of red.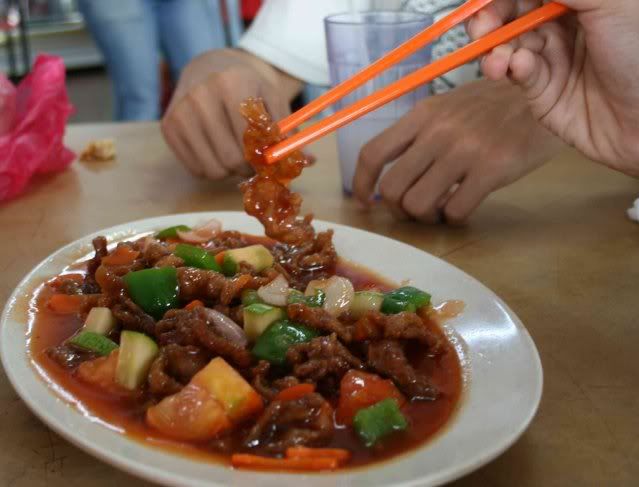 As if we hadn't eaten enough, we decided to have the famous thinly sliced sweet and sour pork for dessert.



Well, FINALLY I had been included in those epic Cumi&Ciki ronda ronda Malaysia food trails. I have finally lived. What a fun day it was, and I cant wait to do it again!!!! Where to next!