I am sure if we had a "ARE YOU SMARTER THAN A FORM FIVE KID" game show, and the category was GEOGRAFI, and the question was, "DI NEGARA MANAKAH ITU BANDAR DUBROVNIK?", (In which country is Dubrovnik), some culinary fellas might say, "OOOH, SOLARIS MONT KIARA", for RM50,000! I can imagine the game show host rolling his eyes till the sockets pop out.

But well, honestly, before I myself went to Dubrovnik in 2005, (YES YES, THIS TIME I CAN ACTUALLY SAY FBB HAS BEEN SOMEWHERE, unlike the previous Norway post where I can only salivate at where Thamby (Awhiffoflemongrass) has been...oh, Happy Deepavali by the way, AWOL), I also did NOT know where Dubrovnik was, nor had I any clue where Croatia was either. All we ever heard of these Balkan states, which were previously part of Yugoslavia, were the atrocities in Bosnia Herzegovenia, (just a tip to those intending to form your own country, ....try not to have more that three syllables la. Tongue can cramp you know), and Croatia was as foreign to me as Fortnum and Mason was to a farmer in Yunan.

Little did I know what a GORGEOUS place it was, located right on the Adriatic Sea, which is bluer than an A grade adult movie. Oops, maybe not such a good analogy. Bluer than Paul Newman's eyes. And what a quaint little city Dubrovnik is.




So, you can IMAGINE my excitement when I heard a group of floggers had been invited to sample Croatian Cuisine at DUBROVNIK, in Solaris Mont Kiara, organised by Fratmustard and Lisa of QGUIDES. Except, ahem, as I wasn't on the original guest list, I had to throw away all dignity and grovel like dog on heat, .... to get on the list.



There's nothing worse than appearing for a food tasting thingie, only to discover, ARGH, your camera's battery was deader than Moussolini. And I didn't have my Lumix on me either. Sigh, so what choice did I have but to use the camera in the mobile phone. So please don't laugh at the pics.

Nestled in a row of myriad culinary outlets, Dubrovnik has a prominent frontage, that you CANNOT miss as you enter the Solaris complex. It also has a nice outdoor area for diners and presumably, smokers. The downstairs boasts a well stocked bar.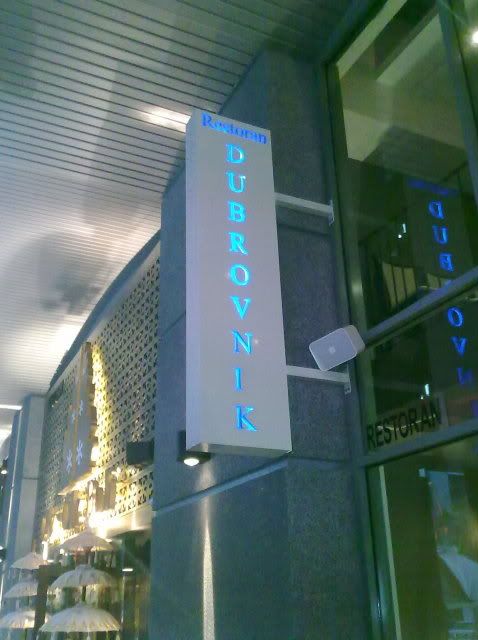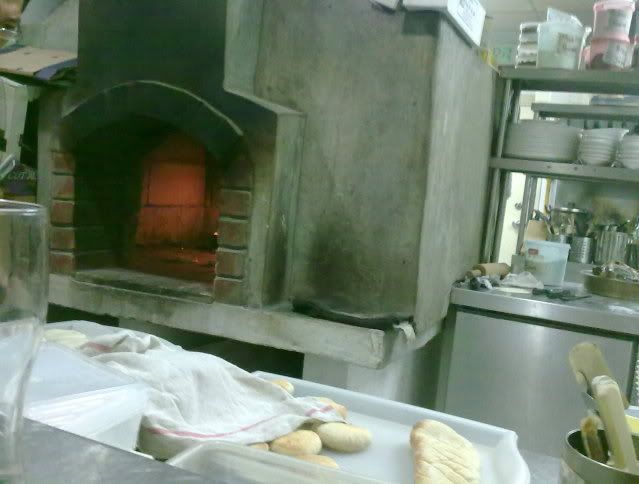 I wouldn't mind one of these woodfire ovens in my kitchen. It must be a pain to start the fire though. And where does one get firewood in Malaysia?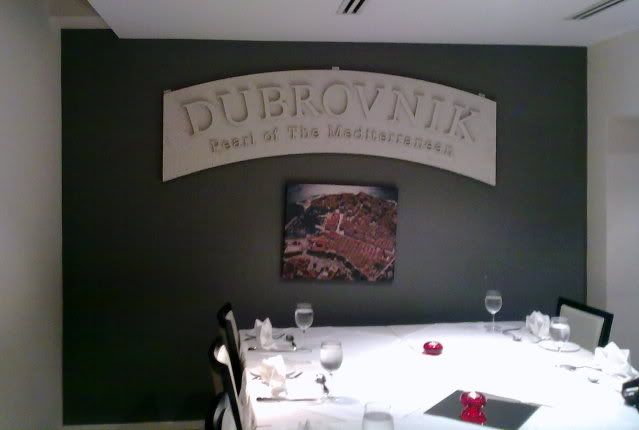 To start with, we were offered an array of Mocktails, such a Macha Soy Shakes, Virgin Mojitos, Blueberry Shakes, ....but well, a mocktail is a MOCKtail, and to me personally, if it doesn't contain alcohol, its just a waste of calories. Very communal, as each drink was passed around for sampling, through a straw.



The PR agency boss, Alice George, giving some preamble. The hot babe, Dina, is the owner, and the chef's daughter.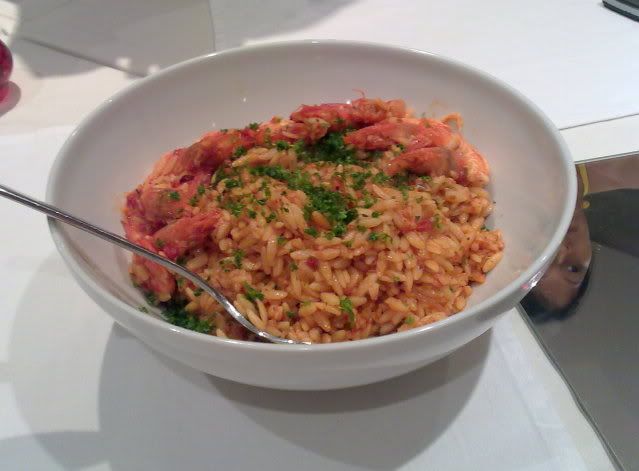 First impression, RISOTTO. But nope, couldn't be further from the truth. Its not even rice. It is pasta, shaped like rice, and is called ORZO. (not ouzo). In a lovely tomato-ey sauce, with loads of fresh prawns. I liked the texture of the orzo. I am not a risotto fan, so was actually pleased that it wasn't. I wonder if they have a million tiny elves shaping the pasta into rice grain shapes in the kitchen at the back.


Spaghetti ala Buzara. Basically similar to an aglio olio concept, very minimalist, with garlic, prawns, parsley, dash of white wine. Could have been a bit more al dente, but taste wise, was good. Apparently the chef goes to the Kajang market every morning for fresh seafood.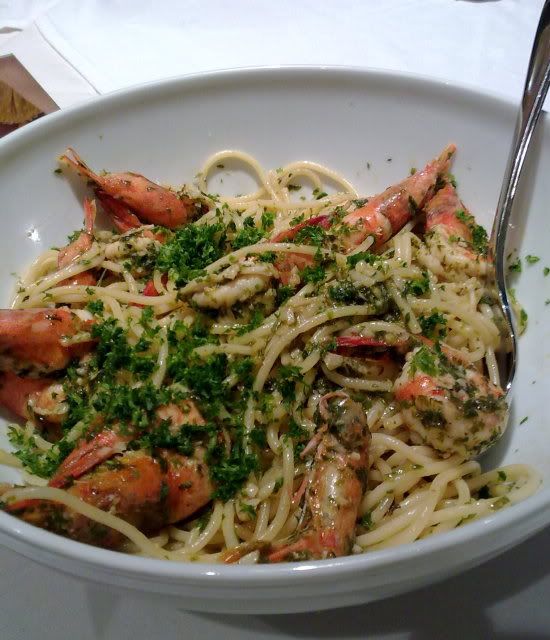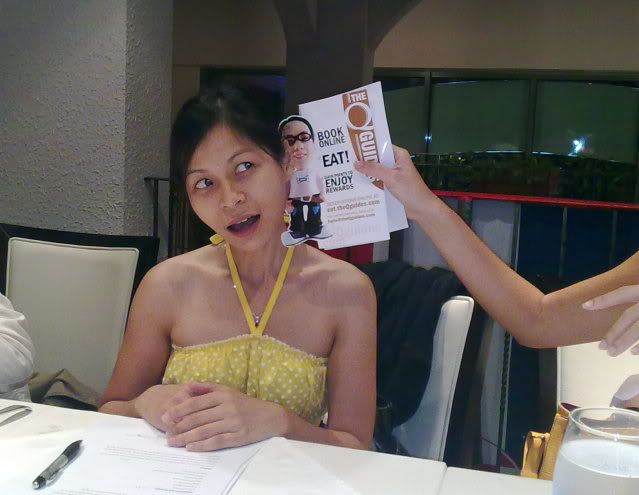 Is Frat licking The Nomad Gourmand's ear?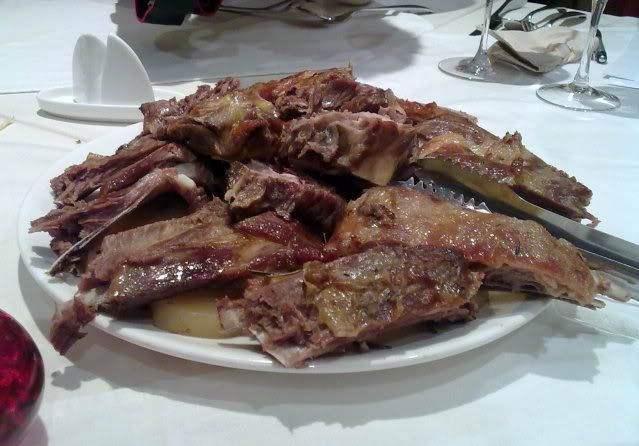 Mmm, lamb peka. A traditional Croatian way of preparing meats, it is seasoned with salt and pepper together with a special Croatian spice mix called Vegeta. It is cooked in a wood fired oven in a cast iron pan. Not something you can replicate at home, obviously. The lamb was tender and moist, falling off the bone, and the spices had worked in erasing the lamby smell. Highly recommended, though I do not know if it's always available.



Gratinated Jacket Potatoes, with a crispy layer of cheese, presumably parmesan mixed with cheddar. The potato itself was hot and fluffy, very nice.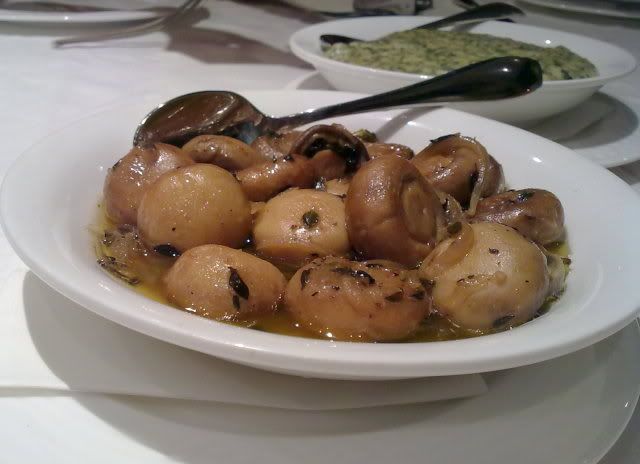 Sauteed Button Mushrooms. Ordinary, but familiar, and I never complain with mushrooms, as I love them as a sidedish.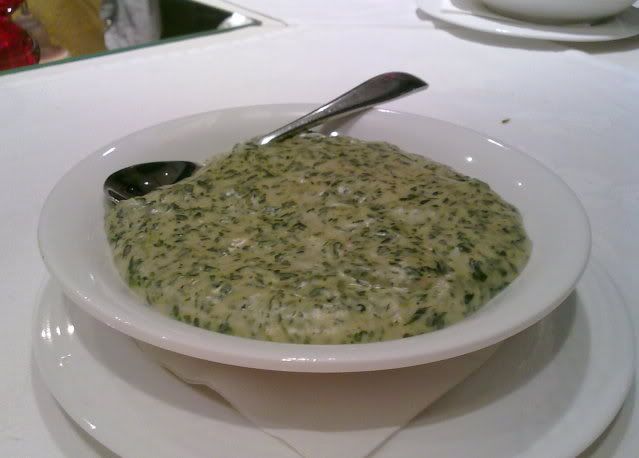 The Croatian version of Palak Paneer. Spinach in a thick creamy sauce. (milk, apparently). Very rich, and definitely not a substitute for Salads, for those contemplating this as their main green dish.



Another version of sauteed mushrooms with some greens. Very generic, and again, familiar. Could have been any cuisine.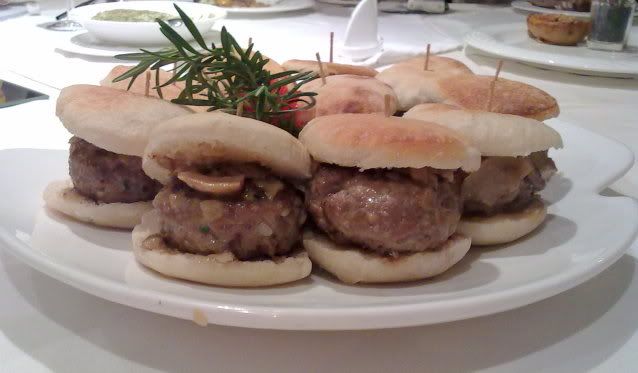 Lamb burgers. (no, not lamp berger). I thought they were good, with some feta cheese embedded within, but Ciki found hers a tad salty. Perhaps the salt wasn't evenly distributed in the tossing. Loved the bread too.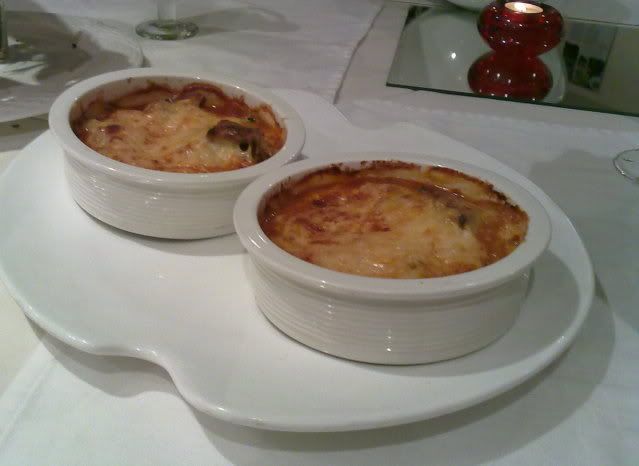 Croatian version of a goulash. Main difference is that it is gratinated, so it was like a cross between lasagne and a rich lamb stew. Or was it beef? Very rich, so one spoonful at this point was sufficient, just for taste.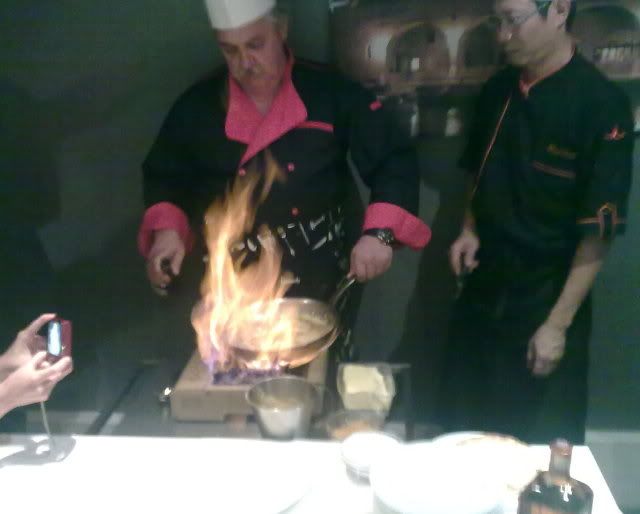 The chef himself appears to prepare dessert at the table, good old Crepe Suzettes. Generous amounts of Cointreau and Brandy were splashed onto the sauce, imparting a lovely alcoholic zing to the sauce. Sometimes, I find crepe suzettes taste like cough mixture, or haliborange, but this one was good, probably because of the generous doses of booze.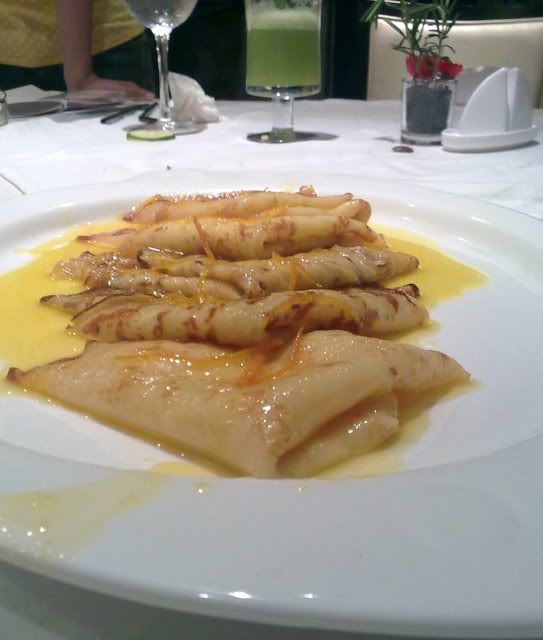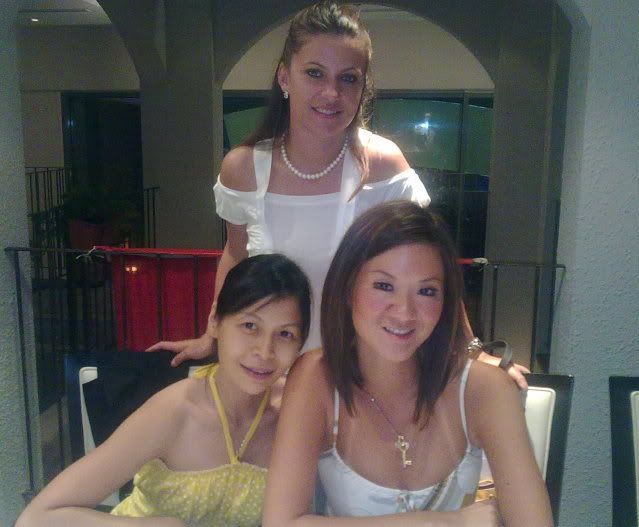 Dinner in the presence of Hawt Babes like these!



Well, it was a rather pleasant experience, and the ambience of the place is rather inviting. The place they seated us looked perfect for a private function for about 20 people. Parking at Solaris is easy and cheap, if you are prepared to park in the basement. Rm1 only.

Address: J-0G-14, Solaris Mont Kiara

Tel: 6203-6780

Wesite :

Here



On a separate note, we were each given a QGUIDES tent, and were told to submit an entry where we'd place the tent with the most publicity or prominence. Here's my entry.
Thanks Frat & the Qguides team for the invite to Dubrovnik, and thanks to the gracious Dina for having us.