You may or may not know that little fat old me was 1 of 10 contributors in a recent cookbook launched by
Nutriplus
. The rest of the 9 are REAL chefs though. It's like being a croaky karaoke singer singing in the chorus line of Les Miserables in London's West End.
One of our obligations to Nutriplus was to demonstrate 2 of our recipes featured in the book, in front of a live audience. Now, it's quite different "performing" in front of a crowd, say, a class, where people actually have paid to attend, and performing in front of a public crowd, and passers by. The thought can be daunting.
So, I have decided to do a syiok sendiri interview, (let's call it a Masterview; which is a composite of two words) to explain to all and sundry the traumas of a live public demo:
Me: Tell me, Mr
FBB
, how does it feel to be misrepresented?
FBB: Ha? What you mean misrepresented.
Me: [opens book, to profile page]. Here la. Your pic here
hor
, look thinner than you do in real life. Even your double chin seems reduced to 1½ only.
FBB: Oh, you donno ah? I had to wear a corset la. And the photographer, Bonnie Yap, very tall one. She take picture from high high, so cannot see chin.
Me: Ah, okay, so, what is your greatest concern about doing this demo?
FBB: Oh, that my friends come.
Me: Pardon? Why?
FBB: Oh, because at the last public demo, at FHM, they heckled me to death, when I was doing a magimix demo.
Me: Like that
hor
. Okay, next question, do you sweat ah?
FBB: Like a hippo on heat man.
Me: No no, I mean, you nervous or not?
FBB: No la, not really. I just hope got fan. I dread getting sweaty armpits.
Me: What are your concerns?
FBB: Don't give up your day job to become a TV Host ya, your questions suck. Concerns about what?
Me: About the demo la, then, if not, what? World Peace?
FBB: Oh, demo, yeah, I just hope that no black out, and hopefully, got SOME people watching. Will be awkward to demonstrate to empty chairs and empty tables.
Me: Any other last words?
FBB: Yala, parking damn expensive on weekends in mid valley.
It's hard work doing a demo; when you're not rich and famous. You have to park, lug all the stuff from the carpark to the demo place, set up everything yourself, etc. Shucks, I am sure Nigella doesn't have to do that. Even though she appears to take the bus in some of her shows. Bus, not bust.
Well, there isn't much to tell. Despite initially dreading the thought of having friends show up, it did get a bit lonely, without any familiar faces. Sigh. I reckon the demos went okay, no real hitches. One day two, I dragged the family along after Easter service, so the blurry photos were taken by daughter, who thought she wasn't allowed to use the flash.
The demos were a Chocolate Mud Cake with Fudge Frosting, and Tim's Nuts, aka Peanut Butter Banana Cake. Its hilarious, and a bit disconcerting to see Malaysians swoop down like locusts whenever there is free food.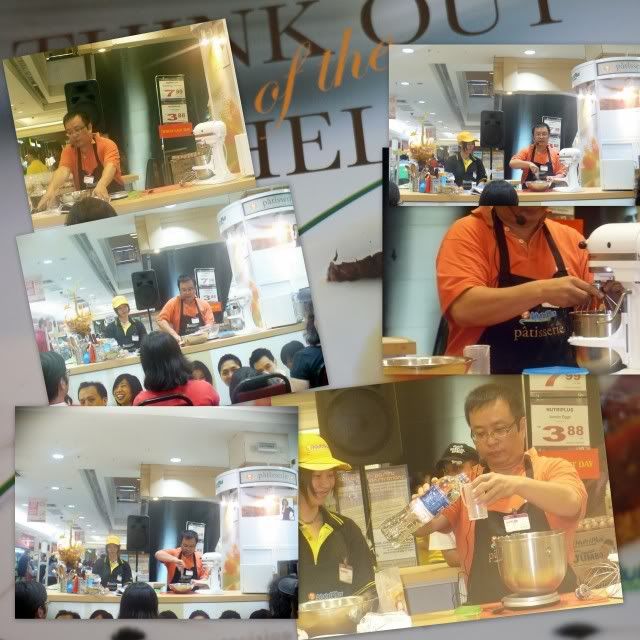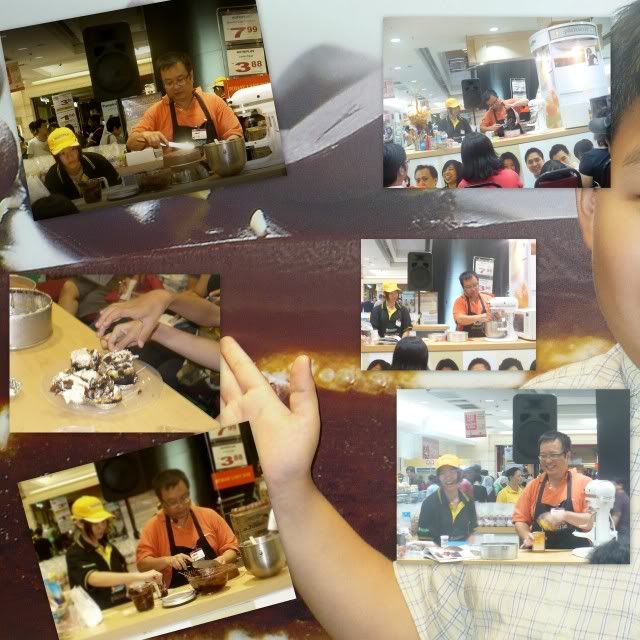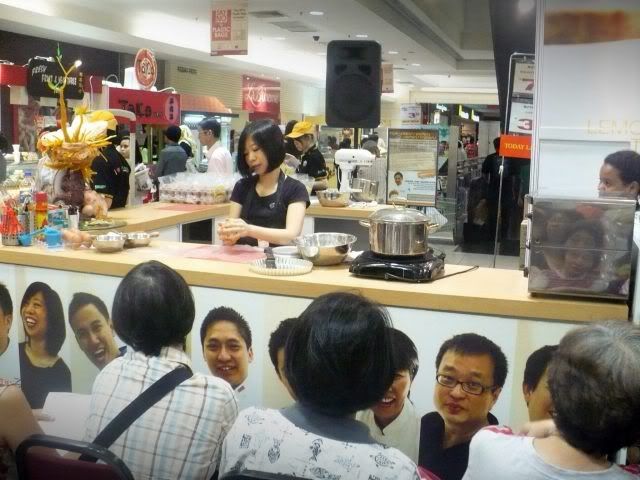 That there is Mei Kei, of the Cooking House, in her slot after me, demonstrating her lemon tart.



Anyway, the

cookbook

is available in bookstores, at RM70, I believe. Drop me a line if you wish to get it, at a better price. (Sssssh).