Actually, logically, I thought Ultimo meant Ultimate....as in, oh yeah oh yeah, this is the ULTIMATE dining pleasure, climactic and all...but of course, being the perfectionist that I am, am loathe to put up wrong information, so I googled it, (although it's Earth Day, and the google logo looks funny, like a jungle....oh, Happy Earth day to you x 2, Happy Earthhh day to Mother (Mother who? Mother Earth la), HAPPPEEEEE EARTH DAY TOOO YOU)....
ooops, I digress big time. Where was I?
Main Entry: ul·ti·mo
Pronunciation:
\

ˈ

əl-tə-

ˌ

mō\
Function: adjective
Etymology: Latin ultimo mense in the last month
Date: 1616
: of or occurring in the month preceding the present
Now isnt that fascinating!! I should've waited till next month to post, so I can use it in a sentence. I went to Ultimo Ultimo.
Anyway, the invitation was courtesy of theQguides, who in turn, met the owner, Chef CQ Loh, (who hailed from Senses, KL Hilton, amongst other places), through Toycouple.
Gracing the fine dining dinner table were BauBauSerai (
A Whiff of Lemongrass
),
Toycouple
,
Eiling
, (pronounced Eeeeee Leng, and self proclaimed Wine and Chocolate Snob), the inimitable
Alison Victor
of Red FM, Chef Justin, friend of the owner,
Fratmustard
and Lisa of
Qguides
. How could we go wrong. Fine food, and a "wine snob" in our midst to tell us if the wines were bad. Oh my lucky day indeed.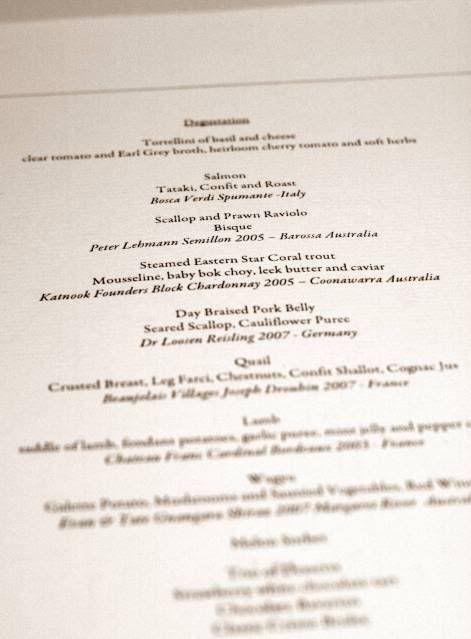 The Menu looked incredibly amazing, and amazingly long.... I was mentally calculating the payback in terms of gym time, but decided my mental math was deficient, since I didn't go to Chinese schools.



Can't whine about the wine.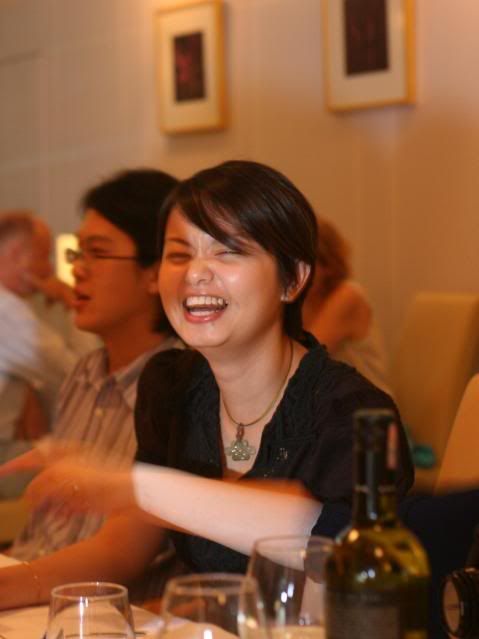 Toygirl with her classic expressions!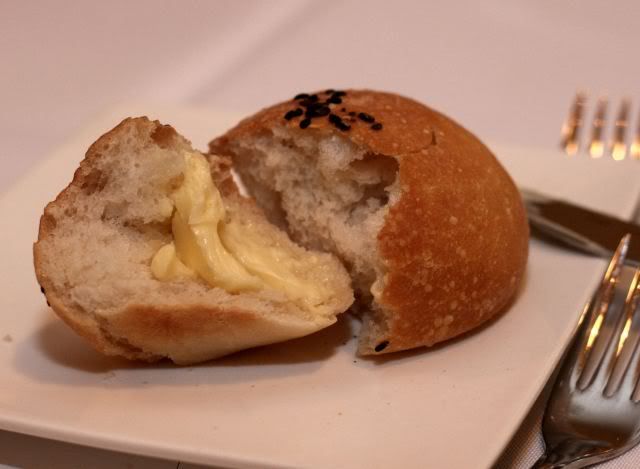 Incidentally, they make their own bread! The whole process sounded too complicated, but the starter dough is made a good two weeks before it ends up on the table. That is a long journey by any standard!!! Even those stranded cos of the Icelandic Volcanic Ash didnt take that long to reach their destination. But it paid off. The buns were glorious, and oh, you had a choice of butter or the balsamic olive oil combo. Aly took the latter, while I took the former. We all afterall have to maintain our respective figures.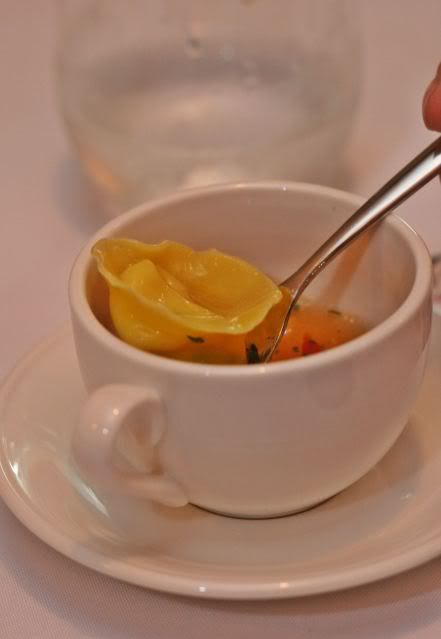 Torterllini in Earl Grey Broth to start off. Pleasing, and the broth wholesome, though I cant say I could taste any earl grey.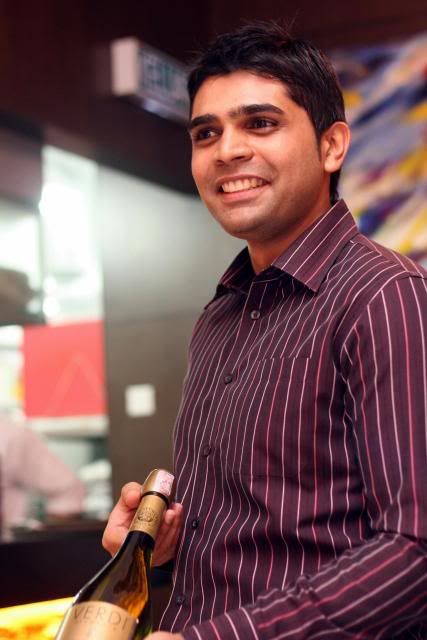 The very able Shawn, floor manager cum sommelier, breaking the sad news to us that the Verdi only contained 5% alcohol, followed by mutterings and curses from us, "aiya, that's less than beer", etc etc. That' what you get when Hoi Polloi go fine dining. Chis!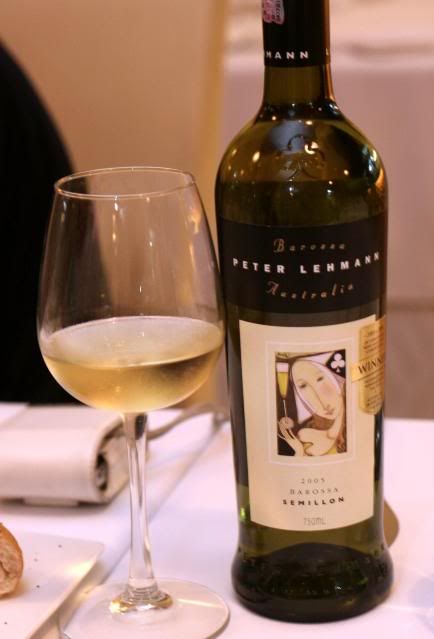 Shawn showed an impressive knowledge of the wines, and would use phrases like, the low alcohol content cuts the fattiness of the salmon and reflects the playfulness of the dish (since the salmon were having a menage a trois).. his animated descriptions of the wine shall we say, brought out the playfulness of the guest. Since it helps cut away fattiness from the salmon, hopefully it would cut off the fattiness from the guests eating it. [measures waist....nah, it didnt work]




Salmon Tataki Confit and Roast... a glorious assembly of salmon done in various ways. The Roast one boasted a crispy skin with cayenne and pepper, which was my favourite. The Tataki was delightfully fresh, and the confit moist and not overcooked, as salmon tends to be at most plebian places. This is afterall a fine dining place.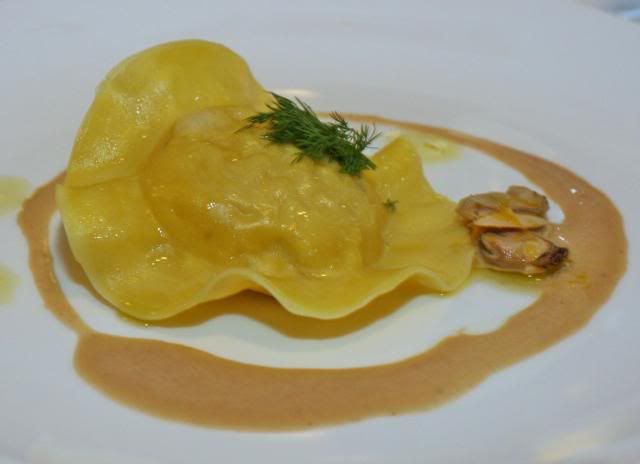 Scallop and Prawn Raviolo bisque. I guess a Raviolo must mean ravioli on steroids. That was one huge dumpling. Lovely seafood stuffed within, like a christmas stocking waiting to be opened. The raviolo skin was just the right thickness and texture as well, and didnt taste like a wantan with thick skin. Those two clams are actually kepah (Grandmother of Lalas), pickled in an orange and lemon zest vinaigrette.



Steamed Eastern Star Coral Trout. That sauce that you see on the plate, ABSOLUTELY fantastic. I licked up every last bit, with the dignity of a alley cat on heat.

It was around this time that Eiling declared she was a wine snob. All hail the wine snob. Bow bow bow, we are not worthy. Fortunately for Chef CQ, all the wines he served were approved by Wine Snob.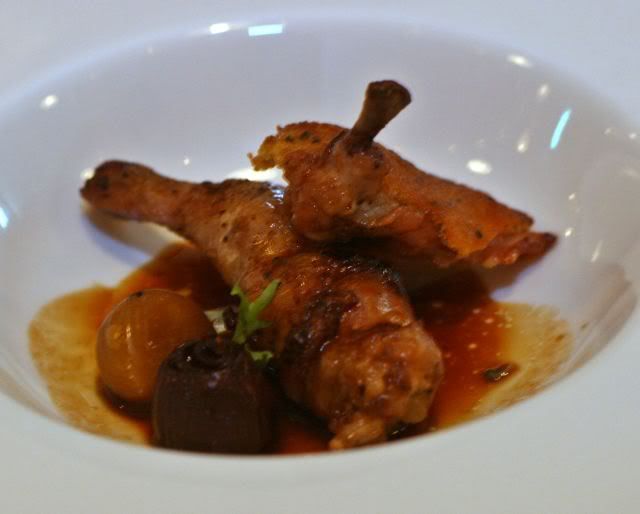 I have decided I really need to take course on food photography, in particular, meat. All my meat pictures look fowl. For example, this quail.... does not do the dish justice. I loved the quail. The crispy skin on one side of the crusted breast and the moist tender meat of the little bird. [making mental note to check out what a live quail looks like when we go to the KL Bird Park next]. Ah, crusted breast on a petite chick. Does life get any better?


It does if you're Frat who gets to be ON the hot chick's you know where. Chest. Its like Star Trek...To boldly go where no man has ever gone before.... or in this case, where no mannequin has ever gone before...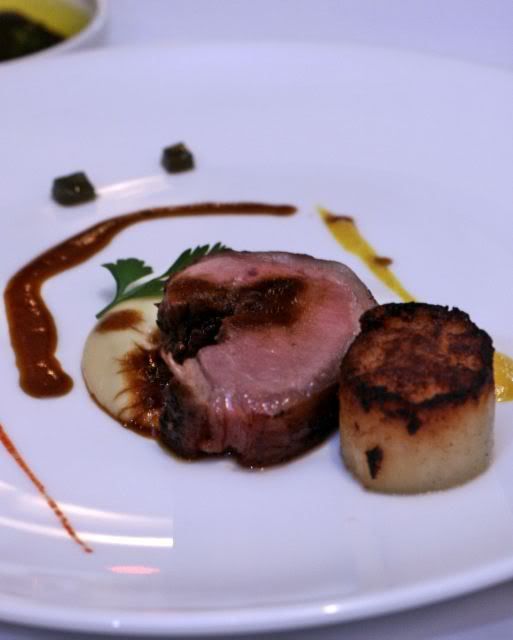 Saddle of lamb, fondant potatoes, garlic puree, mint jelly and pepper coulis. The mint jelly, very unique, was literally jelly, served in little cubes. I personally am not really into lamb, having once dated a girl called Mary....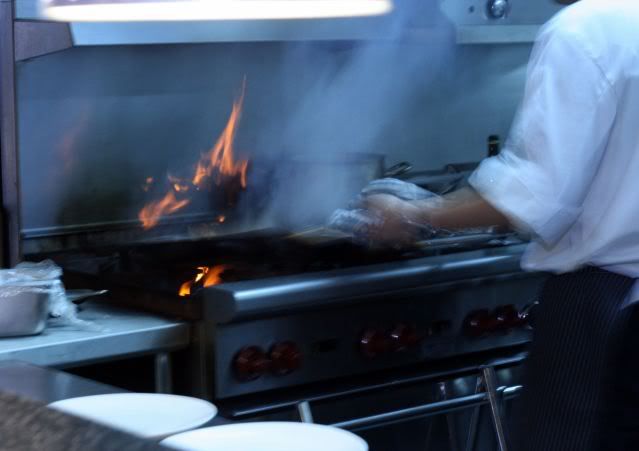 There's something about a flaming pan, that draws food bloggers to it like a moth to a flame. It's like catching footage of an erupting volcano for national geographic. The poor chef had to do several takes, before all of us got our flaming shots.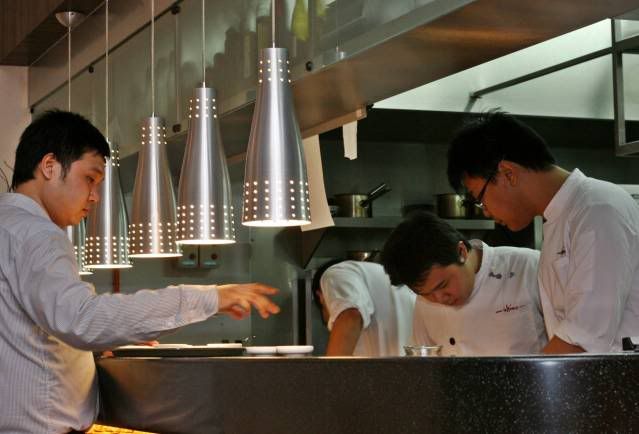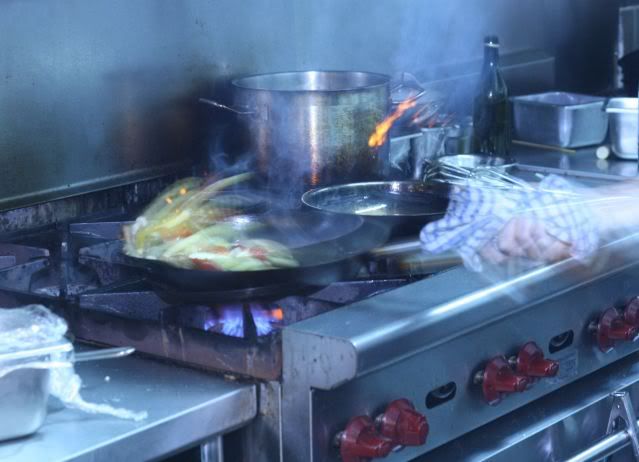 Phwahhh, did I actually inadvertently catch a pic of a flame in mid air? Oooh, how pentecostal!!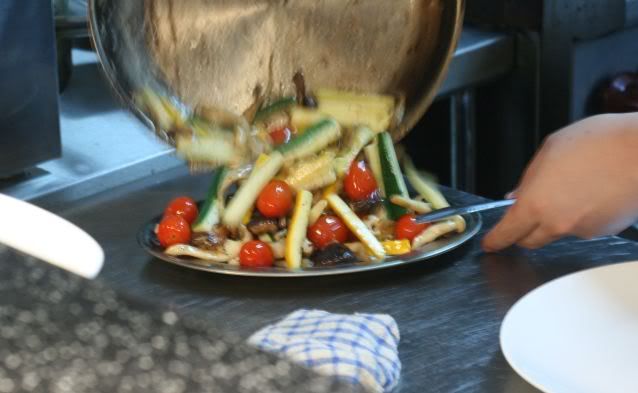 That dish of flamed chargrilled colorful vegetables is plopped onto a plate to be replated onto individual plates. Ah, so that's how they do it!!!!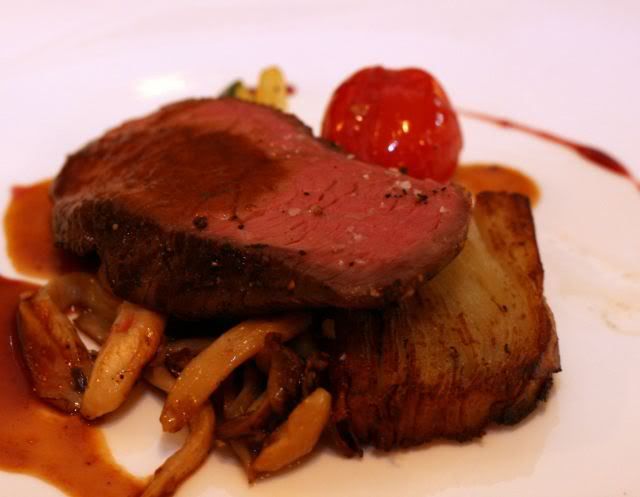 Now, for the finale (as far as mains went), there was Wagyu, (rump), with galette potato, mushrooms,, and sauteed vegetables (oh, that's what those flaming veggies are called), and red wine jus. The word wagyu makes my dull eyes light up the way a bimbo's eyes do when you shine a torch in her ear!

And I have been quoted as saying that

I will force down the wagyu even if I have to throw up first

. We were REALLY full by this time. Its the biggest portions of degustation I have ever seen. Usually, the tongue doesn't even realise what happened with the atomic portions in other degustations as I am prone to gobbling down my food.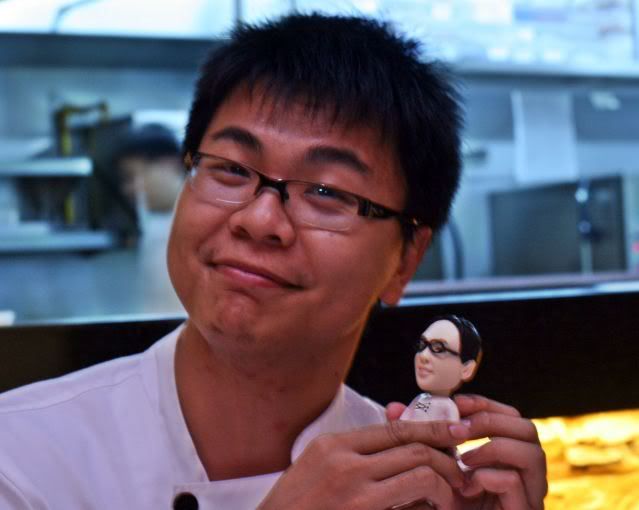 Everyone loves Fratmustard. Our fantastic host and chef, CQ, is not even 30 yet, and already so enterprising, owning a fine dining restaurant and all. Sometimes, juxtaposed against such people, one feels like an abject failure in life....but oh well.... we continue eating.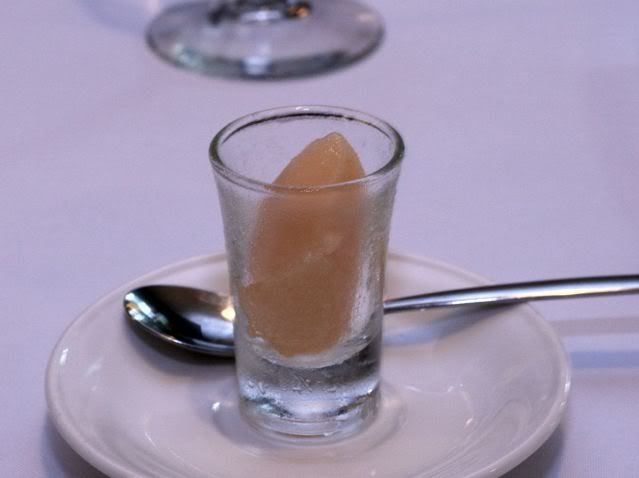 Melon sorbet to wash your palate, though honestly, if this were dessert, we'd all have just gone to bed happy.



Another threesome here. Strawberry White Chocolate Tart, Chocolate Bavaian, Classic Creme Brulee. And earl grey ice cream. What can I say? Despite being one step away from needing a stomach pump, I merrily tucked into the desserts. That Aly woman, whom I was supposed to share with, didn't help by having only minisssscule portions.... like half a teaspoon of each, just for taste. Chis!!! All were great, but my favourite was the earl grey ice cream, which wasn't sweet.

OOOH, at this juncture, we also found out our esteemed Wine Snob is also a CHOCOLATE Snob. I can only fall on my knees and thank the Lord that He sent us such quality control for dinner.

Now, apparently a degustation menu like this will cost slightly over RM200. Darn good value for money if you ask me. To be honest, I think it could even feed two....!

So head over to Ultimo for a fantastic dining experience. Its at 13, Jalan Solaris 4, Solaris Mont Kiara.



Again, thanks to CQ for being a fantastic host, and for the wonddderful spread, and to theQguides for putting this together.