Every now and again, you get an invitation which you know warrants cancelling all other events, and when Marian Eu invited me to Sage, I knew this was one occasion when regular Wednesday dinner with the in-laws had to be conveniently "postponed".
We are pleased to say that we are no stranger to Sage. In my humble opinion, it is one of the better fine dining restaurants in town. Food is consistent, service is excellent, largely due to the fantastic manager, Affendie, ambience is pleasing, (except my group, whoever they may be, always seem to be the loudest).
Tonight's event was a wine pairing with Wyndham Estate, again, no stranger to our shores. I believe this is one of the more popular wine makers to have hit our markets, mainly because of its affordable and drinkable wines. To the wine pleb (as opposed to Wine Snob) like me, if it's priced right, and doesn't taste like kerosene, I'm good to go.
We actually started off in the holding room, with platters of tempura seafood, and a lovely crisp George Wyndham Savignon Blanc, which actually, was my favourite, but alas, was no more to be seen after the horse divorces. (hors d'oeuvres).

The International Travel and Food Blogger and the queen of the DSLR....actually, Aly of Red FM was there too, but she was right opposite me, and the fixed lens doesn't allow such close up shots...pity though, we all know how photogenic she is.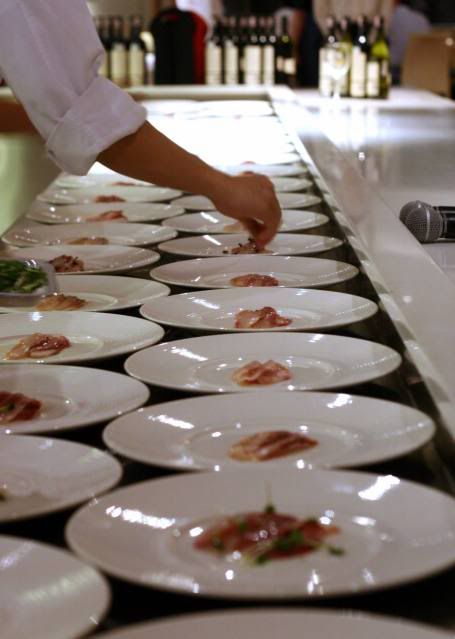 Don't you just love seeing these food assembly lines. Actually ever since I started food blogging, and ventured to industrial kitchens, I have a profound respect for the Chefs and their minions. It is darn hard work.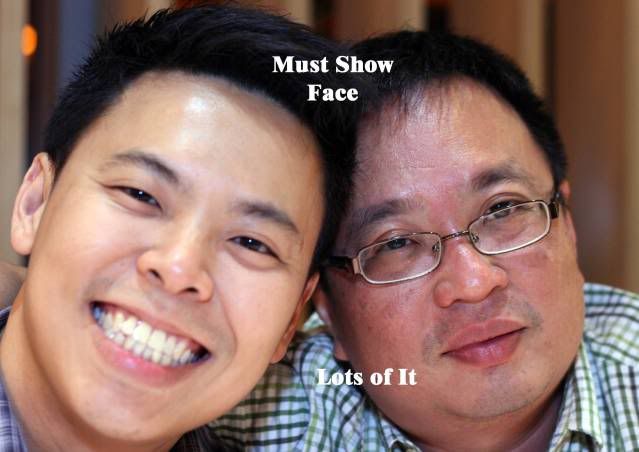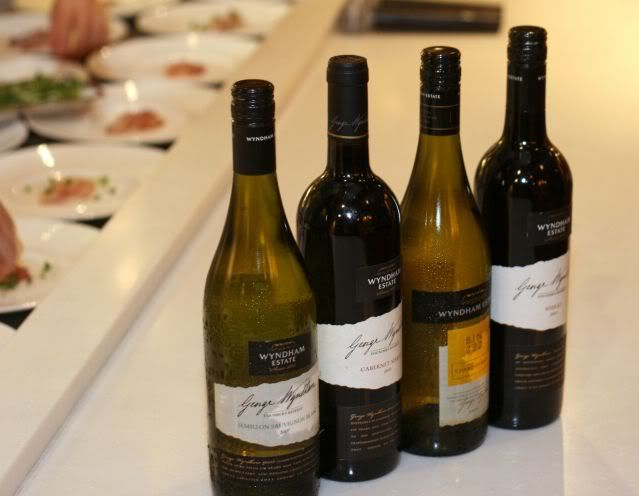 2. The lineup of wines for the night. The 2006 bin 222 Chardonnay, one of the most popular Chardonnays here, the 2003 George Wyndham Cabernet Merlot, the 2005 George Wyndham Shiraz.


Breaking into Mulan Song (Reflection):
Who is that girl I see
Staring straight
Back at me?
Why is my reflection someone
I don't know?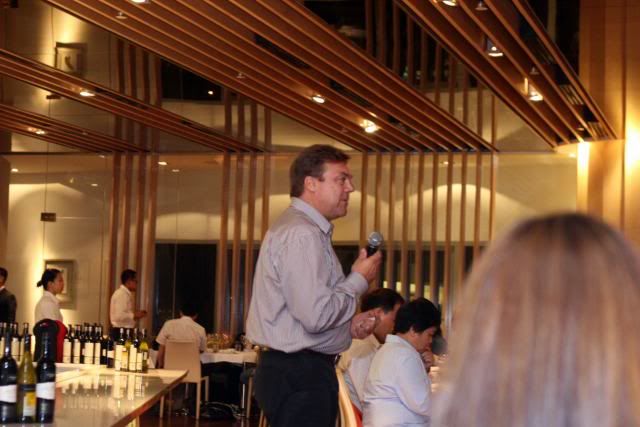 The Wyndham Estate chappie (I forget his name) explaining to us about W.E. and its popularity in Malaysia, and the different wines we were having that night.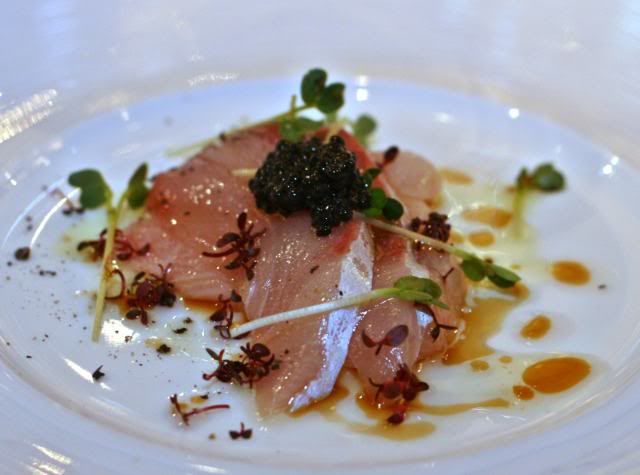 Tranche of Hamachi with Avruga Caviar and Japanese Herb, paired with the bin 222 chardonnay. I told my fellow diners the history of the 222...which was inspired when the owner saw three swans swimming in the pond as he was harvesting the chardonnay grapes, and they BELIEVED me. Muwahahahah.

The Hamachi was PERFECT, and so very fresh... the caviar popped in the mouth like little bubble wrapped bits of sheer ecstasy.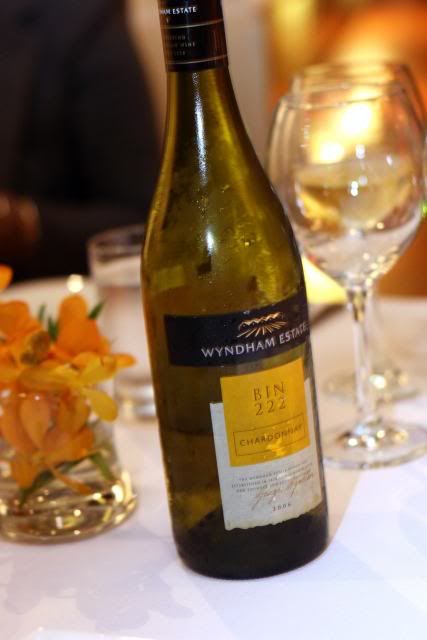 Bin 222 - A rather light chardonnay, which complemented the Hamachi, though I personally would have preferred the Sav Blanc.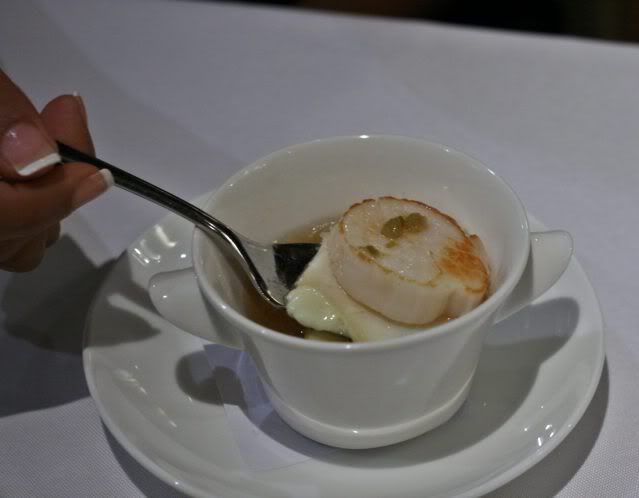 Next up, Royale of Abalone with Sea Scallop and Yuzu Citrus. A delightful broth, clear and oozing with flavour, and the sweet succulent scallop, that is actually flavourful even on its own. The sliver of abalone added dimension to the texture, but was too thin a sliver to have any impact on the taste. Maybe it was meant to be subtle.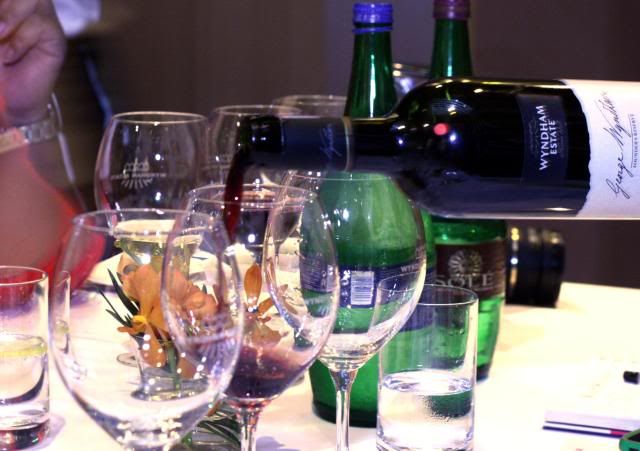 Is there a more delightful scene, apart from the Iguazu falls, when liquid falls into another receptacle, as when wine is poured into a large goblet?



Smoked Venison With Veloute of Mushroom, Foie Gras. What can I say? Foie Gras? And usually foie gras at sage is always done well. I was a happy camper. The venison was tender, and the foie gras complemented it the way Sandy goes with Danny in Grease. Paired with the 2003 GW Cabernet Merlot, a strong full bodied red. Together with the venison and foie gras, it seemed very "manly". Very primal. A man's dish. Like a feast for the hunter back from the hunt. You know what I mean?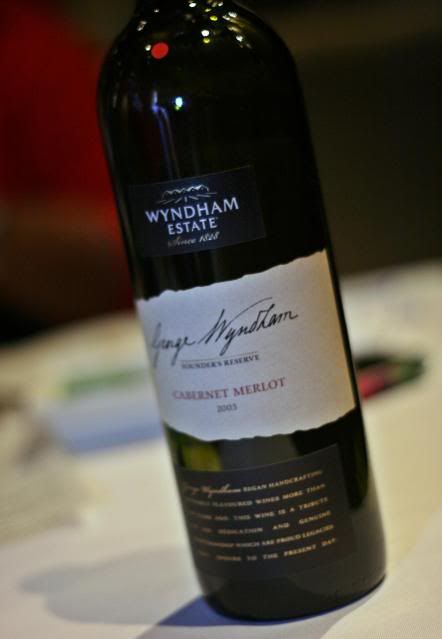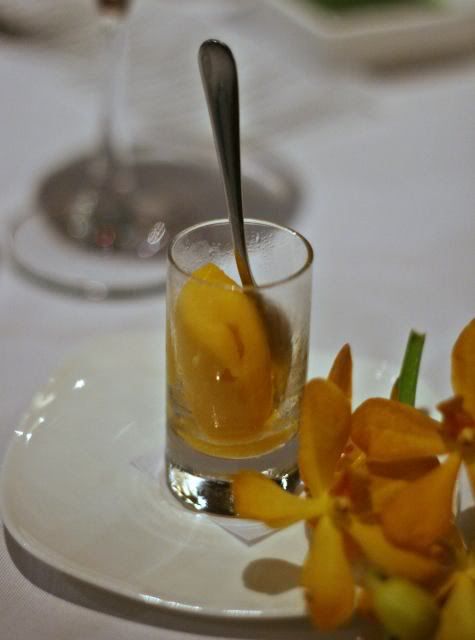 Palate Washer, Mango Sorbet. Creamy and smooth, it was more like ice cream than sorbet. They must have one helluva blender to puree the stuff that fine.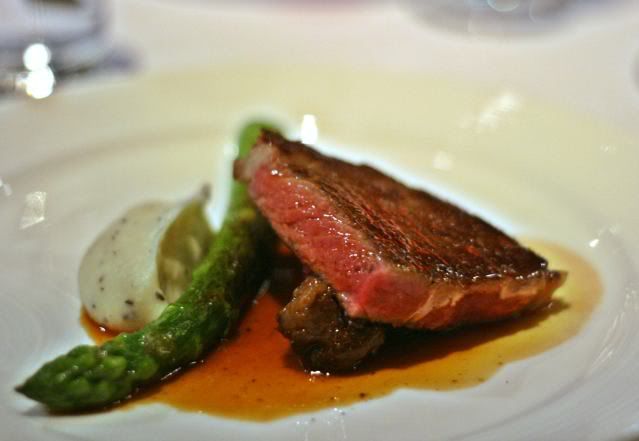 Wagyu Beef With Truffle Mash, Natural Jus...With the 2005 GW Shiraz. A totally elegant dish. There were two cuts of wagyu, I think one was a ribeye, which was tender and fatty, and the other larger slab, must have been a sirloin, leaner and tougher, but of course, when I say tougher, I meant tougher compared to the ribeye. It wasn't tough. It was delicious. And that fat asparagus spear!!! I love fat asparagus. Truffle mash. Heaven! The Shiraz seemed lighter than the Cab Merlot, and paired well with the wagyu.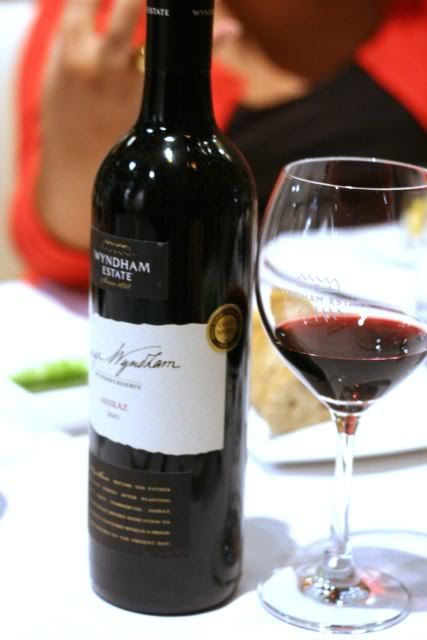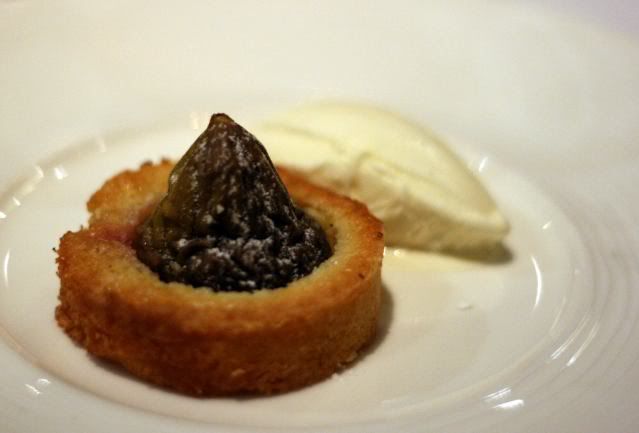 For dessert, Roasted Fig Tartlet With Vanilla Ice Cream. The tartlet was a lovely almondy pastry, crispy, and soft at the same time. What the Fig! What a pity figs are so figging expensive here! I love figs. Such complexity... no wonder its referred to Biblically quite often. Alas, not everyone shares my love for this unique fruit. Ciki pushed hers away declaring she hates figs. One man's fig is another man's poison I guess.

A fabulous meal, KUDOS to the Sage Kitchens, and to the Wyndham Estate guys for whipping up such a feast. The only bummer was, Marian, the one who invited us, was away in Shanghai for the World Expo. Thanks so much anyway, Marian for the invite.


Highly recommended, when Sage has one of these Wine pairing thingies.