Actually I have a few epic posts in the pipeline, in the proportions of a mini novella kind of thing. But one of the 7 cardinal sins have invaded me, ...sloth, and I am completely under its spell. So, I thought just to make an appearance, in case my adoring fans think I'm ailing, (it's like how rumours of Deng Xiao Peng's death forced him to make a public appearance just to prove he's alive)....
So children, the topic for today is, WHAT TO DO WITH YOUR OVERBEATEN CREAM. And I mean whipping cream, that is overwhipped. Cream is as sensitive as a neurotic woman. It has to be carefully watched, and once past that point of no return, is no longer useful for its original intention. However, QUITE by accident, I discovered, to my delight, that overwhipped cream need not be thrown away, and you can make a rather delicious homemade butter.
So, HOW TO MAKE YOUR OWN BUTTER? Basically, you overwhip the cream, until it curdles, and separates.

Overbeaten cream look a bit like scrambled eggs.



Continue whipping (I'm using the whisk attachment of the magimix here, but you can use the normal whisk in your cake mixer, apparently) and you will see the separation of church and state... ooops, I mean curd and whey. The watery part is buttermilk.



Drain the buttermilk and continue whisking. The buttermilk can be used for a number of recipes. Buttermilk is VERY expensive if bought from the supermarket, about RM16 per 1 litre carton.



Continue churning till you get this gorgeous creamy butterlike consistency. It will be the consistency of thawed butter. I usually like to drizzle some salt into the mixture, because I HATE HATE HATEEEE unsalted butter.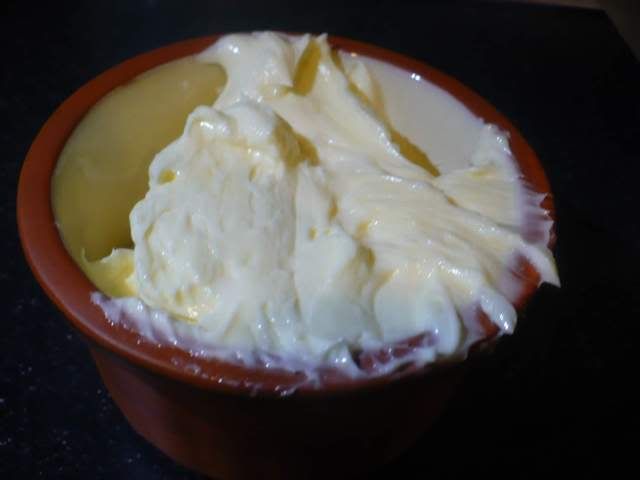 Transfer to a bowl and refrigerate, and soon you'll have LOVELY homemade butter. I've made this three times already, because subconsciously, with this new found knowledge, I am even more lax when whipping cream.... so much so the kid asks me each time I make butter if I overwhipped the cream on purpose, or by accident.

He shakes his head in disbelief when I say its by accident.