Don't you love the way Chinese people give names that exude wealth, prosperity etc? Choy, Fatt, Wong, Ong, etc, all have good joss associated with them. Which reminds me of a recent dinner party, at a friend's place, where we were discussing potential boy names for this expectant couple. Being rather anglophile, they were toying with names from the British Royalty, such as James, William, etc, but us, being chink and all, said, aiyooo, no la, cannot, chinese must have rich rich name one. Someone mentioned instead of James, why not follow the Nigerian President's name, Goodluck James. Brilliant!!!! So we suggested Goodluck Ong Fatt Choy. What a great name!!! I think this should be recorded for posterity.
So, back to the restaurant, RICHWELL! Now, what a good combination, Wealth Plus Health. We were invited by Marian Eu to try out this fairly new place, which boasts the former chef of the Teochew restaurant in Pudu ( I think closed down). It is easy to find, as it is along the same row as another freshwater prawn noodle establishment.
The place is new, nice and bright. It even has an in-house wine shop. To start with, a lovely scallop broth, which was flavourful and hearty. Strands of dried scallop and one plump fresh scallop. Any soup with salad is a good soup!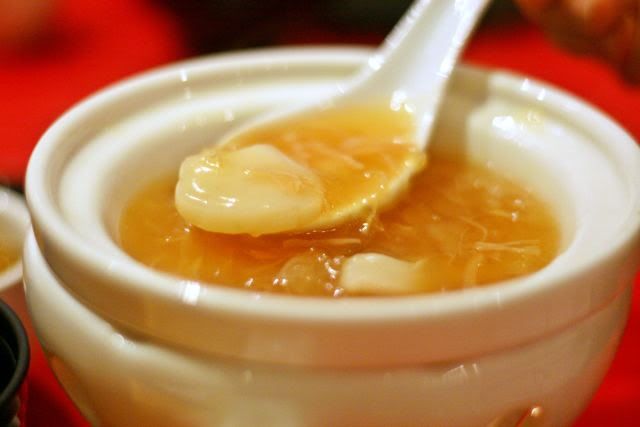 An fabulously fresh coral garoupa, (seven stars grouper...chut sing pan in Cantonese), in claypot, swimming in a broth of chinese wine. I could drink the broth on its own, the sweetness of the fish combined with the wine gave the chest a warm feeling of happiness.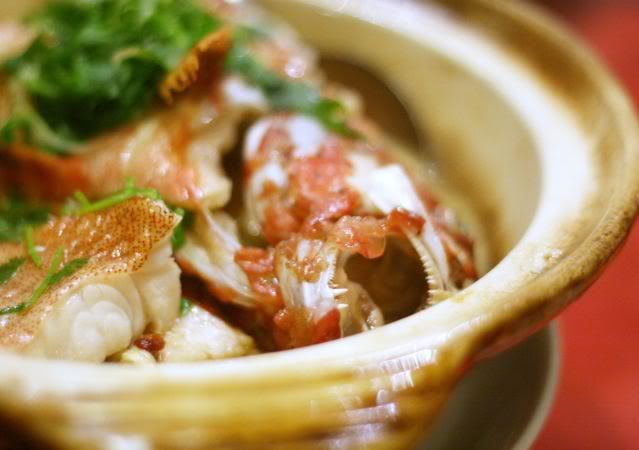 The flesh of the fish was firm, and the broth really enhances the flavour.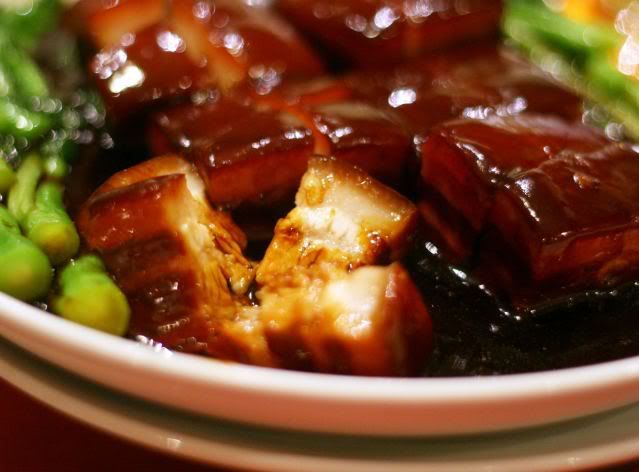 Tung Poh Yoke... Glorious chunks of pork with layers of fat, the way pork should be! Wonderfully tender and of course, would have gone with rice divinely. Instead of the usual buns (mantau) it's served with these crispy rice crackers, which are just as good, and less voluminous than the normal buns. Very innovative.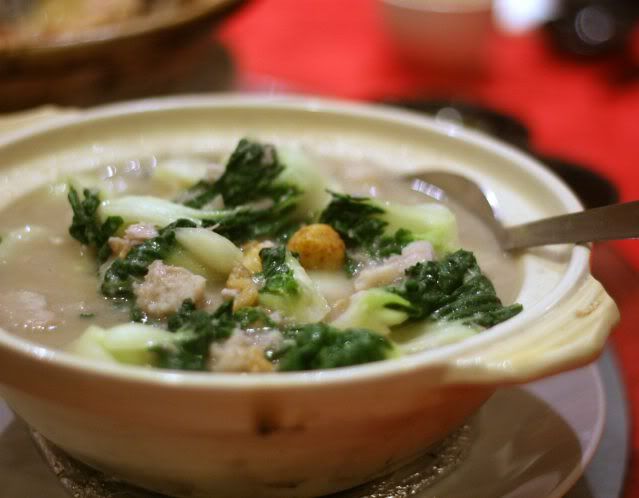 Claypot dish of yam and vegetables. Very hearty, and if you are a yam fan, then this dish will send you to yam paradise. Hmmm, wonder where IS yam paradise? Ulu Yam?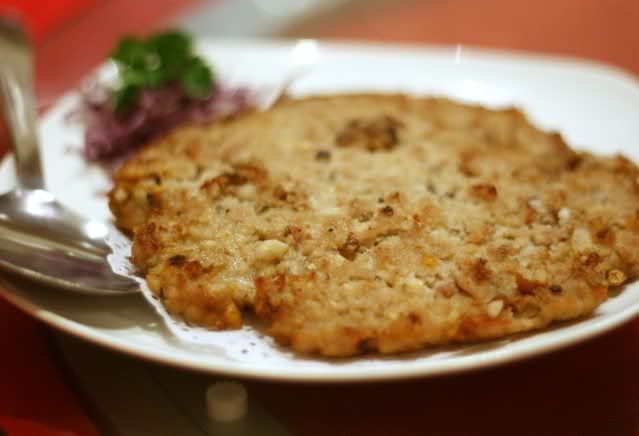 I can't remember the Cantonese name, but it's basically a mince pork pattie, very homestyle, and reminiscent of something my grandmother used to make. Simple, effective and delicious. I could just eat this with rice as well, as I am not an overly gravy person.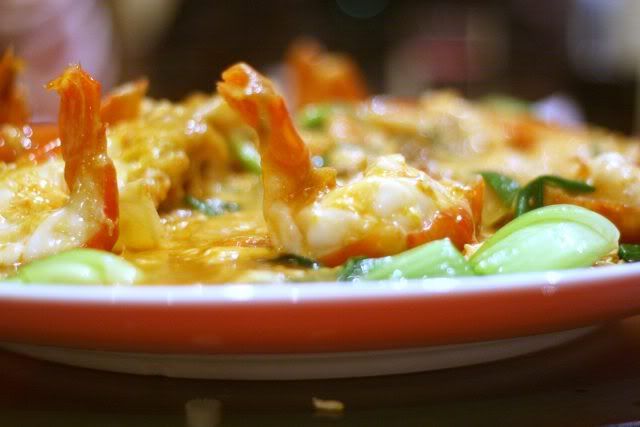 Not that my photography is anything to shout about, but I felt this amazingly beautiful dish deserved to be viewed from all angels. Side elevation, plan elevation, and at an angle. I think sang har mee is a fabulous invention, and whoever invented this recipe deserves a Nobel Prize. Is there one for culinary achievements? Anyway, no complaints here, the prawns were fresh, and large, the roe plentiful, the sauce perfect, not starchy.



...and to really push us over the edge, stuffing us to the brim, a lovely claypot crab with glass vermicelli, (tong fun). Done just right, the noodles were not soggy, and the crabs tasty. However, since the crabs were not very big, there was a lot of shrapnel.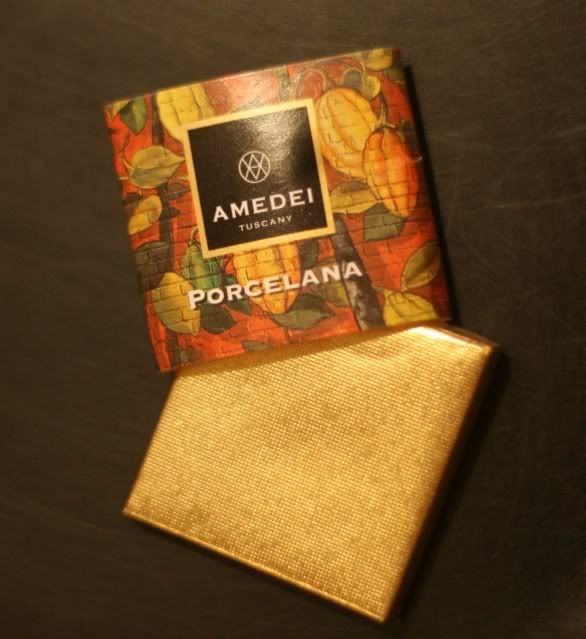 You know, I have not lived. I didnt know about the existence of these chocolates, supposedly the best in the world, and still would not have know about it if not for the generosity of fellow diner, Cheng Sim (of Chef Choy fame), who insisted we try it. That it is now available in Delicious Ingreidents is all thanks to Cheng Sim who apparently insisted they bring it in, and it was been selling like hot cakes. They are limited editions as well, as each bar has a serial number, only 20,000 are produced a year.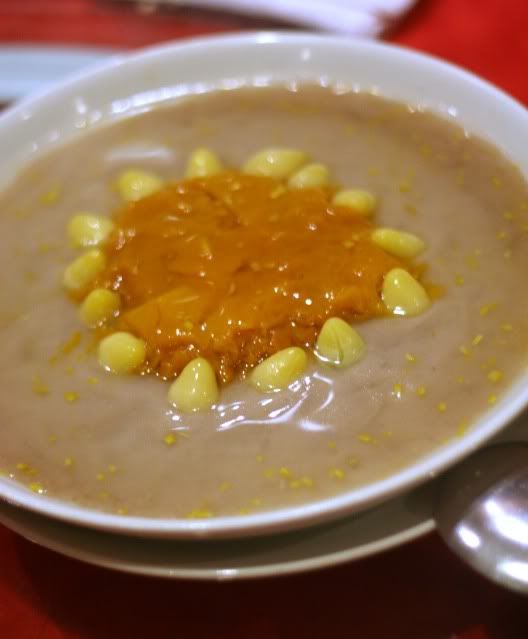 O Ni...that unique hokkien yam dessert that is not readily available. This version is nice, its not cloyingly sweet, and has a lovely tinge of orange zest on it. But really, after the feast leading up to dessert, I could only ingest very little of it.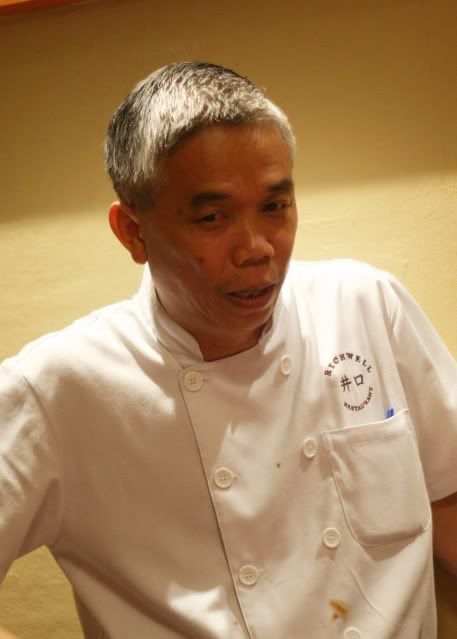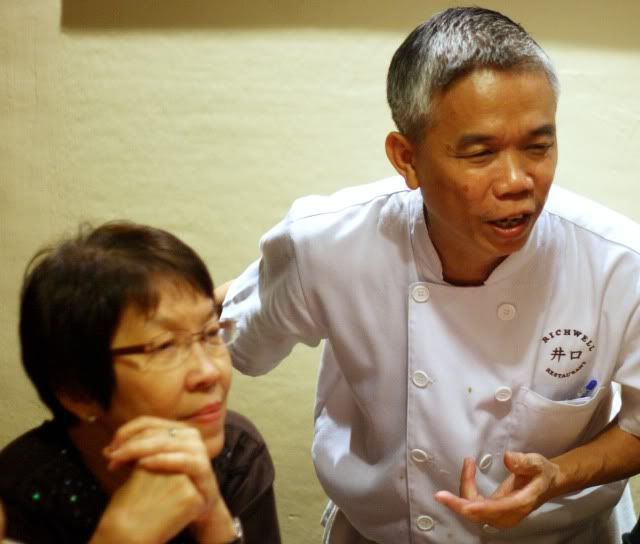 Chef CY Kam and our friend, Marian who so kindly organised the dinner.

Restaurant Richwell
24G&26G, Jalan 19/3
Petaling Jaya

Tel: 03-7955 5855

Read Masak Masak's review
HERE
.