When you blog late, all the best punchlines are taken. I think Alilfatmonkey's "
PRAWN STAR OF GIZA
" headline is impossible to better. A slew of prawny puns ensued, on tweeter, between Alilfatmonkey, Ciki and me. We finally concluded that Alilfatmonkey was a Crusty Asian who was on prawn roll in his blogging flair.
So, yeah, we were invited, courtesy of Stephanie, and Alilfatmonkey, to sample the marine offerings at the newly opened UNCLE PRAWN in Sunway Giza. Like essay writing, a good essay is determined by the first paragraph, where you know immediately where its leading. Likewise, the name UNCLE PRAWN immediately tells you, well, no prizes for guessing, it is a prawny place. Unlike vague names like say, "Pomegranate"... It's like playing food russian roulette. What cuisine will it be? But with Uncle Prawn, no such room for doubt. Speaking of nomenclature, Sunway Giza is the sequel to Sunway Pyramid, and I am shocked I did not get that immediately. I guess the next would be Sunway Luxor or Sunway Aswan.
Brightly lit, conspicuous in that amazing atria which houses a whole cornucopia of restaurants, Uncle Prawn was already crowded when we arrived.

Uncle Prawn himself, the amiable Tony, who graciously played excellent host.



Aunty Prawn, who incidentally makes fabulous wedding cakes. But, they don't come cheap, AND, even if you HAD the money to pay her, she takes orders on a very selective basis. She handles her prawns with great aplomb.



Alilfatmonkey and S. Thanks monkey for inviting us.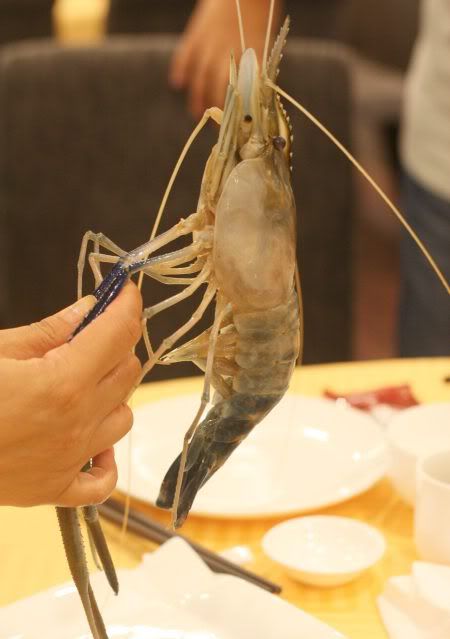 Look at the size of those prawns. However, those weren't destined for our table. All the more reason to return to try them.



Lovely strips of pork belly deep fried with honey. Simply heavenly. Went perfectly with the lovely Malborough savignon blanc that Tony generously served us.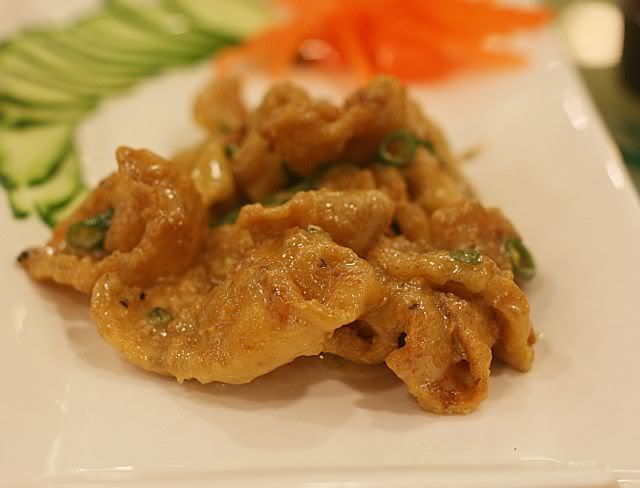 Buttered squid. Apparently this dish had a lot of people guessing. Some thought it was chicken. Ahem, yours truly managed to guess just by looking. It's like butter prawns, except with squid. Again, this seems to be a delicious accompaniment to wine or beer. I liked the texture of the squid, though someone found it quite tough and chewy.



An amazing claypot of assorted stuff, bathing in a sublime curry sauce. It contains frog's legs, a meat (pork) pattie at the base, (AHHH, divine), crabs, (in case you cant see in the picture), prawns, mussels....representatives from the United Nations of the Sea. Seriously, the sauce was excellent.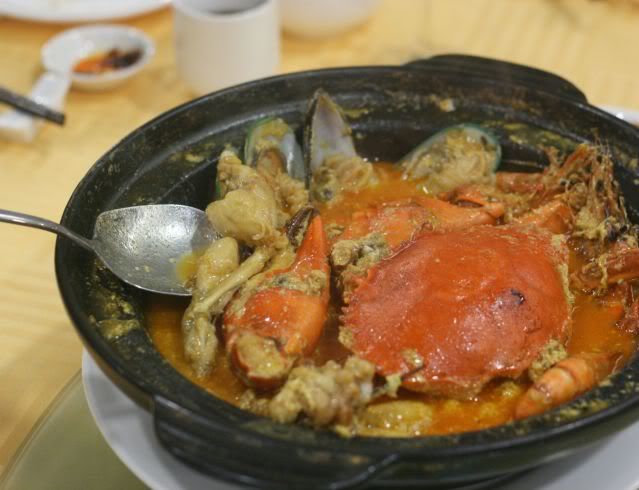 Frog's legs revealed.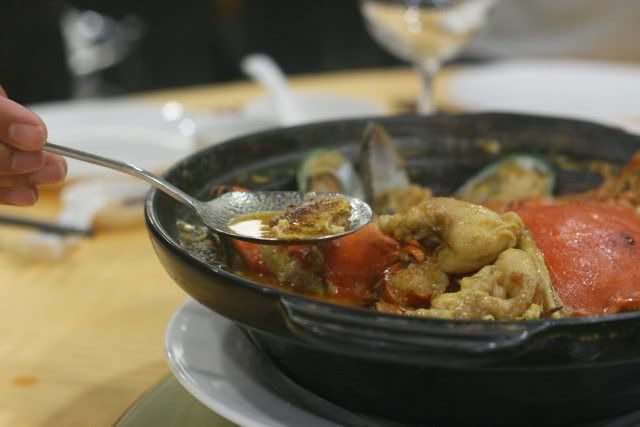 Pork pattie beneath revealed. The correct name for this dish is actually Crouching Tiger Hidden Dragon and is priced at RM118 for a pot for 4 people.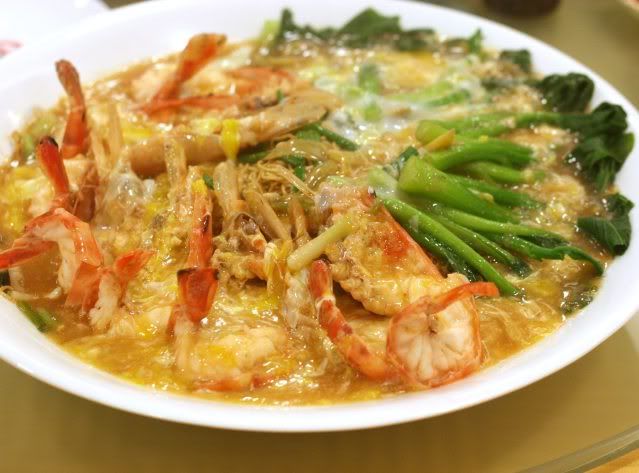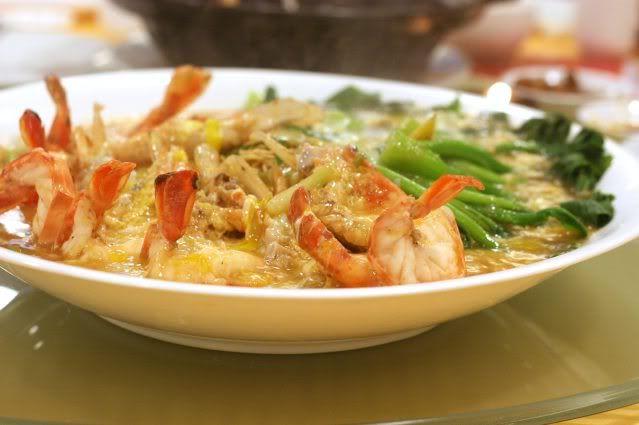 Undoubtedly the star (yeah yeah, prawn star) of the show. Swimming in delightful orange roe, one can't but help burst into song at that gorgeous sight. Its only RM25/prawn!
Roe Roe Roe down your throat...makes you smile and beam
Merrily merrily merrily life is but a dream
(To the tune of Row Row Row your boat)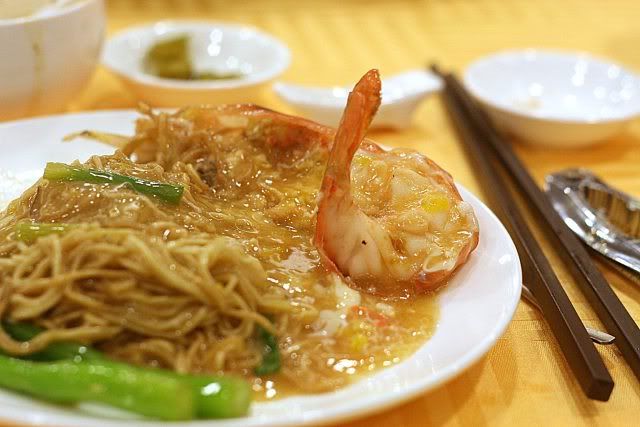 Oh, the noodles arent your ordinary noodle, but CIN-TAN mee (not Cintan, the instant noodle), but Pure Egg in cantonese. It does give the noodle a different texture, and makes it very flavourous on its own.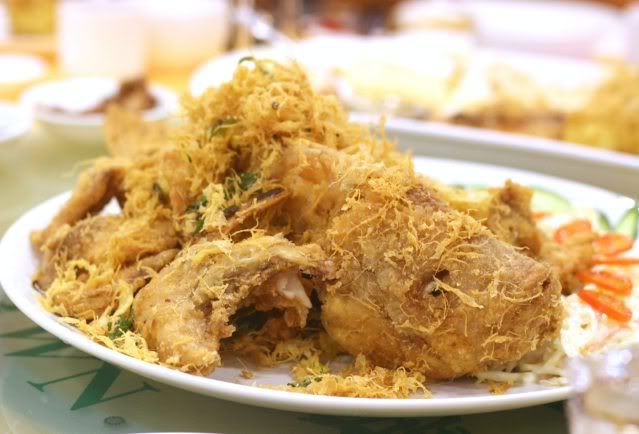 The humble tilapia, with a makeover. Deep fried, similar to the dried butter prawns style. It is to dispel the notion that tilapias are ordinary boring fish. Quite frankly, done this way, I can't really tell what fish it is when you eat it.



And yet ANOTHER dish of prawns. Boy, the restaurant really does live up to its name. Angled Loofah and River Prawn (RM30 per prawn)... in a lovely broth, almost like a bisque. Also highly recommended. The prawns were fresh, and succulent, and not overcooked.



Of course by now, we were like having food coming out of our nostrils, but our gracious hosts insisted we try their signature Braised Sweetened Pork Ribs. Tender, falling off the bone meat, which screams for rice. Anti Carbo people, beware.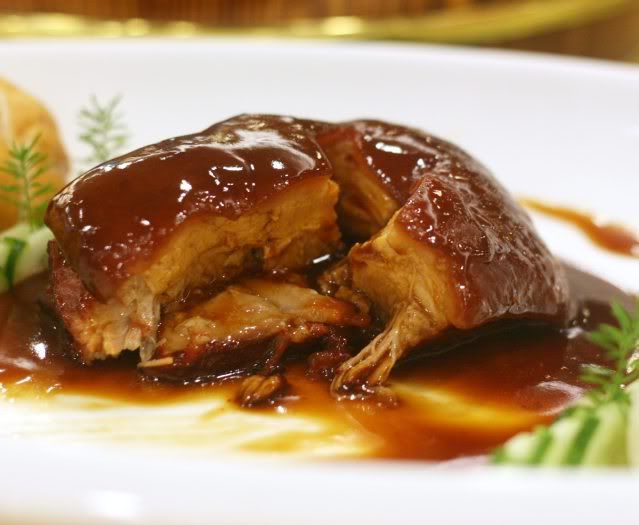 Just look at those fabulous fatty layers.Repeat after me, , ANIMAL FAT IS GOOD FOR YOU!!! MARGARINE IS BAD FOR YOU.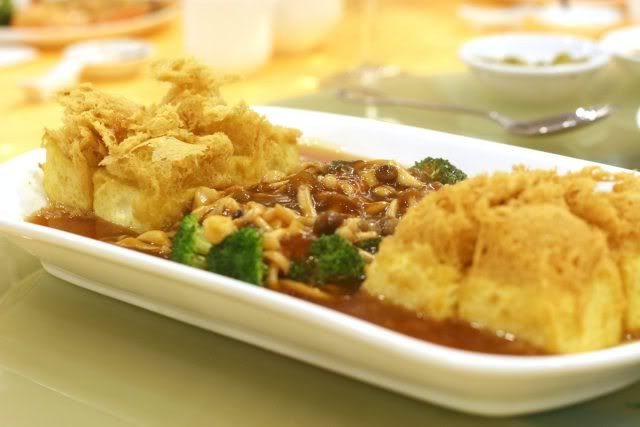 Crispy homemade tofu with mushroom and brocolli. Comfort food at its best. Can imagine it being the major hit with my kids. Some semblance of vegetables in an otherwise protein packed meal.



Lemongrass Jelly (I love this jelly, I always order it at Shang Palace and Iketeru at three times the price, chis!) and Guai Lin Gou. I find in my old age, I am increasingly partial to bitter foods... I am taking a serious liking to the stark bitterness of the black herbal jelly.



Uncle and Aunty Prawn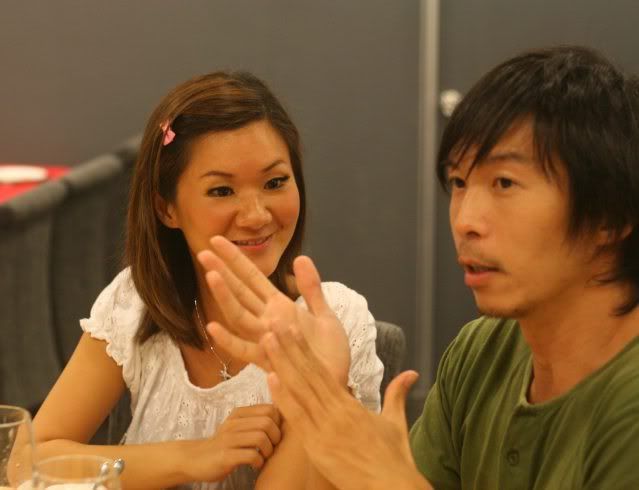 Cumi & Ciki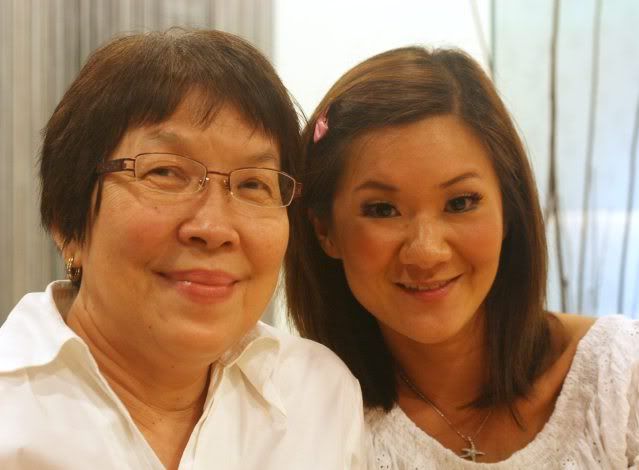 Marian and Ciki

Plagiarised from Monkey's Post:
Note: From now till 31 July 2010, spend RM50 at Uncle Prawn and you will get a tilapia for just RM1. If your bill exceeds RM80, you will get 300g of tiger prawns at just RM1.

Great, another sang har mee place to frequent. Parking for now is free at Giza, and the atmosphere in that atrium is rather pleasant.
Thanks to Tony & Teresa for having us, and to Stephanie for organising it.
Uncle Prawn Restaurant
Unit A-15, Sunway Giza,
Jalan PJU 5/14 Dataran Sunway
Kota Damansara, 47810 Petaling Jaya
Tel : 61481998