We are all victims of preconceived notions. I for one, when you mention Ritz Carlton, see Ringgit Signs flying out of the wallet faster than you can say WHY TEE EL! I've always thought the price to eat in any outlet there is beyond ordinary mortals like me.

When Lyla of Il Lido invited me to sup there one night, I was thrilled. And with such good company too, for on the guest list, were Marian, aka The Makan Fairy Godmother, Alilfatmonkey, Aly of Red FM, Ciki of Cumi & Ciki, and the Goddess of the Food Bloggers herself, Boolicious of Masak Masak. At hand to play host were Oliver Ellerton, that young dashing Brit fella, and the very demure Andrea.

The Ritz Carlton is a boutique hotel, so its not so easy to waltz in and out anonymously. Which I find intimidating. However, we were politely led to Liyen, the Chinese Restaurant.

Alilfatmonkey trying to discreetly dislodge a piece of monkey food from his jaw perhaps?
Is Marian saying a little prayer, "oh Lord help me get through this nite with all these monkeys around me"...
First, a most homely watercress soup with pork ribs, wolfenberries, (gei chee). This is one of my favourite comfort soups. I love the bitterish tinge imparted by watercress. Although, it has been seared in my mind, that classic scene in Dynasty, (yes, I am from that era), where Joan Collins says to Linda Evans, who had served watercress sandwiches, "dahlink, only giraffes eat watercress". Call me a giraffe then, albeit a portly one...I love my watercress.
Glistening Peking Duck. It's strange how it's retained the name, no one calls it Beijing Duck. Peking Duck does sound more perky... and pecking.
I love it that its served with these traditional flourlike pancakes, the chinese tortillas. I am not a fan of those eggy yellow pancake impostors that many chinese restaurants use to serve their Peking Duck in.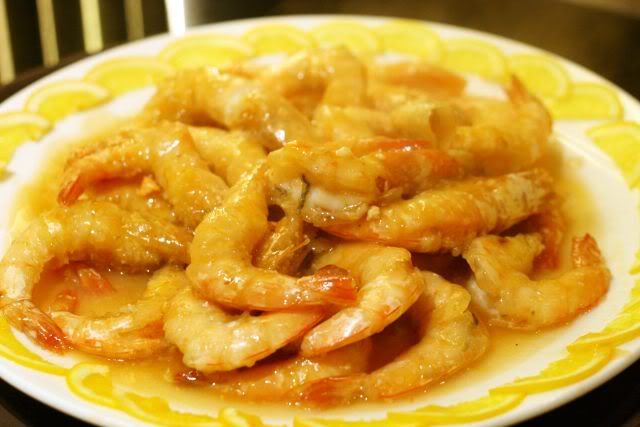 Fragrant Prawns in Champagne. The aroma of champagne was very distinct, and imparted a subtle flavour to the prawns, which were fresh sea prawns.
Ah, all the British fella flocking together. (Private Joke)
The Lovely Lyla of Il Lido
Them Camw****s.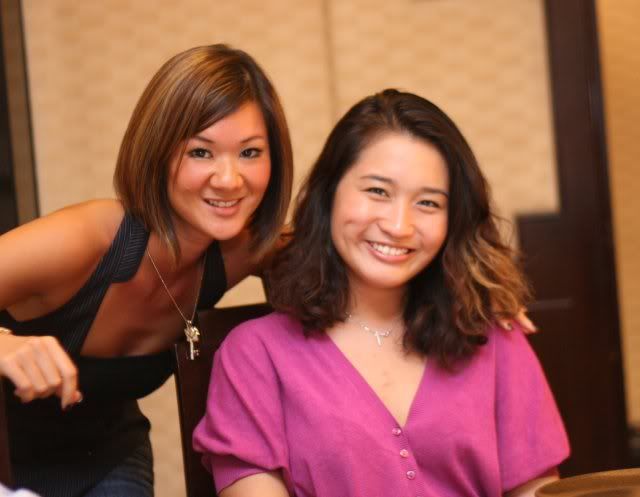 Ciki and the demure Andrea
Look at my prawn shells, says Aly, the Queen of the Prawns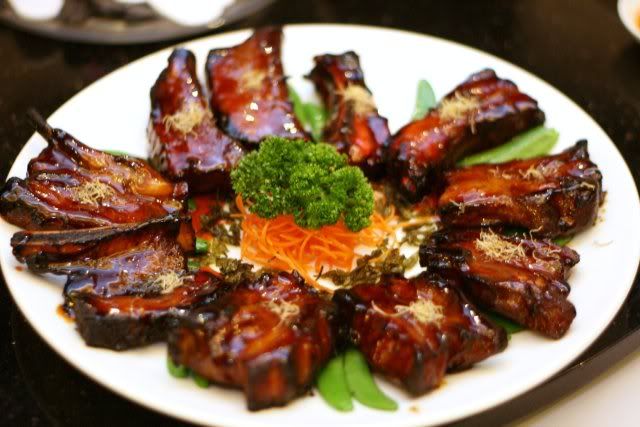 This has to be my favourite dish of the night. Baked Spare ribs with chinese tea leaves. The slightly charred glaze, paired together with the wonderful scent of tea leaves, plus the excellent cut of meat, ribs that fell of the bone....ah, I could just eat this alone. And, it is reasonably priced at RM14 per rib, if I recall correctly. Same price as some establishment in Robson Heights famous for their ribs.
Honey Glazed Cod Fish. Some commented that it looked like Char Siu. Well, it might have, but it didn't taste like char siu. Cooked to perfection, flaky yet firm, just the right amount of glaze so as not to make it sweet like a cake.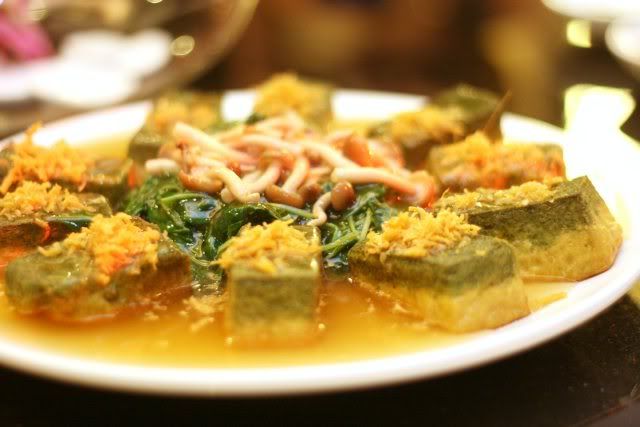 Liyen's signature Spinach Tofu with Honshimeju (what a mouthful) mushrooms. Can't go wrong with beancurd, and paired with Popeye's favourite green vegetable, makes for a power packed parcel of goodness. Actually, I wouldn't mind having just this, the ribs, and rice.
But speaking of rice, OHHHH MY, this fried rice, fried with the duck meat from the Peking Duck, absolutely glorious. Fluffy grains of rice, fried in a hot enough wok, interspersed with the juicy flesh of the duck, ....I'm in fried rice heaven!
And to wash it all down, avocado cream! Frankly, a bit too rich a way to end such a superb dinner. A clear sweet tongshui would've been much better. Nevertheless, for avocado fans, this is a must. Rich, creamy and bursting with avocado goodness.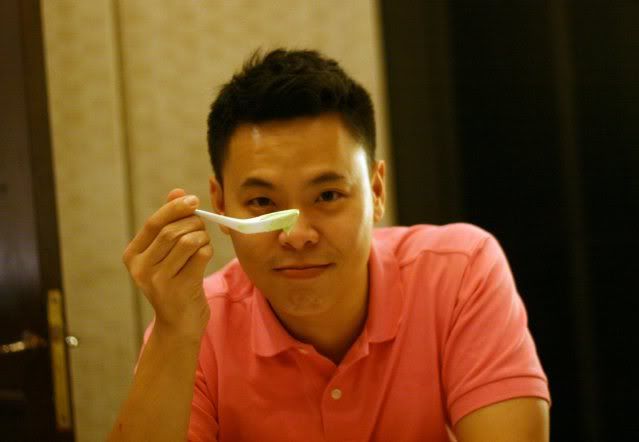 And Alilfatmonkey in the various stages of his avocado cream.
So yeah, the the preconceived notions dispelled, I look forward to heading back to Liyen for some lovely tea leaf ribs, and oooh, just about everything else. The place is non halal.
Thanks Oliver and Andrea for being such gracious hosts, and Lyla, for the invite.