THREE OUTLETS, THREE CHEFS, THREE FESTIVAL PROMOTIONS AND A MICHELIN STAR CHEF, cries the press release.
So when Aly of Red FM asked me if I would like to attend the MIGF thingie at Chynna, I replied, "Hmm, let me think long and hard about this. Great company, great venue, possibly great food"...think think think..."duhh, [slapping forehead], I think I have to say YES".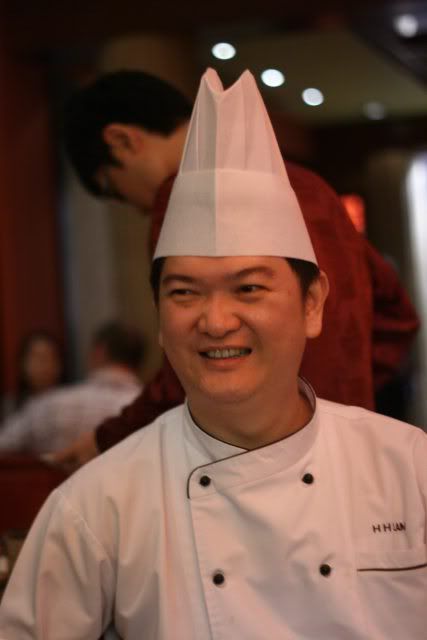 The very affable Chef HH Lam, who has been with the Hilton so long, he says his H H stands for Hilton Hilton. (His real name is Chef Lam Hock Hin).
Cold Black Ink Soba in Sesame Sauce and Smoked Seared Hokkaido Scallops. The soba was delightfully al dente. At first bite, I initially thought the sauce was too salty, but surprisingly, as I continued eating, it didn't seem so, and by the end of it, all of us wouldn't have minded wiping our plates clean with a slice of bread.
Picture of a Picture..the Canon people took this nice pic of us...our fellow diners for the night are Celebrity Penang blogger, CK Lam, (the definitive Penang Street Food Guide), Eric Yong, Aly of Red FM, and ...little old me.
Double Boiled Duck Broth With Good stuff, Radix and Yu Zhu. Since Chynna is pork free, duck actually makes a fabulous substitute, because its fattiness and red meatness imparts a distinct flavour to the broth. Since I am one of those who goes, "Give Us This Day our Daily Soup" I was delighted with this dish. Clear, but so tasty, and chock full of goodness.
Seafood Platter With Canadian Cod, Curry Dry Prawns and Salmon Tangy Mustard Sauce. I personally liked the Cod the best, despite not being a big fan of cod. The salmon was also very well cooked, not overdone, still moist in the centre. The interesting sauces that accompanied the trio really complemented each one.
The Salmon, and a crispy bit of deep fried salmon skin. Absolutely yummy.
Sous Vide Lamb Cutlet With Pepper Mint Sauce. Behold the lamb. Not something you'd make at home, coz you need to marinate, vacuum pack it, steam it, and pan sear it. Excellent dish this. In fact, Chynna is famous for its lamb. Their mint fried lamb is always a hit.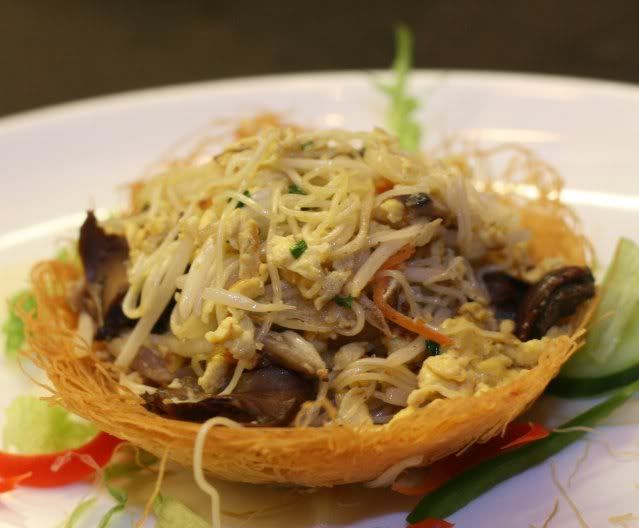 Wok Fried Somen Noodle With Shell Meat served in a Golden Katafi. You know, every last bit of this was good. Even the golden katafi nest. Finished every last strand. Truly inspired, this dish. The piece of shell meat gave that interesting chewy texture, the noodle the springy texture, the nest, the crispy texture. Can a tongue handle so many sensations I ask!
I love the setting of Chynna.... the hot steaming steamers... I am not sure what they were steaming at that hour of night.
Coconut Mousse Cake With Pumpkin Puree. More western than chinese, as pointed out by my fellow diners. But good, nonetheless. A bit like a panna cotta, but not as smooth.
The Hilton PR people were doing musical chairs, flitting between Iketeru, Senses and Chynna, and here we manage to capture the very belle Bel.
At RM168++ per head without wine pairing, I'd say this was pretty good value for money, as far as the MIGF selections are concerned. Wine pairing is RM 248++.
I'm putting this up in a hurry so ahem, it'll get longest and soonest possible exposure, since MIGF only lasts a month, and a week is already gone.
Thanks to Chef Lam, Bel, Jean for being such gracious hosts, and of course to Aly for inviting me.