It is upon us again, that annual event of gastronomic pleasures for an entire month. Our very own Octoberfest so to speak. The Malaysian International Gourmet Festival.
When all the best chefs showcase their talents. Actually, I think it's just an excuse to fill the gaps. Malaysia is one annual eating fest anyway. In the beginning of the year, there's the Chinese New Year frenzy, then there'll be Valentine's Day, ...any excuse to eat.
I was delighted to get an invite to Villa Danielli, by the lovely Evelyn Koh of Sheraton Imperial. Traffic that day however, was diabolic. It took my fellow diner, Unkaleong, 1½ hours to travel from his office at Citibank to Sheraton Imperial. Half the other guest were late as well.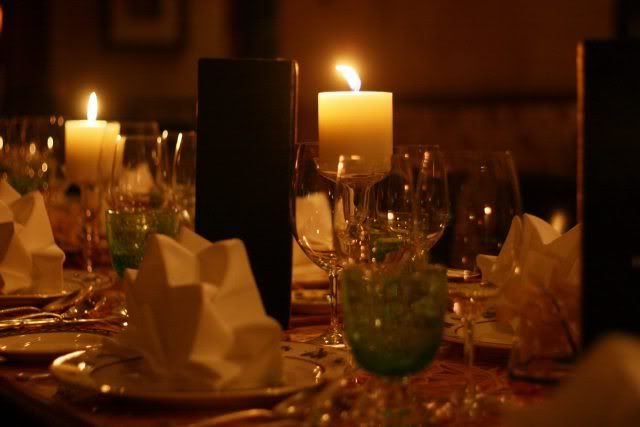 The fine dining, elegant romantic setting...great for couples, nightmare for food bloggers...terrible lighting for photography.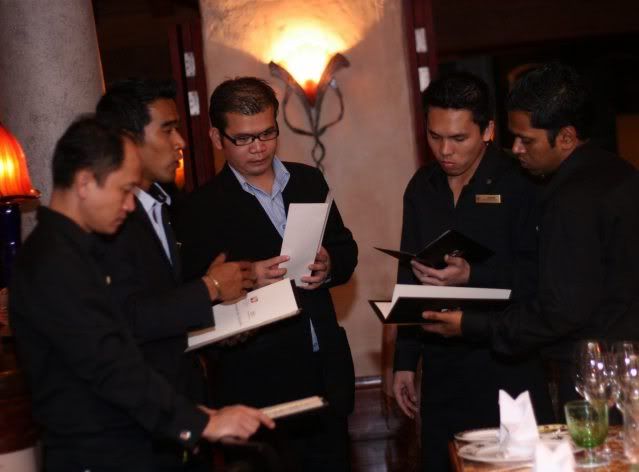 Il Divo Malaysian Style? Preparing their next presentation?
Guest Chef Fabrizio hails from The Westin, Beijing Financial Street, and his Festive Menu which we got to sample included: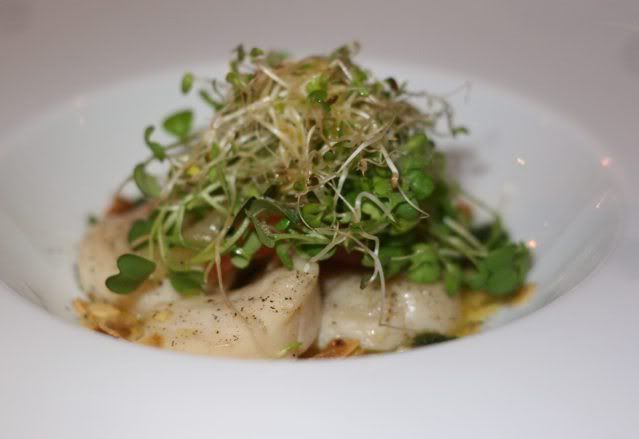 Cappesante marinate agli agrumi, micro insalatine, mandorle tostate...all these Italian names...sounds like a catholic liturgy...almost want to say AMEN after that...
Citrus marinated scallops, micro salads, toasted almonds
Torralta Prosseco, Piedmont Prosecco. This was probably my favourite dish. Simple, refreshing, fresh, and the tangy citrus complemented the scallops.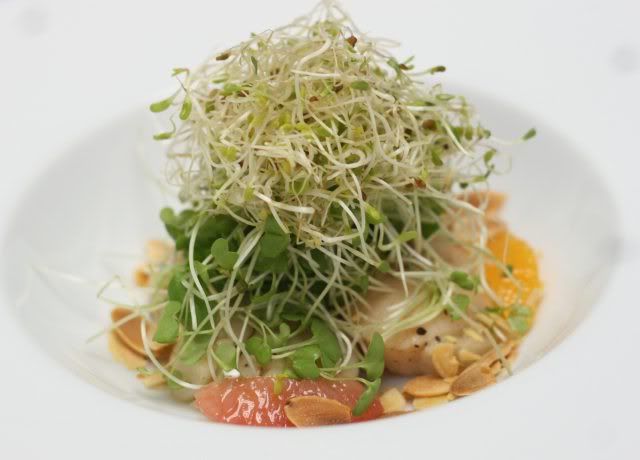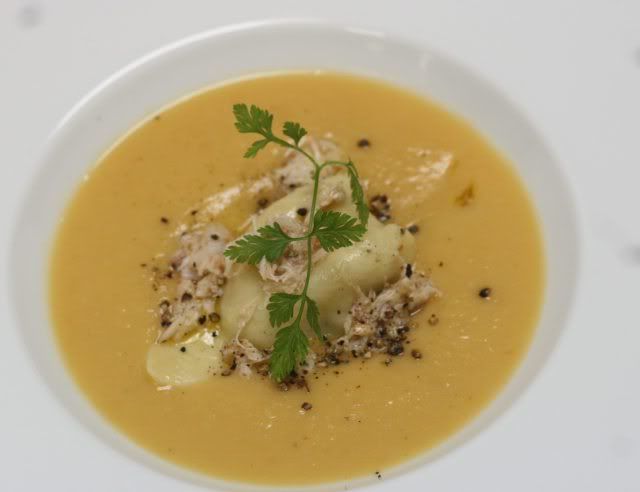 Crema di cannellini, raviolo al fegato grasso e granchio al vapore
White bean soup, goose liver raviolo, steamed blue flower crab
Kim Crawford, Malborough, Sav Blanc 2009. I love the soup, a thick, hearty wholesome soup, a meal on its own. I thought the raviolo was a bit too heavy.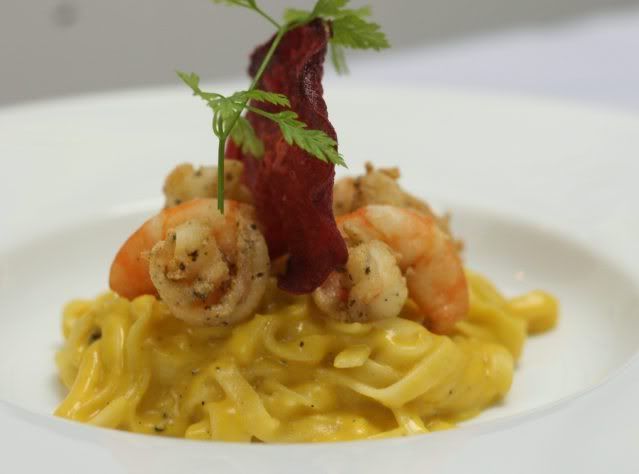 Tagliolini di grand duro, cream di zucca, gamberi croccanti e chips di patate rosse
Hard wheat tagliolini, pumpkin veloute, crispy prawns and beetroot chips
Ruffino Libaio IGT, Tuscany, Chardonnay 2008. I'm impressed they managed to keep the crispy prawns moist on the inside.
Filetto di spigola, torata di pomodorini, rucola
Pan seared sea bass fillet, cherry tomato tart,, rucola. Initially, I thought it smelt fishy, but there was no fishy flavour accompanying the smell, and it was a delightfully light and clean dish.
Robert Mondavi Private Selection, California Pinot Noir 2008
Herb crusted Lamb Cutlets.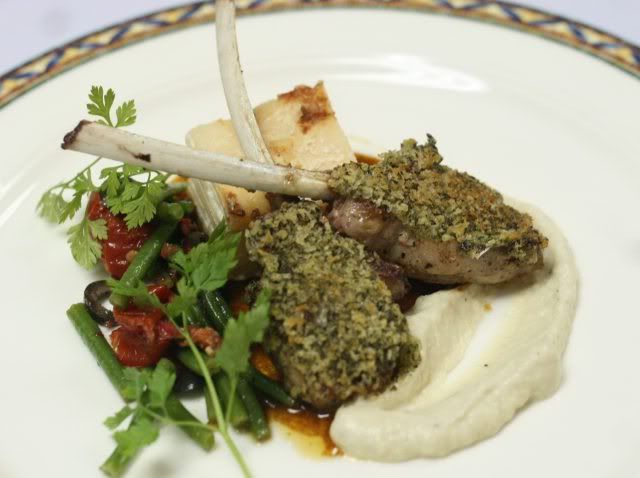 Cannoli Sciliani Ripieni di ricotta al cioccolato e canditi, salsa al pistachio
Deep fried crispy shells, chocolate and canditi ricotta, pistachio sauce
Ruffino Serelle Del Chianti, Tuscany, Vin Santo 2006. Now, I've always been fascinated by Cannolis ever since learning about it on EVERYBODY LOVES RAYMOND, where there was one episode that featured this dessert. The ones I've had so far, in KL, have been shockingly disappointing, so I was pleasantly surprised by this one. The pastry was light, and almost fluffy, and the fillings were good too.
My fellow diner, and Evelyn of Sheraton.
The two chefs, Fabrizio, and resident Chef De Cuisine, Chef Kamaruddin, aka Chef Bob
Chef Bob's Festive Menu
Saffron risotto timable filled with beef ragout, green pea and poached quail egg served with fresh ricotta cheese and wild mushroom sauce
Mille Feuille of Purple Potato, tiger prawns, slipper lobster and tarragon mantecato
Gnocchi with white wine braised onion, venison ragout and light taleggio cream
Anchovies and stracciatella cheese ravioli with lobster and artichokes in red mullet star anise broth
Purple asparagus cream, oyster foam and basil oil with crushed pink peppercorns
Seafood soup caciucco style, spicy blue crab broth and fresh buffalo mozzarella
Lamb cutlet thyme gratin with parmesan potato lasagna, olive oil artichoke cream and herb jus
Sea salt crusted beef tenderloin wih crunchy polenta and white asparagus compote with grain mustard and beef jus
Pan fried wild sea bass medallion on capsicum panzanella topinambur cream and anchovy oil
Pricing:
5 course set RM220++
4 course set RM180++
3 course set RM150++
Wine Pairing
4 glasses wine RM120++
3 glasses wine RM90++
2 glasses wine RM60++
Many thanks to Cindy and Evelyn for playing the gracious hosts, as usual.
To contact, Call Sheraton Imperial, 03-27179900.