Once a year, they come. Much like a frigid woman.
They adorn the posters of all worthy Chinese restaurants, inviting clients to come and sample their hairy legs, and suck out their delicious insides.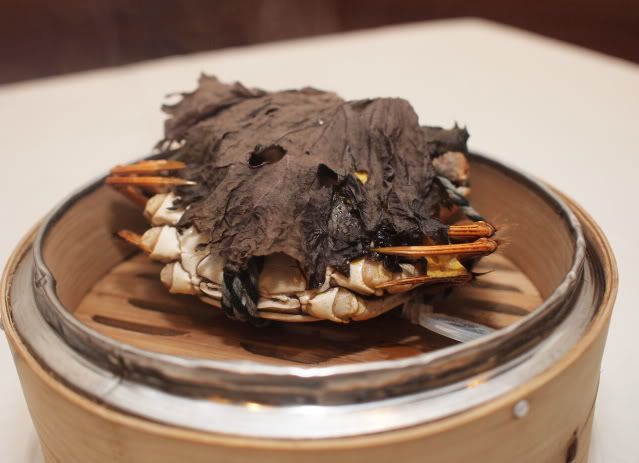 This one comes modestly wrapped under a blanket.... as if to tantalize and seduce....
She says, "Sorry, I'm tied up at the moment"...(did I steal your line, Ciki?)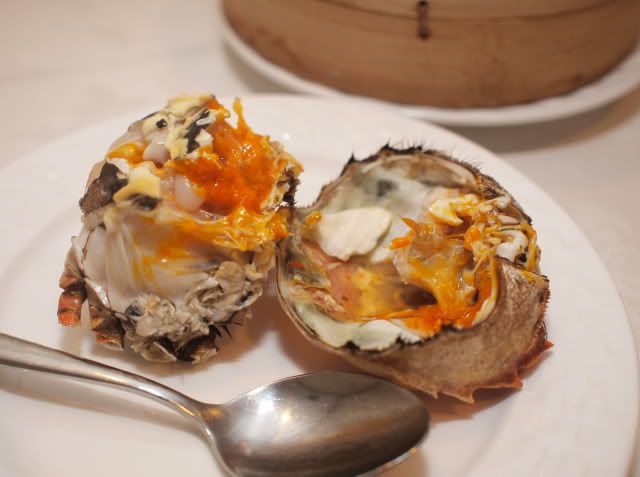 Ah, the sheer bliss and esctasy of the roe. Or is it sperm? Okay, the debate raged as to whether or not these were male or female crustaceans, since both are hairy anyway. A certain appendage distinguishes the male from the female, and Chef Tai Sim insists this was male, though our hostess CS insisted otherwise. We'll take the word of the chef....so, if Sebastian here is male, ... then what are we eating?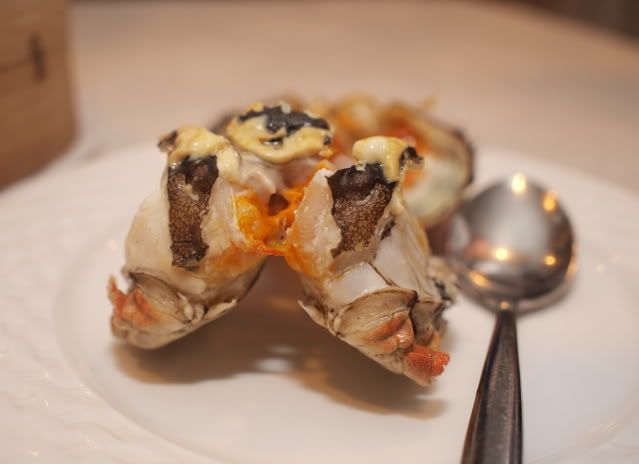 Apart from his sweet succulent flesh, that is....
These bits of sinful goodness...that rich creamy whatever, that melts in your mouth, and slides down your throat as you go through spasms of delight. Due to lack of consensus as to the sexuality of the crab and whether it was sperm, or roe, we decided to call it HE-ROE.
Check out those succulent legs with tender meat and the hairy arms, or pincers.
Now, this elevates noodles to dizzying new heights...
Even higher than this fork is doing....
Seriously, this Braised Ee Fu Noodles with hairy crab meat (that's "HAIRY CRAB" - meat, not "HAIRY" crab meat), is to die for. That natural creamy goodness from the roe, tossed into the springy ee fu noodles, cooked to perfection, with that oh so sweet crab meet, sublime. I could just eat this and be be happy.
Now, as time is of the essence, and these Hairy babies are here but for short time, and will be gone, I can assure you, before the next General Election, hurry over to CHEF CHOI, at
Chef Choi Restaurant
159 Jalan Ampang
Kuala Lumpur
Tel: 03-2163 5866
This is but PART of the fabulous meal we had...will post more on the Fellowship of the Pig