NEWSFLASH. As at press time, ie, Thurs 23rd 2012, 2.52 pm, Ritz Carlton is giving away a free table for an exclusive dinner with Chuck Hughes. Click
here
to find out how to win.
Actually I did not know Chuck was coming to town, if it wasn't for the fact that I was alerted by
Unkaleong
, my regular googlechat mate. Also, because of the number of times I had been unable to attend events organised by Alice George PR, I wasn't sure if I had been struck off the guest list. So, I was rather chuffed when I did get the invitation to come and watch Chuck Hughes, to quote the words from the press release, "One of Canada's hottest young Chefs, and the ever charming host of Chuck's Day Off on AFC".
To the ignorami of the culinary world, Chuck is the YOUNGEST Canadian chef to win the Iron Chef America. That is not surprising, because he regaled us with tales on how he started cooking at age 8, and how he wanted to grow up and be a millionaire and own lots of businesses. It's inspiring to see how dreams are achieved, but sadly, for us mortals, it sometimes serves to magnify our own shortcomings and failures of dreams that we fail to achieve. But before I become morose at the expense of Chuck Hughes' success, let us veer back to the event at the glitzy Ritz Carlton. It was kinda deja vu, the familiar faces who were there at Adrian Richardson were also there for this event. This is the 3rd in the series of AFC celebrity chef events held at the Ritz Carlton.
Host for the day was the effervescent (thanks Lyrical Lemongrass for the adjective that I was struggling to find) Xandria Ooi. She dug out of Chuck his culinary adventures in KL thus far, which included the tasting of durian, which he claims he loved. Of course the usual things celebrity chefs say, about how wonderful and diverse our country is, the different kinds of foods are amazing, etc etc and so forth. But then again, it is true, isn't it? We do offer a huge variety of cuisine, so in my opinion, anyone visiting Malaysia is privileged. She asked him if he googled Malaysia before coming, which he says he did, and all he saw were towers, towers, and more towers. Ministry of Tourism, please take note. We are more than just the twin tower.
I guess it's no surprise that a Celebrity chef on AFC would be animated, lively and entertaining, if not, they'd just be relegated to a kitchen somewhere, and not behind the TV Cameras. He is very obliging when it comes to striking a pose for the cameras.
The menu for the day was Popcorn Rock Shrimp with Spicy Honey, Pan Seared Beef Carpaccio with potato chips, fried capers and lemon aioli, and a Chocolate Rice Arancini.
The many different faces of Chuck Hughes. He does have a lot of different facial expressions, and looks different in real life compared with the TV show, and photographs, depending on which angle you view him from.
And so the cooking demo begins....
A writer from Flavours asks, What is Quebec Food? His reply made Quebec Food sound like the dullest thing on earth, after oat bran. According to Chuck, traditional Quebec food was just meat and potatoes, and it wasn't until the trade routes and the East India Company brought herbs and spices to the new world, that the foods became more interesting. (Okay, I paraphrased that entire thing and embellished the history).
He tosses the shrimp into flour first, (after Ms Chirpy Xandria goes, OOOOOOh, I always dipped in egg first, to which he replies, and that is why I'm the chef and you're the emcee"), followed by egg, followed by cornstarch.
Now the thing about these events is, I guess he cannot demonstrate anything too complicated, or the audience might get lost. So really, the demonstration is easy to follow, and I'd say fairly easy to replicate. The Spicy honey does add a nice zing to the dish.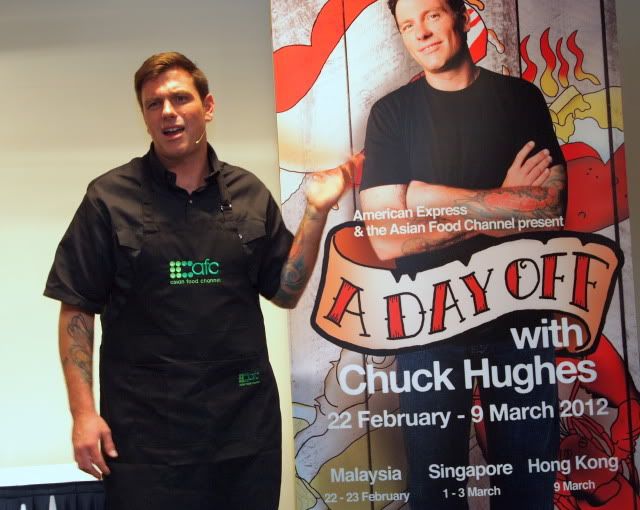 Again he strikes a pose, and points to the poster asking "who IS this chap?"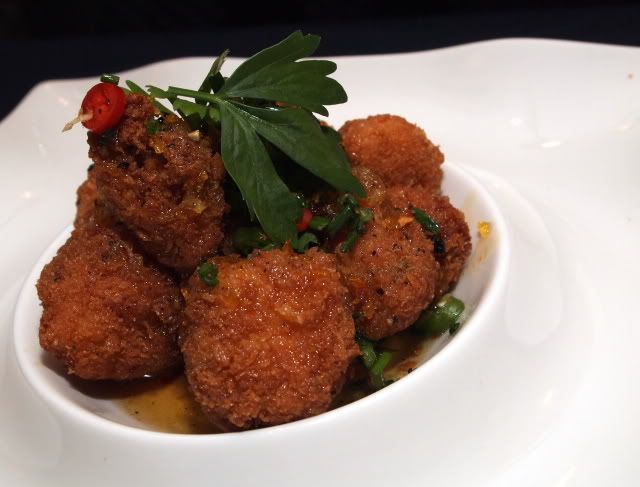 Popcorn Rock Shrimp. As opposed to R&B Shrimp I guess.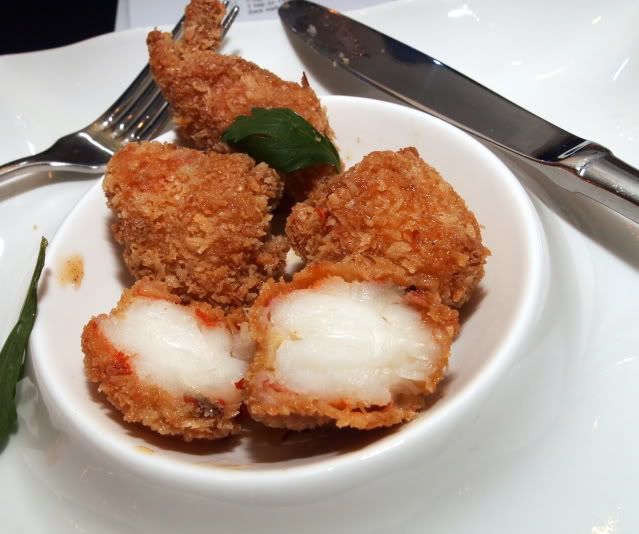 A cross section of the popcorn rock shrimp. We learn that the perfect temperature for deep frying is 275°C, which he also has tattooed on his arm. Now that's another story.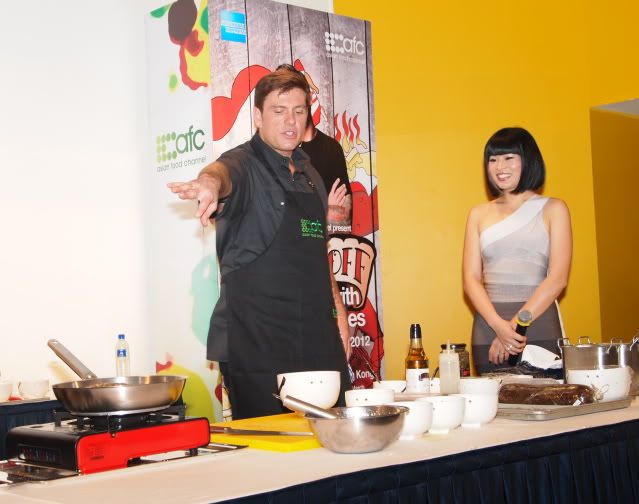 We move on to the next dish, which is the pan seared carpaccio.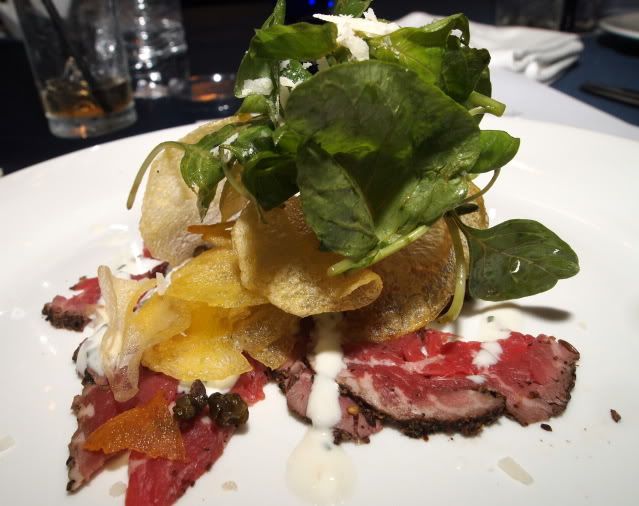 I love the fact that it comes with homemade potato chips. His whipping of the aioli was rather entertaining. Basically it is a mayonnaise, whereby the whipping of the eggs and oil emulsifies and creates that thick mayonaissey sauce.
He regales the audience with tales of the tattoos...
He points to his back describing his rear tattoo. He makes it clear that he has no tattoos elsewhere,...(where? ) and none on his neck, or exposed areas, for fear that it might have been a deterrent in getting a job, in his younger days. But now, obviously, that is no longer a concern, and the body canvas is part of his trademark.
Finally, the Chocolate Rice Arancini. Made with arborio rice (usually leftovers from a risotto base), it basically forms a casing around a ball or two of chocolate ganache and is deep fried. According to the programme it was supposed to be a tapioca arancini. We do not know the inside gossip as to why the tapioca decided not to show.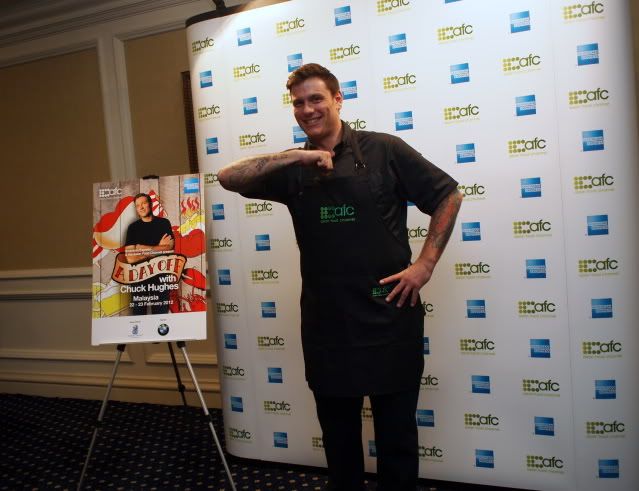 Again, he obliges us with his poses on the AFC photo wall.
If you are ever in Montreal, do drop into his restaurant, Garde Manger and a newly opened Le Bremner. For more information on A DAY OFF WITH CHUCK HUGHES, please go to the AFC Studio Website,
www.theafcstudio.com