Sometime before Christmas last year, (that seems like a lifetime ago, and warrants a blogger's execution and the stockade for such tardy writeups), Makan Fairy Godmother (Marian Eu) invited us for lunch at Erawan.

Now, I have heard so much about this place, such as the need to be punctual for your reservation, and how .... err, the Chef is a perfectionist, and cooks the dishes by the table, so if you suddenly decided, oooh, that curry was nice, let's tambah, you'd have to wait your rotation. But the one recurring thing that unanimously was agreed upon, the food IS excellent. So it was with trepidation and nervousness that I made sure I appeared punctually, and must have a bit too punctual, as no one else was there yet. The occasion? Kind of a celebration for them making it to no 3 Best Restaurant in the Miele Guide.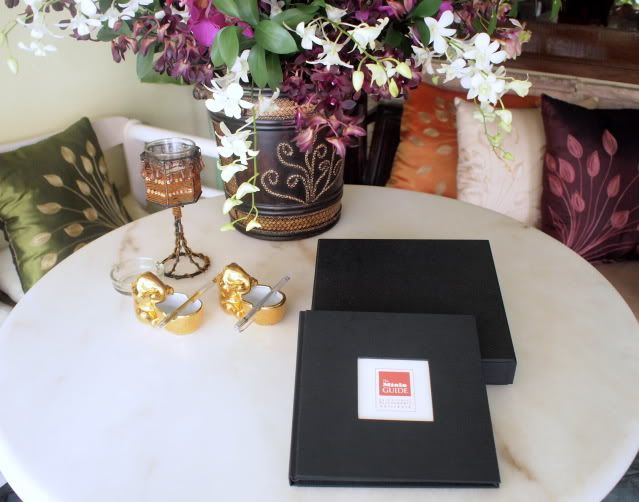 This would be reason to celebrate indeed!
The place oozes charm, as if every piece of decor had been lovingly thought and placed. You can certainly feel that personal touch, of the owners, and this is accentuated further when you meet them. You can tell that this is a restaurant with soul.
Platters of delicious looking stuff, not necessarily Thai, await the guests.
Just look at the glorious display of lup chup. Such intricate workmanship.
Invidual starters, in canape fashion were served. Everything is so flavourful, and tantalizing to the palate.
An interesting twist to the traditional Thai fishcakes, served in mini burger buns. My only grouse was the bread filled us up and took up valuable space, considering the other delights that awaited.
Lovely prawns in Thai sauce, in a mini croissant. Quite a dizzying array of flavours. As it is, Thai food is already rather complex, with myriad herbs and spices. Add the masterful creativity of Korn, the Chef & Co Owner, you get a real treat.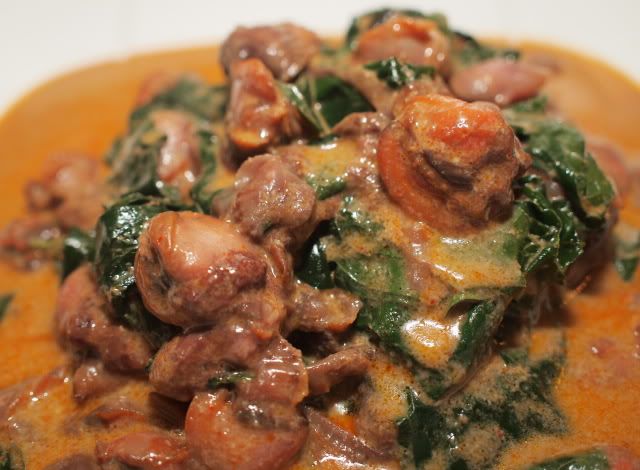 But SERIOUSLY, if I was on death-row, and had one last meal to request, it would be THIS! The best cockles curry ever. Huge, succulent cockles swimming in a glorious red curry. My tongue was doing cartwheels in delight. Pardon the disturbing imagery.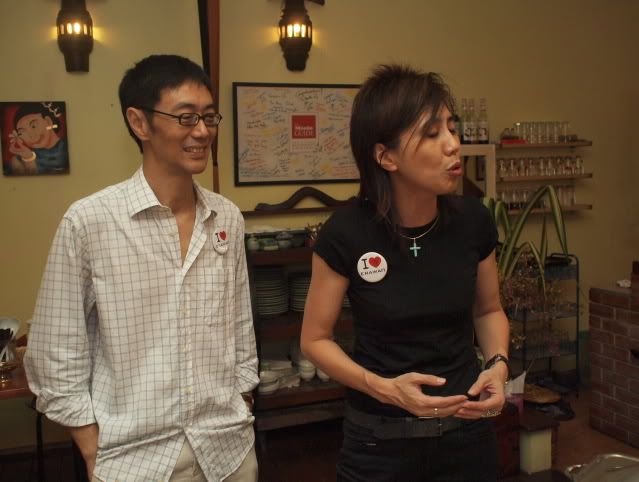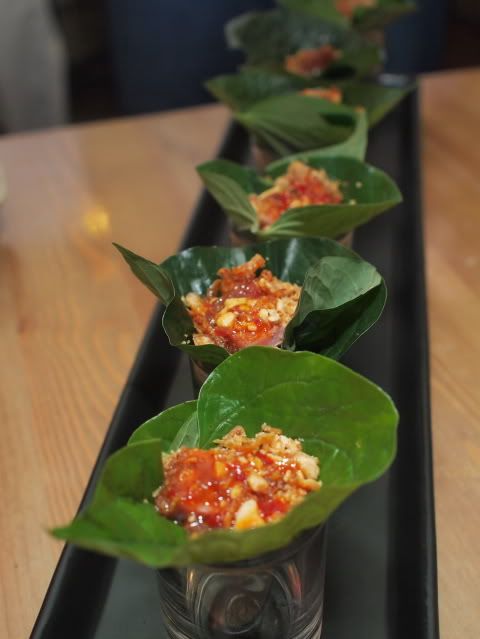 Traditional Mieng Keam served untraditionally. So elegant, and such a great entertainment idea.
Salmon Carpaccio kind of thing. Fresh, and succulent.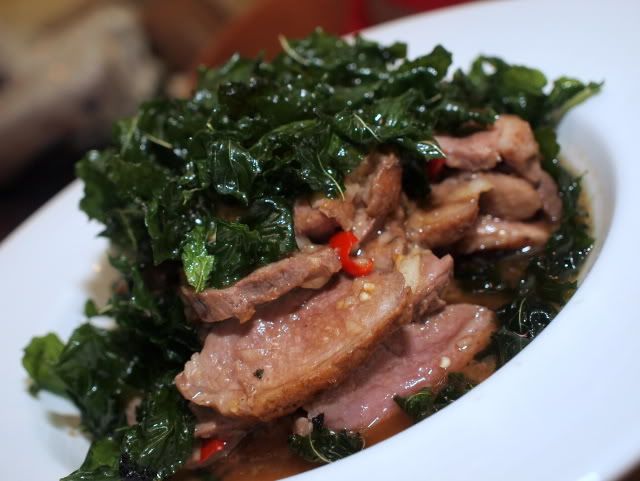 Oh, another dish to die for. Duck breast with Basil. I always thought the chinese do duck best, ...well, this is pretty darn good.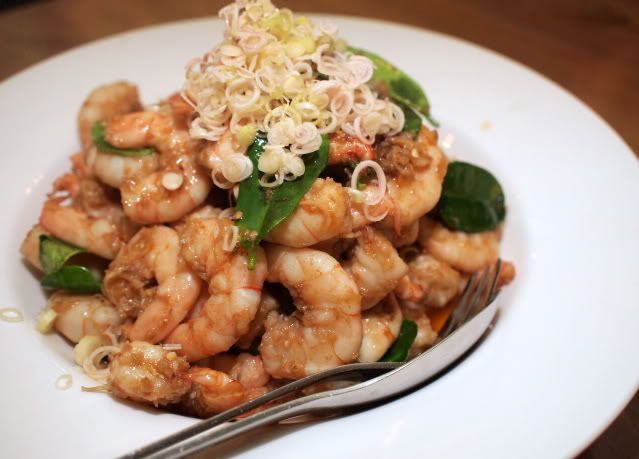 Lemongrass prawns. Like their other marine counterpart, the cockles, these prawns are equally succulent and sweet. They take great pride in sourcing the freshest ingredients, and the Chef goes to the market himself daily.
Deep fried grouper, ...almost in a dancing style.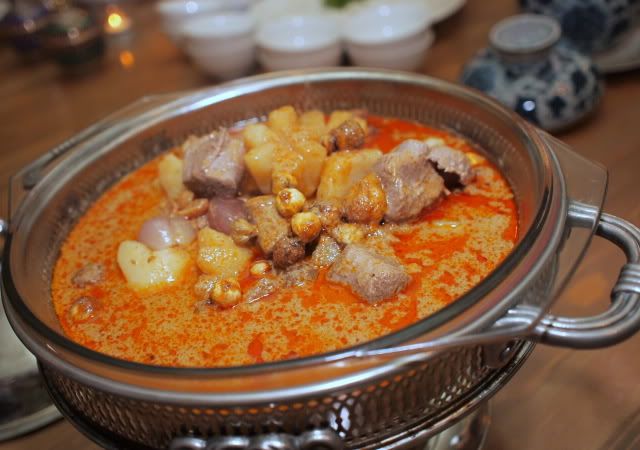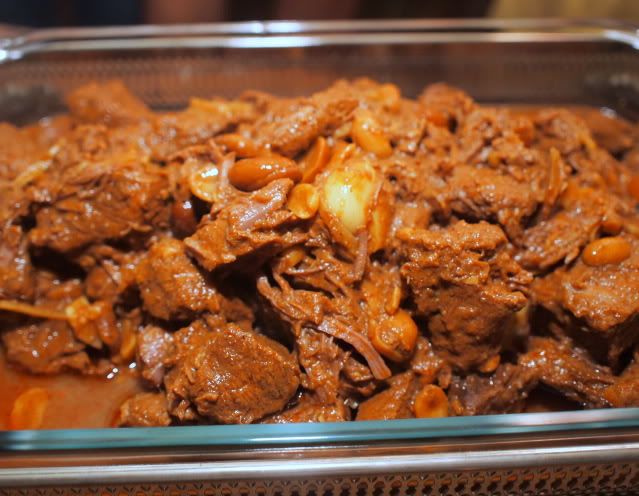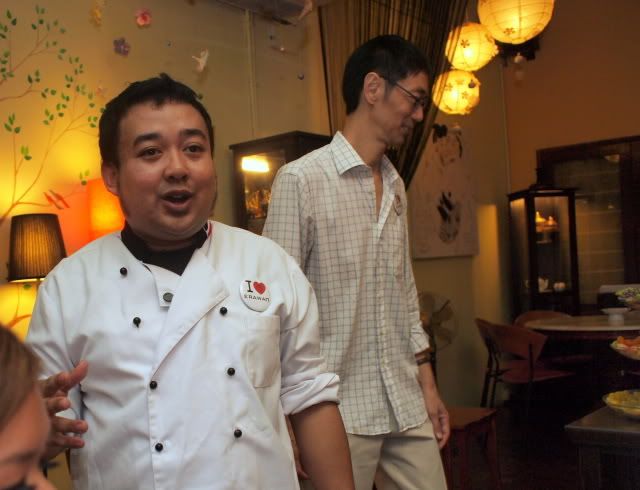 I forget the names of the last few dishes, because I was already in a food coma, and was stuffed to the brim. I blame the bread.
Seriously, I cannot wait to return here for a full course dinner. Now, the bummer is, they will be closed for renovations from Feb 15 for a month, I hear. So do call them first before heading there. Oh, in any case, you need to reserve before hand, as I don't think you are likely to get a place as a walk in customer.
Details of the renovation closure can be found
here on their website
, together with any other information you may need.