Every two months, or so, a group of old friends (by my definition, an old friend is one I've known more than a decade) get together for dinner. It is not some random event, it is deliberately and meticulously planned and thought out. The name of the group, alas, cannot be revealed, because the unilateral dictator of a chairman intends to franchise it, and we have taken oaths of secrecy. Its constitution, harsh. If you are more than half an hour late, eg, 30 minutes and 24 seconds, you are fined, a bottle worth RM200 for the next gathering. Despite the reign of a dictator chairman, the members of this secret society find ourselves drawn to the magnetism of the dictatorship, and find ourselves very masochistically looking forward to this bi-monthly event, striking out all other appointments of lesser worth.
Organising and sourcing of venue is by rotation. The organiser of the day will be under a lot of stress and duress, to ensure this covert group gets to eat in a place that is considered a hidden gem, reasonably priced, etc etc, but underlying all this criteria is, the presence of the all important spirit, known as Booze. In various forms.
This time round, the role of organiser fell to the last of the eligible bachelors in the group, Mr E.S. who we shall call, err... Coke for short. We waited with eager anticipation, as dates were bandied around, with the spate of public holidays, our schedule had gone haywire. Finally, a date was settled upon by all, except one couple, and lo and behold, Coke unveils the grandiose plans. A rooftop private dining room, catered by a group of gorgeous hot chicks, who are also part of his fan club. (apparently).
An open kitchen and four hot chefs, who looked remarkably cool, and unflustered, were preparing canapes, and starters, while a familiar looking wait staff served us FLIRTINIS, served in test tubes. Shot glasses are so yesterday, and the apparatus du jour has to be test tubes. Heck, it will be beakers and pipettes next.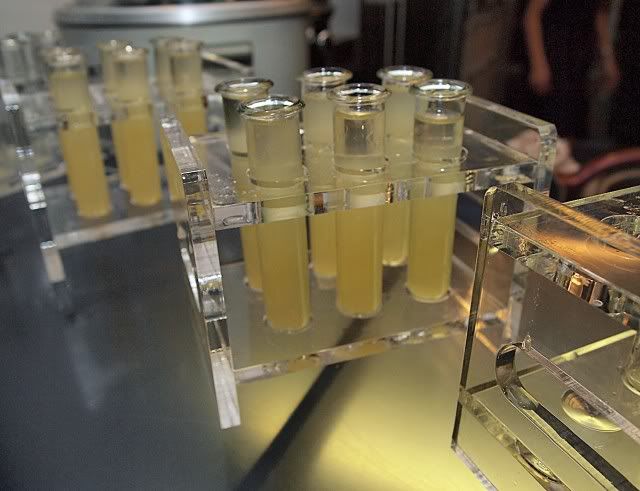 Test tubes.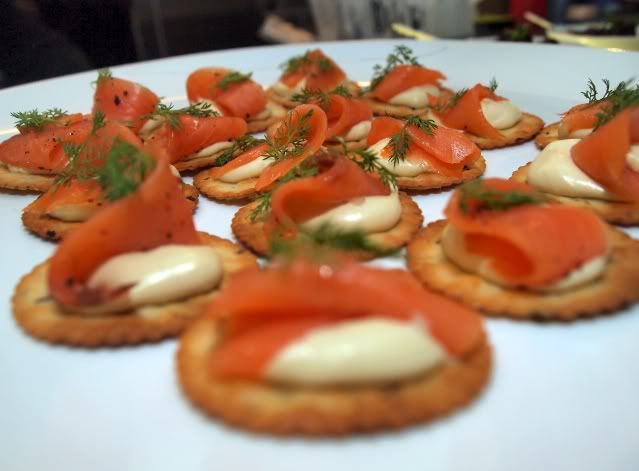 Smoked Salmon on a Wasabi Cream on Cracker. The lovely wasabi mousse gave this starter a nice kick, and went well with the Flirtinis, which incidentally, were rather potent.
Something you certainly don't get at most catered events. Spicy Sri Lankan Tamarind Pork Belly. I loved this starter. It was totally different from the usual stuff, and a perfect accompaniment to the whisky. For those who drink, that is. Not me, of course.
Very ladida table setting.
Complete with Menu, but one would expect nothing less.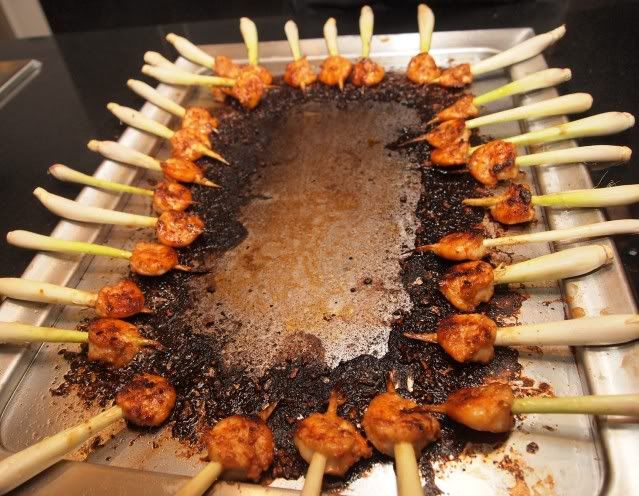 Lemongrass Prawns.... hmm, a bit short and sharp on the description. Shall we say, crustaceans skewered with a stalk of fragrant de serai...these were on the hot plate ...not served yet. Though that didn't stop me from helping myself, being the pleb that I am.
Hot hot hotttt....just like the next starter....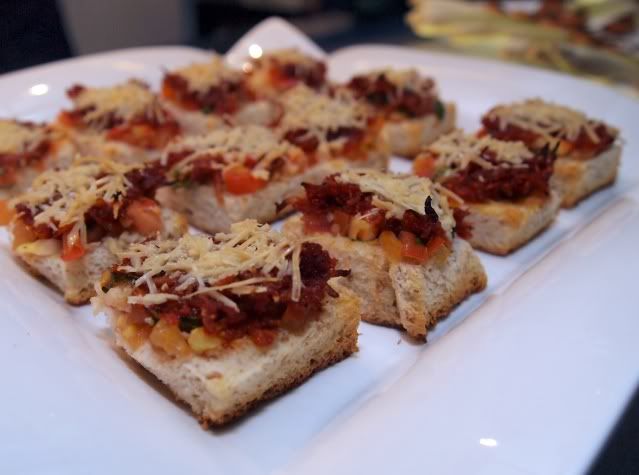 Baby Anchovy Sambal Crostini. Okay, could've done with less bread, but the sambal was aromatic and spicy. The bread however was rather good, toasted on the outside but very soft and moist.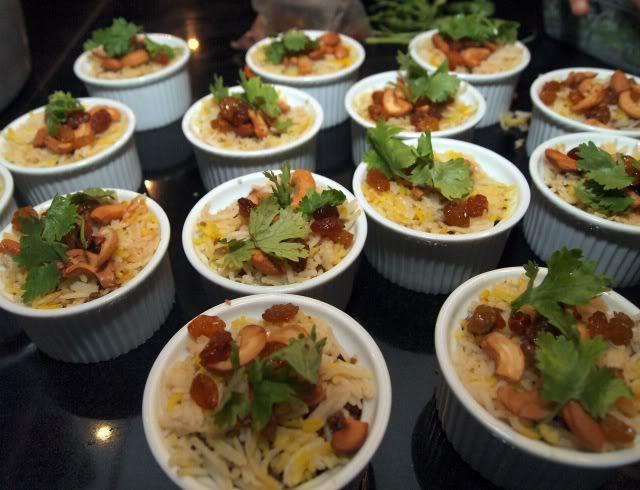 Actually, these were meant to be a surprise, but heck, it was an open kitchen.
Just look at them, cool as cucumbers. If it were me, I'd be in my singlet, sweat oozing from every pore....as I oil my way around the floor....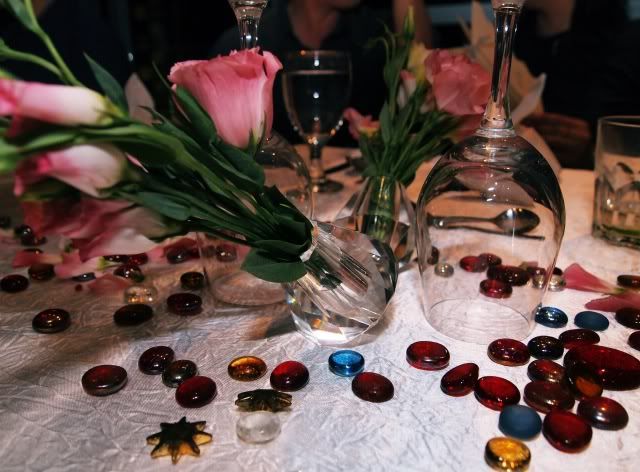 Those are not strepsils.
BACON WRAPPED SIU YOKE kebabs, and chilli pork pasta. Just in case you have a low cholesterol count, baconnnn wrapped siu yoke. I have to give it to them, the combination works. I mean, can one have too much lard? Nevah, I say. The pasta was done just right ...then again, they were under the watchful eyes of the guests, as they cooked in that open kitchen.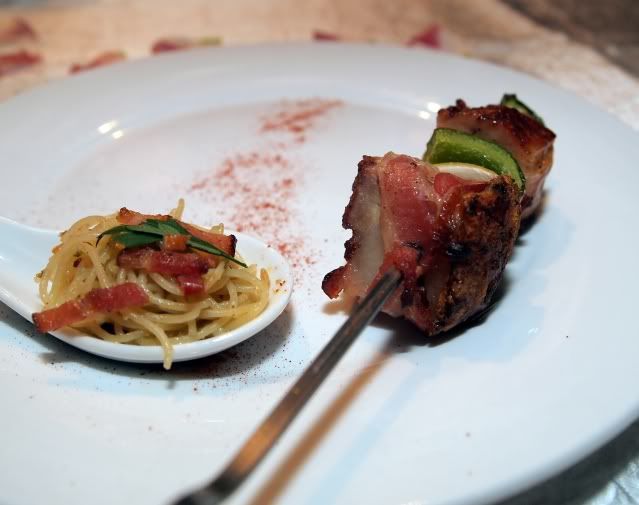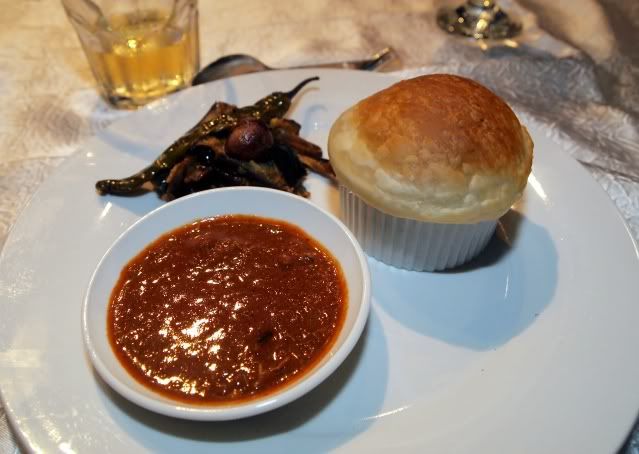 Bombay Bombshell and Eggplant Moju. The bombshell is the one wrapped with puff pastry. Upon retraction of the skin, it is revealed that beneath lies a lovely fluffy briyani rice with lamb curry at the base. The eggplant moju, like a chutney, is superb.
Dry Rub Roast Chicken on A Bed of Sweet Potato Mash with Baby Spinach and Feta Salad .....Okay, truth be told, I am so not a fan of breast meat, ...chicken breasts, that is. I am not sure what dictated the choice of breast, but I did suggest that if chicken is to be served, it is best to offer a choice of thigh or breast. The marinade was lovely, as was the mash and salad, but breast. I thump my own at the thought of the waste.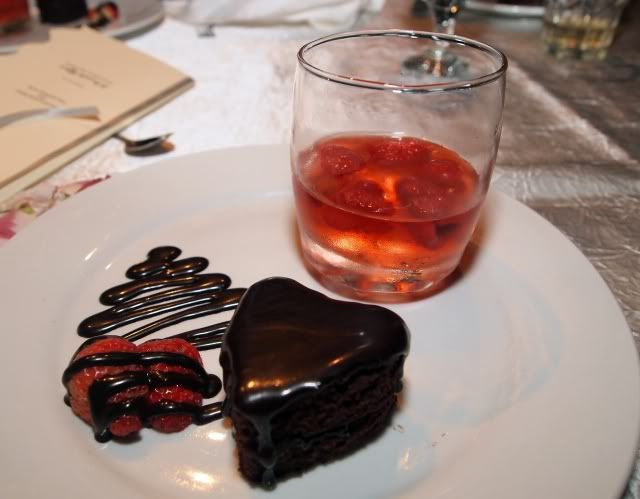 "Death by Chocolate" Cake with Slut RaspberriesIn Sparkling Mosquito Gelee...oops, Moscato.
I was quite stuffed by this time, and also half intoxicated by harmless looking test tubes. As far as I recall, the sluts were great.
Now, anyone looking for caterers for a private function, can contact A PRIVATE AFFAIR. How does it work? Well, for starters, you have to have your own venue. It could be anywhere, your house, your grandmother's house, your apartment rooftop. Obviously there is a minimum charge, they can even cook for two, apparently, if so required. Aww, how romantic. So not me.
Contact : 016-2580500 - Ms Chand.
Website:
aprivateaffair.webs.com
Incidentally, the hot chick chefs are doing this as a hobby, as and when they can, so it really is the luck of the draw if you CAN even engage them.
I can't wait to attend another event catered by them.