To be honest, before receiving the invite from Alice George PR Company, for this AFC event, featuring a special media preview session with Malaysian Celebrity Chef Malcolm Goh and Malaysian Talent Tham Zher Peen, the hosts of AFC's Back to The Streets, I can't say I've actually heard of Malcolm Goh, so I actually googled him to find out what it's all about. I was quite fascinated with what I read, so I thought yes, I should skip work for the afternoon and make my way to Berjaya Time Square for the privilege of meeting this celebrity chef.
Photo courtesy of AFC Press Kit
One of the highlights of the event was a sneak preview of the first episode of BACK TO THE STREETS, where,as secret agents, Malcolm and Zher Peen go undercover to the streets of Kuala Lumpur, searching for local culinary delights where they then revamp inspiring dishes from the streets of Kuala Lumpur, working together with students from Berjaya University College of Hospitality.
It's always quite fun visiting this Berjaya University College of Hospitality. It reminds me of my halcyon days, when young, innocence, bright eyed idealism ruled the day, and looking at the young students with eager hunger to learn the tricks of the trade. Back in my days, culinary schools weren't even an option in our career paths, or who knows, I might be a chef by now. But honestly, I have great admiration for chefs, slogging away in hot kitchens, on their feet all day, it's quite a tough life.
The event's emcee was Daphne Iking, and and the co founder of AFC, Maria Brown, also said a word or two, and heaped praises upon Malcolm Goh, and how he was a natural, etc etc and so forth.
The preamble leading up to the introduction of the Chef himself. Due to unforeseen circumstances, the co-host of the Back to the Streets program could not make it. I have to say, Malcolm has a very likeable personality, like someone who is actually quite real.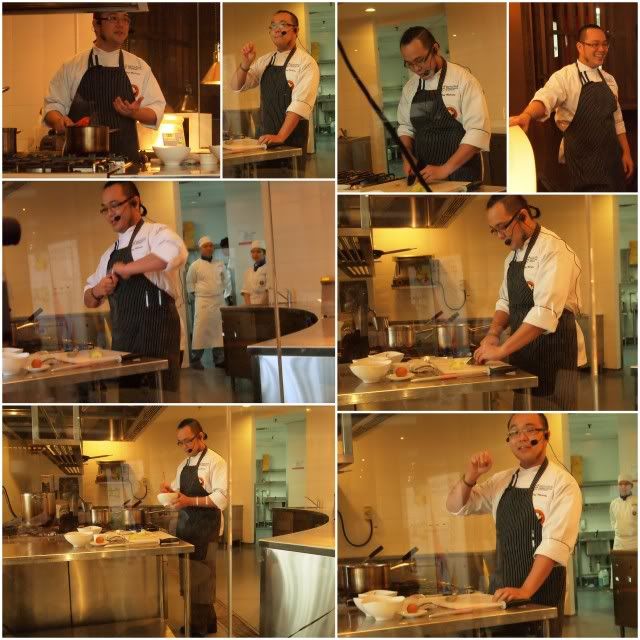 He does a brief demo on a LENTIL SOUP WITH POACHED EGG recipe, which involves cooking the egg sous vide style, some fancy smancy method where the temperature is kept constant at 63C to yield the most beautiful poached egg one can ever hope to lay eyes upon.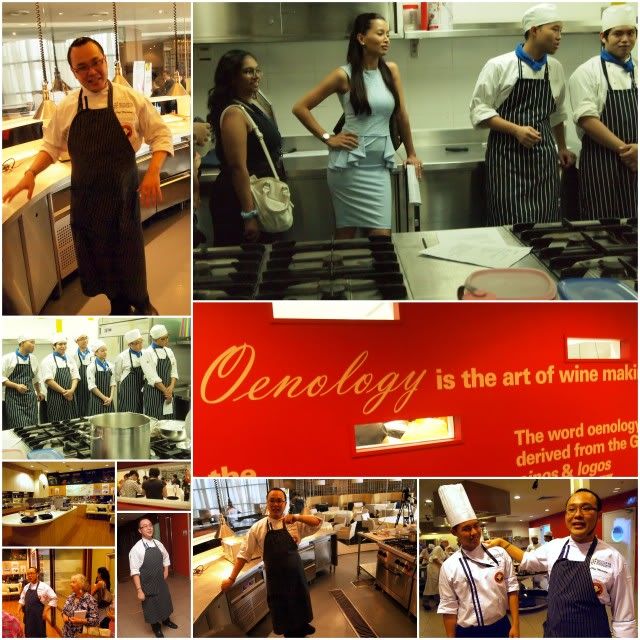 After that, we are given a tour of the university culinary school, from the oenology department (wine! ooohhhh, what fun..) to the pastry kitchens to the serious cooking place. Students were dotted around everywhere, looking very chef like in their uniforms.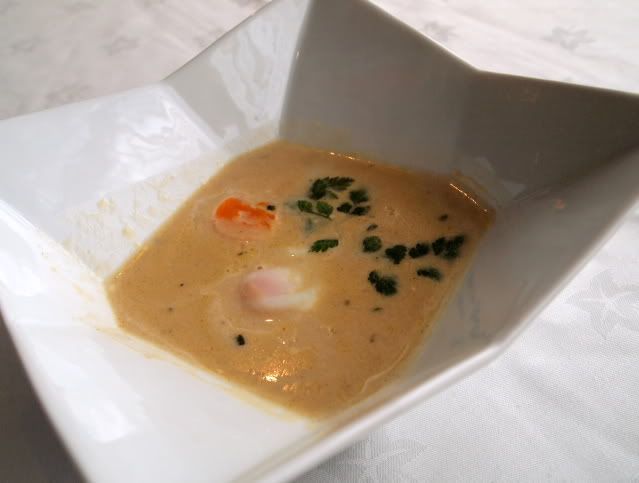 Finally, we get to sample the Lentil Soup With Poached Egg, along with some other finger food.
To end it, we were given a preview of the first episode of Back To The Streets, where Malcolm and Zher explore beef noodles, roast goose and using that as their muse, create something totally new in the Berjaya kitchens. Stay tuned to AFC to catch these fascinating Malaysian based episodes.