Do you realise that in KL, there is a dearth of restaurants housed in nice surroundings, as in, stand alone houses, or lovely old colonial bungalows. I feel for the restauranteurs, who attempt to set up establishments like that, to their peril, because of the changing whim and fancies of the powers that be. I mean, honestly, look at ONE BANGSAR, a marvellous concept, if you ask me, and should have been totally accorded commercial status. But nooooo, barely a year after some had ploughed money into extensive renovations, their licenses were all revoked, rather cruelly if you ask me. Yes, it is difficult being a restauranteur in KL.
So, when a well kept hidden gem, exists, well within the grounds of an entire non residential area, it is nothing short of a miracle, almost a fairy tale, in a land far far away. And well within that YTL Kingdom of Sentul West, and the KLPac area, lies SAMIRA BY ASIAN TERRACE. It honestly feels like a different world out there.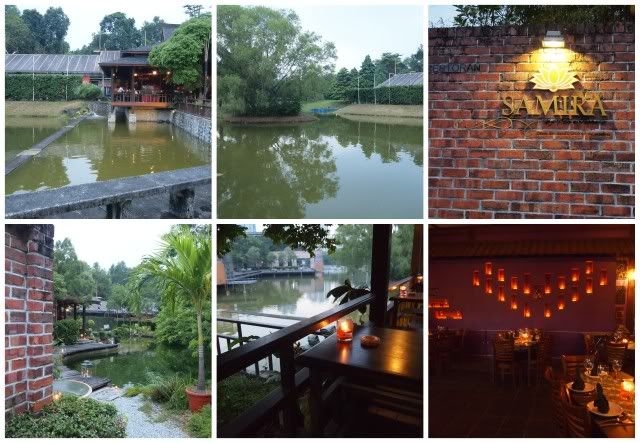 Thanks to an invitation by Ken (Food Point of Interest) and Bok (Taufulo), we were shown extreme Thai hospitality by Joanna, Marketing & Operations Director and Josephine, Business Develoment Director of Samira By Asian Terrace. The ambience of this place is really one aspect that is a great selling point.
They are launching a new Vietnamese menu, in addition to the existing Thai menu. To start, we had this yam salad, which was quite special. The yam strips are fried to almost crispy texture, and amalgamated with the other tangy vegetables, it makes for a refreshing starter. Now this was something new to me. And at my age, that's quite rare.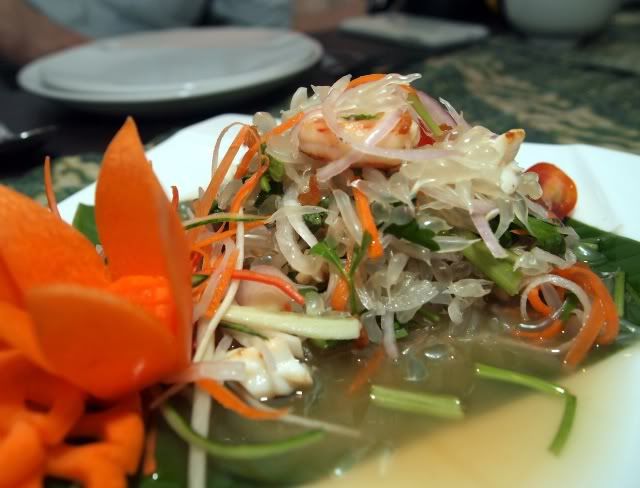 Thai Pomelo Salad. Loved the fresh squid and combination of sweet, sour, hot, that always characterizes the thai type salads.
They also have a comprehensive cocktail and mocktail list. Initially, being a bit shy and "hak hei", I only ordered a soft drink, which was Ginger & Lemongrass, which I am sure is designed to expel wind. Then the orders for booze started, so I wasted no time and shamelessly ordered a mojito. Which was very good.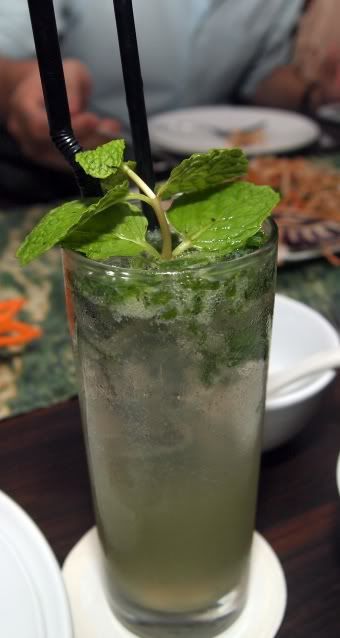 Their signature cocktail, which is definitely a chick's drink is labelled Inner Sense. It contains eggwhite, and grenadine I think. None of these colorful chick drinks for me thank you.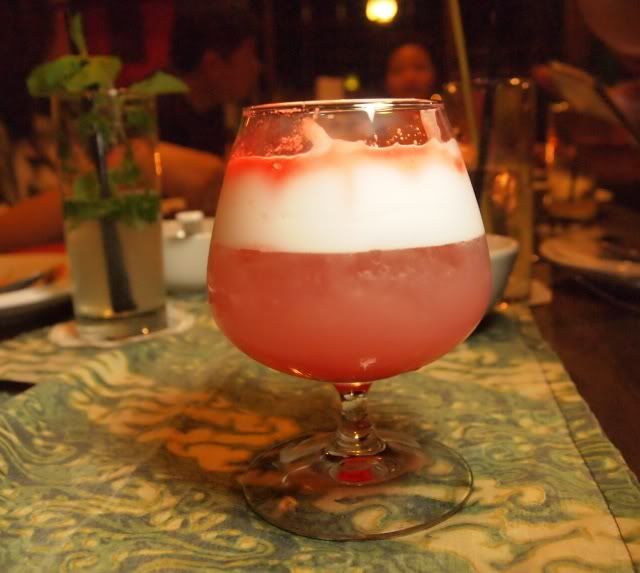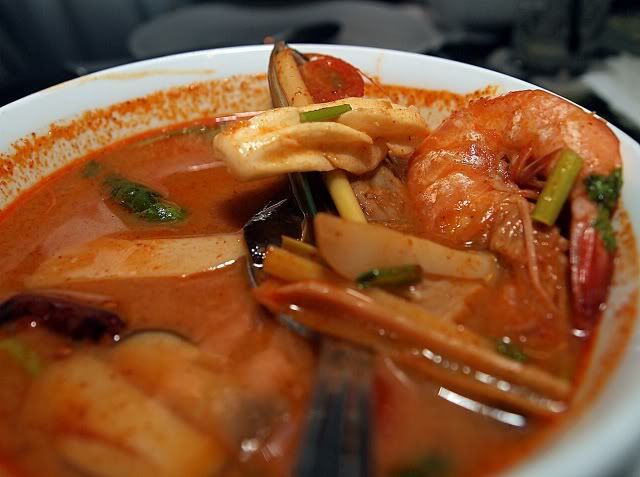 Traditional Thai Tomyam and Seafood (RM30). A thick broth, that made me wonder if there was coconut, but there wasn't. I liked the sourness and heat of the dish, but it wasn't piping hot. Or maybe because by the time the bloggers were done photographing the soup, it had cooled down.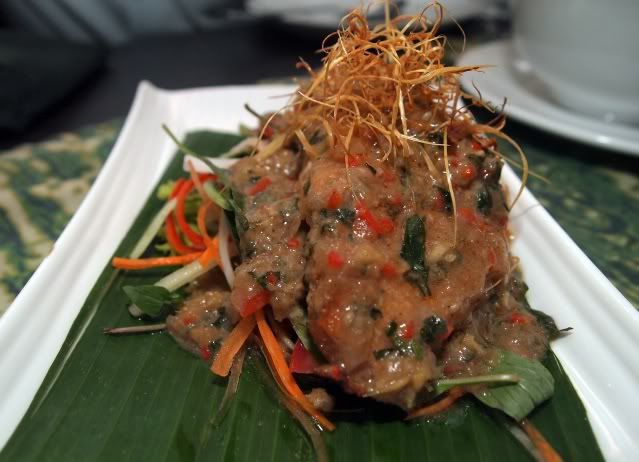 Grilled Norwegian Salmon With Basil Leaf. Another rather unique method of preparation, and I believe is more Vietnamese than Thai. Surprisingly, despite being embalmed in sauce and herb, the salmon was not overcooked, and remained moist.
Southern Thai Masaman Curry With beef. This dish is really the perfect soul mate for rice and rice lovers. Not very spicy, if compared with the other Thai dishes that are chilli padi minefields, and bordering on sweet.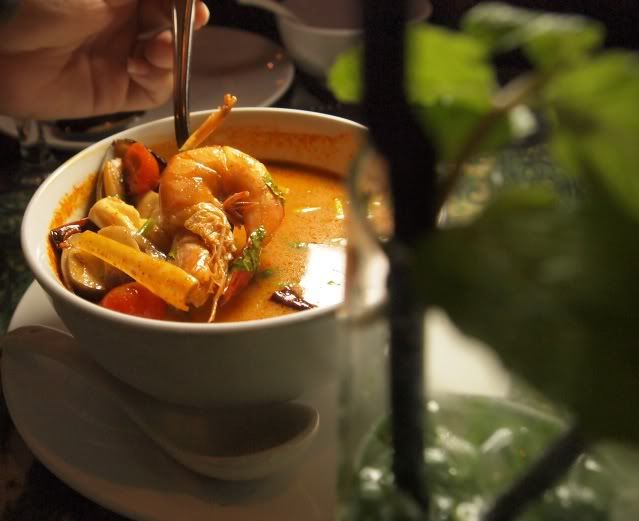 Seafood Tomyam, Mojito, in that setting, made me almost feel I was on vacation.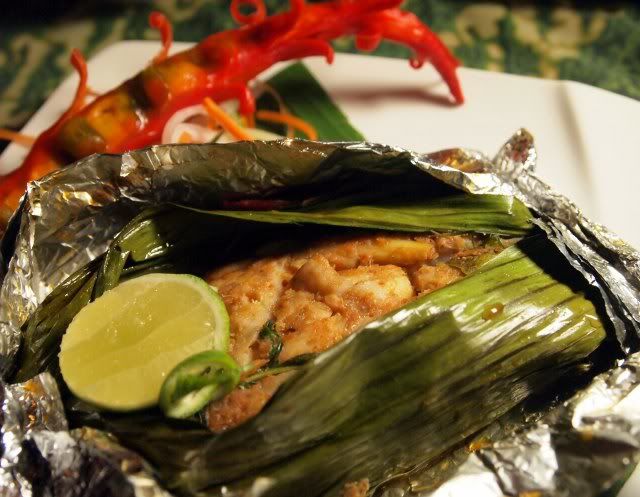 Grilled Fish Fillet in Banana Leaf...almost like an otak otak. Probably the Thai equivalent.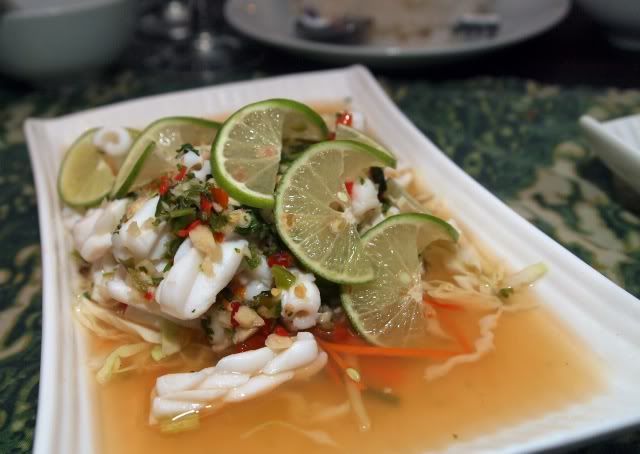 Steamed Squid with Chilli and Lime Juice...sounds simple enough, but the combination never fails. Their squid supplier seems to be quite good, as the squids we had thus far were all very fresh.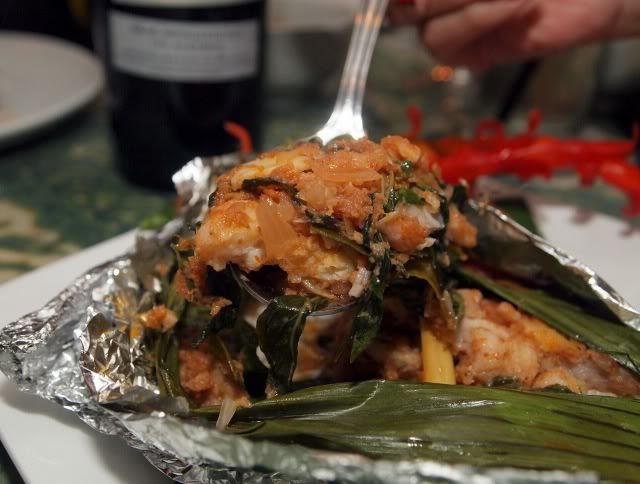 A closer look at the Thai otak otak.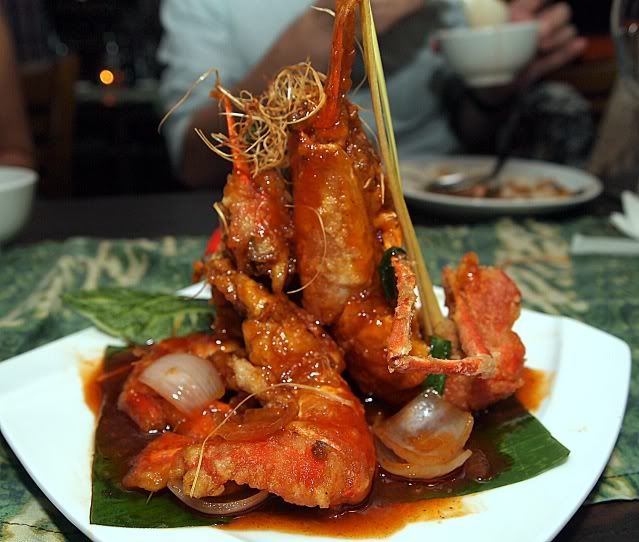 This must be the star of the show, River Prawns with Lemongrass Sauce (RM35). However, as with prawn dishes, some prawns were better than others. Gasp, did I just reveal I had more than one? I had more prawn than brain. No, I had two, but the second half was better than the first. Much like a lot of musicals.
The first of many encores, not included in the original menu. Pineapple fried rice. A hint of curry powder and tumeric. Pineapples really do make a nice receptacle for food hor.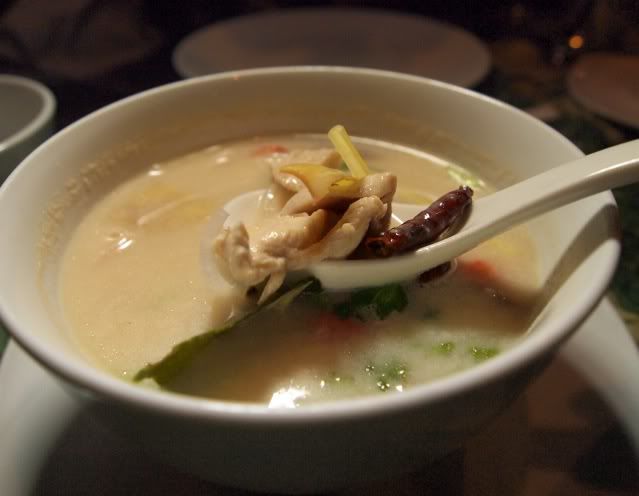 I was obviously with a table of hungry youth, for they ordered more items....like this Traditional Thai Tom Kha with Chicken. A tom yam with coconut, or something like that. I refer the non coconutty version.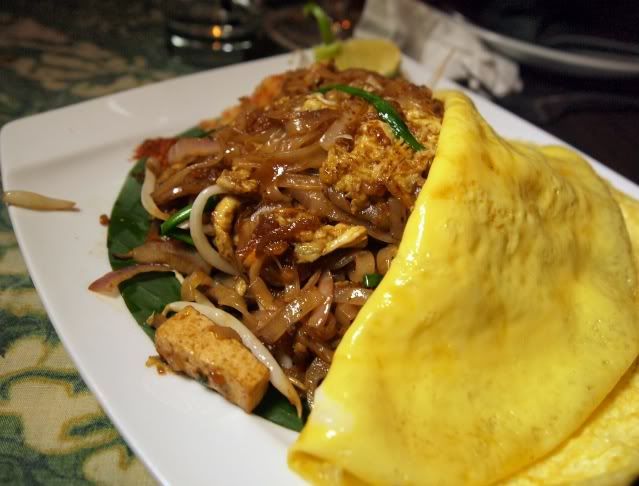 The ubiquitous pad thai. Basically fried kueh teow, Thai style. Love the large omelet that blankets the dish.
Another very unique dish, deep fried catfish. The meat of the catfish is shredded finely and battered and fried, ..so much so, if you didn't tell me, I thought I was eating batter.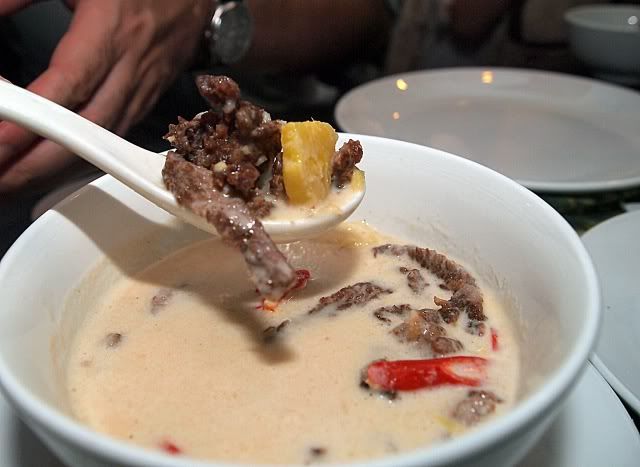 Pineapple Lamb in Coconut Gravy. Another non spicy dish, despite the crimson chilli floating around. I also found this dish a bit too sweet for my liking.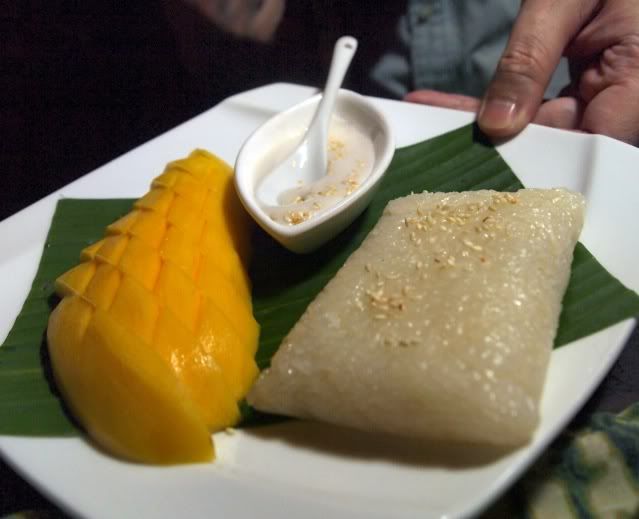 There came a time when dessert and dinner overlapped, because of the sheer number of additional dishes that were ordered. Mango with Sticky Rice. Alas, these additional dishes must have caused the kitchen to run out of coconut milk, so I couldn't get my red rubies.....nor could Isaac Tan.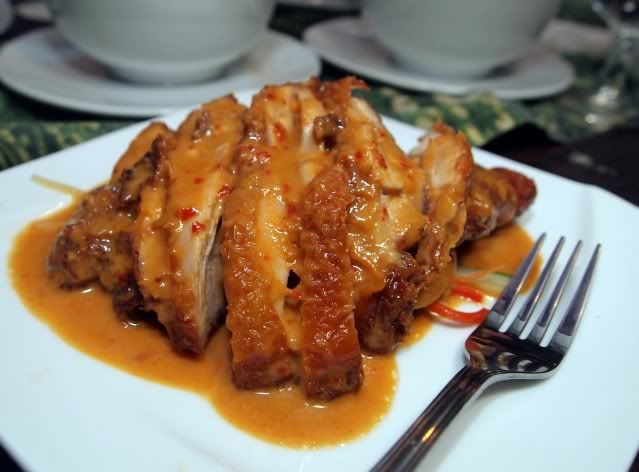 Spicy Chicken With Chef's Special Sauce. I was very stuffed at this stage, and was lapsing into a food coma so have little recollection of how this tasted. In addition the host also served a lovely Chilean red, called PRIMUS.
Okay, to get there, turn into Jln Strachan from Jln Ipoh, (the way to KLPac...for the more ahem, cultured), and justtttt follow the road. Until you get to KL Pac. Ha, there la. On the other end.
If you go on Thurs, Fri or Saturday, best to make reservations, ESPECIALLY if there is a show going on in KLPac, as the place does get crowded.
SAMIRA BY ASIAN TERRACE
Lot 268 Sentul Park
Jalan Strachan
Off Jalan Ipoh
51100 Kuala Lumpur
Tel : 012-9213880.