Tunes from the Musicals....Food Glorious Food, from Oliver, and "Do You Hear the People Sing, Singing the Song of Angry Men, it is the music of a people who will not be slaves again...." are probably the two most apt songs over the weekend.
Life can be SO stressful when you have to use up a free stay voucher, coz you subscribed to one of the hotels privilege cards. So, we decided, in very refugee like style, to utilise the voucher to the max, and decided to let the 3 older kids "rough it out" by sleeping on the floor etc. (My MIL assumed that I would sleep on the couch and let the kids sleep on the bed....PUHLEEEZ, hallo!!!).
Anyway, I'd hardly call it roughing it out, even if they HAD to sleep on a hard floor, with sleeping bag and exercise mats.
It's strange how from the common carpark foyer, the two doors lead to completely separate worlds. Left to KL hilton, giltzy and glamorous, Right to Le Meridien, ....hmmm.....
Anyway, as my Starwood card is also about to expire, I thought I'd dine at Prime. (Le Meridien) However,
Paprika's
glowing review of Latest Recipe suddenly came to my mind, like a bulb in the imaginary speech bubble of a cartoon character. So proceeded with caution, coz I really am NOT a buffet fan, and have declared no more buffets till 2010, or the next change of PM, whichever is earlier. A cursory inspection around the buffet area revealed that it was actually quite tantalising, so I decided to give Paprika's review a try. (and made sure I subjected her to pressure by sms-ing her that I was there at HER recommendation).
I was rather pleased with the freshly cut sashimi, thought it was a mistake ordering the tuna sashimi, coz that was rather bland and tasteless. The salmon sashimi was fresh and fatty. The prawns were juicy and fairly sweet.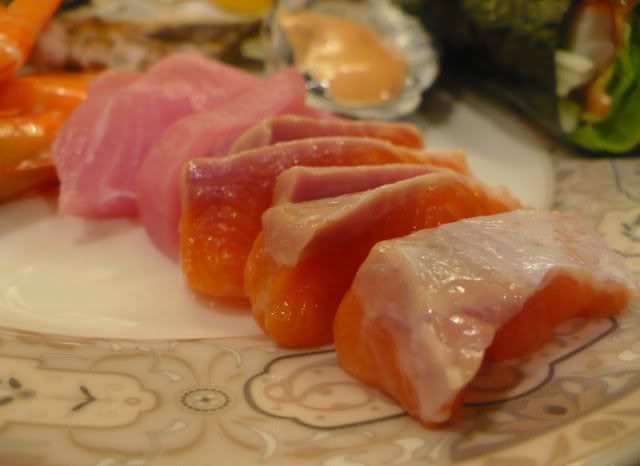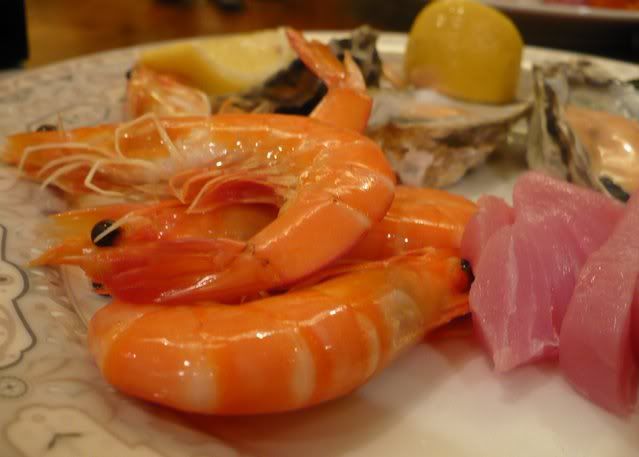 The freshly rolled california roll was made better when I embellished it with a piece of sashimi salmon. One tries not to get too full on rice and carbs in a buffet.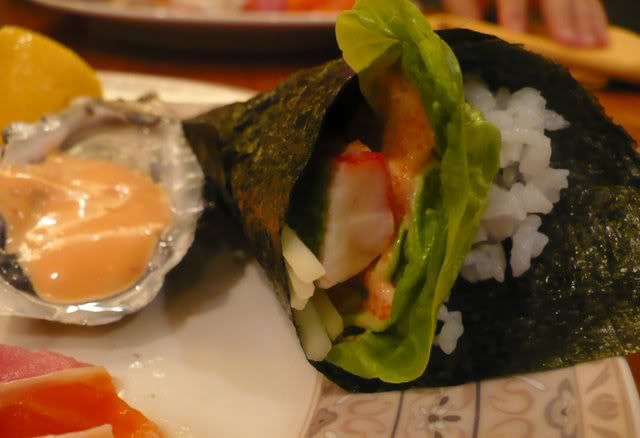 According to Paps, the must have was the beef teppenyaki and scallops. Boy was she right. The beef was supremely tender, and absolutely delicious. So were the scallops, which were fresh, not fishy, and swimming in a thick creamy butter sauce. Actually, that sauce is a liability, cos it really fills you up. I would ask for it sans sauce next time, or sauce separately. But let's not get saucy at this point.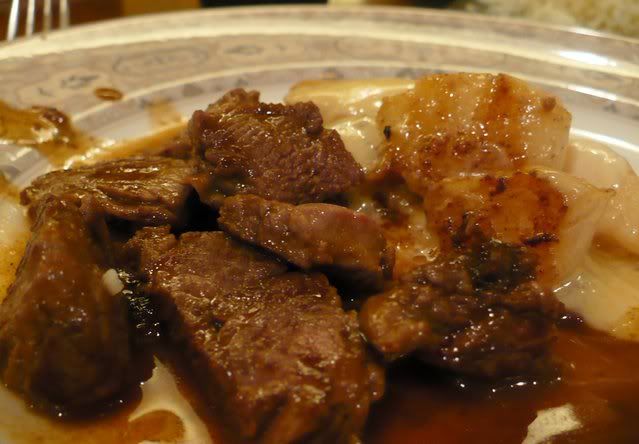 Despite my policy of no rice and carbs during buffets, nothing appeals more to this hainanese heart than fluffy yellow fattening artery clogging chicken rice. I had to try it. The impressive array of dipping sauces was also tantalizing. The chicken, and I think some duck, (its a foul feeling of inadequacy when I cant tell my fowls apart) complemented the rice well. Anyway, it was only 2 spoonsful of rice.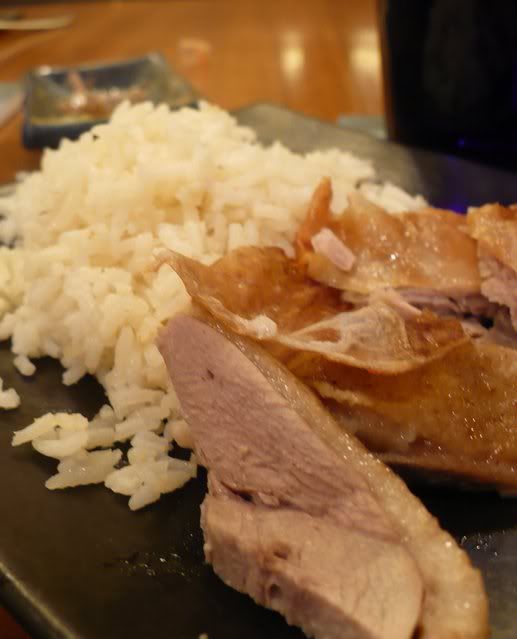 Another much raved about thing to the extent of conjuring up non existent words like "fanbloodytastic" by Paprika was the Indian food buffet. Indeed, an impressive cornucopia of Northern indian delights, from tandoori to other stuff I can't pronounce. Thick yoghurty coconuty sauces with swimming meats that induce drool and drip.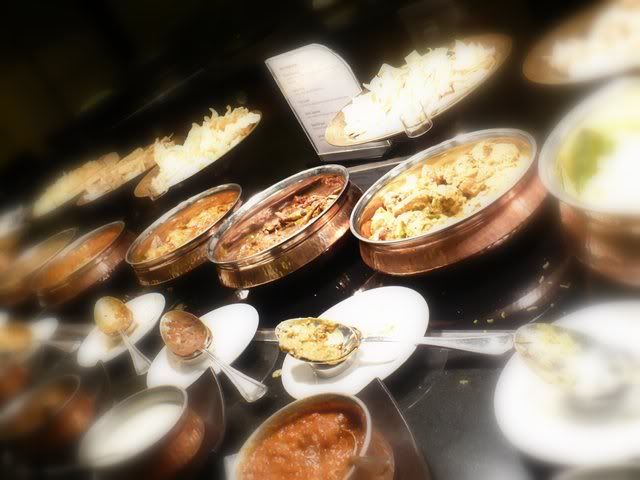 Another word that makes me delve greedily into a dish is saffron. It has the same pavlov reflex as the word LARD. But only coz it's the most expensive spice in the world. (not counting the one in DUNE folklore). However, I don't know how much saffron actually goes into briyani rice, or if its just a euphemism for the less glamourous cousin, tumeric. Nevertheless, the briyani was LUVERLY, fluffy and light, flavourful without being oily to the point of "GHEE WHIZ!"...the curries were great as well, and went perfectly with the rice. With more ground to cover, I maintained self control and did not go for seconds.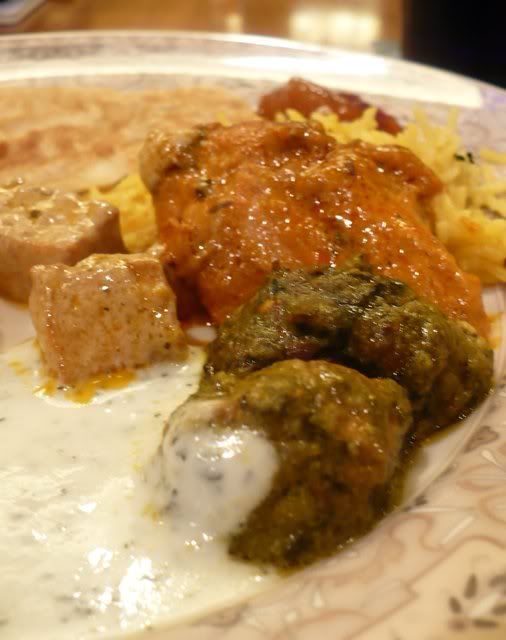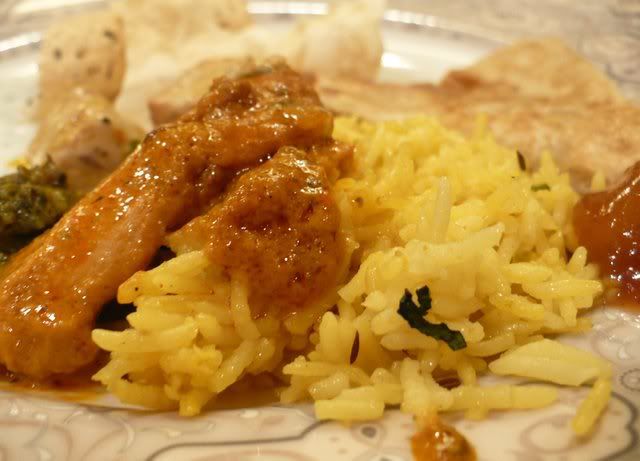 Teppanyaki ice cream was the other thing that piqued my interest in Pap's blog. Anyway, it wasn't fried ice cream, but rather, "fried" on a very very cold plate, -20C, ..... not sure why or for what purpose. You can choose from a dizzying array of condiments, nuts, chocolate rice, sprinkles, whatever tickles your fancy. In cases like these, always aim for the expensive stuff, like walnuts, pecans, almonds, pistachios, ..... not chocolate rice.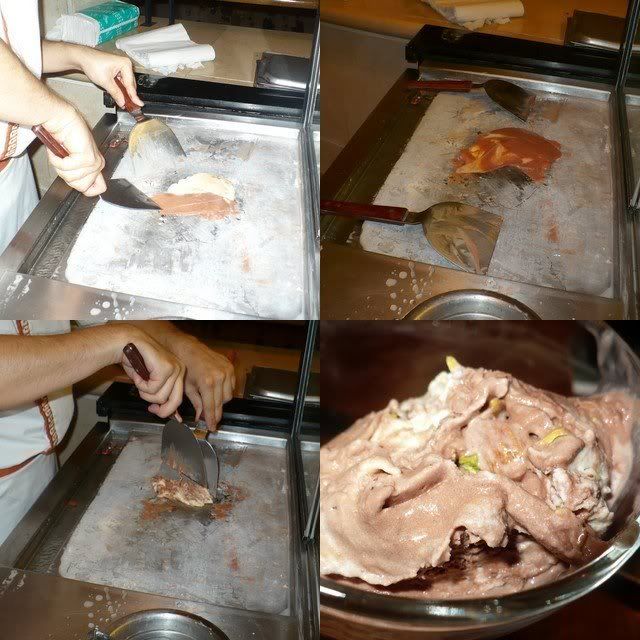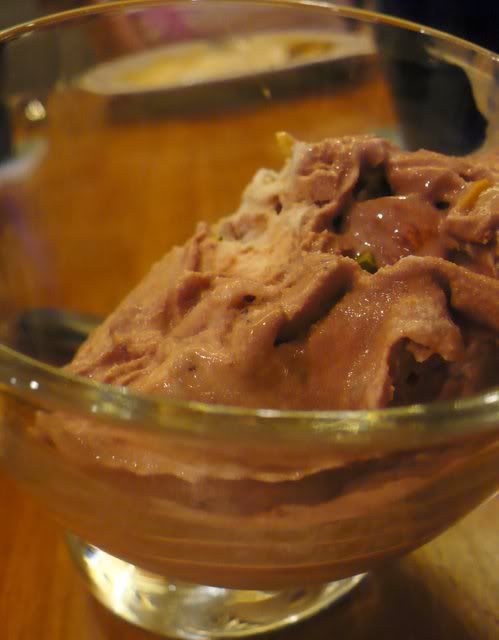 Sad to say, the ice cream was the highlight. The dismal array of cakes made me wonder why serve such good food and end with such a pathetic whimper. I found nothing of interest...the apple strudel pastry was awful and dry. Like layers of blotting paper. Another non descript layered thing, which tasted like thick wantan skin.... awful.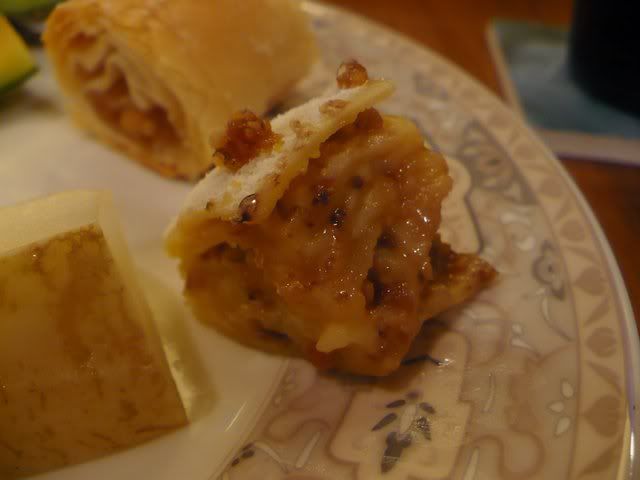 Knowing that a fresh fig cost like RM6 each, I had to try this one that served a whole quarter of a fig. Okay, I concede I don't know what is so appealing about a fig. And so figging expensive too. The jelly like thing in the cup was largely forgettable.

Verdict, even going there for the indian, and teppenyaki alone would have been worth it, at RM88 ++ per head. Lesser variety than say Lemon Garden, but generally good quality stuff.