NEWSFLASH
, Recruiting players:
If you know what game this is, and are keen to play, let me know, we are always on the lookout for more legs.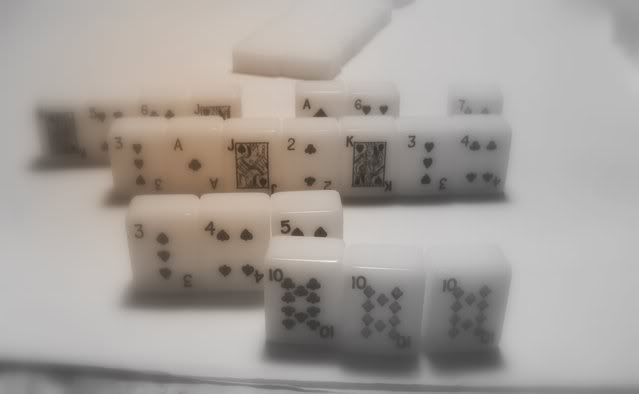 Alright, I know these may look like turd, hence I juxtaposed the very expensive bar of Lindt chocolate next to it so that you know it is NOT turd.


Woman I am Scared Of is in town for an unscheduled thingie, and we met up last night for a quick pot luck at Godma's house. (the kids' Godma, not mine). I was tasked with vegetables and dessert.

It being a working day and all, I was feeling kinda lazy, and also, Godma's palate is very particular, this cannot eat, that cannot eat, anything cheesy was out, so I thought I'd make Nigella's Totally Chocolate Chop Chip Cookies, (from Nigella Express, which incidentally, has started airing on Travel & Living on Fridays, 8.30pm, and she is looking even more buxom and bustier, if that is even possible. Any more, she might topple over).

The first time I made them, the texture was a bit disappointing, as they didn't harden, putting paid my theory that cookies are soft when hot and hard when cold. The kids loved it, coz it was like a cross between a cake and a cookie, but I generally prefer my biscuits defined, as in crunchy.

So, here's the adapted recipe that seemed to work quite well.

125gm dark chocolate (melted)

125gm butter
75gm brown sugar

160 gm flour (increased from her original 150gm)
30 gm cocoa
1 teaspoon baking soda

1 egg
1 teaspoon vanilla essence/extract

200 gm chocolate chip
handful of crushed walnuts

1. Cream the butter and sugar. ( I used the Magimix for this, take note, GFAB)
2. Pour in the melted chocolate, (cooled), and pulse until mixed
3. Add the egg and essence. Pulse again
4. Pulse in the sifted dry ingredients. At this point you should get a cohesive cookie dough that looks like very hard frozen dark chocolate ice cream.
5. Pulse in the nuts and choc chips.
6. Scoop out (using an ice cream scoop) levelled spoons of dough, onto a baking tray.
7. Bake at 180C for 18-20 minutes.

Serve with chocolate sauce and vanilla ice cream......making your own cookies and cream ice cream. Divine.

This recipe makes about 15.