Actually, I was going to post my latest endeavour by that buxom black haired houris, with ample cleavage and british accent that can send shivers down your spine. Kylie Kwong also sends shivers down my spine with her accent, but that's accompanied with goose bumps and an inexplicable urge to throw something at the tv.

The latest endeavour being TOTALLY CHOCOLATE CHOCOLATE CHIP COOKIES, an orgasmic something something disguised as a cookie, coz it contained like 300gms of 70% dark chocolate, AND more chocolate chips....

BUT, a distant acquaintance remarked that my last picture of the mint choc chip cookies resembled turd. I would have dismissed that, had it not been for the collaborating opinion of Lyrical Lemongrass, the golden standard by which I measure my thing by. Here is her sms:

Luckily, I don't have an SLR, so I can still blame my tools for my poor picture quality.

So instead, I shall just share my lovely weekend dinner with all, as it was my MIL's 70th birthday. The Equatorial Bangi is like 2nd home to the IL family, and it would have been UNTHINKABLE to hold an important dinner like this somewhere else. In any case, I have no complaints, for the food here (for us anyway) is always par excellent....

A well meaning friend of the MIL's said these occasions MUST begin with longevity baos. Wife warned me, "there's more food after the baos so dont fill yourself on those". Just how duhh does she think I am. Having said that, after having to eat up the balance of the kids half eaten baos, I was pretty full after the baos.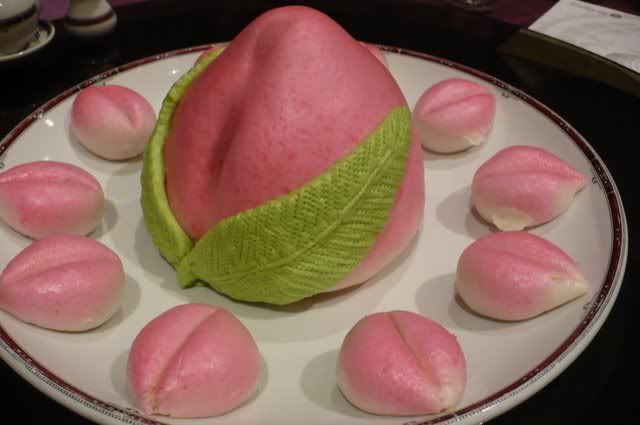 Longevity Buns. I dunno what the connection between peaches and long life is, but who are we to question age old oriental tradition.



Then came the 3 seasons, I guess winter was omitted. When planning the menu, I had thrown in my 2 sen worth to say skip this dish, which I almost never really like, anywhere. More often nicer to look at that to actually eat, this course takes up precious stomach space that could well be utilised with other dishes. The same can be said at wedding dinners, when the 2 hour wait for the entrance of bride and groom makes this, by default, the most popular dish.





Our seasons were already pre apportioned. They comprised some fish cake thingie, cold baby octopus with jelly fish, and a fried tuna yam puff.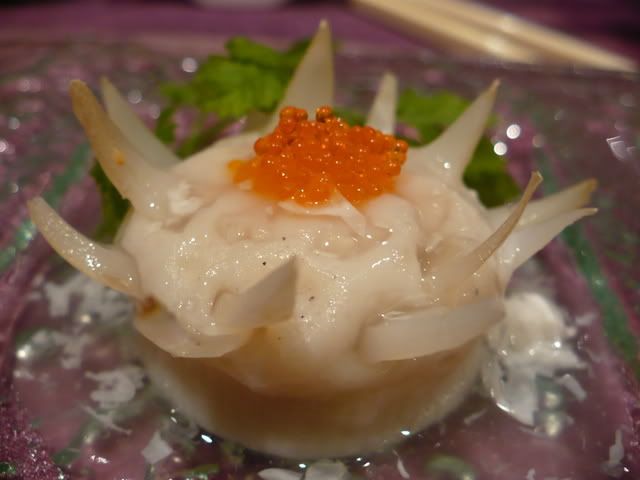 Such care into decorating the fish into a lotus flower.



Next up was the ginseng soup with black chicken, fish maw, scallops, abalone..... oh, the chilli padi is my own addition. I must have chilli padi with my food. Whole chunks of dried scallops, in a gorgeous black chicken broth, that really WOULD be chicken soup for my soul.... it's like a mini "monk jump over the wall" without the "payer hitting the ceiling" when they get the bill.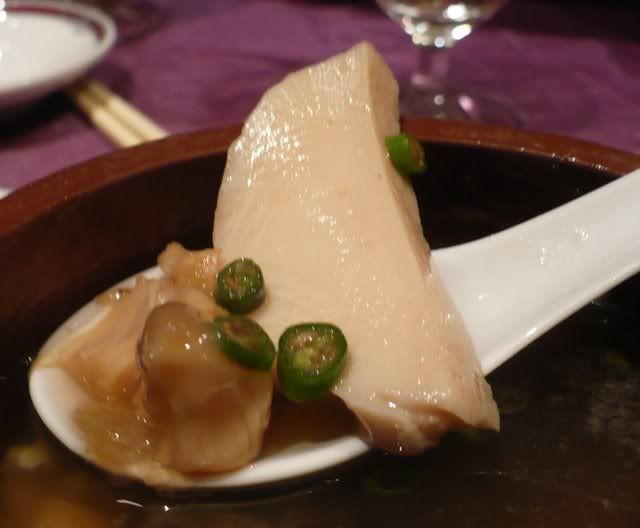 Adolescent lobsters, probably hanging out at the Beach Club, having an oyster shooter or two before they ended up stewed in superior XO stock with chinese wolfenberry. My personal opinon is that Chinese do lobster the best way. All that thermidor and mornay stuff just overpowers the lovely taste of lobster.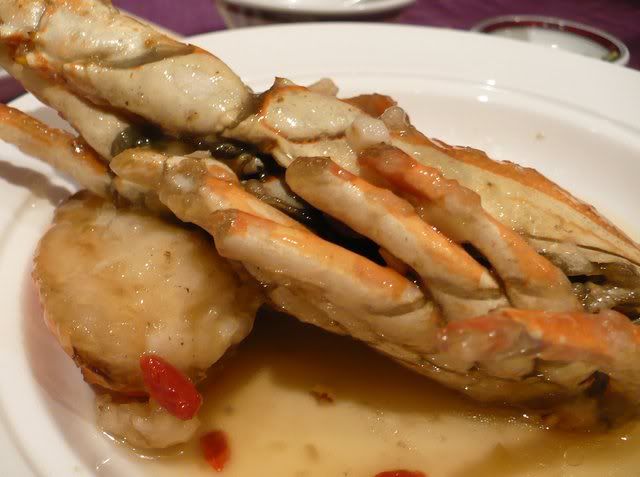 Honey Glazed Cod. I'm not a cod fan. Nor of their liver oil. Memories of Scotts Emulsion being forcible shoved down my throat with threat of cane in hand.....does nothing to make me feel any affinity for this deep sea fish. Fortunately, I have offspring that lurve Cod, and can find space to stuff two slices of these into their stomach. A debate ensued as to what herb that was embellishing that dish, as I silently rolled my eyes, and muttered, "Hey, thyme's up, everyone who said ROSEMARY or OREGANO or SAGE is sagely wrong".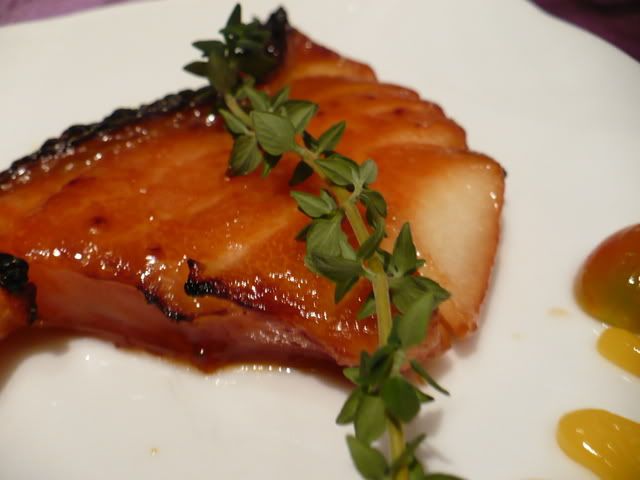 By this time, the soup was helping the longevity baos expand like a horrified puffer fish in my stomach, and I was feeling very full. Luckily, we were already onto our vegetable dish, braised mushroom with more scallops and more abalone. Initially they thought it was abalone mushroom, but nope, it's the real mccoy.
And finally, the longevity noodles. Lovely flavour, and certainly very long.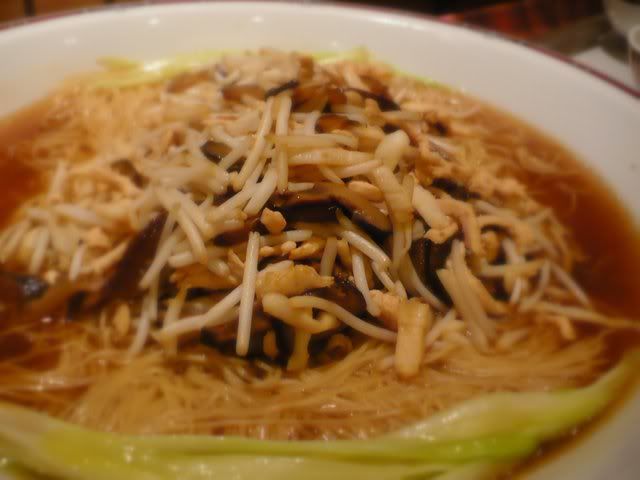 What's that proverbial saying, there's always room for dessert? Yup especially when it's my favourite durian pancake, (have mentioned this before in my CNY post), but especially good this time, was the avocado kataifi. I haven't heard this word kataifi before this year, maybe it's the culinary word of the year, but I gather it refers to that fried meehoon-ish thing that wraps your filling. The first time I'd heard of it was at friend;s birthday at
Max Kitchen
.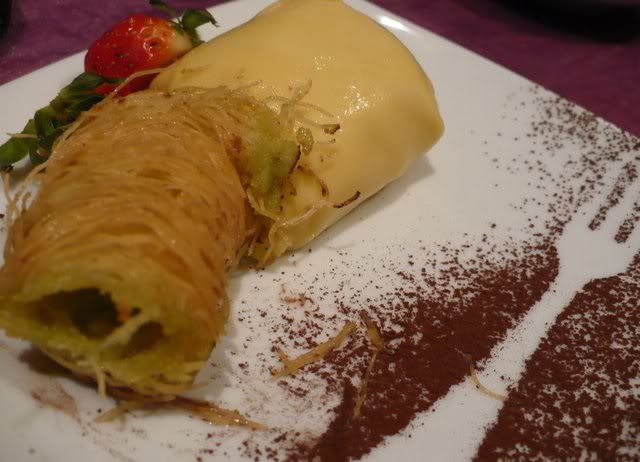 Look at that glorious yellowish pungent flesh bursting forth from its pillow cover like an overstuffed eiderdown pillow.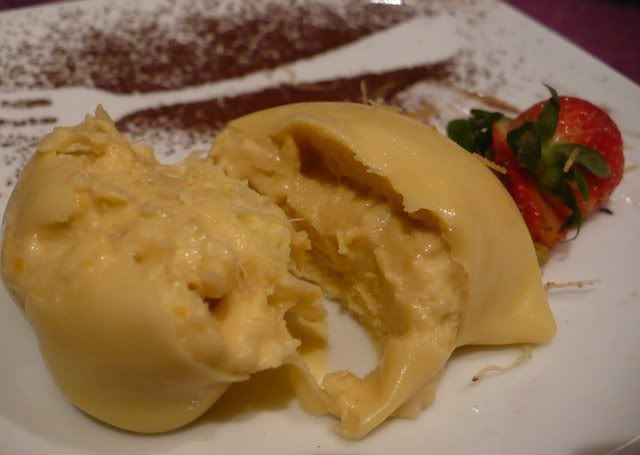 The avocado kataifi is gorgeous. Subtley sweet, not like your "teh tarik kurang manis" that can still yield 2kg of sugar after you evaporate the whole cup, and the kataifi was nice and crisp.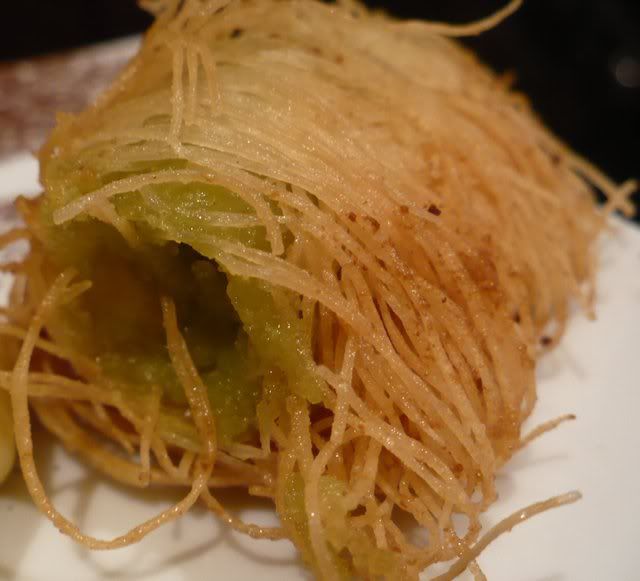 And the cold dessert, a very complex Chinese cold errr...soup? Chilled snow jelly with sea nest and american ginseng. Gosh, no wonder it was up all night....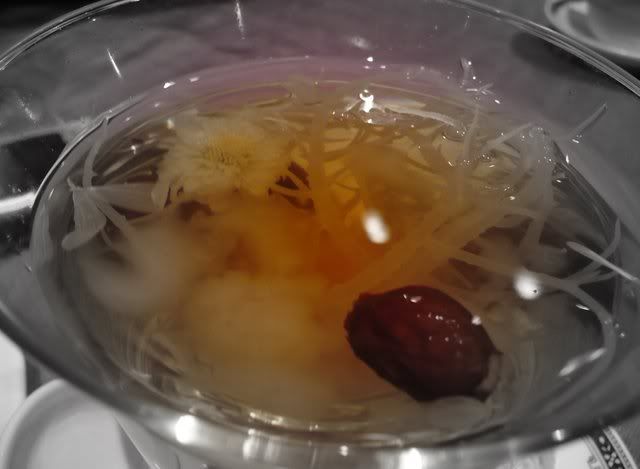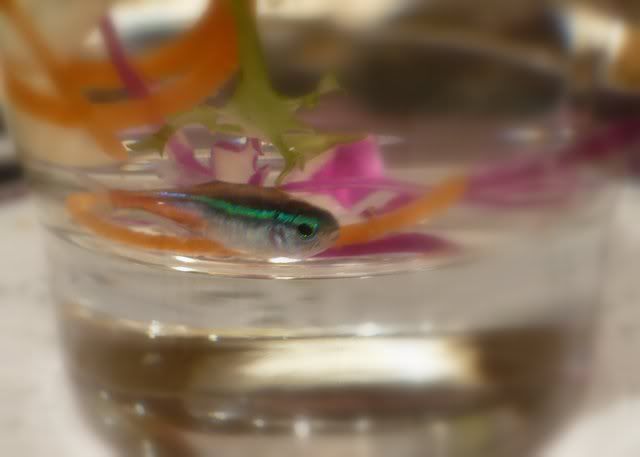 The bowl of the chilled snow jelly rest atop another bowl, which contains live decorations, such as this neon tetra....
Finally, the fruit platter.
Is it any wonder why I'm at my fattest ever?
SIGH.