When dear wife of dear fellow gym buddy asked me for suggestions for her husband's surprise birthday party, somewhere cosy, with good food, and privacy, the first place that sprang to mind was MAX'S KITCHEN, along Tengkat Tong Shin.

Oh, by the way, Happy Chinese New Year to all the descendants of the Middle Kingdom. My criteria for angpow giving, lest any of you should ask, is pretty much the same criteria that applies to children; Unemployed, Unmarried, and Virgin. If you qualify, let me know.

Back to subject at hand. yeah, Max very kindly offered to open specially on a Sunday to cater for this party. And this is even without having to name drop Precious Pea's name.

Despite Bukit Bintang being closed for that pre-election crap "National Chinese New Year open house", the jam wasn't too bad, but I ambitiously circled the place looking for a carpark within a 20m vicinity, but ended up wasting a lot of time, and having to walk in the end anyway. Not that I mind walking, I love walking, but in the correct gear. Not with 4 bottles of wine in tow.

The guests were all surprisingly punctual. Anyway, the menu looked staggering, a seven course meal, with NO YEE SANG involved. Wow!!!

Well, maybe this gravlax thingie is the western equivalent of a yee sang. Lovely smoked salmon on a bed of crunchy tomatoes, and a lovely piquant sauce to complement it.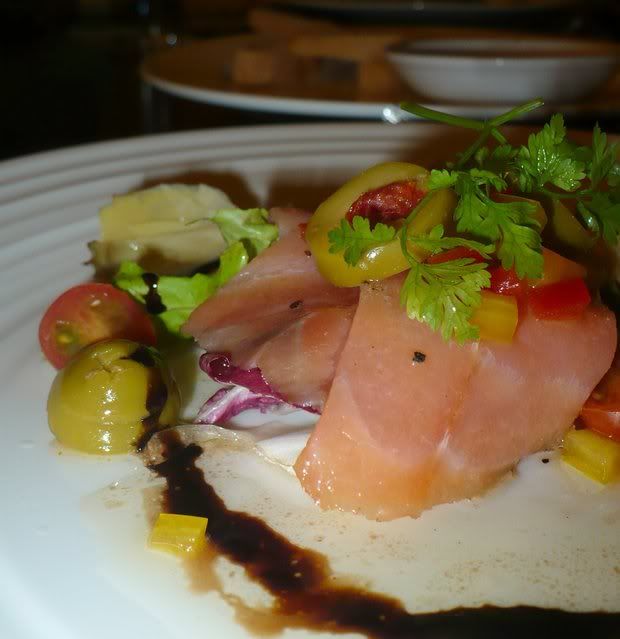 Scientific Name : Pastrami of Salmon, With Olives, Artichokes and Lemon Oil Laced Greens

I think the seared scallops are one of Max's signature dishes, and it certainly didn't disappoint. Just nicely seared, the scallops were plump and juicy, unlike some that look good but taste like distilled water.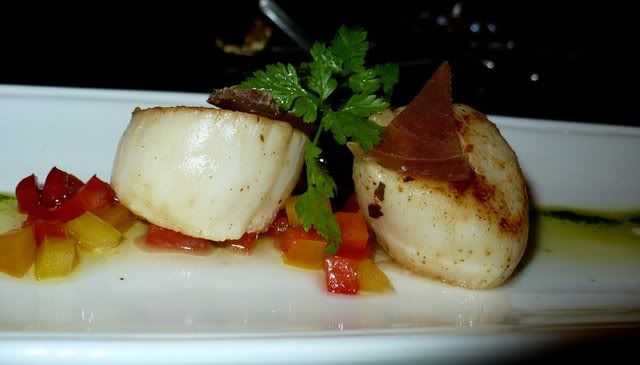 Seared Sea Scallops WIth Dried Tuna Majoma, (probably pronounce Ma Yo Ma), Parsley Puree and Bell Pepper Salsa



If the other dishes were stars, this one is the DIVA. Foie Gras terrine with Unagi. Absolutely deeevine, unless you don't like unagi, (like the wife) in which case, avoid it like the plague. Melt in the mouth, the textures and tastes were a mini eruption of pleasure in the palate. Not to mention the dazzling sensation of your arteries becoming instantaneously clogged, similar to when one chews on the chee yau char of a hokkien mee. So good, so sinful, and all is right in this world.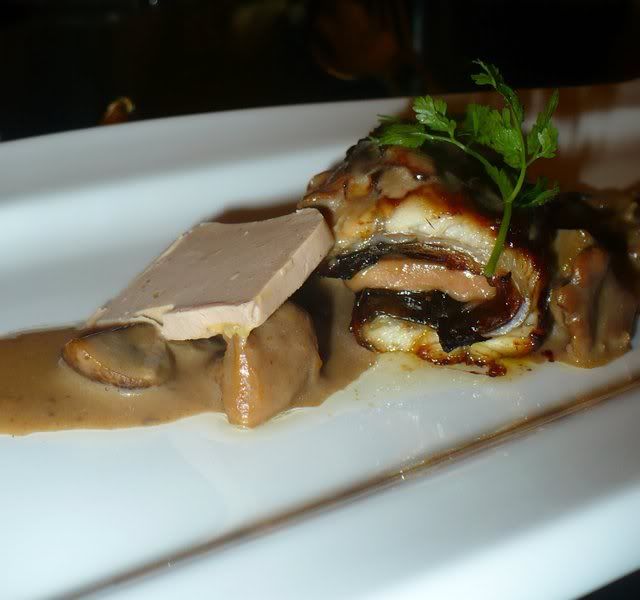 Scientific Name: Unagi with Duck Liver Terrine with Sauteed French Chanterelle and Cepe Mushroom Ragout

This was followed (by which time I have to say, I was getting a bit full), GH MUMM Champagne - Baby Abalone Stew With Seared Tuna Loin, Sea Trout Roes and Basil Oil. I always confuse a loin and a groin, so was left wondering how a tuna could possibly have a groin. Unless it was a MerTuna. Very nice, all expensive ingredients, sure nice one la. Wonder how many trout our table deprived the world of, devouring all those helpless eggies, like the barracuda in Finding Nemo.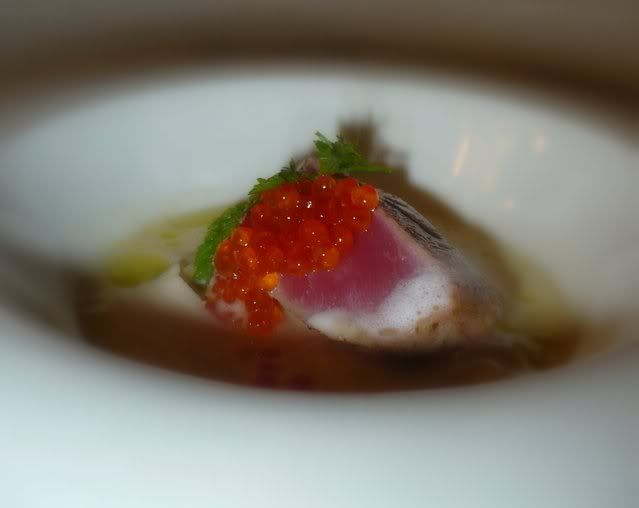 Ah, the mains, finally. We had a choice of.....
Atlantic Cod Fish Fillet, Oven Roasted on Slipper Lobster, - Cannellini Beans Cassoulet WIth Crisp Beef Bresaola. (help, help, translation please). Note how some locations, such as the Atlantic, lend credibility and class to a dish. Try putting,
Straits of Malacca Pomfret Roasted On Fresh Mussels from beach facing the Tengku Ampuan Hospital on the Tebrau Straits.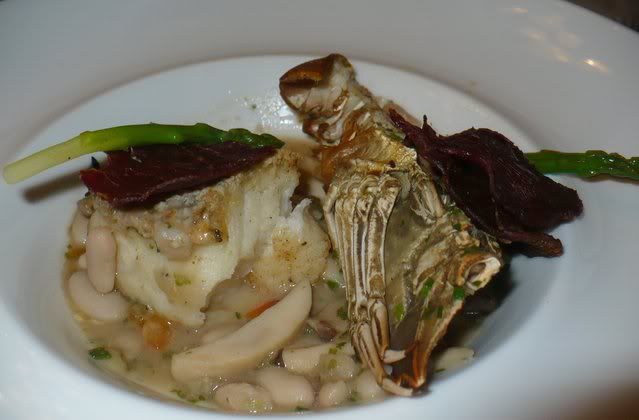 Since I opted for the Escalope of US Veal Tenderloin (let us close one or two eyes to the whole brouhaha surrounding the controversy of veal rearing), on a Parmean gratinated asparagus with Cabernet - Mushroom Jus and Potatot Gnocchi, I didn't get to try the cod and slipper lobster. Initially, those of us who ordered the veal thought the cod looked better, only until we tucked into the first sliver of veal, which was OOOOH SOOO TENDER. Didn't care much for the potato gnocchi though. Not a real gnocchi gnocchi who's there fan.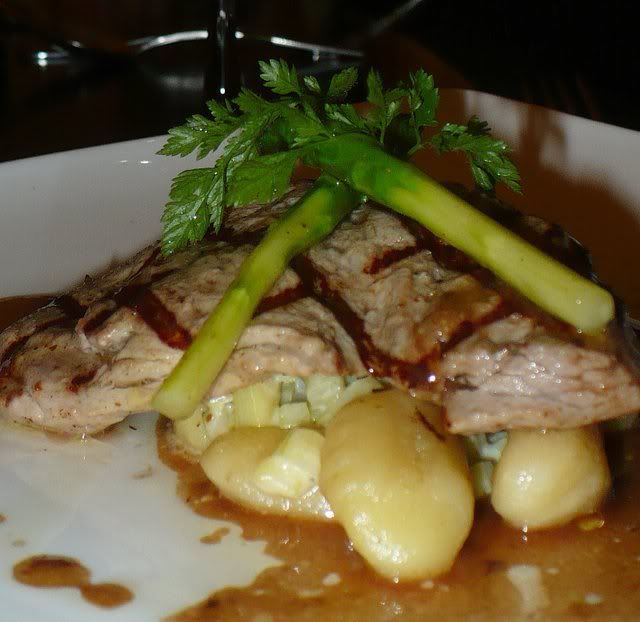 The 3rd choice of main, which only 1 of 20 guest ordered, was the Chargrilled Lamb Cutlet accompanied by a garlic confit and port wine mint sauce. It looked sooo good, that the hostess ended up ordering a couple for all of us to try. It WAS really good, tender, succulent and no lamby smell that hits you like a smelly armpit hits you in the gym.

Sometimes I think chefs are too adventurous for their own good. One bite into this dish, and my first thought was, argh, what a waste, 90% of the guest are NOT gonna like this. Warm Kataify Pastry Wrapped Goat Cheese with Four Berries Jam. Since I am quite fond of strong cheeses, I didn't mind this dish, while I watched the carnage of fainting women and men around me, like a fallout from a nuclear zone. What IS kataify anyway? Meehoon?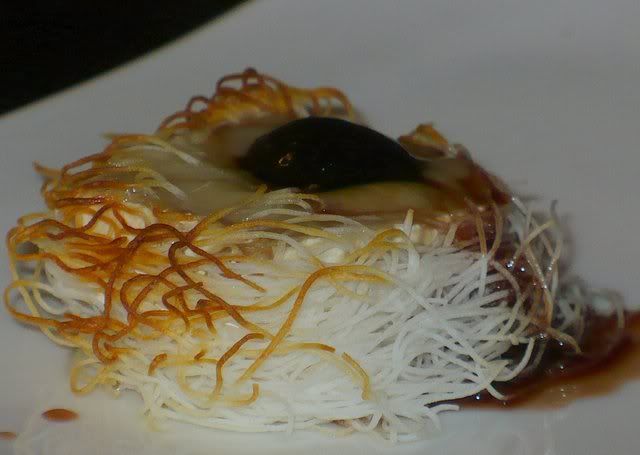 Petit Valrhona Chocolate Souffle, Vanilla Bean Ice Cream. Finally, the equivalent of the universal language of love, in the culinary world, CHOCOLATE. After the goat cheese massacre, everyone was loving this dessert.

The decaf coffee went down lovely-ly. A wonderful dinner, hosted by a most generous couple. Pity I had a diarrhoea-ed tummy, and was running to the loo in between every course, but I shall spare you the details of my tribulation.