Happy Chap Gourmet, all.

Sigh, after today, Chinese New Year will be over. Gone will be the heavy handbags, stuffed with angpows lest you bump into that relative or friend that has a brood of 10, the late nights of lifting hands to the gambling gods for a DOUBLE ACE, the smell of freshly minted notes, be they 1s, 5s, 10s or 50s....the startling sounds of the start of a lion dance, (as I am typing this, one has started down the road).

Rather than talking about individual restaurants, I think I'll just reminisce in passing the foods I've had in the last 15 days, and highlight those that I think are worthy of mention.

It's customary for us, at my inlaws place, to have a vegetarian lunch. I cant really understand the concept of chinese vegetarian, whereby they seek to replicate the real thing, by making it into mock meats. I guess in a way, it does widen a menu selection by a thousandfold. I mean, afterall, there are only so many ways one can serve a tofuburger, or a salad...but throw in vegetarian char siu, like the one below, and vegetarian mutton, and vegetarian prawns..... and whatever else, you get a infinity menu, basically. Let us just IMAGINE we're killing the animals, ........


I love this charsiu, despite the screaming absence of lard.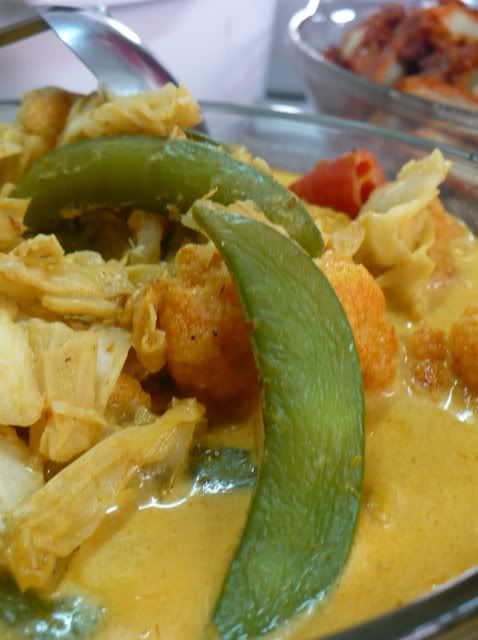 This curry dish I think doesn't have any fake meats, so it is really vegetarian in content and thought.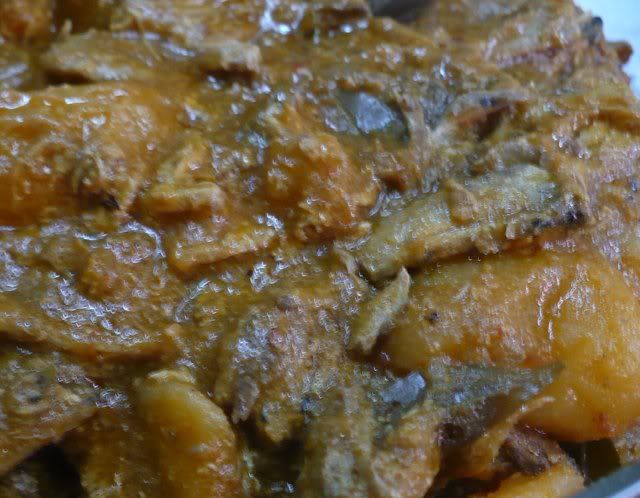 This is a horrible picture, it looks like someone's regurgitated meal, but believe me, it tastes deeeevine. The vegetarian gods would approve. It's mutton curry, made from mushroom stalks.



Nothing like a plump juicy lobster cooked the Chinese way, in superior XO stock, to tickle and tantalise the palate. This was at the Equatorial Bangi, at the 7th day (everyone's birthday, aka Yun Yatt) hosted by my inlaws. The rest of the food in Equatorial Bangi, in the other outlets, I reckon are generally quite awful, but the Golden Phoenix does serve exquisite Chinese, if you know how and what to order. The lobster was fresh, and was probably waving its antennae around an hour before that trying to get astro reception.

According to Kylie Kwong, the most humane way of killing a lobster is to freeze it, so that it goes to sleep, and THEN, kill it.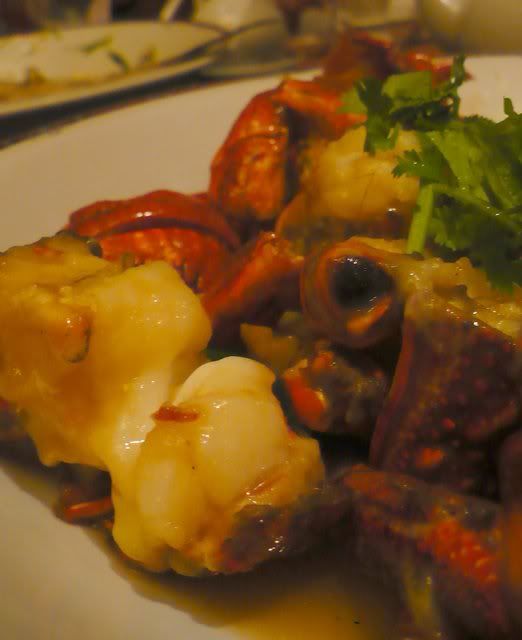 This has to be one of the most divine desserts in a chinese restaurant that I've come across. Durian pancake, (more like dumpling) and the ping pei pumpkin with lotus filling. Now, durian pancakes are quite common, and used to be Lai Poh Heen's signature dessert. What makes a good one? For starters, no fake dairy cream mixed with the durian puree. 2ndly, even if it was cream, (real cream, straight from the mammaries of a cow), it should only be a hint of it. I like my durian strong, and bold. Thirdly, the filling should be cold as possible. Fourthly, the crepe skin should be thin as possible, so you don't feel like you're eating a badly made giant durian wantan with skin thicker than an insurance agent.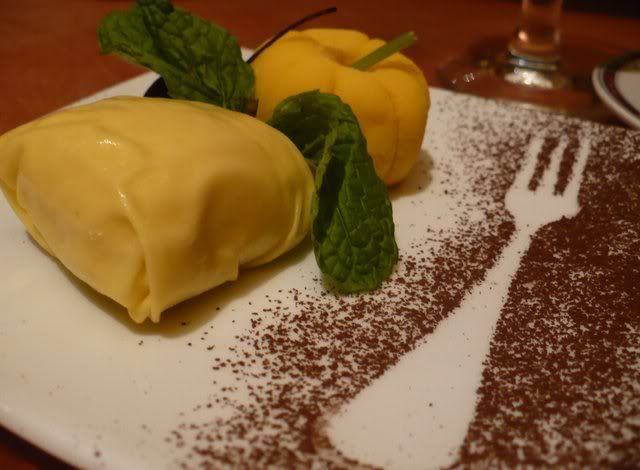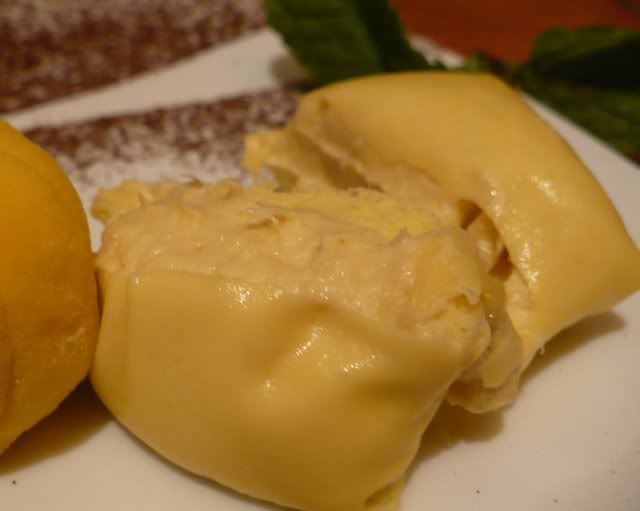 Note how the filling is a gorgeous duriany yellow. Apparently they added custard, but only a hint of. Absolutely gorgeous.



Contrary to popular belief, I am not as Yee Sang-ed out as some may think. My first yee sang was on the Monday before CNY, (by which time some people had like had it up to their ears with it), and since then, I haven't really had it all that many times.

Of the restaurant ones, my favourites were the ones in Overseas Restaurant, and Equatorial Bangi.






But of course, my favourite yee sang are the home done ones, because we always chuck in a whole can of THIS: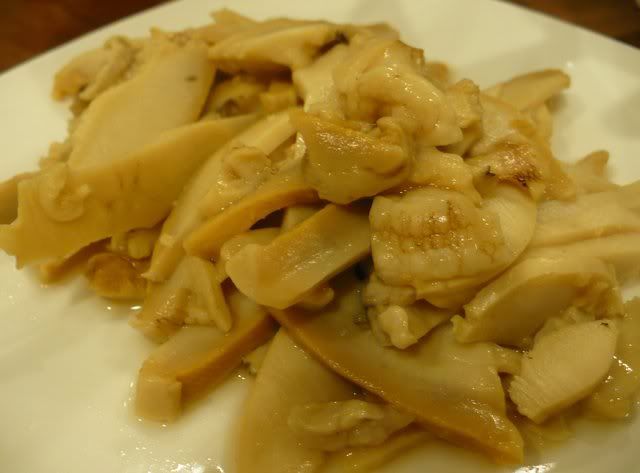 Top quality abalone from the mexican seas. Copious amounts of this stuff, that of course, really, is good enough to eat on its own. And we usually do serve it separately.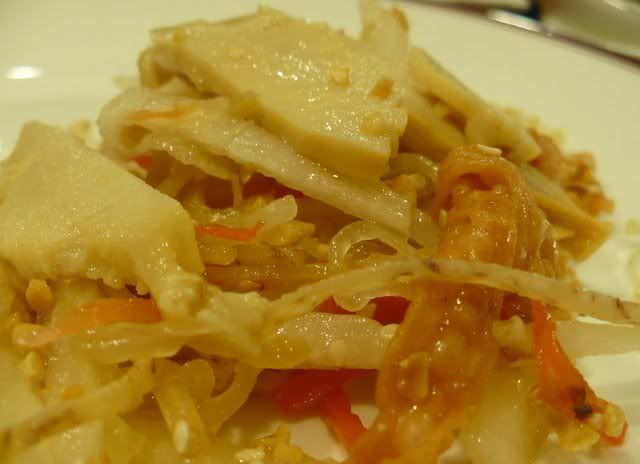 Abalone with a hint of yee sang.



Paying tribute to our favourite edible mammal, that oft misunderstood, sometimes reviled, sometimes adored, porcine creature that has spawned classics such as the 3 little pigs, Charlotte's web, etc.

The Yoke Pai in Overseas. Yummy. Fat and lean, just the way God intended, and meat falling off the bone in a lovely sauce, complemented with fried man tau. (buns)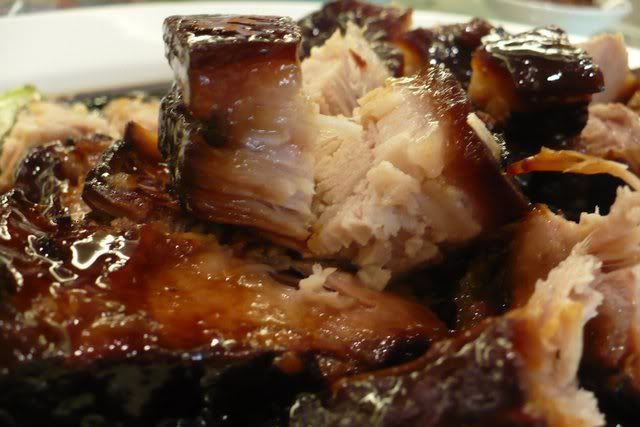 A platter of waxed meats, Lap Mei, with the special rice in claypot. A lot of pork, I know. Well, eating this dish about once a year is about right. It is very sickly rich, (in a non dairy way), and salty too.


And specially for Lyrical Lemongrass, the Lemon Tart that I meant to pass you a slice of. (okay, this isn't really under the CNY Foods category, it's just that I made it for one of the CNY meals).