This is a food blog, so I have to find a way to put a food spin onto this particular article that was in our papers yesterday. With March 8th coming up, there is so much in the media that makes me roll eyes, so much so, I've resorted to buying Eye Mo by the barrel to keep them eyeballs constantly lubricated.
But THIS
article
takes the cake. Basically it was a call from the Indian Muslim Youths demanding that they be called Malays.
"I am a second generation Malaysian and I can safely say that from wedding rituals
to the food we eat
and the language we speak, we conform to Malay customs all the way.
"As such, Gepima is appealing to the government to streamline the laws and recognise Muslims born after independence as Malays in their birth certificate.
"We feel uncomfortable to be known as Indians, because people automatically think we are Hindus when we are actually Muslim."
Kader added that Muslims of Indian origin suffered an inferiority complex by being regarded as Indians.
"Our children do not even know how to speak Tamil.
"They only converse in Malay and our wives wear baju kurung or kebaya nowadays, no more the saree."
With all due respect, my kids don't speak Chinese, but I'm hardly appealing to the Queen to make me English. Anyway, the fact that FOOD was in the equation, made me feel it is my duty as a food blogger to rally against any people willing to turn their backs on their ancestral cuisine!!!! Oh the outrage!!! With one fell swoop, they are turning their backs on centuries of rich peratal, paneer, tandoori, dhal . Papa Damn!!! Outrageous. I mean, I respect the Malay culture etc with all my heart, but for a particular race to want to be recognised as another race, ....hmmmm....where's my Eye Mo extra moist
Speaking of ancestral cuisine, we leeched onto my inlaws last Sunday for a good dose of homely cooked hakka inspired (I think) at this nondescript restaurant called Soon Kee in Prima Kajang. After one of the tolls on the SILK highway, take the turn off to Semenyih, and its somewhere in the shophouses on the left. Can find?
The char yoke, fatty pork deep fried in 5 spice and then braised in a rich sauce with wood ears, was very good, and very reminiscent of the late grandmother inlaw's version. My own grandmother's version of course, is the best, and is vaguely replicated by one of the maids, and possibly my uncle. (mental note to self: go and write down all these recipes for posterity, before the last bastion of knowledge kicks the bucket).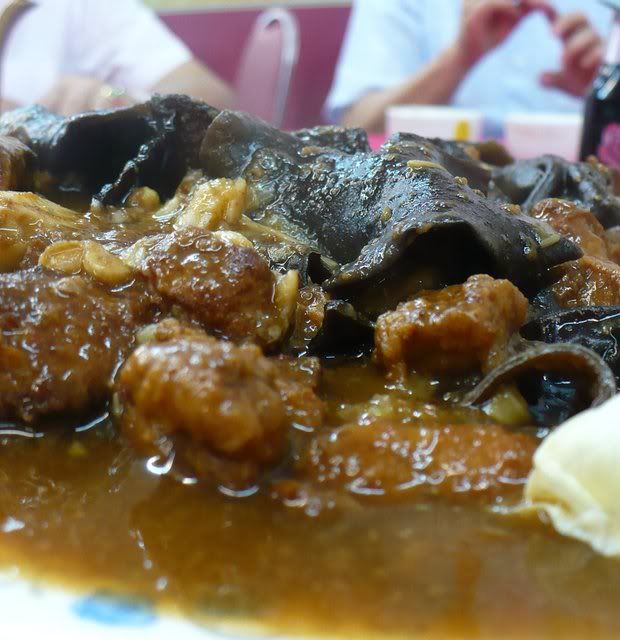 Egg foo yong, but I didn't get to try this coz it was for the kid's table. Like a locust swarm, the kids polished this in under 3 minutes. It can be quite cheap to feed kids.... just give them rice and egg, and let the mothers breastfeed them till puberty. (have you see the price of milk lately?)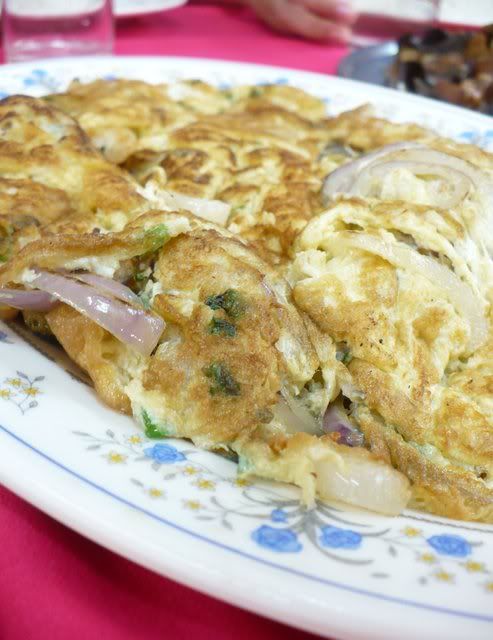 Beancurd with mince meat. Looked delicious, but again, the locusts got to it first.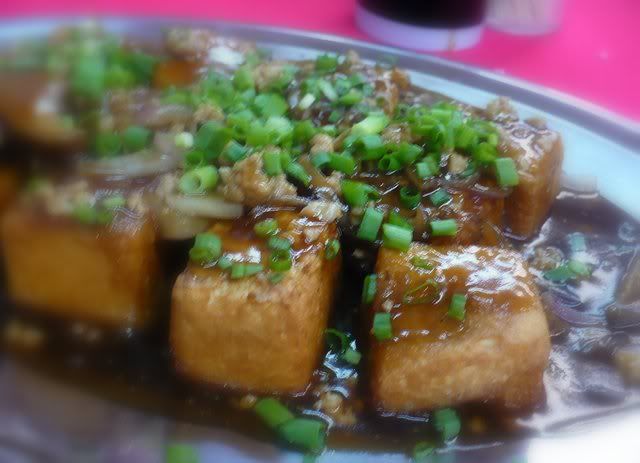 Ah, one of my all time favourite comfort foods. Seng Kwa (Ketola, or is it Petola) with Bean Curd. Ah, screw the newspaper articles that say any bean curd with browned skin, including foo choke, is artificially colored, and therefore are a health hazard. Afterall, margarine was "healthier than butter" until that awful myth was debunked recently.


I think this is another signature hakka dish, vinegared pork trotters. Well, either hakka or hokkien la. Now, I am ambivalent about this dish, as it's not one of my growing up staples, and is largely associated with pregnant women. While I might have the shape of one, I do not crave this dish per se, but having said that, over the years, it has grown on me, (the dish, not the fat, though that also has grown on me), and I found this version particularly delectable. The sauce was thick, apparently made so by gula melaka, and it wasn't overly sour, and the meat was tender and falling off the bone. [thanks to Girl from Abu Dhabi for mentioning pork trotters, I completely forgot to put this para in]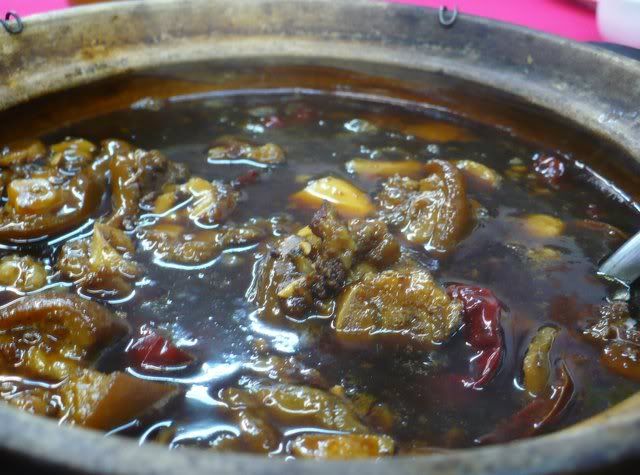 The star dish of the night had to be this steamed fish in ginger sauce. Absolutely divine. Not a big fan of ginger per se, I found myself literally scooping up the ginger sauce and eating it just like that. The ginger, infused with the sauces that steamed the fish, and presumably the taste from the fish itself, gave a lovely tingling feel to the palate.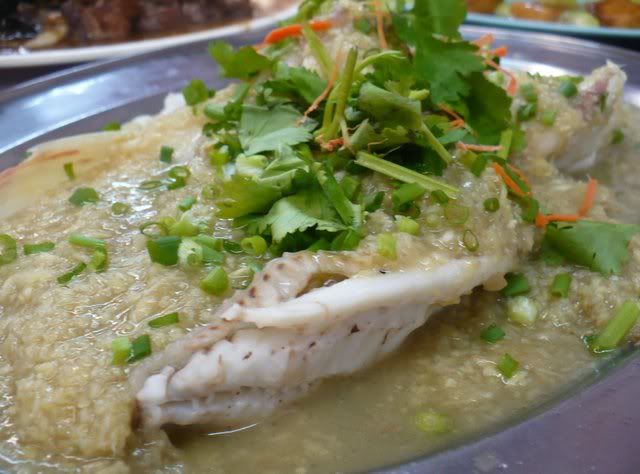 Steamed fish in yet another way. Apparently there are bits of deep fried pork lard within that gloriously rich red sauce, but I couldn't really tell. The problem is, all these dishes go very well with RICE.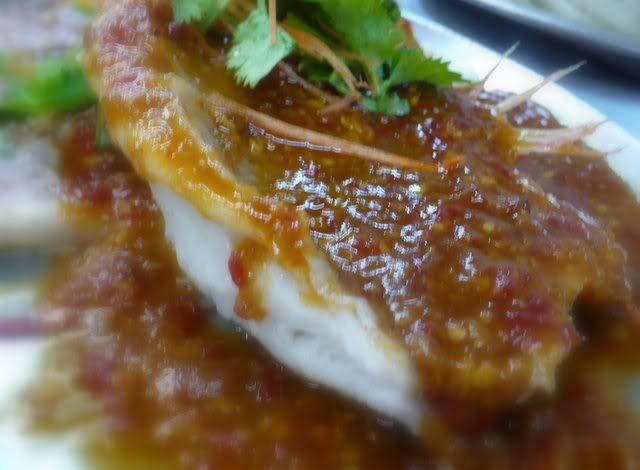 And just when I thought, okay, finally a sensibly portioned dinner, not overly full, the FIL orders a plate of Hokkien Mee. Argh, talk about the proverbial Achilles Heel in the Body of Resolve. Even the kids came scurrying over, with mine going in that Oliver Twist manner, "can i have some more" after hurriedly finishing his first helping. The mee was well fried, the sauces caramelised in a wok with enough wok hei, and an adequate helping of deep fried lard. A bit more wouldn't have gone amiss.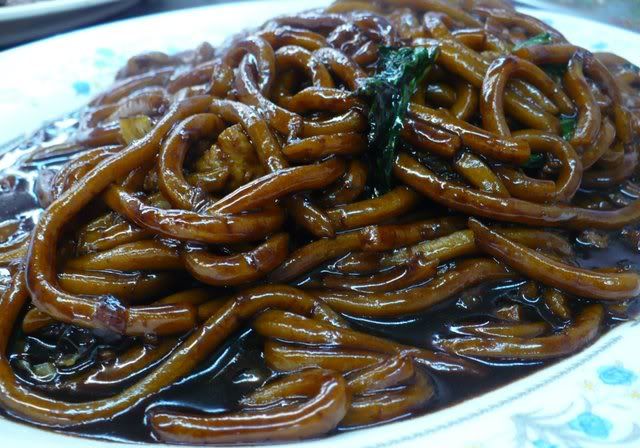 Overall, a simple but delicious dinner. And that is why I was still at my fattest. Though after a day of sensible eating, and exercise, I have dipped below the all time high. But only just.