I refer to AWOL's
recent post
, bemoaning her recent illness/sickness.... involving vomitting etc.... I thought we needed to throw her a baby shower. A lot of people seem to be sick, so really, one must not take good health for granted.
A hilarious sms exchange transpired, since the woman, whom I refer to as "thamby", was not on msn, which is articulated in her post. What she forgot to mention were her own replies, which were hilarious.
In particular, this one:

FBB: Glad to hear u not dead. Busy weekend, no time for wakes.


AWOL: I cant afford to be dead this weekend either. It's rainy season. It won't do to have umbrellas at the funeral.



Isn't it heart warming to have such banter between acquaintances!
Anyway, those of you who follow this blog will know that Tuesday is family dinner, and its the most likely time, if ever, that I cook something, or bake something new. Well, these aren't exactly new, but I thought I might as well share this recipe.
Homemade pizza with pesto, bacon, mushroom, and scallops. I doubt you'll ever get this many scallops in any restaurant, which is why it pays to make your own pizza. Really, the sky is the limit when it comes to topping. How about some lovely foie gras!!! I've had a foie gras flam before at ....FLAMS. Flams apparently are pizzas without yeast, although I haven't seen that definition anywhere else.
I hate pizzas with thick bready crusts, where you get filled on unnecessary carbo. So I like my pizza bases thin, anorexicly so, if possible, but I like the fillings to be as unhealthy as sin.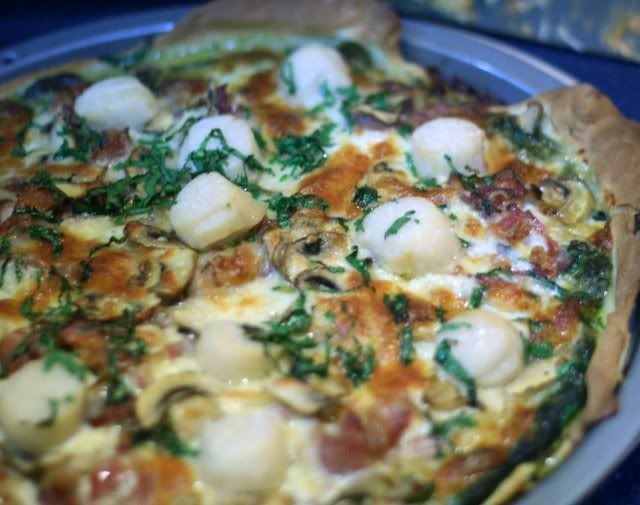 For a thin crust pizza dough, (makes two 10 inch diameter pizzas)

2 cups flour (can also use bread flour, but not necessary)
2 teaspoons instant yeast
¾ cup water
1 teaspoon sugar
pinch salt
2 table spoons olive oil

Mix all ingredients together until it clumps into a kneadable dough. Knead a little bit. Like massaging someone's buttocks.
Strictly speaking, you don't even have to proof this recipe. (ie, no need to let yeast kick in and let dough rise)
Divide into two portions.

Roll out to a 10 inch diameter, (the crust will be pretty thin), on a floured surface. Plop it onto a pizza tray or normal baking tray. Here's a little bit of earth shattering news. A pizza does NOT have to be round! It can be any shape. It's NOT poisonous even if its NOT round.

Oh, preheat oven to 200C. Or fire up your wood fired oven if you have one. It's not a standard appliance in most households, but some flers might actually have it.

Slather your topping of choice....I use pesto for the base, instead of tomato based paste. After the sauce, sprinkle mozarella cheese...you need at least 250gm. (RM17 thereabouts). Put topping of choice. (mushrooms, RM5), bacon, (RM10), scallops, (RM30), and sprinkle some cheddar or balance mozarella on top. Bake until crust is crispy, and toppings cooked. Oh, if you're putting scallops, it's better to pan fry them separately, or poach, so that the water oozing forth doesn't soggify the pizza.


For dessert, whipped up a lemon tart, since I had to make a quiche for an order.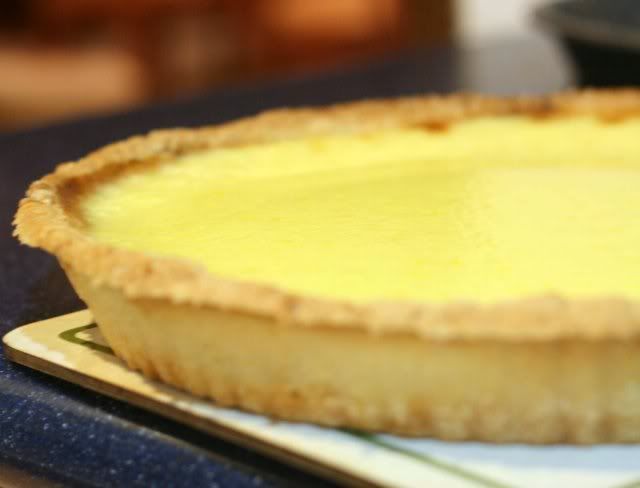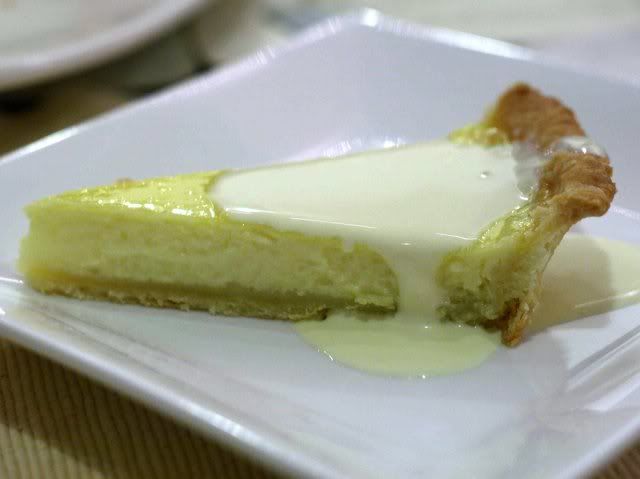 Lemon tart goes well with thickened cream, which can be just poured over. I like my lemon tarts tangy tangy, I'm not sure most people can take that level of sourness.


And for the benefit of Nipple Joe, who doesn't like the sight of blood, well, a freak accident happened while in the kitchen. A knife fell off the table top, and lo and behold, .....so accurate hor, buy lottery also cannot kena laidat. Gosh, I AM becoming a woman!!! I'm shedding blood quite regularly these days!!! Check out previous injuries
here
and
here
. All injuries are food related.