Now, if the WIFE had bought me these shower gels, I'd have suspected foul play was ominous. Afterall, it would seem like she's preparing to marinade me and perhaps cook me.... check out these delectable flavours...Lemongrass & tamarind, Tomato & tangerine, Mushroom and Ginseng!!!!, Spearmint and Bamboo.....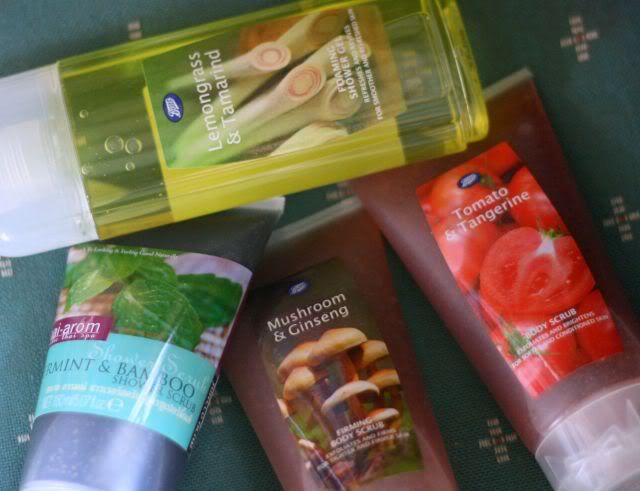 However, it was not the Wife who bought it, but me myself, from Boots in Bangkok. They have such a nice range of shower gels, and I have a shower gel disorder. Since we should be on austerity drive, Body Shop has been kicked out of the equation.... L'Occitane was never really within my league, and neither was Origins, etc... So the Boots options are good and relatively cheap. Can't wait to marinade myself....

On Saturday, we headed to Prego for friend's birthday dinner. Had brought along these cupcakes, as one of the other dinner mates had ordered them for her daughter's birthday.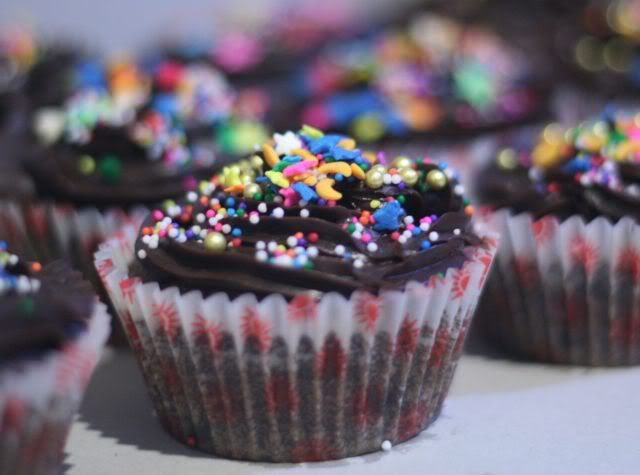 Me not being a cupcake person, these were made specially since the orderer is an OLD dear friend....Chocolate Chip Cupcakes....and also Oreo Mousse Cakelets...the photo was shocking so I didnt bother putting it up.


First up was the bread....plebian me asked for butter, although the olive oil balsamic mixture was rather palatable, as was the salsa dip. The bread was yummy. We were also hungry.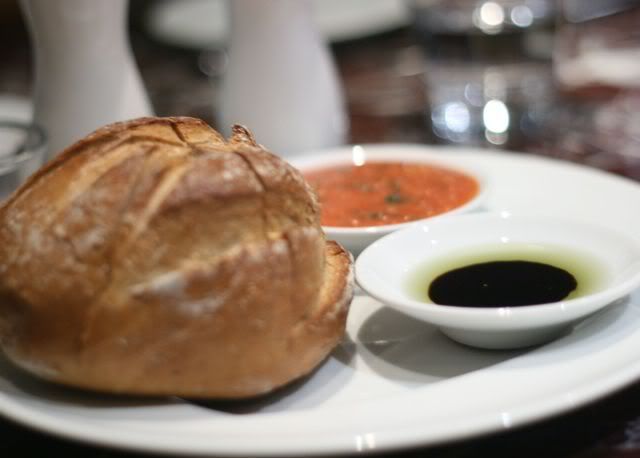 Wife's salt crusted sea bass was the first to arrive. We saw them shucking the salted sea bass, and heard her say, Oh Dear I hope that's not mine! But it turned out good.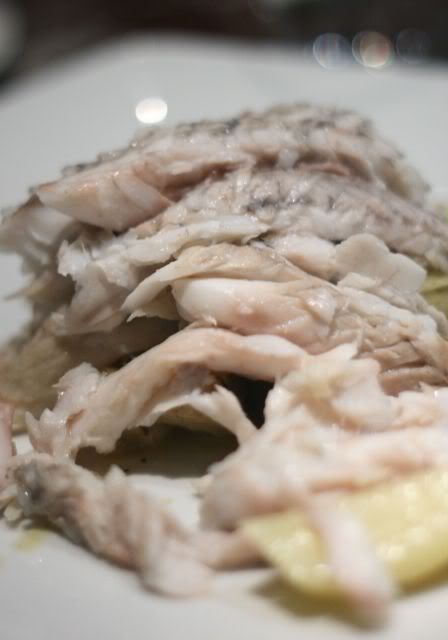 The clam chowder is very rich, and creamy. Could stand a spoon in it. Good stuff for a cold wintery night. (so we're in the wrong country) Meanwhile, a commotion ensued at the next table, as a large fat cockroach was roaming free, and I guess mat salleh's are a bit less tolerant about wild fauna roaming the restaurant floors. Eventually, the man tracked it down all the way to the wall, and squished it with a napkin and presumably brought it to show the manager. Very Victor Victoria. Wonder if they got a free meal?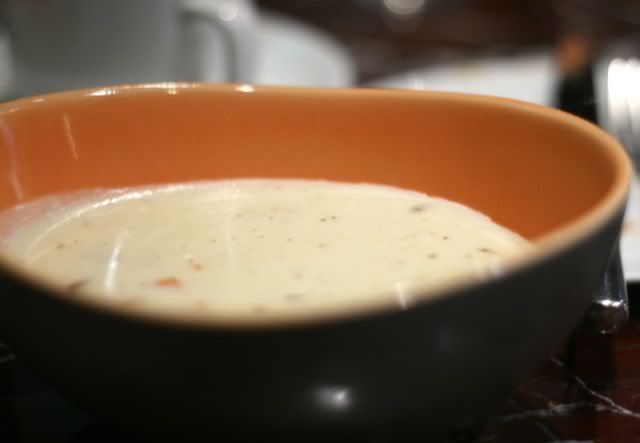 The mushroom pizza was superb. A thin crust, slathered with mushroom paste, and some roughly chopped up mushrooms. Very subtle. Must try to make.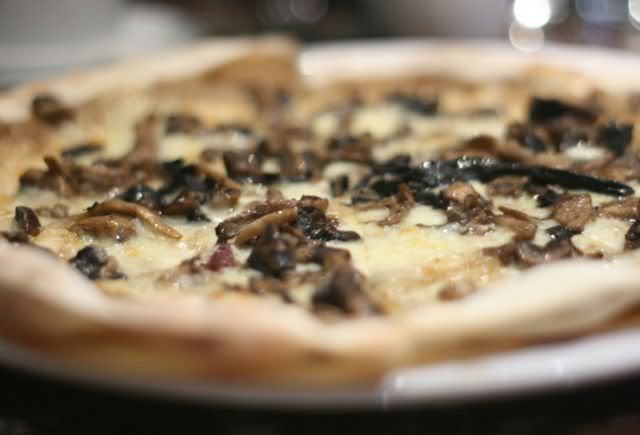 Friend's carbonara. Looked too rich for me. I cannot finish a carbonara pasta by myself these days.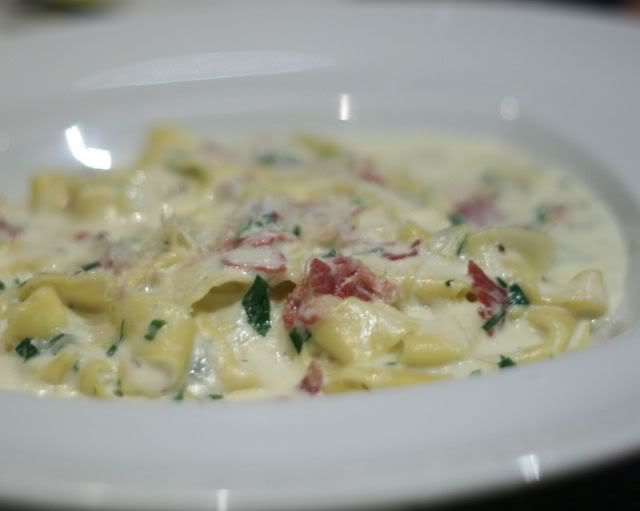 A smoked salmon pizza.... Not so good. The carnivores were saying AIYA, MUSHROOM PIZZA ONLY AH? WE NEED SOME MEAT. Big mistake. firstly, coz everything came out together, soup, starters, dessert, mains, (ok, no dessert), we became full very fast. Secondly, the smoked salmon was actually a bit fishy.....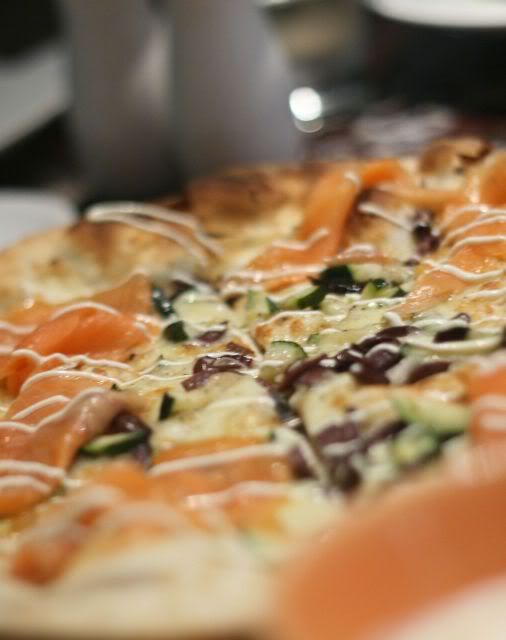 The Deaf One had carpaccio.... with rocket.....it was good, apparently.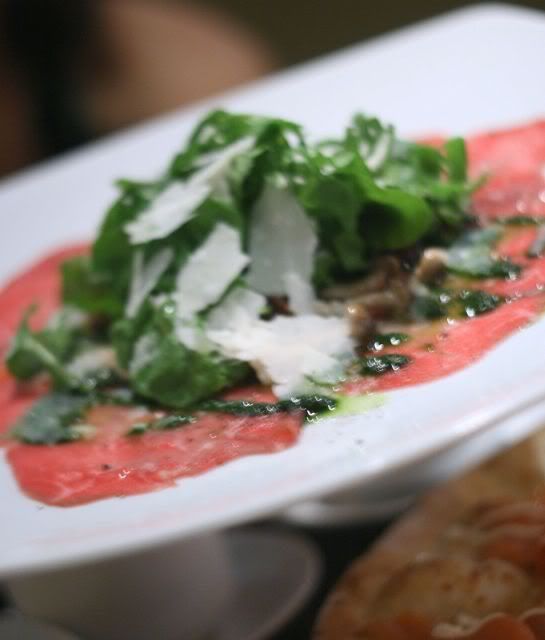 I forgot to check what this was, but it looked like an aglio olio with a prawn.....no complaints there. Looked quite good.



My roasted rotisserie duck in balsamic sauce. Very good. At first it looked HUGE, the portion, but we then realised the duck's bone structure is a lot more complex than that of a chicken, and there was a LOT of bone. The meat was bordering on the tough side, but tasty and gamy. I guess if one wanted soft tender duck meat, just eat Chinese Siu Ngap. It was a pity it was served with polenta. I'd much rather have had wasabi mash or something.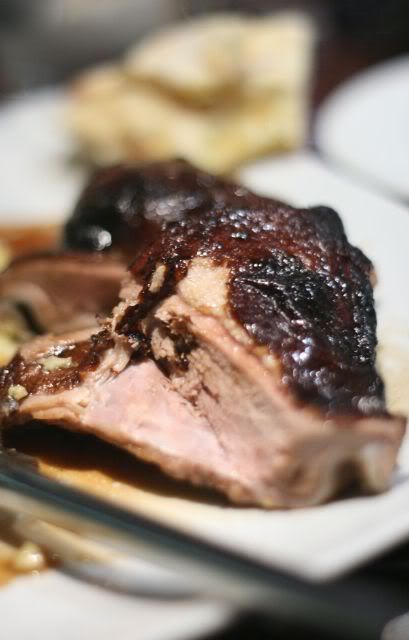 Hotels are becoming more kiasi these days. If you take away food, you have to SIGN an indemnity, clearing them of all responsibility if you keel over and die from food poisoning..... I thought this was rich, considering the vermin cockroach that was running around earlier on as if he owned the hotel..... the same applies for birthday cakes brought from outside. Have to sign indemnity.....



So, I signed the indemnity for the pizza, but decided to accept their free mud cake rather than serving our own cake, and having to sign more paperwork.

I used my Starwood group dining voucher, with a 25% discount, and the meal came up to RM420 for six people. Pretty reasonable I thought.....even without discount, it'd have been RM530 thereabouts. Not to bad huh!