Does anyone out there remember them barbers in the days of yore, before a CUT THROAT ABOVE or all these fancy schmancy saloons came about? Yeah, those were the days when real men had their hair cut in real barber shops, with those sharp razors, sharpened against a seasoned leather strap, used to finish the job of shaving off whatever stubble was left. Well, one thing I do remember most about those barber shops were the mirrors on all sides, which of course, results in an infinity reflection situation. I used to wonder about the reflections of those reflections.... if there was another dimension and perhaps I was the reflection, and that was reality. I still, for the record, (and as you can see), go to the traditional barber for haircuts. It's recently been raised from RM9 to RM11. Exorbitant huh. But, the good old Tun and his sleepy successor, also use the same barber.

Anyway, yeah, what triggered of that folicular rambling was the fact that the dinner venue, Banquet, has those infinity mirrors, which of course, by association, brings me back to prewar barber shops. Throw in their bright lights and the Christmas tree, one almost felt like one was approaching Santa's grotto in the North pole.

Dare I say it? Yes, it was yet ANOTHER birthday celebration, a joint one this time, with the luminous Leon Lai, with the gym friends. So sweet of them, and how nice to feel so loved.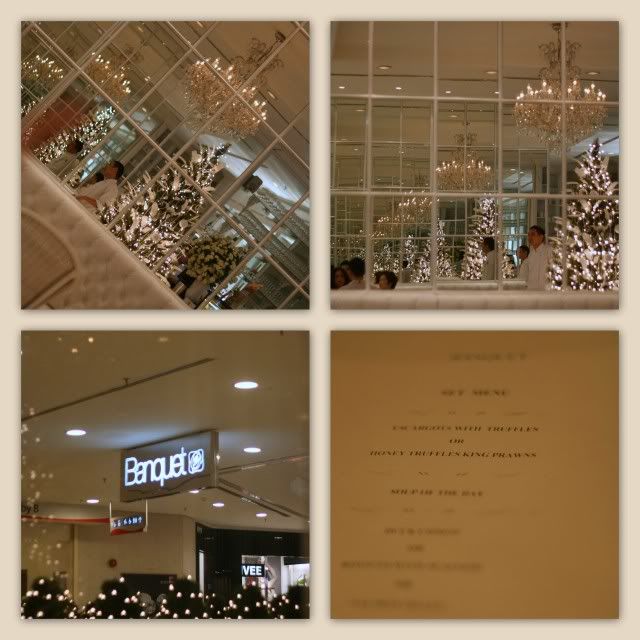 Menus printed on translucent tracing paper is becoming quite the in thing these days. I must remember to incorporate this into my next dinner party to give it the illusion of "classy".



These surgical implements awaiting the surgeon's magical hands....

I opted for the honey truffle prawns, as opposed to the Ass cargos, , as I had ass cargos last week at Memphis bistro. Strange, they've been off my radar for so long, and all of a sudden I see them twice in a span of 7 days. These came with bits of pan seared foie gras even. I think those that opted for it certainly enjoyed their snail meal....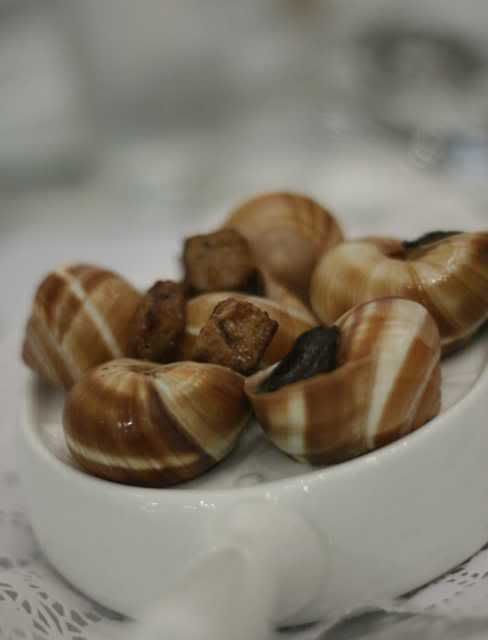 The prawns were succulent and fresh, and the sauce complemented it well, albeit a bit on the sweet side. It wasn't too long ago that people were not so keen on the idea of overt sweetness in a savoury dish. These days, boundaries are no longer so well defined, sweet, salty, male, female, right, wrong, ..... I love the raw beetroot that accompanied the shrimp. Curled up at the side, rolled up like roses, they added a lovely crunch to the dish. I walloped my friend's portion too.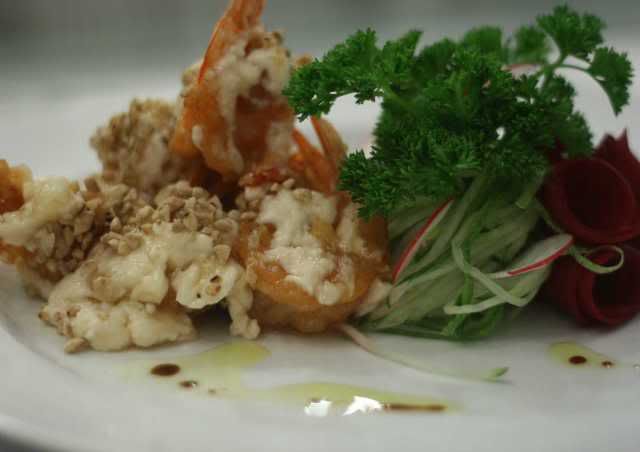 French onion soup. In my opinion, it was too thin, and not oniony enough. French onion soup recipes usually involve long hours of simmering the caramelised onion (which is why I never make it), but this one seems to lack that feel of the long simmering time. However, I seemed to be the only one who thought so, as the rest all seemed quite happy with the soup.

For mains, we had a choice of salmon, risotto or duck confit. Not being a cooked salmon fan, and certainly not one of soggy rice, I opted obviously for the duck. I stick to my theory that animals that can fly are healthier than those that cant, and those that swim are even healthier than those that fly and walk. Since a duck can do all three, ....actually, can ducks fly? They do fly south for winter right? ...since a duck can do all three, swim, walk and fly, it must be a superior meat.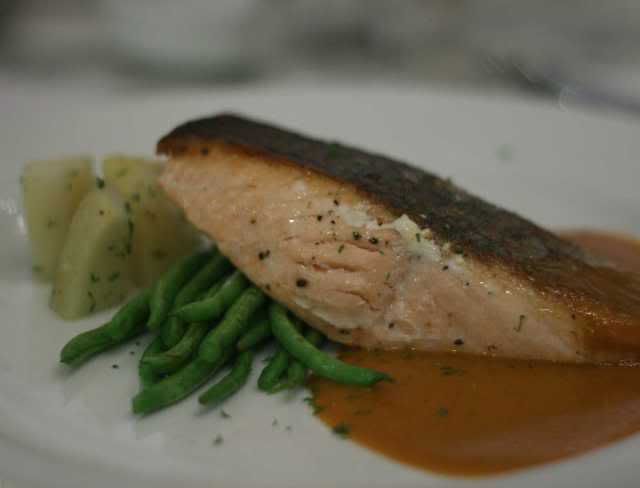 Actually the salmon looked rather delectable. It wasn't bad, not overly cooked.

I like this picture because of the ghostly apparition in front of the tree. Actually, its just my body pump instructor.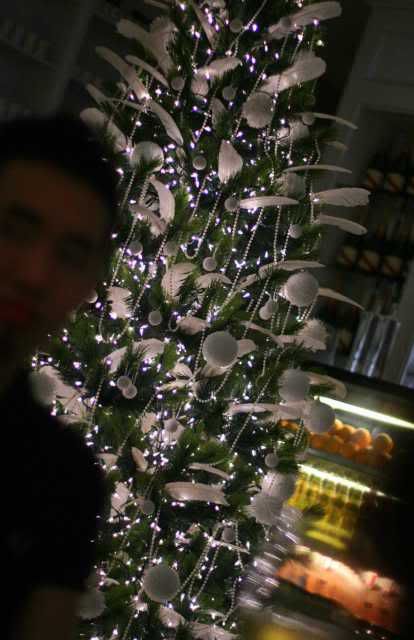 The risotto was like badly cooked children's porridge, with grated carrot, and sotong. Quite honestly, I think the kid's porridge are better than this anyday. Wife said the best risotto she's had so far was the one home cooked by Sam, at this legendary dinner party.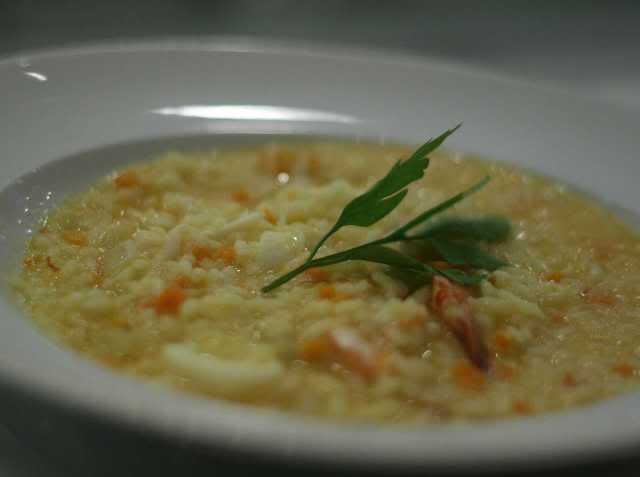 The duck confit was actually not bad. The skin was lovely, and crisp. Duck skin must be good for you right? Afterall, it tastes so good. But the meat was a bit dry, and though not usually a saucy character, I think I wouldn't have minded some saucery to add a little more zing to the dish.


And finally, the birthday cake for us birthday boys. Err, actually, it was way too sweet, and a tad dry. Also the frosting tastes like it has condensed milk. Up until the time I attended the chocolate indulgence baking class at
Cake Connection
, I've always suspected, but never confirmed the use of condensed milk in these commercial chocolate cakes.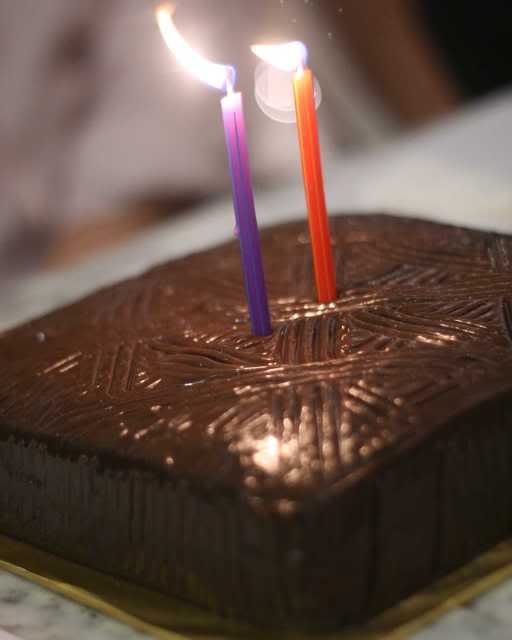 Overall, a most enjoyable experience, but mainly because of the good company. Foodwise, hmmm, I think I enjoyed the food at their sister restaurant, Cafe Cafe, more. And honestly, I think it was very pricey. However, since I was a recipient of my friends' generosity, I would like to thank them from the bottom of my heart, for a really lovely time....and for their thoughtfulness.