From Han Su Yin's THE MOUNTAIN IS YOUNG:
Abandoning her passionless marriage to colonial civil servant, John Ford, Ann journeys to Khatmandu, land of gods, temples and snow peaks in a voyage of self-discovery and spiritual awakening.
Against the erotic and deeply mystical backdrop of Khatmandu she learns the reality of love, with its pain and sacrifice. Here she meets the majestic Unni Mennon, worshipped by his own people, resented by the Europeans. And as they struggle against the rigid morality of European colonial standards and the man-made perversion of racial discrimination, their remarkable story-and the story of Khatmandu- unfolds.....
.
Ah, lets face it, I am not in the league of Life for Beginners or Hairy Berry when it comes to arty farty literary prose..... I am a pleb, and proud of it!
I have been fascinated to the point of obsession when I read numerous reviews on Khukri, a Nepalese restaurant right in the heart of Kuala Lumpur. A portal into a whole new mystical world. I expected the winds of the Himalayas to assail my chubby cheeks as I entered the premises, and scents and smells of Khatmandu invading my nostrils the way Germany attacked Europe in World War 2.
Instead, I drove around the greater Kota Raya area, looking for reasonable parking, only to end up in Kota Raya where it costs RM2.50 per bloody hour. Thanks to a very badly drawn map (by AWOL) and even worse system of road signs by DBKL, I emerged from the Kota Raya dungeon a bit disoriented, but suddenly found myself in a whole new world....[breaking into that awful ballad from Aladdin]. I felt I was in some part of ethnical New York, where a predominant community resided, and almost wondered if I would be yanked in by one of the foreigners to meet the Don Corleone equivalent, the Nepalese Godfather, sipping yak milk and puffing cigars made from herbs from the Himalayas. No such luck. Toyboy taps me from behind, as he came in search for me, to direct me to the place with the blue sign.

Khukri refers to some kind of Nepalese dagger as illustrated in the menu below. Certainly not your everyday cooking knife.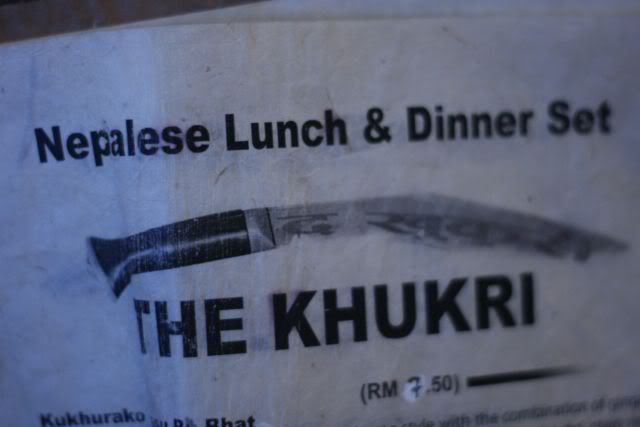 We were greeted by a Gurkhalike Buxom Nepalese Waitress, who held up the menu and spoke in flawless English. Much like Unni Mennon in Han Su Yin's THE MOUNTAIN IS YOUNG. She seemed familiar.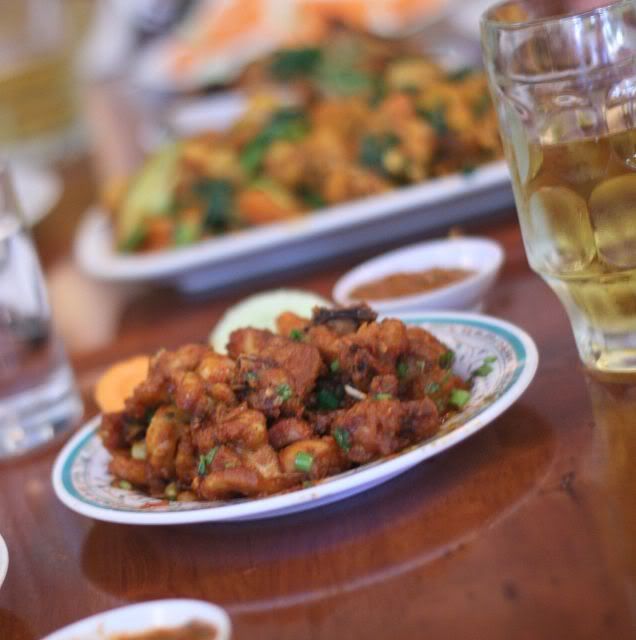 Our beers which were insufficiently cold, (maybe there's no need for refrigeration in the Himalayas) had to be chilled using that good old chinaman method, adding ice! Ah, watered down beer and good chow. Happy times, happy times.


Numerous exotic dishes, which I know not the names of, as I was too busy soaking up the wonderful atmosphere, and basking in the love of my friends, made the balloon decorations and party hads totally incongruous. You see, my dear friends had gone to great pains to decorate the place with balloons as it was supposed to be in honor of my birthday. So the celebration continues. .... alas, my head was too big (literally too big) to fit into a party hat. So was Hairy Berry's. Head.

Present at the lunch were Ciki, Hairy Berry and AWOL, of the flogger community, and Mr & Mrs Toyboy, and Leon Lai from the NFC. (non flogger community).

Of course, the highlight of the meal has to be these MOMOS.... (which reminds me, I have an undone MEME), which are the Nepalese version of our Xiu Long Bao. I am sure they must have been spawned from the same Bao school....probably in the days of yore, all the cooks from Nepal, Tibet and China attended the same culinary class....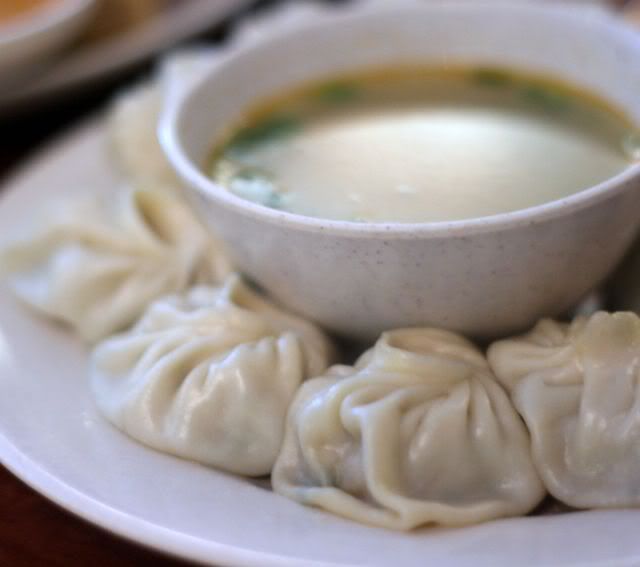 The other variety of Momo were the fried kind. Also very yummy, they resembled fairer versions of Seremban Siew Bao, but tastes completely different. I love the dipping sauce both momo varieties are served with, but the soup brought to mind the term dishwasher.....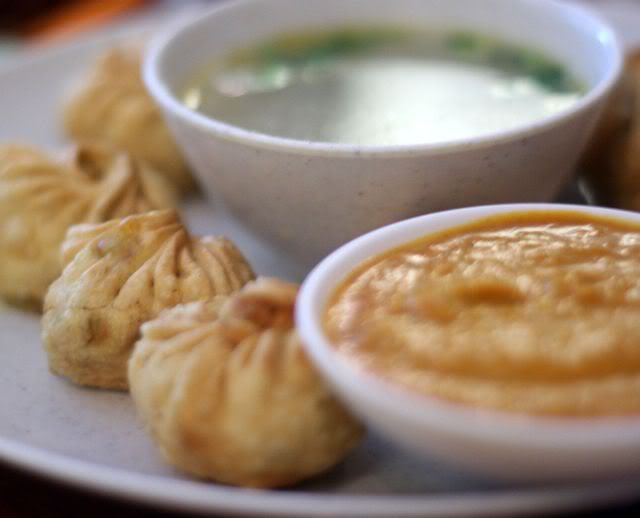 The winter song of a solitary momo. She sings, eat me, eat me.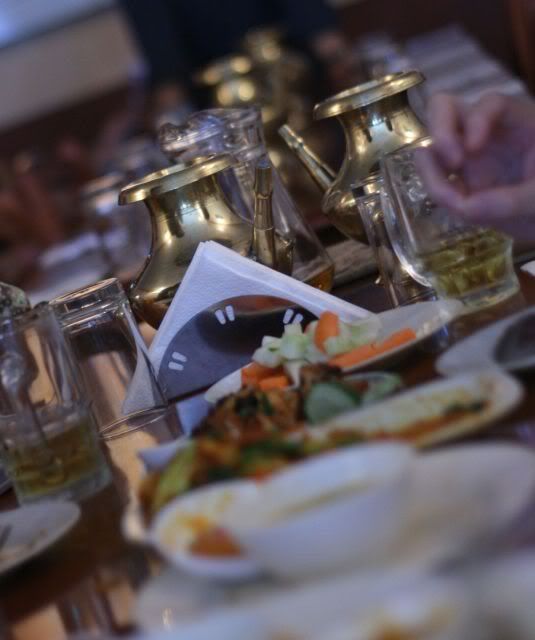 I just love those bronze water jugs. It lends such an authentic ambience, (not that any help was needed, the place was a swarming hive of activity for many Nepalese.... I wonder if they were disconcerted by our staring at their interesting looking dishes).

And the piece de resistance, ......

Gorgeous cupcakes from AWOL, Hairy, and Ciki....deliberately dolled up all girly girly like....pbbbbbbbbbbbth, thanks guys.....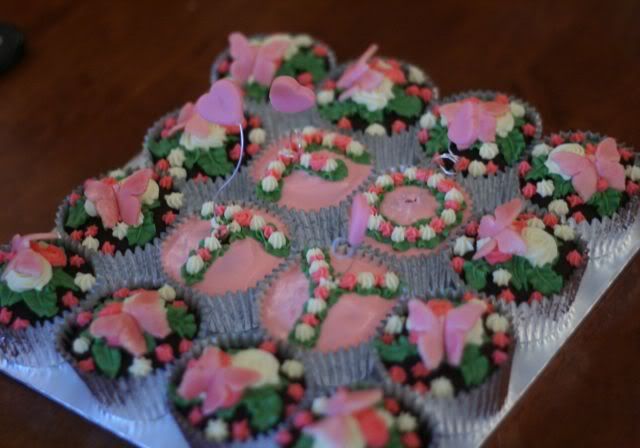 ............a beautiful floral arrangement complete with two large candles, not unlike a funeral.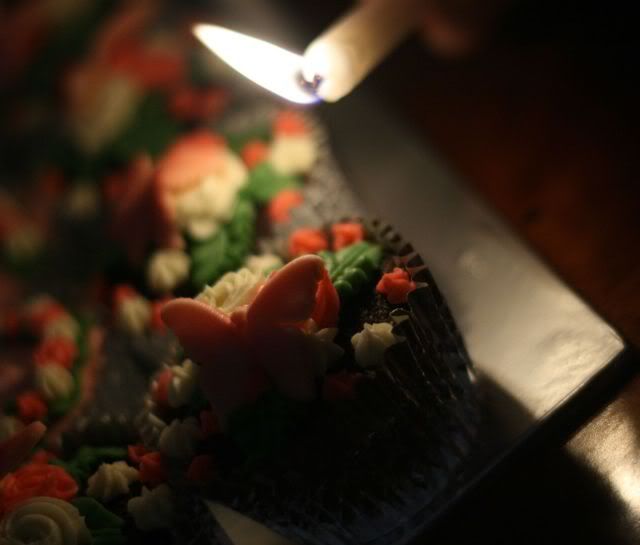 A mystical aura surrounds these cupcakes, with the strange letters FOTY adorning its centre. Whatever does it mean? Eff Oh Tee Why.....Strange.

The Nepalese desserts are a bit too sweet and milky for my taste. Haluwa and some milk rice porridge.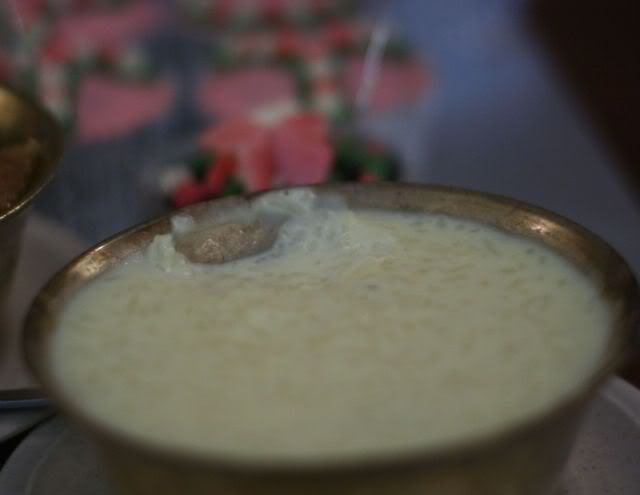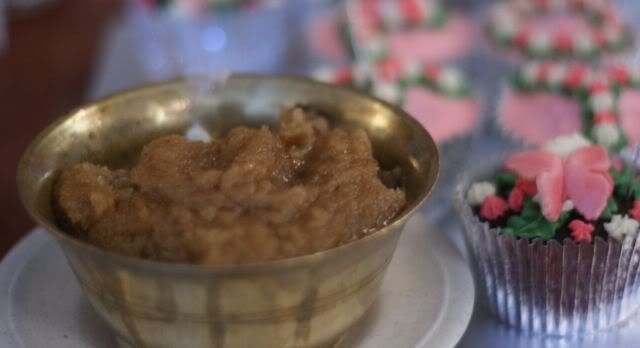 As if it wasnt enough to buy me lunch, my dearrrrrrrr friends also showered me with luxury gifts...sniff, stuff I'd never buy myself...I mean, how can I in clear conscience use a RM75 /250ml bottle of l'occitane shower gel to wash my toosh....

And Godivas, the epitome of chocolate.....

Thanks soooo much, AWOL, Hairy Berry, Ciki, Leon, Mrs & Mrs Zenboy...hugs......