A few months ago, renowned international photographer invited for an incredible dinner of Prime Rib Roast at his
place
. The steak was so good, at that point I wondered how I could ever eat the normal run of the mill steak again. So, it was to my utter delight, that over dinner one night, with the crew from the Everybody Loves Raymond group, it was decided that we should all chip in to sample yet another round of artery clogging gorgeous steak.
To my alarm, my get a call 3 days before the dinner, the conversation somewhat as follows:
JI: Hey, FBB, I'm in Bangsar village. Problem la.
FBB: Argh, don't tell me no beef?
JI: Ya, they've run out of the rib roast.
FBB: What about the wagyu rib eye?
JI: Yeah, that was what I was gonna ask you. It's RM190 /kg, you think that'll be okay?
FBB: Aiya, the prime rib oridi RM165/kg ma, sure okay la. Go for it.
JI: Yer shure? The whole thing will cost about RM800!
FBB: Can la can la. I'm sure no one will object.
Truth be told, I've been eyeing that slab of wagyu ever since I laid my eyes on it (not THAT particular slab, but you know what I mean), and was DELIGHTED that there was now an excuse to try it out.
It was a big logistic exercise. Workaholic Young Lawyer and Wife were hosting at their place. WYL Wife had to swing by to collect my roasting pan. She also would prepare a Shepherd's Pie, and Strawberry Trifle, while I offered cake.
Ah, the aroma of the roasted steak filled the air of a VERY LARGE kitchen, making me weak at the knees as I inhaled that fragrance.
There it was, crusted in black pepper and coarse salt. What was once part of a beer fed massaged cow, was now sitting on a roasting pan, waiting to be consumed.....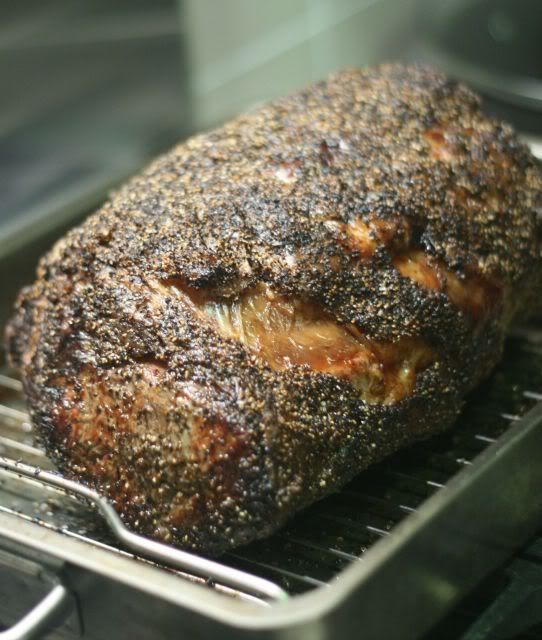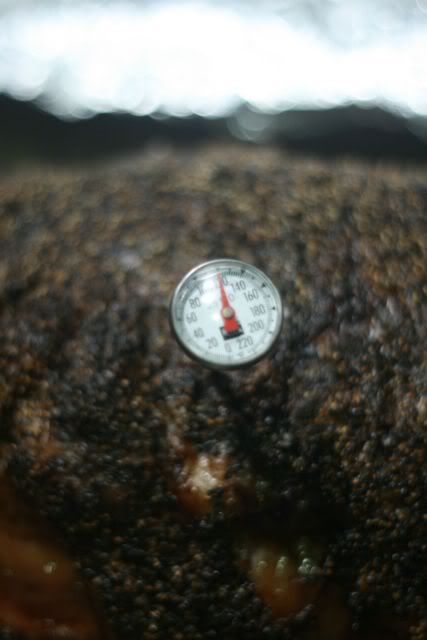 A good meat thermometer is crucial. The Iron Chef brought his own meat thermometer. Mine was not accurate enough, and markings only start at 140C, when apparently for a good done-ness, it should be 120C. This is what happens when you shop at K-Mart. (That's where I got my meat thermo).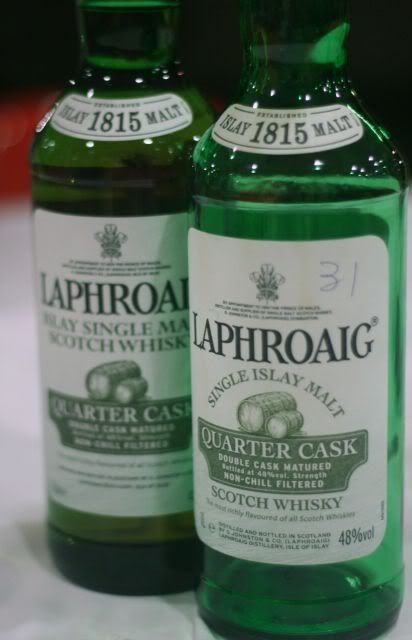 You know, to the cognoscenti of the culinary world, such a meal would cry out for a good bottle of bordeaux, or something something red. There would be swirling and sniffing of a huge balloon glass, and the sipping and the oohs and ahs of appreciation for a fine bouquet, etc etc...
Alas, to my uncultured hoi polloi tastebuds, I can't really tell much difference between a cheap RM29 bottle of plonk vs a RM500 bottle of Chateau Margaux ..... Sigh. What to do.
So, I can't say I wasn't thrilled when the poison of the night was Single Malt. Which was a darn expensive bottle too, I might add. But I reckon it goes a much longer way.

The moment of truth, when the Iron Chef carves into the meat, with the precision and confidence of a leading heart surgeon. (the analogy is ironic)....There it was, the marbled red meat, with that glorious fat that makes up the syllable of my first name, Fatboybakes.... and hence, naturally calling out to me.....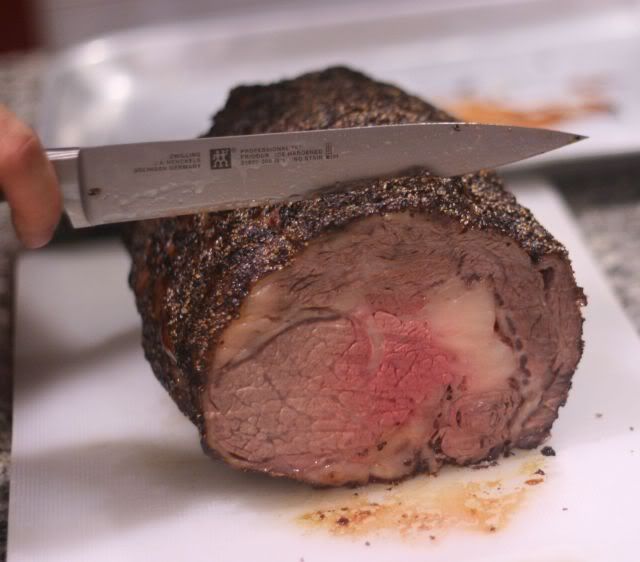 Perhaps the sight of blood might make some queasy, but trust me, this blood was more like juice, and gravy..... absolutely divine. Perfectly done, I'd say mine was a piece of medium rare. Iron chef was exceedingly generous and seemed to think I needed a big portion. Aiyo, I don't think I've ever had such a huge piece of steak before. [slapping forehead for forgetting to take an elevation view of the thickness of the steak]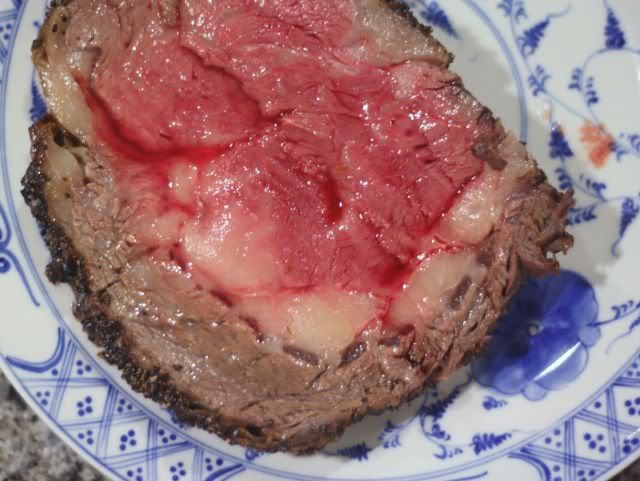 Accompanying the meat was a delicious shepherd's pie, the hostesses' specialty. Instead of the usual lamb, she used a pork mince. How can that be a bad thing? The topping was a generous helping of tender potatoes, and cheese.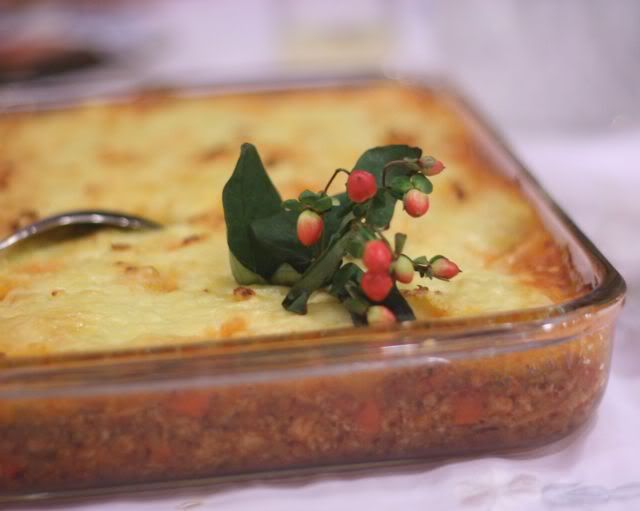 Lest we be thought of as hardcore carnivores, we did have an accompanying salad, which I forgot to take a picture off. Juxtaposed against a meal of such extravagance, the salad this time had no choice but to take a backseat, the way one might forget to take pictures of Mawi when in the presence of .....Justin Timberlake? Heck, that was a bad analogy. I wouldn't have taken pics of the former, period.

Of course, after such a heavy satisfying meal, nothing like the fruits of nature to give that refreshing zing, much like a palate cleanser, before we proceeded to the real dessert.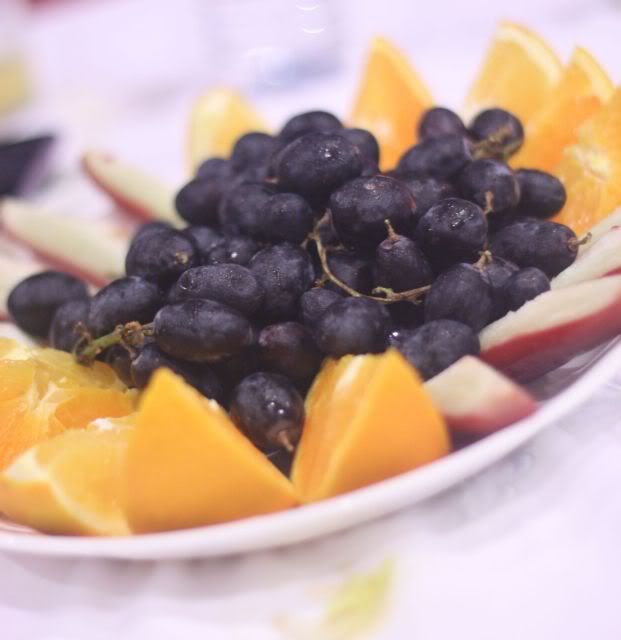 A lovely strawberry trifle made by the hostess. Such a gorgeous combination of fruit, giving it such a festive aura. The only thing missing was the strawberry jelly. The cake, a butterish sponge, was yummy.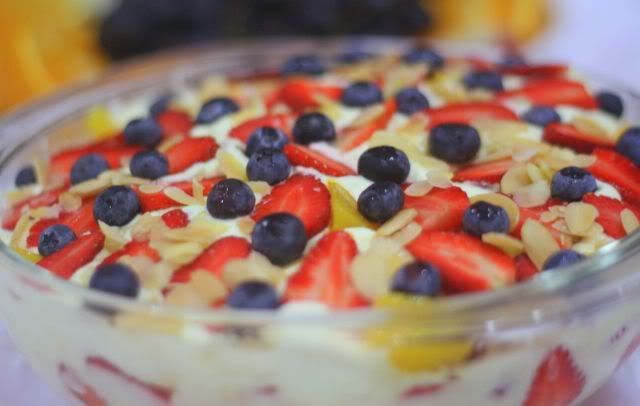 Also, my little contribution to the night, my latest favourite cake, the SPENCER'S FOUR SEASONS CAKE. Named after friend of that name, made for his birthday, ....this cake has been rather popular with friends. However, I have yet to be able to capture a decent photo of the 4 layers that define the 4 seasons.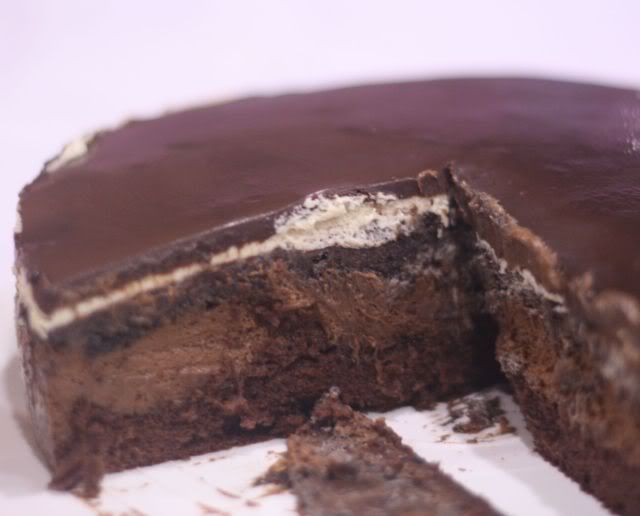 And to top it all, a healthy batch of oatmeal cookies, made by the Iron Chef, from his grandmother's recipe that has been in the family since the 1800s!!!! Chewy, and delicious, despite being healthy.....I don't mind healthy food like this.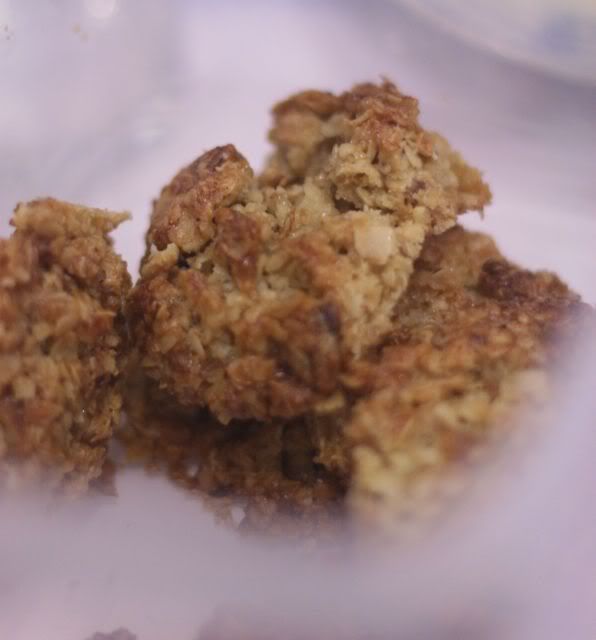 Many thanks to our dear host and hostess, and also to the Iron Chef for slaving over the oven for a few hours to prepare suchhhh a fantastic steak dinner. Indeed, now its true, HOW WILL I EVER EAT STEAK AGAIN!???!!!! ARRRRGHHHHHH!!!!