Sage (noun) [say juh]
- wise old man, usually Indian & skinny, wearing loin cloth and meditates on top of high mountain.
Actually, it may surprise some to know that many ahem, regard me as a sage of sorts...they come to me for avuncular advice, such as, "should I date a girl who's 10 years older than me?", or theological advice, the most recent question being, "what's the difference between soul and spirit". My reply to the latter was, "One is a kind of music favoured by blacks, and one is a kind of drink".
Anyway, a few weeks before the MIGF, a few food bloggers were contemplating going for some of the MIGF, when someone said that the menus didnt look all that great, so why not go to Sage instead. Luminaries like AWOL, Hairy Berry, Ciki, ...just about EVERY ONE, had been and were ravinggggg about it as it if was the best thing since flush toilets. So SAGE, THE GARDENS, it was to be.....
Masak Masak I think, did the arranging with Chef Takashi and we only had to show up.
Now, the real surprise was that apparently, it was also a celebration for MY BIRTHDAY!!! AGAIN!!!!! Woo hoo, if I ever doubted I was love, a dinner at Sage certainly dispelled all doubt. Sniff sniff....so touching, and a gorgeous book THE MODERN BAKER by Nick Manglieri, from Boolicious. AWWWWW!!!! Actually, I had suspected something was up their sleeves, coz the DEAF ONE said last week, oh, sorry, I can't make it for your thing this Saturday. "Thing? what my thing? It's a food blogger's gathering. It's not MY thing", I said. So yeah, that kinda clued me in, but there were other reasons not to suspect anything either, coz Nipples ordered a birthday cake for his girlfriend. SOOOO SWEEET, the young couples of today.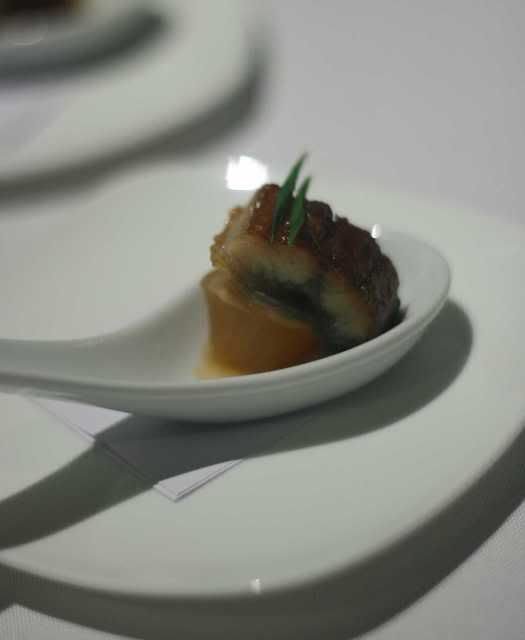 The amuse douche. A little slither of unagi atop some ....errr..... cant remember what. I think it was daikon. I should take notes. Tasty little spoonful of goodness there.


There it is again, the menus on tracing paper. I sooo musst do that at my next dinner party. I didn't want to fill myself on the bread, and in any case, AWOL's words, "WHAT? NO TRUFFLE BUTTER" have been seared into my head the way the foie gras was seared on the pan. I have said repeatedly that I am not a fan of bread with olive oil and balsamic vinegar. It's too healthy. I WANT BUTTER!!!! ARTERY CLOGGING BUTTER. Had a slice of the calzone though, it was good.




Then came the first starter, the Tataki of Yellow Tail with Kyuri and Mackarel Jelly. Fusion sashimi, would be how this non-sage would describe it. Tasted good, but was gone in the blink of an eye. Much like driving past Serendah town. 2 seconds and its gone....all of it.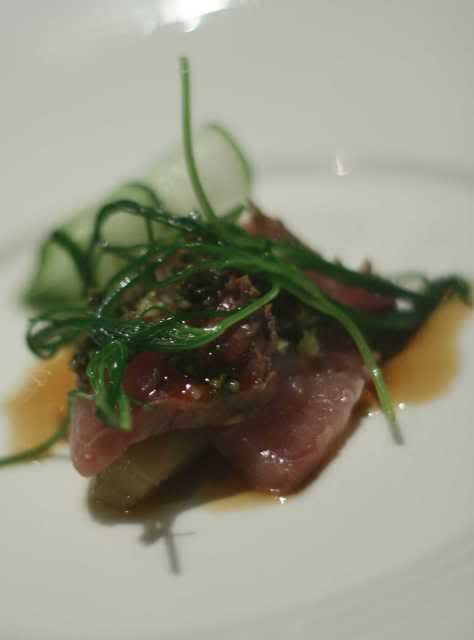 Feuillete of Anago and Foie Gras and Duxulles

Pan Seared Foie Gras with ....whatever whatever. The pastry seemed like a cross between puff and shortcrust. Again, tastewise, it was fine, ....but nothing really much to ooh or ahh about, and again, the microscopic portions were gone faster that I can say AH NA GO. Made me long for the virtually unlimited DIY chunk of foie gras we had in Sekeping Serendah. And I thought noveau cuisine with its molecular sized portions was so yesterday.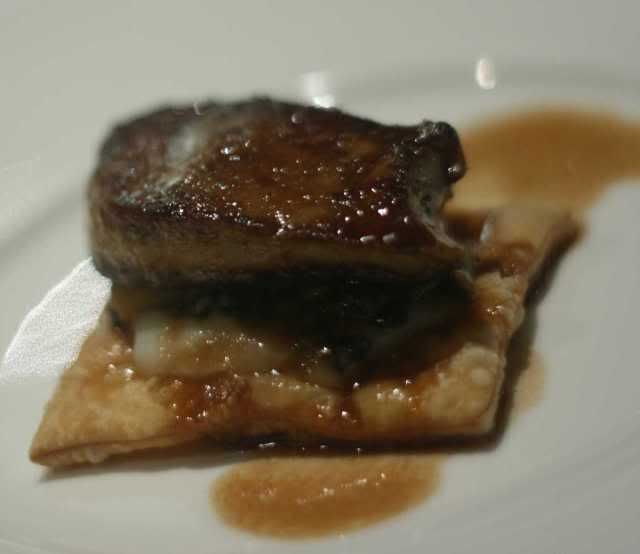 Another grouse was that the sizes of the foie gras didnt seem very uniform, and waiters were handing them out randomly....based on looks. The good looking people got more, whereas us sea urchins got teeny weeny portions.


My rump was well prepared. I wanted my rump medium, and it was a proper medium. Ah, tender and juicy, I was quite impressed with the way they handled my rump. Referring to
Nipple's post
, I dunno how come his had brisket together with the rump. Served with carrot puree, I enjoyed this dish thoroughly, although at this point, seeing as to how the mains were coming to an end, I did mentally contemplate if we needed to adjourn for hokkien mee somewhere. However, not everyone shared the same happy fate as me for their meats. Ciki had to send back her lamb, which was overdone, and there seems to be some general confusion at that point in time.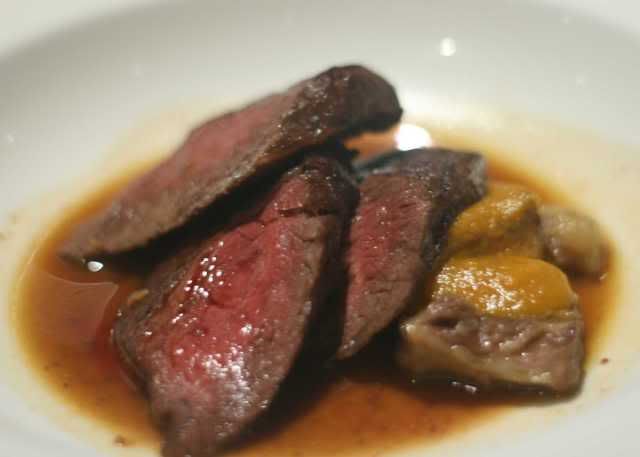 Wife opted for the lamb, which was also very good. Tender and falling off the bone. But seriously, all these portions...sigh, am I such a glutton that everyone else can be filled and satiated but me?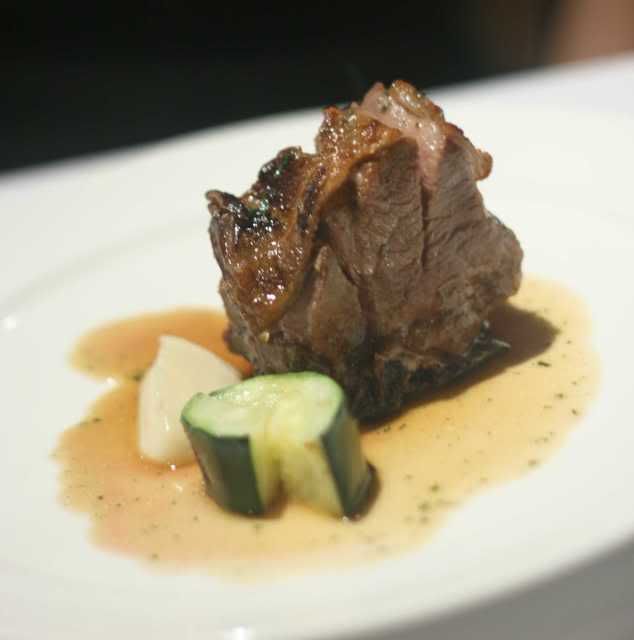 And finally, the much awaited part of dinner, and usually, in Cilantro, their predecessor (now under renovation), desserts are really their piece de resistance. The Rockies may tumble, Gibraltar may crumble, but DESSERT is always good. Not just good, but orgasmic.

So, can you imagine our abject disappointment when Crispy Roll of Tasmanian Cherries with Vanilla Ice Cream = Deep Fried Popiah with Overly Thick Skin, with a hint of foreign fruit within? I could've wailed and torn off my toupe at that point.

We also cut the cake that Nipples had ordered for Nic, his girlfriend. And he bestowed upon her that bouquet of roses.

SAGELY ADVICE to you young flers: DO NOT DO DURING COURTSHIP WHAT YOU DONT INTEND TO DO THE REST OF YOUR LIFE, like giving flowers, etc. Me, I do no such thing, so there's NO expectations from the wife, and she cant say, "why last time dating you open car door, send me flowers, talk to me everyday on the phone"..... nope! No not she!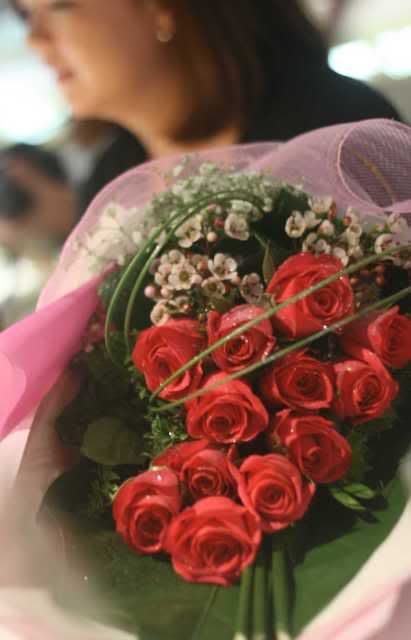 Nevertheless, it always warms even the coldest most cynical hearts to see such love.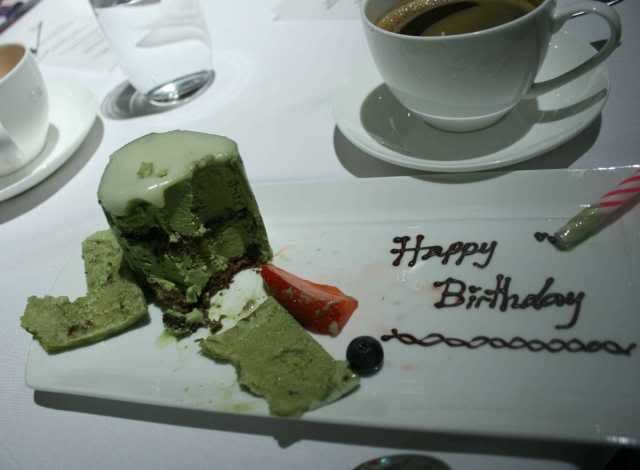 And finally, my last birthday cake of the year...green tea icecream wrapped in some green tea skin. Twas rather good.



However, seeing as to how Cilantro has always been my favourite restaurant, and generally the reviews of Sage have been favourable, I would certainly be back again to give it another try. [I have friends who've been there 3 times and still panned it, though]





Really, its been a fantastic birthday season, and I really want to thank all from the bottom of my heart to have gone thru such lengths and effort to celebrate with me.